Choosing the Right Dining Room Rug
The perfect dining room rug coordinates with your furniture, color scheme and decor style to create a beautiful setting for daily meals and special occasions. In addition to bringing depth and texture to your decor, the plush surface of a beautiful patterned rug invites guests to sit back and relax while enjoying dinner, drinks and dessert.
Finding the ideal dining room table rug size can be challenging, especially if you're furnishing a small space or working around accent furniture like china cabinets, sideboards and servers. Considering several factors like table and room size, rug shape, style, materials and color can help you choose the best rug for your dining room.
Why Should You Put a Rug Under a Dining Table?
Arranging a rug under your dining table has several benefits. Dining room area rugs warm up cold floors to keep everyone comfy during meals. A gorgeous rug that coordinates with your color scheme creates a cohesive design, too. Dark colors and patterns also hide spills easily, and most dining room rugs vacuum clean in a snap.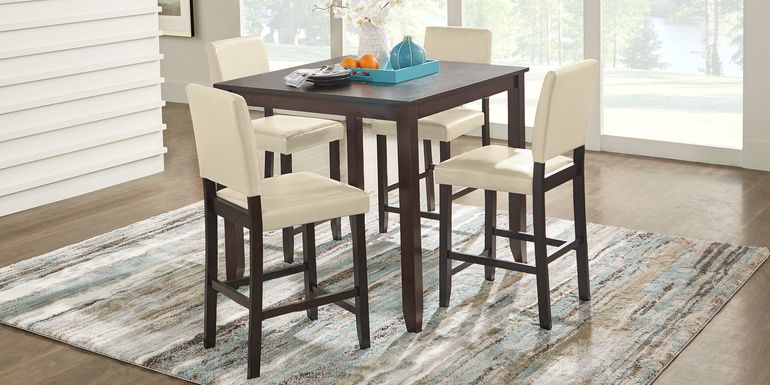 Dining Room Rug Size Guide
While it's tempting to dive right in and start shopping for your dining room rug, you'll need to measure a few things first to ensure your rug fits properly beneath your furniture and within the space available in the room. Start by writing down the dimensions of your tabletop, then pull the side chairs out to a comfortable distance and measure the width needed for guests to seat themselves.
Next, you'll need to know the size of your dining area. Take your existing furniture into account and measure the length and width of the room's available square footage. Using a dining room area rug to define space in an open floor plan? Mark the boundaries with painter's tape to see if you'll need an 8x10 or larger mansion-size rug to accommodate your dining table within its borders.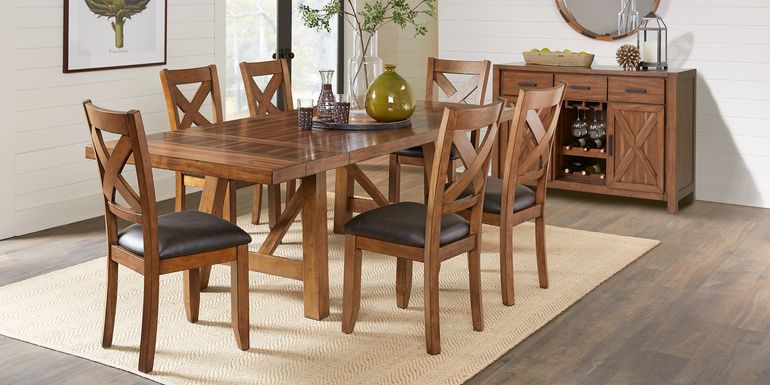 How Big Should a Dining Room Rug Be?
As a rule, the rug under your dining room table should extend at least 24 to 30 inches out on all sides. The front and back legs of your side chairs need to rest entirely on the carpet with room to spare, so dinner guests can slide their chairs back and forth with ease. Without this extra rug space, chair legs can catch the carpet's edges, making seats difficult to move or causing them to tip.
Rectangular dining room table rugs may be too big for small or narrow spaces, so consider alternative rug shapes and measure carefully to find the right fit for your table and chairs. If you have an extendable table, choose your dining room area rug size based on its fully extended length. When you convert it back for everyday use, remember to center the table so the carpet is even on all sides.
Rug Shapes
Now that you know what size rug your dining room needs, use your room dimensions, layout and table silhouette to find the right shape. While you're browsing different designs, consider how a few popular dining room rug ideas, like layering a round rug with a rectangular one, or pairing a circular table with a square rug, might enhance your layout.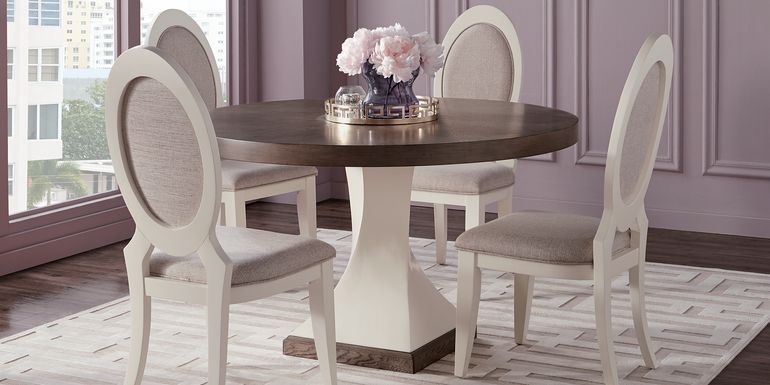 Rectangular Dining Room Rugs
If you plan on hosting dinner parties, family meals or holiday celebrations, you'll want a rectangular dining room set to accommodate a crowd. Large rectangular carpets are the best rugs for dining rooms with ample floor space. Runner rugs are a smart option for kitchen island seating or bar stools, too.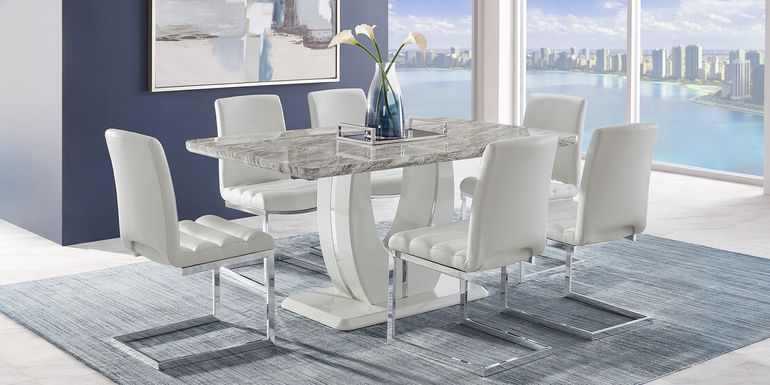 Round Dining Room Rugs
A round rug makes smaller rooms feel bigger by contrasting a circular shape against the vertical lines of the walls to trick the eye. A round dining table with chairs makes the perfect focal point in a small dining room, and a colorful circular rug sets a cheerful, welcoming tone.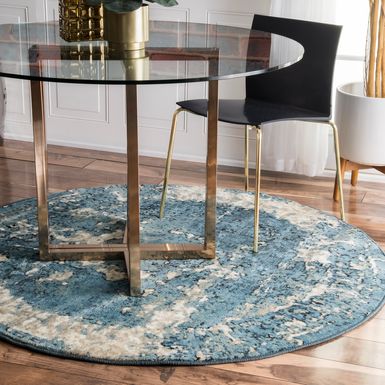 Rug Styles
Once you've determined the right shape and size for your dining room rug, consider your style options. In modern layouts, geometric area rugs for your dining room table boost your palette with chic patterns. Neutral striped rugs work in both contemporary and casual spaces, while Persian carpets are the perfect complement to traditional furnishings.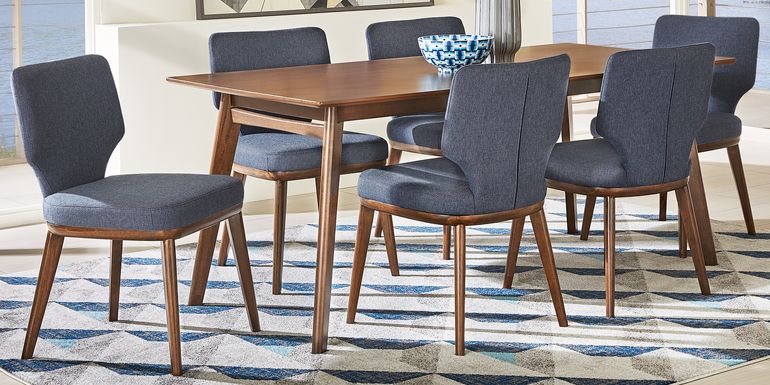 Dining Room Rug Materials
When choosing a rug for the dining room, some materials are more practical than others. Spills and accidents are common, especially in homes with kids, so low-maintenance materials or outdoor rugs might be your best bet. Shag or faux fur carpets often bunch up as chairs shift or slide, so a flat or low-pile dining room table rug is a better option.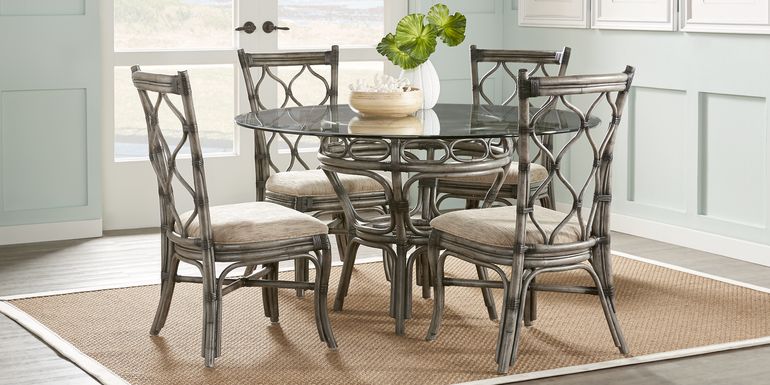 Dining Room Rug Color Options
A rug can be the perfect finishing touch for various dining room color palettes. Darker black, gray and brown tones balance out lighter furnishings or wall colors, while other neutrals like beige and white blend in easily with any color scheme. Rugs with cool blue tones offset rich cherry dining sets, while red, yellow, orange or pink carpets bring warmth and bold color to your layout.
In This Guide:
Choosing the Right Dining Room Rug