Counter Height vs. Bar Height
Bar and counter height stools are smart, space-saving seating solutions. Perfect for entertaining as well as everyday dining, counter height seats and bar stools have similar designs ranging from bare-bones minimalist silhouettes to plush pub-style armchairs. While counter and bar seats are similar, you'll want to take their dimensions into account when planning your space.
Stools can make it difficult to push away from the table as easily as a traditional side chair, which means guests could end up stretching to pick up drinks. For comfortable seating and easy reach, you'll want your stools to be roughly 26-36 inches tall, but you'll need to measure the exact height of your table or counter to choose an optimal height.
Overview
This post will provide ideas and tips about: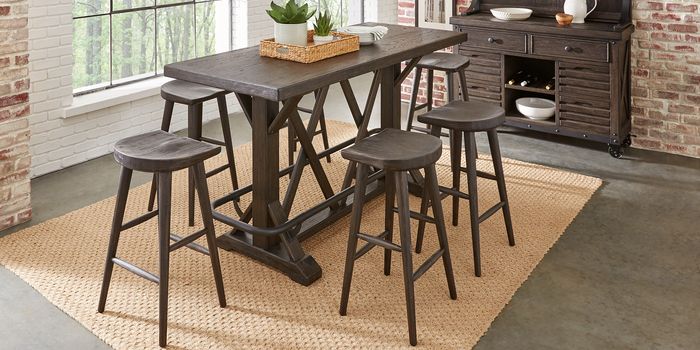 How to Measure for Bar Stools
When considering counter height vs. bar height, how do you know which is right for you? Start by measuring the height of your table or island from tabletop to floor. Subtract about 12 inches to establish the ideal distance between the seat and the underside of the table. Listed below are the typical measurements for popular stool designs:
Counter Height: Counter stools are slightly shorter than bar seats. The standard stool height for counters comes in at around 26 inches, allowing you to sit about two feet from the floor. Since the standard kitchen island is 35-39 inches tall, most people have plenty of space to move without bumping the table.
Bar Height: Also known as pub seats, bar stools are usually five or six inches higher than counter chairs. These designs typically stand between 29 to 36 inches tall. Most bars are around 42 inches high, so these chairs provide ample room between the bottom of the table and your lap. Extra tall bar stools work well with coordinating dining tables for breakfast nooks and other casual spaces.
Adjustable Height: To accommodate kids as well as taller-than-average friends, consider adjustable bar stools. These adaptable chairs allow guests to customize how low or high they wish to sit. Lever-controlled hydraulic posts let people shift positions, so they can create their own comfort levels.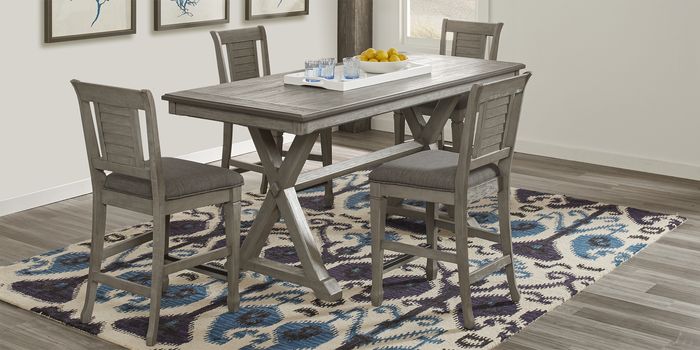 Knee and Elbow Room
Figuring out the dimensions of your counter and stools is only half the battle. You'll also need to decide on the appropriate number of seats. Too few chairs create a sparse layout, while too many can feel overcrowded. Well-spaced stools are crucial to the look and feel of your design. While three- and five-piece pub sets make this decision simple, you may have to consider movement as well.
Armchairs and swivel seats need about eight to ten inches of distance between them. To ensure diners have enough room to relax while they eat, drink and socialize, position armchairs with about 14 inches leeway from the table's edge and leave at least a foot of space open from the underside of the table.
The Right Stool for the Right Job
Once you've measured your layout and selected the right size stool for your space, it's time to choose which kind of seat you prefer. Ultimately, the decision of counter stool vs. bar stool comes down to your needs and tastes. Backless bar stools are great for casual parties, while high-back counter height chairs offer more support if you want to linger awhile over your morning coffee.
Countertop stools with backs are also supportive solutions for activities that require sitting for long periods like studying or crafting. If you need to save space, low-profile seats tuck away neatly beneath tables. Adjustable pieces can accommodate growing children, and seats with footrests deliver even more comfort.
Also, consider which design best complements your existing layout. For example, a set of counter height benches or island stools in kitchens with a decent amount of open space adds function and visual interest to the room. Make sure your stools fit your overall decor, whether you pick modern counter stools for a retro kitchen or farmhouse bar stools for a rustic space.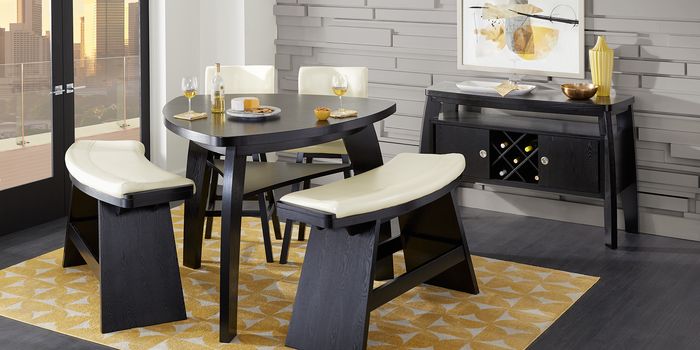 Design Decisions
Once you've figured out the best fit, it's time to find the perfect chairs. Though counter and bar stools vary in size, both are available in chic yet practical designs. Browse from an array of bar and counter height seating options to fit your home and lifestyle.
Counter Stools
Get creative with your interior design using counter stools. Establish an easygoing atmosphere with backless swivel stools at your kitchen island, or opt for a chic counter height collection featuring tufted chairs for a transitional breakfast nook. For a one-of-a-kind aesthetic, contrast modern decor with a traditional or rustic style pub set.
Counter stools feature various styles, materials and finishes that complement your existing decor. Refresh a neutral kitchen or dining room with bold accents like red, blue or green stools, or stick with beige and brown tones for a down-to-earth natural vibe.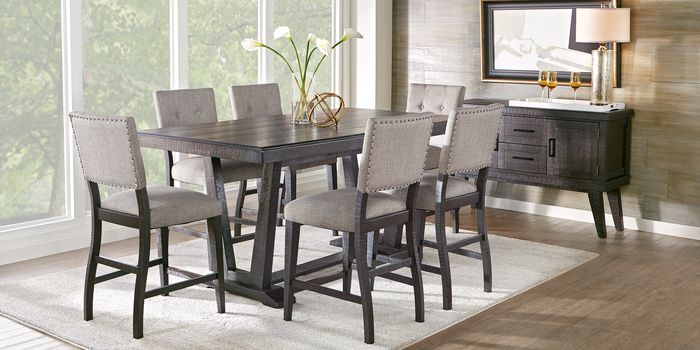 Bar Stools
Whether it's lunchtime or happy hour, bar stools are ideal for any layout. Low-profile modern bar stools with backs offer casual seating for pre-dinner cocktails before a night on the town, while deep-seated contemporary bar stools give rec rooms the air of an upscale private club. Out on the patio, high-profile outdoor dining sets offer a chic setting for weekend brunches with friends.
Bar stools feature a range of comfortable materials that conform to various styles. Plush upholstered stools provide a luxurious, traditional feel, while lightweight wicker or mesh deliver breezy, casual vibes.
Outdoor Spaces
Just like planning an indoor space, be sure to take proper measurements and assess what works best for you and your unique seating needs before selecting outdoor bar stools or counter height chairs.
Create a breezy poolside bar environment with wicker bar stools, or cozy up around the fire pit at night in some backless counter stools. Beachy finishes like sun-bleached white and gray are the ideal way to add a touch of cottage-like charm to your backyard, while black and dark wood pieces offer a darker beauty.
In This Guide:
Counter Height vs. Bar Height