Dining Room Chair Types & Styles
A staple in every home, dining chairs provide comfortable seating during meals with friends and family. Knowing the different dining chair styles and types can help you determine which design best suits your decor tastes and entertainment goals. We've put together this dining room chair style guide to help you discover the perfect seating for your layout.
Diverse Dining Chairs
From stylish side chairs to comfy, spacious arm chairs, Rooms To Go's collection includes a range of dining room chair types to coordinate with any look. Considering factors such as size, style and material is essential when choosing a dining room chair set to enhance the look and feel of your space.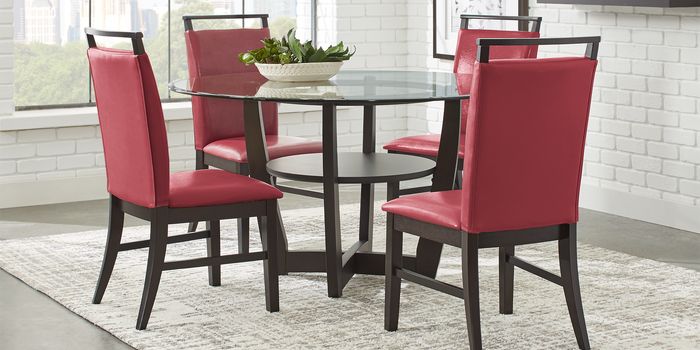 Side Chairs
One of the most common choices for a dining room or eat-in kitchen, side chairs come in many styles to complement your layout. Shop crimson or teal contemporary side chairs with chrome-finished legs for some retro charm and a touch of color. Many traditional side chairs from our collection offer natural woodgrain finishes and classic turned legs for a chic yet elegant look.
Look for side chairs in different materials to find your ideal dining room seating. Light wood side chairs spruce up a coastal or country cottage space, while dark wood seats coordinate with rustic or traditional layouts. Meanwhile, polished metal side chairs with sleek legs and streamlined silhouettes complement modern dining areas.
Armless side chairs fit neatly under tables or kitchen counters, making this dining chair type ideal for smaller spaces. These streamlined seats also lend a casual vibe to your dining room decor, which is ideal for laid-back get-togethers, game nights with friends and impromptu dinner parties.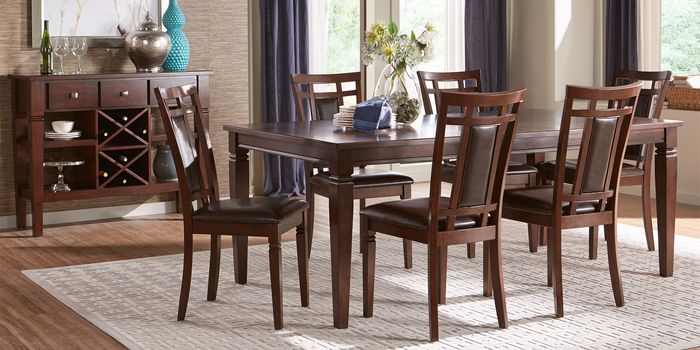 Dining Arm Chairs
For a comfortable addition to your space, think about adding a set of dining arm chairs. Often placed at either end of a table for guests of honor, these dining chairs offer comfortable armrests and full back support to keep everyone cozy and relaxed, from the first round of appetizers to coffee and dessert.
Stylish dining armchairs come in several chic designs. Mixing classic and contemporary elements in your dining room? Our transitional arm chairs combine aspects of both styles, while mid-century modern dining room arm chairs with wooden frames and tapered legs offer retro looks updated with modern materials.
Upholstered Chairs
Upholstered dining chairs deliver a cozier experience during meals and dinner parties. Cushioned seats and backrests keep guests comfortable while offering support. Some upholstered dining chairs have convenient armrests so you can relax while chatting over Sunday breakfast or after-dinner drinks, too.
Choosing an upholstered dining chair set also gives your color scheme a boost. Want to brighten up a neutral palette? Consider our collection of blue or green upholstered seats to introduce a cool hue, or add a red fabric dining chair to liven up your look. On the other hand, if you need to balance out a more colorful space, beige or gray upholstered dining chairs coordinate with any hue while giving the room a chic, grounded aesthetic.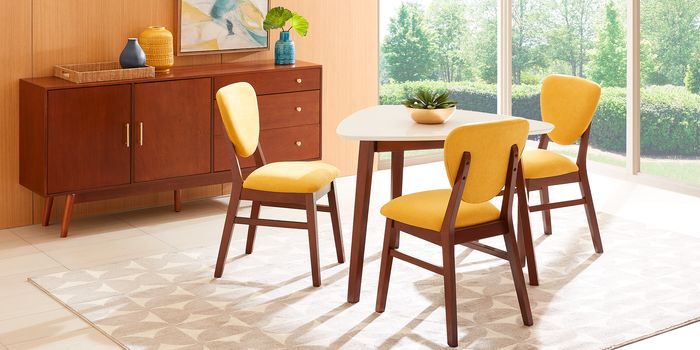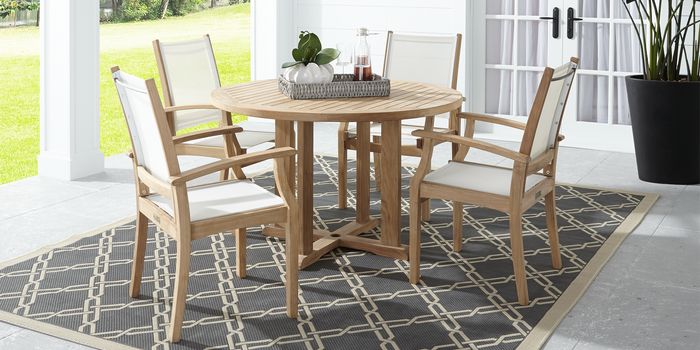 Dining Chair Styles Defined
In addition to different seating design types, our selection includes a range of various dining room chair styles. From sleek and modern to down-home and rustic, there's an option to coordinate with every dining room table. Check out the dining chair styles listed below to find the best seats to complement your decor.
In This Guide:
Dining Room Chair Types & Styles