More than just a home office essential, your desk reflects your style, personality and work ethic. From clever functional elements to small decorative flourishes, the right desk decor can serve as inspiration when working from home. Using a few chic home office desk decor ideas to organize and personalize your space is a great way to boost the look and feel of your workspace.
Decor Ideas for Your Desk
Organize with Style
When deciding how to decorate a computer desk, start by managing your work essentials. Begin with fun, functional home office desk decor in vibrant colors, like an aqua pen holder or a magenta paper sorter. Prefer neutral colors to coordinate with a black or white desk? Choose beige, gray or ivory desk organizers and padfolios to keep supplies and important documents close at hand.
Colorful USB cables help designate different cords for phones and tablets while bringing cheerful hues to your workstation. Or, you can opt for a wireless charging pad to reduce clutter or make room for other decor. For smaller desks, desktop drawers optimize work surfaces while adding cheerful prints and patterns to your space.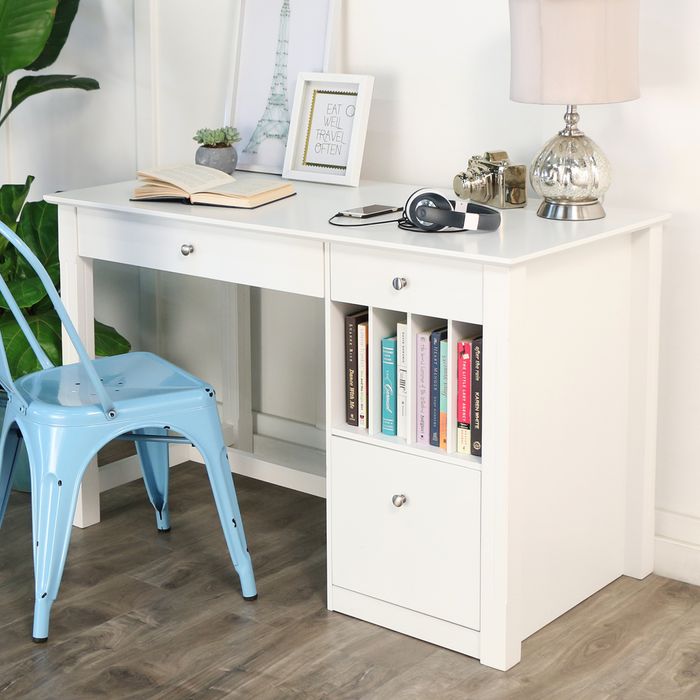 Revitalize Your Workspace with Color
For a more intentional use of color, experiment with hues that produce a calming or invigorating effect. Colorful desk decor in cardinal or lemon hues offers an instant energy boost, while soft shades of green and blue promote relaxation. You might be surprised how easily your color choices can transform a ho-hum workstation into a refreshing, stress-free zone or a bustling hub of productivity.
Green plants are excellent feel-good mood boosters, too. Low-maintenance ferns, succulents and air plant terrariums, or even silk florals, deliver lively color and a welcome hint of nature to your home office desk decor. Whether you opt for houseplants and calming hues on a rustic desk or a bold, bright workstation, color can have a positive influence on your outlook and motivation.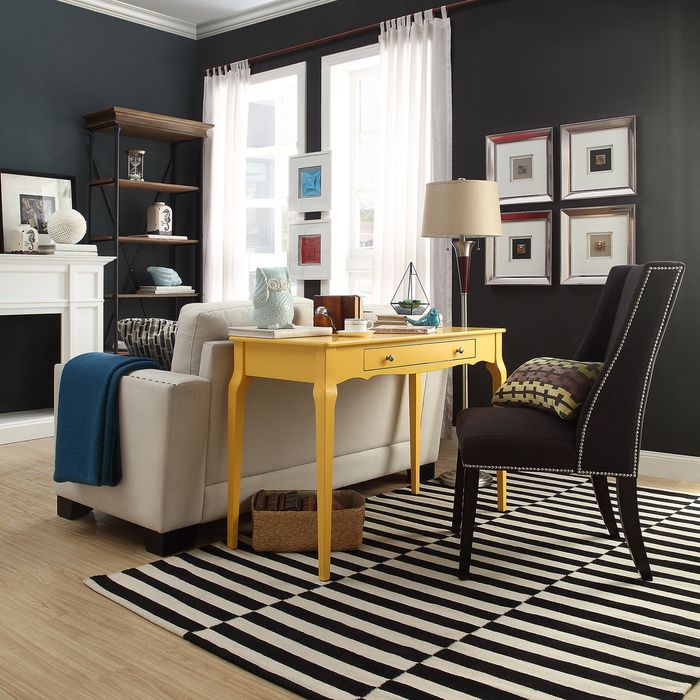 Brighten Up Your Workday
Customize your lighting with desk lamps that coordinate with your decor, or consider a strategically placed floor lamp to distribute light evenly without an overhead fixture.
Smart bulbs are a useful home lighting option as well. Wi-Fi and Bluetooth-enabled lightbulbs and wall switches let you control and adjust light levels from your phone or with a voice command. For even more hands-free control, look for smart lighting systems with programmable schedules that automatically change brightness settings or turn on or off depending on the day or time.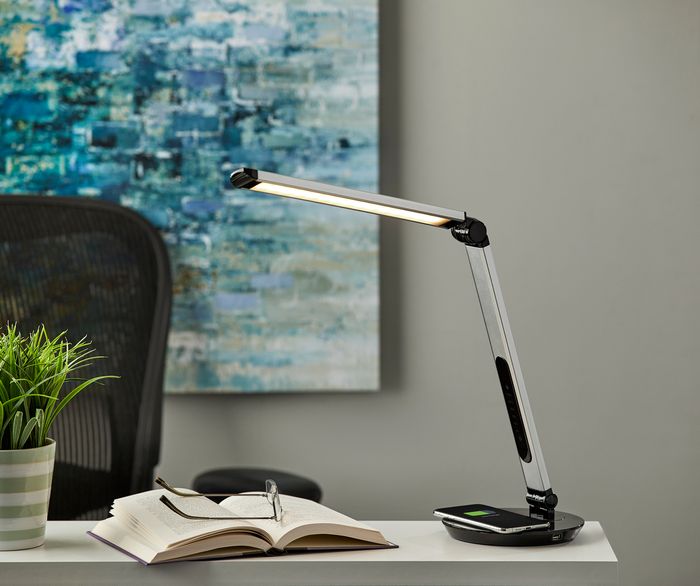 Make it Personal
Personalizing your desk with themed accents, keepsakes and photos adds a bit of joy to your workday. Easel-back frames are ideal for snapshots or your child's latest artwork. Meanwhile, a corkboard mounted above your desk is the perfect spot for inspirational messages, motivational quotes, and reminders to boost your mood and keep meetings and deadlines in plain sight.
Creating a Cohesive Look
While your desk should showcase your personality and work ethic, it should also tie in with the rest of your office furniture. Everything from filing cabinets to bookshelves can bolster the look of your design and add a cohesive quality to your layout. Remember to balance the little details vs. the big picture when designing your workspace and selecting decor for your desk.
For example, a comfortable office chair is a must when working from home, and your seating should coordinate with your desk's style and finish. If you have a chic transitional desk, add a dove gray or ebony desk chair with polished chrome framing. For elegant desks with deep mahogany or espresso finishes, a rich dark wood desk chair with brass nailhead trim offers a classic touch you'll adore.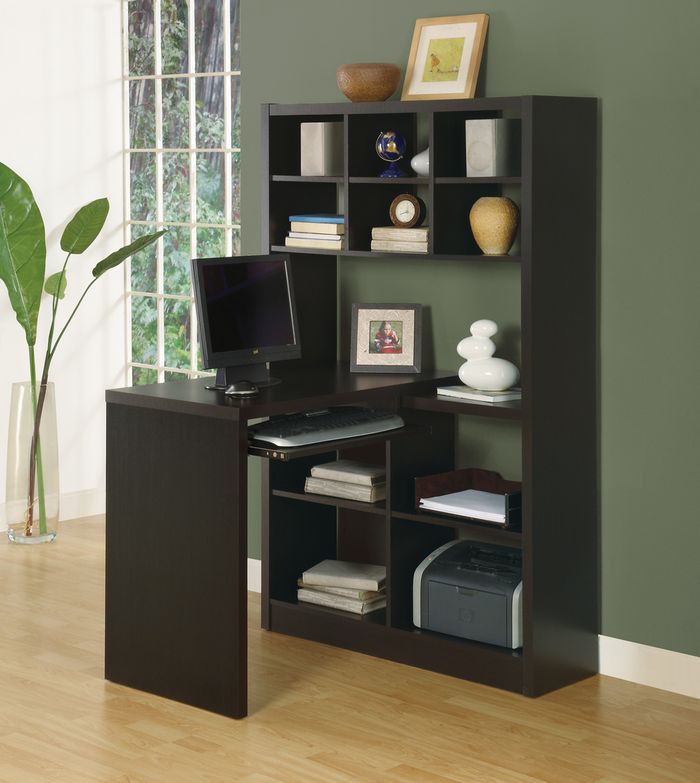 Optimizing Accents: Desk Design & Focus
While many home office desk decor ideas are appealing, remember that you'll also need to cater to your available space, the type of desk you're using and the nature of your work. A compact standing desk may have little surface to spare. In this case, styling your bookshelf with office decor, organizers and storage bins is more practical than crowding your desk.
When considering how to decorate a corner desk, keep in mind that space-saving L-shaped models are often narrower than a standard desk. Look for designs with built-in shelves or drawers so you can add decor and supplies. Use the vertical space above a wall-facing corner desk to add a clock, dry-erase calendar or corkboard to track your time and deadlines.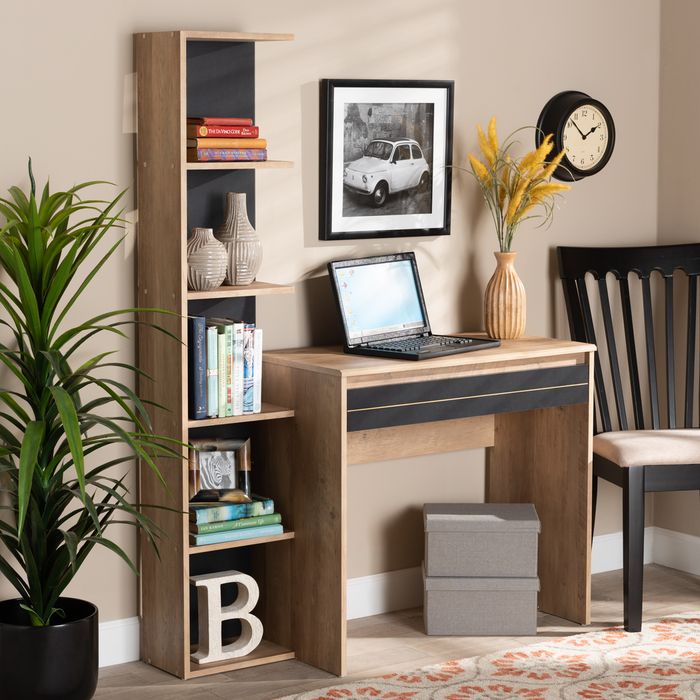 Work-Decor Balance
Your desk decor should always complement your work requirements. If you use a drafting table, colorful pen and brush caddies keep tools neat and organized, while computer desks with shelves provide plenty of room for reference books, photos and fun collectibles. But if your work requires hours of focus, cutting back on decor may be a better option.
Are you a freelancer or blogger interested in how to decorate a writing desk in a simple, understated way? Consider a few of the following ideas to streamline your writing desk decor:
Avoid clutter by keeping only one or two decorative items on your desk.
Choose a desk with built-in drawers to keep surfaces clear.
Keep writing supplies, such as colorful notepads, pens and pencils, close at hand.
Add an under-desk hook for your noise-canceling headphones.
Consider a desktop mug warmer to keep tea or coffee hot as you work.
Use a gooseneck desk lamp for concentrated lighting that's easy to adjust.
A Visual Boost with Purpose
In the end, knowing how to decorate a desk by organizing work essentials, using color and lighting to create the perfect setting and adding personal touches can change the way you work. Focusing on decor that combines fashion and function can help you design a desk layout that suits your style as well as your career.
In This Guide:
How to Decorate a Desk