In many homes, fireplaces provide inviting warmth and enhance the cozy, charming atmosphere of the family room or den. However, they can also hold and display various items that put a chic finishing touch on your layout. In this handy guide, you'll find tips and tricks to help you pick the perfect pieces for decorating your fireplace.
Fireplace Decor Concerns
Safety, Size and Spatial Considerations
Before you start arranging various decorative accents on your mantel, you need to understand how your fireplace works. If you have a functioning gas or wood-burning fireplace, you'll need to keep flammable decor away from the area. On the other hand, an electric fireplace console or a non-functioning hearth gives you more freedom when selecting decorative trinkets.
You should also take your fireplace's size and location into account. Big, bulky items can overcrowd a small fireplace or block the view if you plan to mount other pieces above it, while fewer accents might make a large mantel look empty and unfinished. Also, if your fireplace is near a window or seating area, you'll want to avoid heavy fireplace decor that could fall off and hurt someone.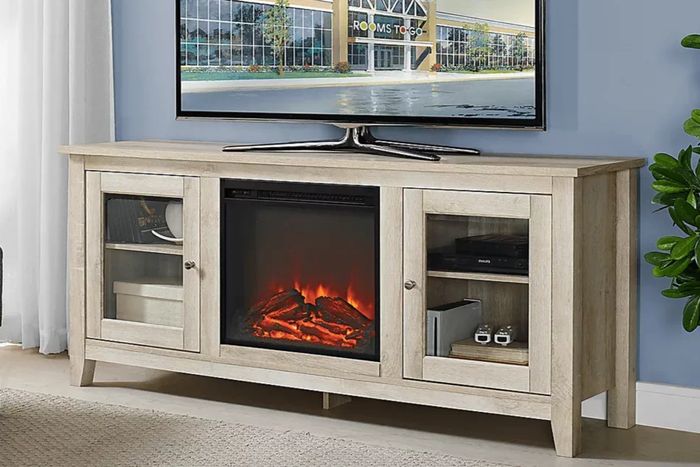 Fireplace Decor Ideas
Chic Accents for the Mantelpiece
Take a top-down approach to decorating your fireplace by starting with the mantel. In many ways, this narrow surface can serve as a TV stand or single-shelf bookcase for practical accents and other trinkets. Include functional items like a wall-mounted TV or a small lamp. Then, spruce up the space by adding sculptures, family photos, decorative mirrors or vases full of fresh, beautiful blooms.
How to Decorate Around a Fireplace
Placing the right furniture and decor around your fireplace helps you enhance the charming, cozy vibe of your studio, tiny apartment or small family room. When decorating your living room, arranging your furniture set around the fireplace creates a warm, inviting atmosphere. You could also place a pair of arm chairs or accent seats on either side of the hearth to establish an intimate conversation area.
Some decorative accents work better beside the fireplace than in front of it or on the mantel. Set large leafy plants next to the hearth to avoid accidental fires when the fireplace is in use. For an extra comfy feel, use side tables to hold drinks and a woven basket for throw blankets. Want to create an extra fancy or gothic look? Mount a pair of sconces on each side of the fireplace.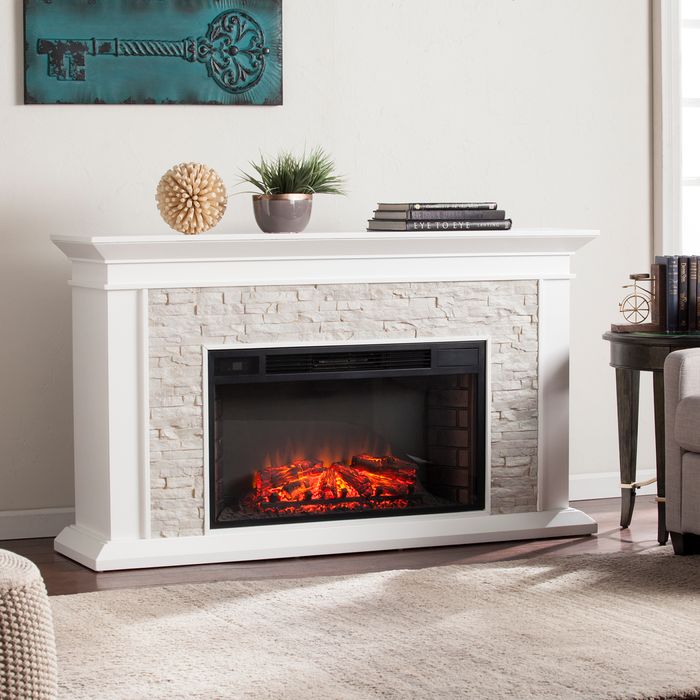 Seasonal Stylings
What better way to show off your festive side than by decking out your fireside gathering spot? Potted plants, silk florals, and other sunny accents are perfect for your spring and summer setups, while ceramic pumpkins, straw dolls and fall colors create a welcoming autumn vibe. In the winter, hanging garland and arranging faux gift boxes near the fireplace helps put visitors in the holiday spirit.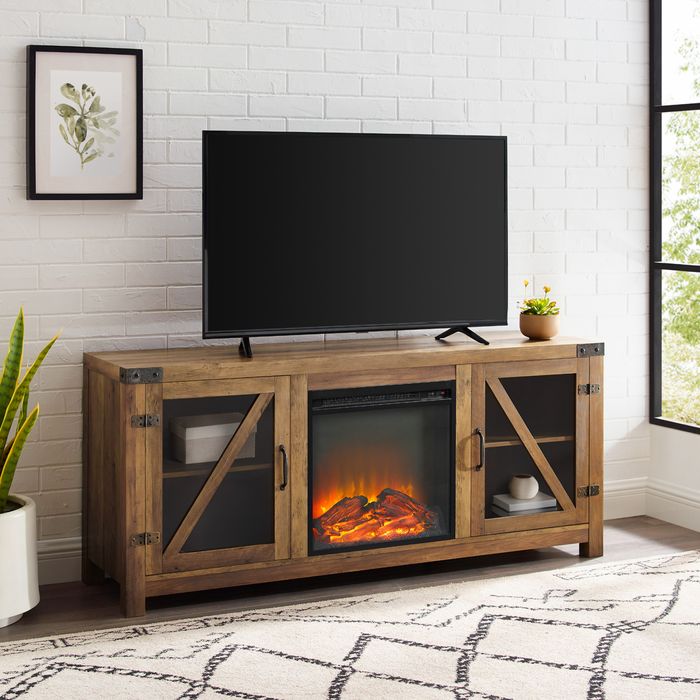 How to Decorate a Fireplace Hearth
When it comes to decorating the actual fireplace hearth, the way you use the fireplace plays a pivotal role. Those who use it to heat and lighten up the room often opt for practical hearth accessories like grates, firewood, pokers and cleaning instruments. If you go this route, be sure to use metal or stone accents that can withstand the heat of the flames.
If your fireplace is strictly a decorative piece, you can get creative with the items you arrange around the hearth. Consider setting floor lamps or battery-powered candles beside the hearth for ambient lighting. Soften up the space using a fluffy shag rug, a small throw pillow and a thick, folded blanket. For a finishing touch, add decorative items like lanterns, figurines or even a small stack of books.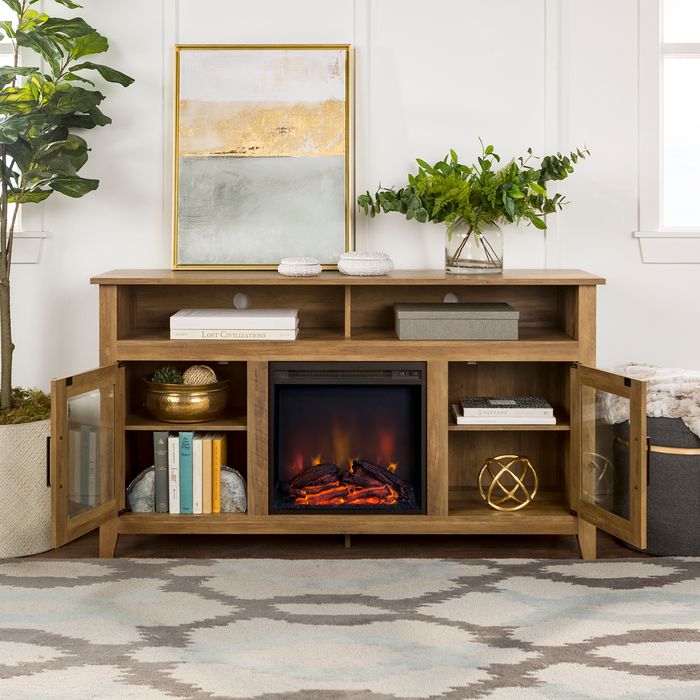 Color
Decorating a Fireplace to Suit Your Palette
Along with using decor and accents, you can also switch up the appearance of your fireplace with some fresh paint. Wondering how to decorate a fireplace hearth that complements the rest of your design? One of the easiest ways to achieve this is to change the color of the brick. Some popular color choices you can consider are:
Gray or white: Common, neutral colors are a popular choice for many modern fireplaces. An off-white or light gray fireplace sets a relaxed tone for the layout and makes a great backdrop for a bold contemporary sofa.
Blue: Shades of navy, sapphire and sky blue bring a bold splash of color and a cool, refreshing vibe to your space. A blue fireplace can also create dynamic contrast in a warmer layout with yellow, orange or red decor.
Black: Black is a strong, statement-making choice for a fireplace. This timeless color goes with nearly every other shade and can add a touch of sophisticated style to your neutral palette. A chic black fireplace can also complement any seating arrangement, whether it's a modern sectional, a classic-style sofa or a mid-century-modern loveseat.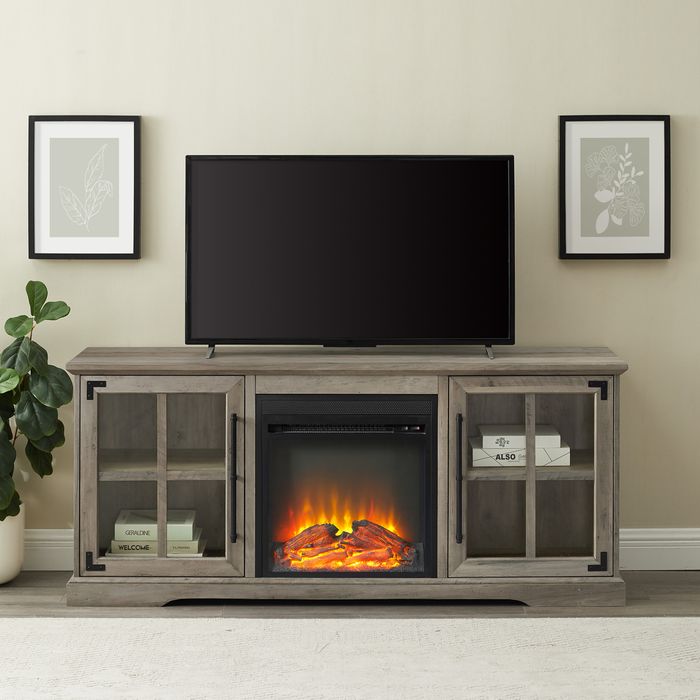 Oddly-Shaped Layouts
How to Decorate a Corner Fireplace
Some homes have a fireplace in the corner of the room rather than one that's flush with a wall. While this may give you pause, decorating a corner fireplace can be a fun challenge for your creativity. By considering the different dimensions and picking appropriate decor, you can turn your corner fireplace into the most stunning focal point in the room.
A corner fireplace console is usually narrower than a standard fireplace. Since they sit between two adjacent walls, they may be unable to accommodate mounted decor like TVs and wall art. Using round or prism-shaped accents and getting creative with how you decorate the blank walls above the fireplace is an excellent way to make this unusual arrangement shine.
Whether you want something that coordinates with your current look or plan to upgrade the layout with eye-catching splashes of color and stunning decor, the fireplace offers plenty of opportunities to spruce up your space. Try a few of these design tips to transform your hearth into the chic and beautiful setup of your dreams.
In This Guide:
How to Decorate a Fireplace