Your outdoor setup is just as important as your interior design. Whether you've got a tiny apartment patio, a moderately-sized condo deck or a grand backyard terrace, choosing the right furniture and decor is essential for creating the refreshing and relaxing atmosphere you want. Use these helpful style tips to make your home look as beautiful on the outside as it does on the inside.
How to Decorate a Patio
Consider Your Patio's Purpose
Before you start shopping for patio furniture, you'll need to think about how you're going to use the space. Do you plan on hosting dinner parties and fun family barbecues on your lanai? Or do you want to start watching the sunrise from a comfy seat on your front porch every morning? Figuring out what you want to use your patio for can help you decide what furnishings you need to fulfill that purpose.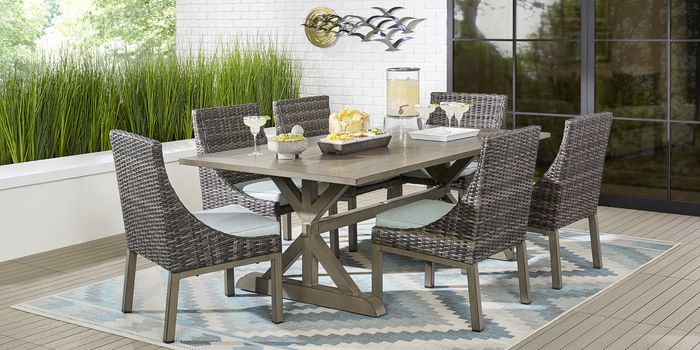 Measure the Layout
Next, you'll need to consider your patio size and shape. Taking measurements can help you understand how to decorate your back patio or rooftop balcony with furniture that fits. Grab some measuring tape and find the square footage of your outdoor space by multiplying the length of the layout by its width. If you have a round patio, use the following steps to calculate its dimensions:
Find the Diameter: Measure the length of the circle from one end to the other across its widest point.
Determine the Radius: Divide the diameter in half to get the radius.
Square the Radius: Multiply the radius of your patio by itself. For example, if the radius is 10 feet, multiply it by 10 to get 100 feet.
Multiply by Pi: Finally, multiply the number by 3.14. The resulting figure is the total square footage of your round deck or patio.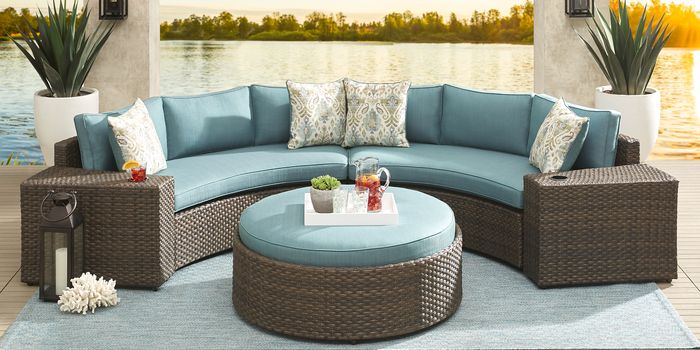 Choose Well-Fitting Furniture
Now that you know how much room you have on your deck, balcony or veranda, you can select the perfect patio furniture arrangement to fill the space. Use the following suggestions to pick pieces that suit your needs, complement your chosen aesthetic and make your outdoor relaxation spot as comfortable as possible.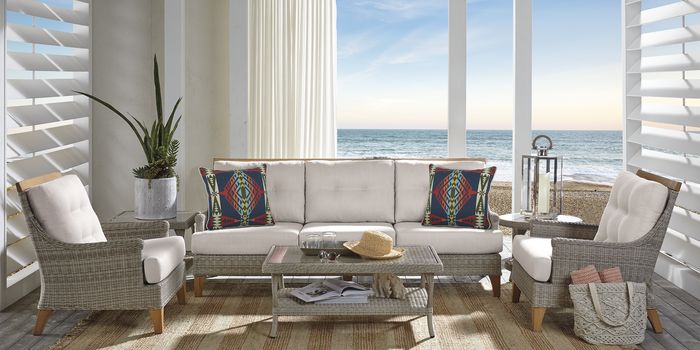 Set Up Your Seating Area
If you intend to kick back, take in the scenery and soak up the sun on your patio, you'll need quality outdoor seating. Consider a 4 pc, 5 pc or 6 pc furniture set for your roomy terrace. Or, piece your look together using individual sofas, sectionals, loveseats and chairs. You can also select poolside chaises, a rocking chair for your porch and ottomans that double as extra seats and footrests.
Many patio arrangements come with coordinating coffee and end tables. However, you'll need to choose your own accent tables if you decide to curate a unique design. Be sure to pick pieces with the same wicker, teak, aluminum or metal material as your seats. For an extra practical touch, set up tables with shelves and drawers that can hold books, sunglasses and other outdoor essentials.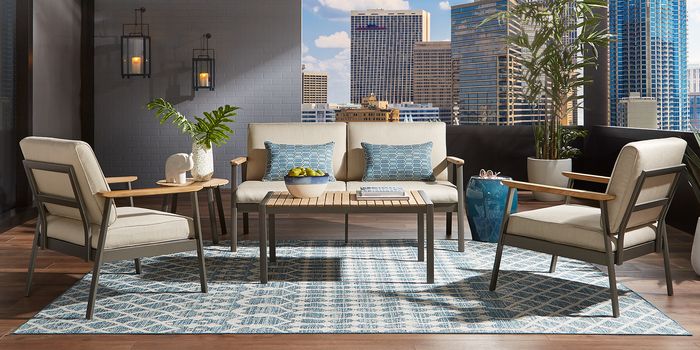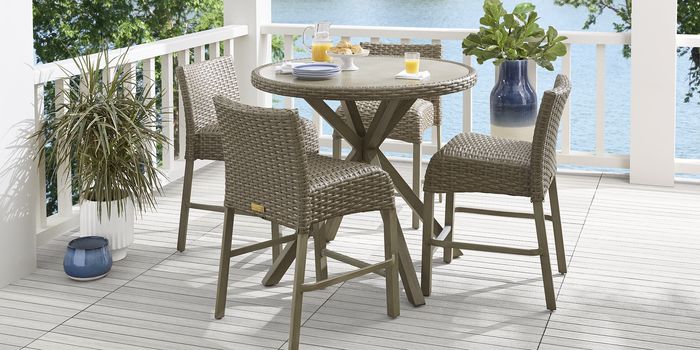 Accent Pieces and Functional Furnishings
Once all the larger furniture is in place, you can add some chic and practical finishing touches to tie the look together. Incorporate the following patio decor ideas into the layout to take your design to the next level.
Outdoor Rugs: Along with adding a touch of softness to a hardwood deck or concrete patio, textured outdoor rugs and mats give guests a spot to wipe their feet before going inside your home. You could also roll out multiple rugs before you set up your furniture to create designated areas for sitting, dining, grilling and sunbathing.
Throw Pillows: Plush pillows enhance the cozy vibe of your conversation set while also lending an eye-catching pop of color against beige, white or gray patio sofas. Browse blue and green cushions to promote a calm, relaxing vibe on your porch, or create a fun, upbeat atmosphere using bright red, orange and pink pillows.
Patio Umbrellas: Bring home a 9 foot, 11 foot or 13 foot patio umbrella to provide plenty of shade for your entire setup. Or, use a table or cantilever umbrella to cover specific areas of your deck.
Storage Pieces: Add a tiny shed or roomy storage chest to your outdoor design to keep pool toys, gardening tools, throw blankets and sports equipment organized between uses.
Light Fixtures: Outdoor light fixtures make a practical and stylish addition to your patio layout. Mount sconces on either side of the door for better visibility. On warm evenings, hang up lanterns and string lights to set the mood for backyard parties that last through the night. You can also set up a fire pit table to illuminate the space with gentle, glowing warmth.
Decorative Accents: Spruce up your patio space with a few outdoor accent pieces. Whether you mount abstract wall decor on the side of your home or place a lawn ornament or sculpture by your garden box, these items add a touch of artistic flair to your layout.
Maintenance tools and Protective Pieces: Investing in patio covers and cleaners is a smart way to keep your furniture in shape.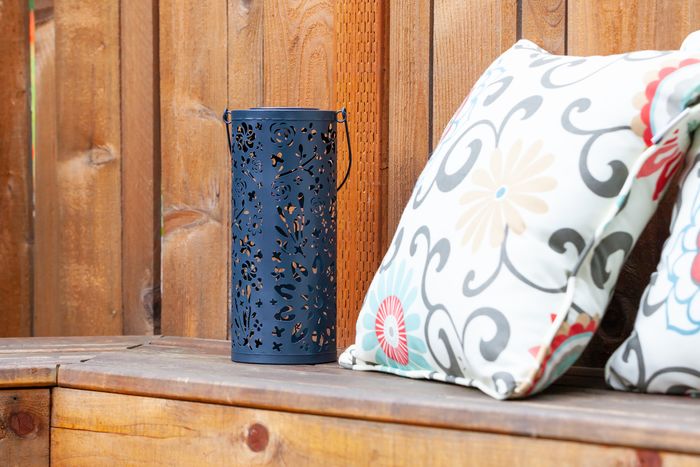 As you can see, there are several different ways to decorate a patio, regardless of its shape, size or style. As long as you outfit the space with comfortable, chic and practical furnishings, you'll be able to establish the perfect outdoor oasis to suit your needs.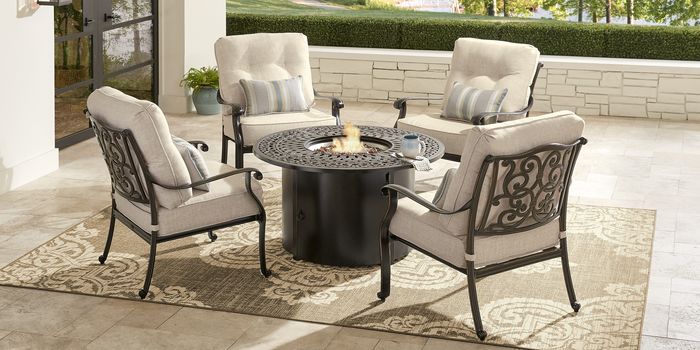 In This Guide:
How to Decorate a Patio