Though many homeowners tend to overlook the design potential of their stairways, these areas can be so much more than a transitional space between the upper and lower floors. A stairway is a blank canvas to showcase your creativity and bolster your stylish theme. Whether you're decorating your new home and want to give the stairway some attention or are looking to complement your existing design, our guide is here to help.
Before You Start
It's easy to over-decorate when trying to add visual interest to an empty stairway. What begins as a few pictures on the wall can grow into a cluttered, overwhelming look that makes the space feel smaller. By applying some of the key elements of home design, you can avoid this issue and create balance between the smaller details of your stairway and the bigger picture of your overall setup.
Stairways come in all shapes and sizes, so what looks good for one home may look out of place in another. Overcrowding the walls with decor of different shapes and sizes can look messy, so spend some time visualizing your ideal look before adding a single piece. Take some time to consider your specific space limitations before starting your stairway design.
Stairway Designs
Narrow Stairway Decorating Ideas
Smaller stairways often benefit from minimal use of wall decor. To avoid a busy or haphazard look, try arranging an even number of small pieces in a tight cluster on the wall. If wall space is at a premium, choose a couple of your favorite paintings or photos and hang them according to size. For instance, if one item is larger than the others, place it in the center and surround it with the remaining fixtures.
Enclosed Stairway Decorating Ideas
If you have an enclosed stairway, one large piece of artwork or decor is often enough to fill out the space. For a chic and functional option, consider using a decorative mirror to reflect natural light and brighten up this windowless area. Or, fill your wall with collections of photos that span the full length of the stairway.
Decorating Large Stairways
Large staircases often have plenty of wall space to accommodate your unique design vision. Consider curating your own gallery wall by arranging wall art and prints in rows, columns or asymmetrical groupings. If you prefer fewer pieces but still want to take advantage of the open space, add large stairway wall decor such as a wide rectangular mirror or a sizable wall clock.
If you have a stairway landing, consider creating a focal point using stylish flourishes and a few furnishings. Experiment with stairway landing decorating ideas such as placing a small accent table in the corner and adorning it with a table lamp or candle holders. You can also add sconces and hanging lights to the stairway and use the accent table to display family photos, keepsakes and more.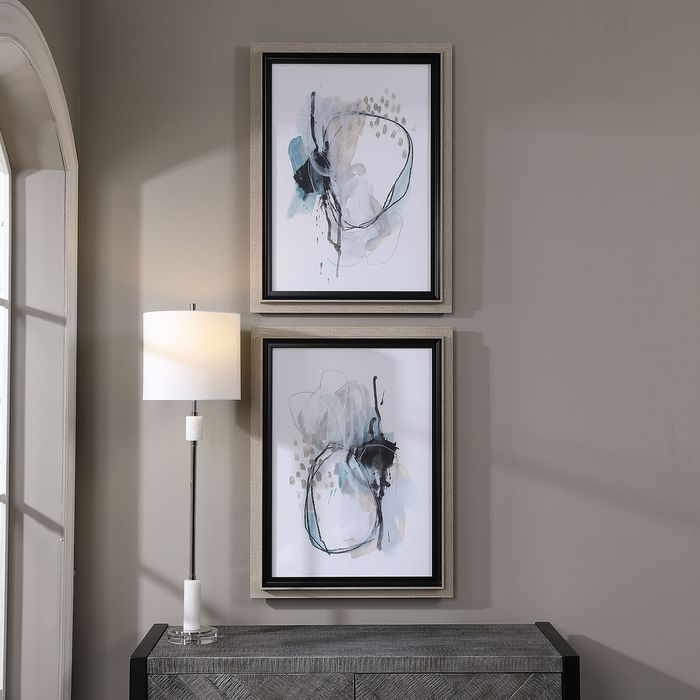 Other Ideas for Stairway Wall Decor
Complement Your Theme
Besides giving your home a visual boost, decorating your stairway is a great way to reinforce a specific theme. Looking to complement your rustic look? Farmhouse stairway decor that blends distressed wood and antique metal is perfect for your charming design. If your layout features polished metal and bold hues, consider contemporary wall decor with vibrant primary colors.
Where to Place Stairway Wall Art
How you arrange your wall art is just as important as where you place it on the wall. To make the most of your design, the center of your wall art should always be eye level. However, it's slightly different if you group several pieces together. In this case, think of each cluster of wall decor as a single piece and hang them at eye level accordingly.
Take Your Design to New Heights
When you're putting the finishing touches on your stylish home design, remember to give your stairway plenty of attention as well. While they serve the practical purpose of getting us from one floor to another, stairways can also enhance an existing theme or provide an eye-catching focal point. Experiment with different design techniques and arrangements to find the best fit for your space.
In This Guide:
How to Decorate a Stairway