Choosing Table Decor
Depending on whether you're decorating a living room, dining room, entryway or bedroom, a table can be a practical and decorative addition to the space. Topping table surfaces with chic, eye-catching accents is a smart way to give your layout a more stylish, lived-in look. Wondering how to decorate the tables in your home? Check out this post for some helpful tips and ideas.
How to Style a Coffee Table
Along with holding drinks, TV remotes and video game controllers, coffee and cocktail tables can tie your whole seating arrangement together. To refresh the space and enhance its appealing, inviting vibe, place a family photo and a potted plant in the center of your coffee table. Next, add a splash of color to a white, black, gray or glass tabletop by laying out magazines with bright, vibrant covers.
If you're looking to add artistic flair to your coffee table, consider using some decorative accents. Unique figurines, ceramic bowls full of colorful stones or a book of your favorite artist's photos and paintings can transform your table into a stunning centerpiece. However, make sure you leave enough room so you can still use the surface as a practical landing spot for living room essentials.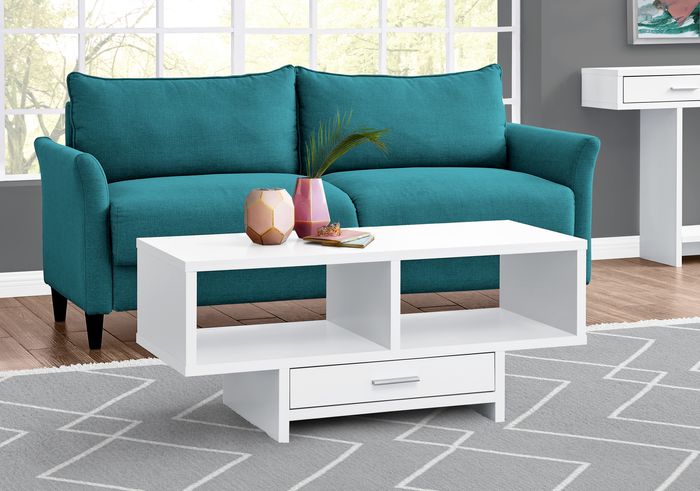 How to Style a Round Coffee Table
While many of the decor items for rectangular coffee tables work on round coffee tables as well, it may take a little creativity to avoid overcrowding the tabletop. A set of nesting tables or a model with a tiered top may be a better option if you need room for additional accents. If the table is tall enough, you could also tuck a storage ottoman underneath and swap out seasonal decor as needed.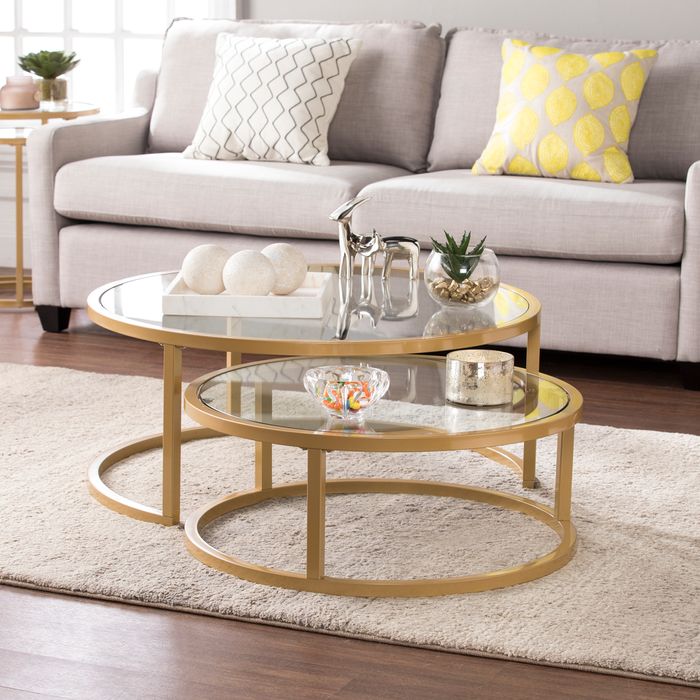 How to Style a Console Table
Many people use console tables to hold key bowls, mail, and small clothing accessories like hats and handbags in their foyers. Looking to spruce up these surfaces? Move the practical items to the console table drawers and set a decorative vase, sculpture or antique candle holder on the table. Then, go beyond the tabletop by filling in the wall above it with artwork or a mirror in a gorgeous frame.
Where you put your console table can influence what decor items you place on it. In the living room, this table can be a gallery for your favorite family photos. Meanwhile, a model with built-in shelves can display your academic degrees, a globe figurine and a stack of books in your office or study. To establish a chic home bar in the dining room, top your console table with wine, spirits, mixers and glasses.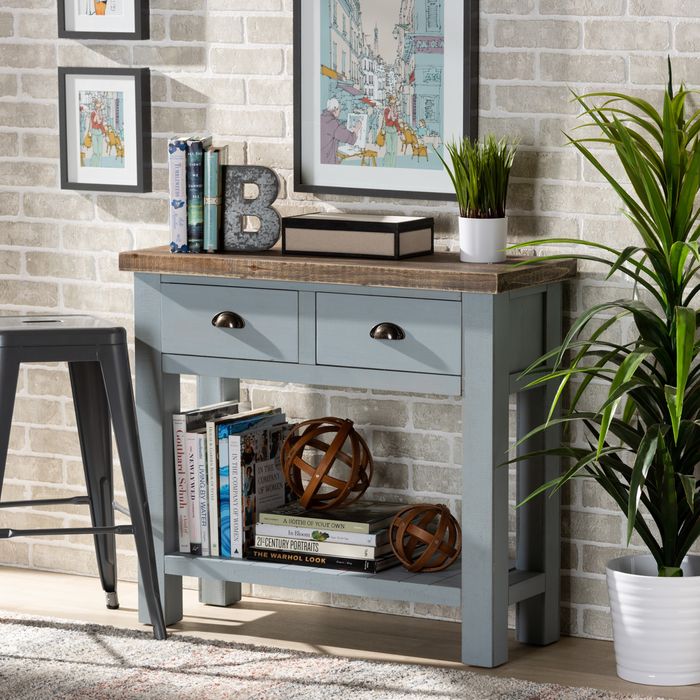 How to Style a Sofa Table
A narrow console table that fits behind the sofa is an amazing space saver if you're decorating a studio apartment or other small layout. From a practical standpoint, these tables keep books, drinks, remotes and video game controllers within reach as you relax on your couch or sectional. However, you can also add beautiful table lamps for adequate lighting and a touch of stunning style.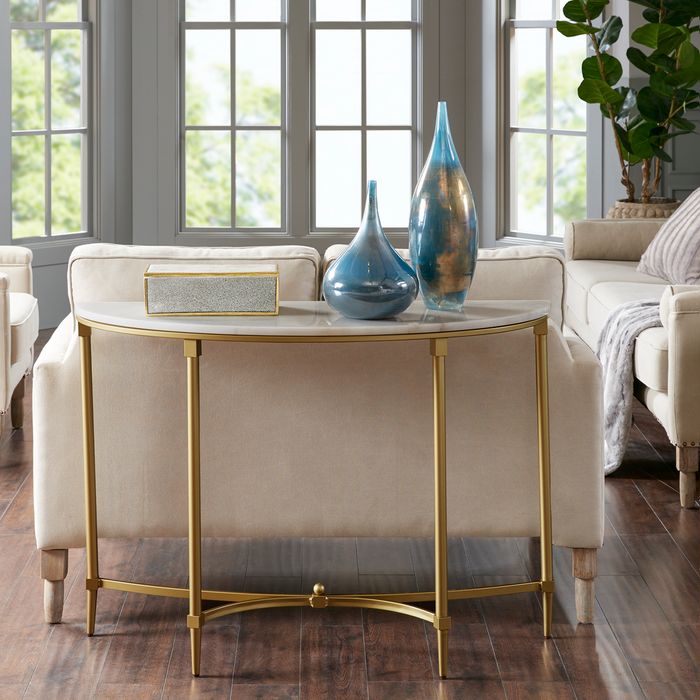 How to Style a Side Table
Whether it's an end table or a nightstand, side tables serve as a catch-all for practical items and various trinkets. Since their tabletops are so small, it's important to use decor sparingly so you can still use the surface for essentials like lamps, coasters and desk clocks. One way to accomplish this is to choose one or two decorative accents that complement your overall interior design.
Drape your dark wood side tables with delicate doilies to enhance the elegant, traditional vibe of your parlor. Or, top the glass end table in your contemporary-style family room with an angular crystal or metal figurine. Want to evoke a charming farmhouse feel in a guest room or primary suite? Set a weathered-wood sculpture and a tin can of wildflowers atop your rustic bedside tables.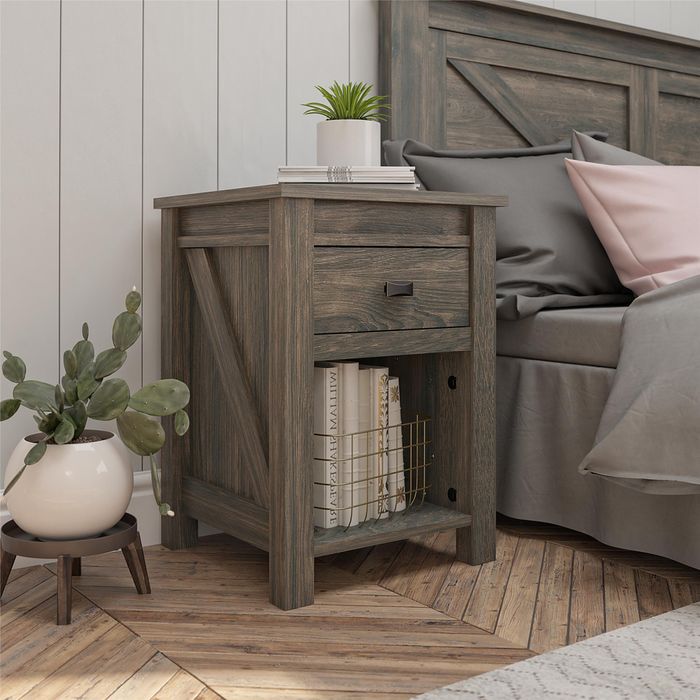 How to Style a Dining Room Table
As the focal point of your dining room, your dining table design should make a striking impression on your guests. Placemats, runners and tablecloths are perfect for adding a pop of color and texture to your tabletop. Between meals, a set of candleholders, a bowl of wax fruit or a lush floral arrangement can be an excellent decorative addition to your dining table.
When it's time to host a dinner party or family potluck, the place settings themselves can serve as dining table decor before you bring out the food. Arrange fine china, stemware and colorful linen napkins at each seat to give your table an upscale, appealing look. Include polished serving platters, drink pitchers and a few lit candles to tie the setup together.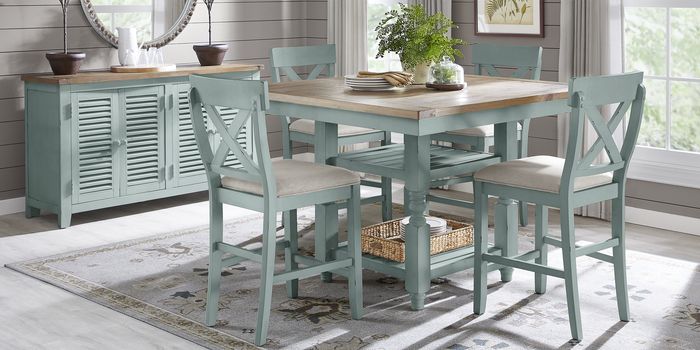 How to Style a Buffet Table
If you're looking to add some decorative flair to your server or buffet, you can apply some of the same techniques you used on the dining table. Top your buffet with a runner, and use a floral arrangement or an eye-catching sculpture to add color and style. If you like, place a short stack of plates and some napkins at one end to make setting the dinner table quick and easy.
For an extra homey touch, consider setting an open photo album on your buffet table between uses. Displaying pictures of the holiday meals, game nights and birthday parties that you and your loved ones have shared around the dinner table is a wonderful way to enhance the warm, welcoming atmosphere of your dining area.
Whether you're decorating a new home or want to update your current design, your tables can be the perfect spot to showcase your sense of style. Try out some of the suggestions in this guide to maximize the chic potential of every tabletop in your layout.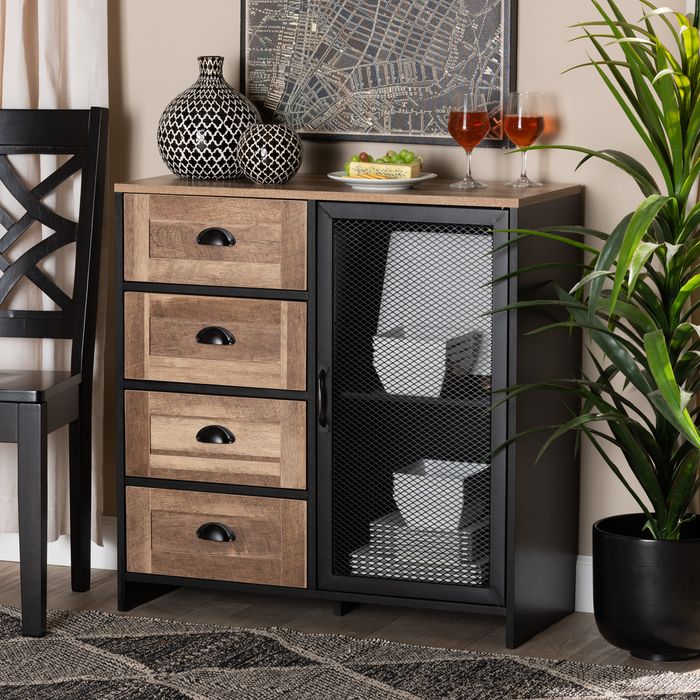 In This Guide:
How to Decorate a Table