When it comes to selecting decorative accents for the walls in your living room, it's important to pick pieces that complement your sense of style, suit your color palette and fill in the empty space while maintaining a non-cluttered, cohesive look. Check out the following tips to get some ideas on how to decorate your living room walls.
Living Room Wall Decor Planning
Decide on a Decor Style
Your choice of wall decor helps establish the overall aesthetic of your family room. As such, you'll need to determine what type of chic atmosphere you want to create and select accents that let you achieve that goal. Ideally, the decorative items you use should coordinate with the other stylish furnishings in your space.
If your living room features classic furnishings with carved detailing and polished cherry finishes, traditional wall decor can tie the look together. Likewise, you can pick contemporary, rustic, minimalist, transitional or modern art to complement your decorative theme. Those with more eclectic tastes can mix and match a few different styles as long as they adhere to the basic rules of design.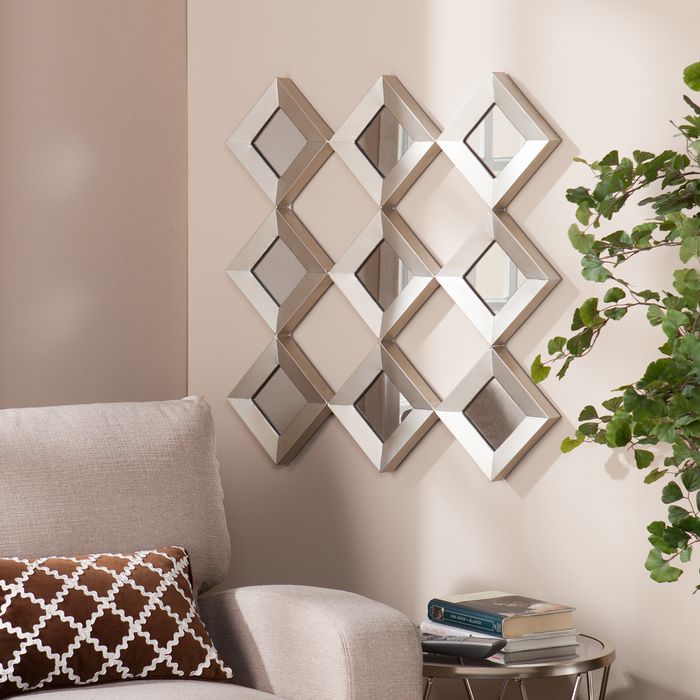 Pick a Color Scheme
Whether you plan to paint your walls, hang textured tapestries or put up patterned wallpaper, it's important to choose colors that will help your mounted accents pop. Consider some of the following palettes and decide which hues work best as an accent wall or a backdrop for other chic accents:
Neutral Colors: Adopting a neutral color palette for the walls promotes a clean look and a mellow mood within your living room. Using paint and decor in shades of gray, white, black and beige is a stylish way to adorn your walls while helping more colorful living room furnishings stand out.
Warm Colors: Vibrant red, yellow, orange and pink shades introduce a dynamic energy to your design. If you're looking to create a bright, sunny atmosphere in a dark or monochromatic layout, this may be the perfect palette for your lively family room.