When it comes to selecting decorative accents for the walls in your living room, it's important to pick pieces that complement your sense of style, suit your color palette and fill in the empty space while maintaining a non-cluttered, cohesive look. Check out the following tips to get some ideas on how to decorate your living room walls.
Living Room Wall Decor Planning
Decide on a Decor Style
Your choice of wall decor helps establish the overall aesthetic of your family room. As such, you'll need to determine what type of chic atmosphere you want to create and select accents that let you achieve that goal. Ideally, the decorative items you use should coordinate with the other stylish furnishings in your space.
If your living room features classic furnishings with carved detailing and polished cherry finishes, traditional wall decor can tie the look together. Likewise, you can pick contemporary, rustic, minimalist, transitional or modern art to complement your decorative theme. Those with more eclectic tastes can mix and match a few different styles as long as they adhere to the basic rules of design.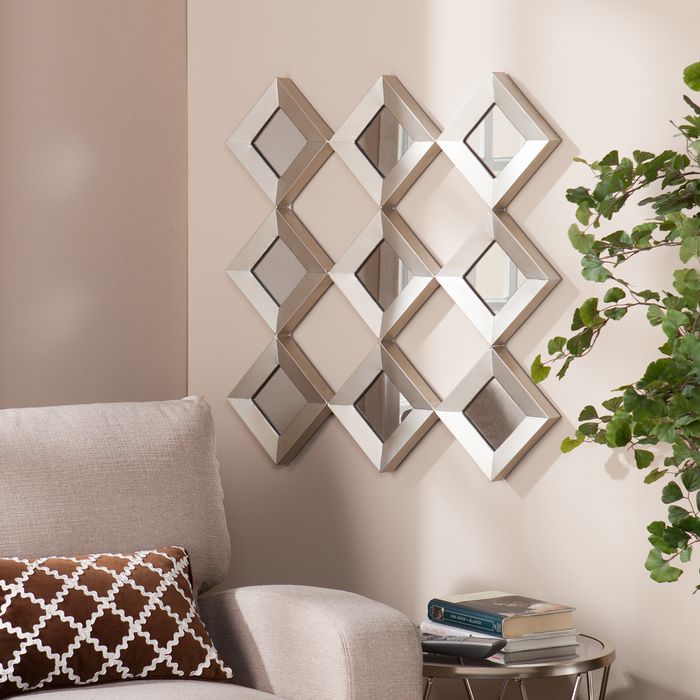 Pick a Color Scheme
Whether you plan to paint your walls, hang textured tapestries or put up patterned wallpaper, it's important to choose colors that will help your mounted accents pop. Consider some of the following palettes and decide which hues work best as an accent wall or a backdrop for other chic accents:
Neutral Colors: Adopting a neutral color palette for the walls promotes a clean look and a mellow mood within your living room. Using paint and decor in shades of gray, white, black and beige is a stylish way to adorn your walls while helping more colorful living room furnishings stand out.
Warm Colors: Vibrant red, yellow, orange and pink shades introduce a dynamic energy to your design. If you're looking to create a bright, sunny atmosphere in a dark or monochromatic layout, this may be the perfect palette for your lively family room.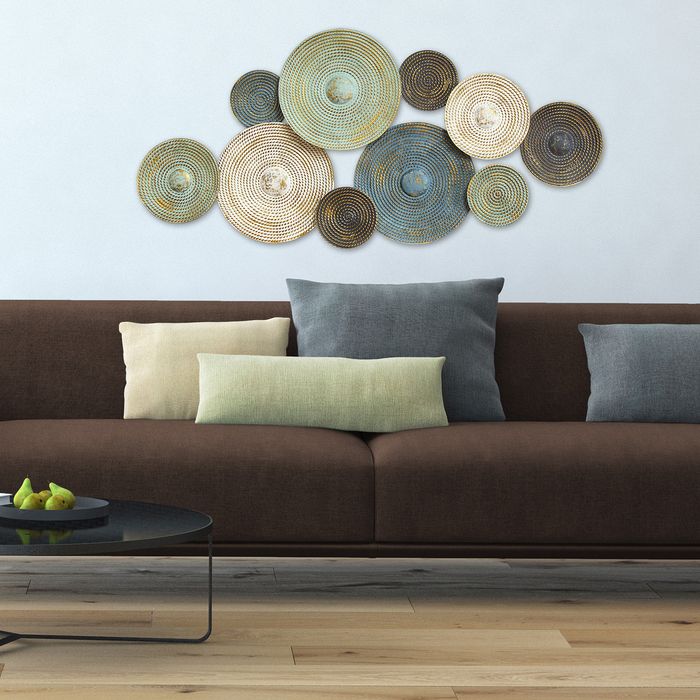 Plan Decor Sizes and Placements
Before you start picking out decorative items, you'll need to visualize how you want your walls to look. Accents should suit the overall scale of your space, meaning they're large enough that you can see them clearly from across the room yet small enough to avoid overwhelming the design.
You'll also need to space your decor properly to keep the walls from looking cluttered. If you place accents too close together, the design can appear crowded. However, if your wall decor is too far apart, your living room may appear unfinished. As a general rule, you should leave three to six inches of space between accents.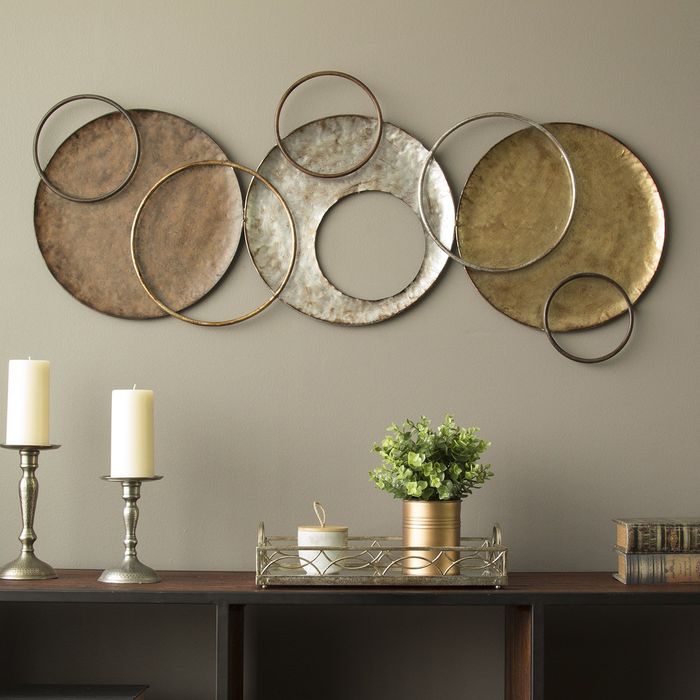 Living Room Wall Decor Ideas
Choosing Decorative Accents for Living Room Walls
Now that you've chosen a style, color scheme and design for your living room walls, it's time to select decor that fits your vision. Think about mounting some of the following accents to the walls in your family room:
Artwork: Paintings, posters and unique tapestries lend an artistic flair to your living room layout. To enhance the warm, charming vibe of the space, include a framed photo gallery with pictures of your loved ones.
Sculptures: Unique wall sculptures add depth and dimension to your design. Featuring metal, dark wood and woven materials, these pieces can also complement almost any chic aesthetic.
Storage Pieces: If you're looking for a practical way to fill in blank wall space, consider setting up a bookcase, accent cabinet, TV stand, console table or a network of hanging shelves. Functional furnishings like these provide additional storage for your layout and let you turn your media collection, potted plants and favorite trinkets into stylish accents that enhance your overall design.
Light Fixtures: Light fixtures such as sconces and table or floor lamps are excellent items that can double as wall decor. If you live in a small space like an apartment, consider using a string of hanging lights to take up less space while illuminating your living room layout.
Decorative Mirrors: A decorative mirror with a striking gold or silver frame is perfect for bringing stunning sophistication to your living room wall design. You can also use these fixtures to reflect natural light and brighten up a dark, windowless living room.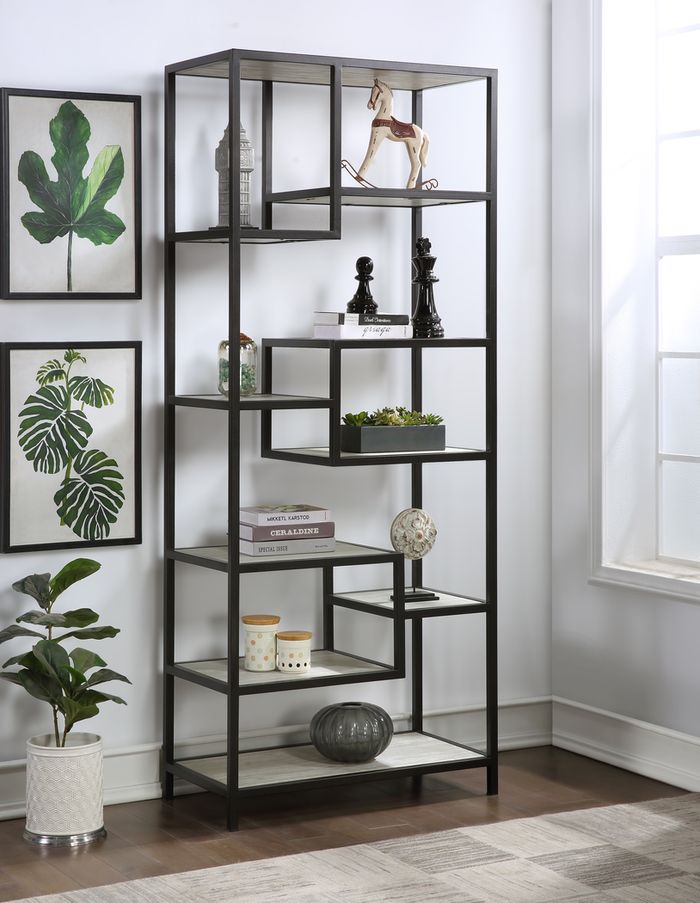 Themed Wall Decor
Wondering how to decorate a large wall in your living room? Start by narrowing your decor choices down to items that suit a particular theme. For example, suppose you want to showcase your love of family and friends. You could fill your wide wall with photos from holidays and special occasions, drawings from your young kids or grandchildren and mementos from fun family vacations.
Other theme wall ideas may include decor that recalls some of your favorite activities, places, styles and hobbies. If you love to stay active, consider mounting athletic trophies, medals and jerseys on the wall for motivation. You could also devote the space to photos and maps of your favorite travel locations or create a nautical, country, or cosmopolitan theme using murals and other accents.
Decorating your walls is a smart and stylish way to revitalize your living room layout. If you're looking for a way to spruce up your space and give it a chic, lived-in look, use this guide to inspire your setup and help you choose the living room wall decor that suits your beautiful and charming interior design.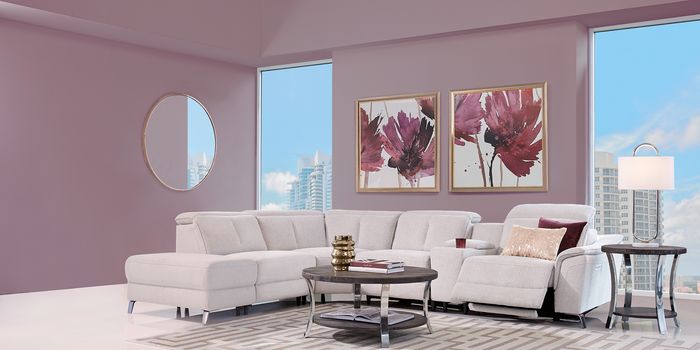 In This Guide:
How to Decorate Living Room Walls