How to Choose the Right Size Bed for a Kid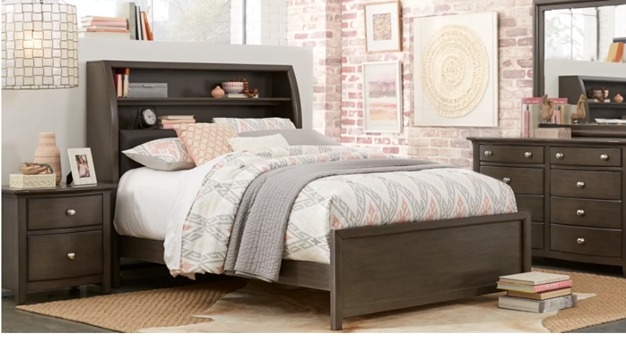 Each new year means more when it comes to your children, especially knowing they'll eventually outgrow their [furniture](/furniture/kids-and-teens). An integral part of their room starts with the place they'll spend a lot of their time - their bed.
Giving them the right [bed](/furniture/bedrooms/beds/kids) for their size is important so they can get the rest the need. Consider factors like size, style, and bedroom space when selecting the proper bed for your child.
Factors to Determine a Suitable Bed
Your kid's height is a great place to start to get a better idea of the right size bed. Be sure to write this down as you'll use this to evaluate the height of their room to the height of the bed.
Review the weight limit that has been tried and tested for the frame of each bed. Children often play on the bed, and visiting guests can often weigh more. Next, measure the dimensions of the space where you intend to place the bed. As for the [mattress](/mattress/kids), make sure it will fit the size of the bed and is firm enough to support your child's weight.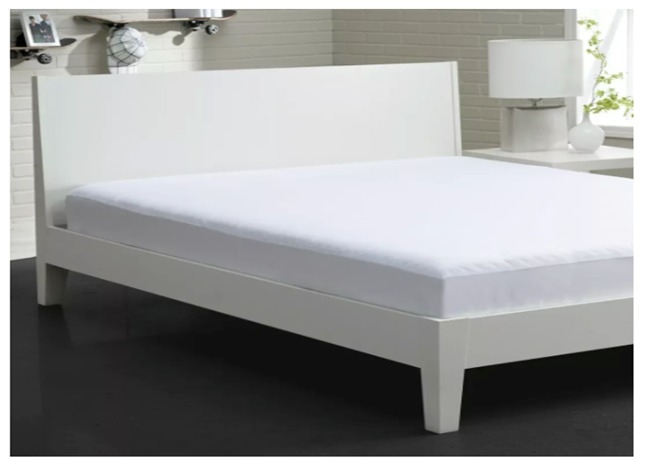 Selecting a Mattress
Investing in a quality mattress can provide longevity and assure your child more restful nights in the future. There are three common types of mattresses to choose from: [memory foam](/mattress/size/twin/comfort/firm/technology/memory-foam), pocket coils, or [innerspring mattress](/mattress/technology/innerspring). Evaluate each mattress type for comfort, materials, and of course, size when choosing the best mattress for your child.
Pick a Proper Bed Type
When choosing a bed type, assess the aesthetic and features that you and your children want in the room, keeping in mind you may want something that will accommodate them for years to come. Typically, kids will transition from a [crib](/furniture/kids-and-teens/baby/cribs) to a toddler's bed or a big bed. Think about whether you're looking for longevity or convenience (or both) for their next bed.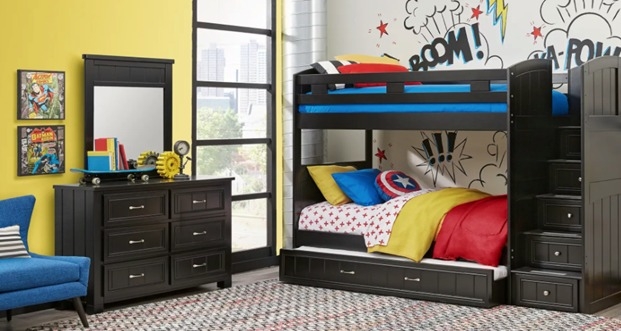 Bunk Bed
Bunk beds are great for a shared bedroom, or a single bedroom if you're looking to make the most of limited room. Keep in mind the height of the top of any [bunk bed](/furniture/kids-and-teens/bunk-beds), and make sure your little one is comfortable going up and down if they plan to rest their heads in the top bunk.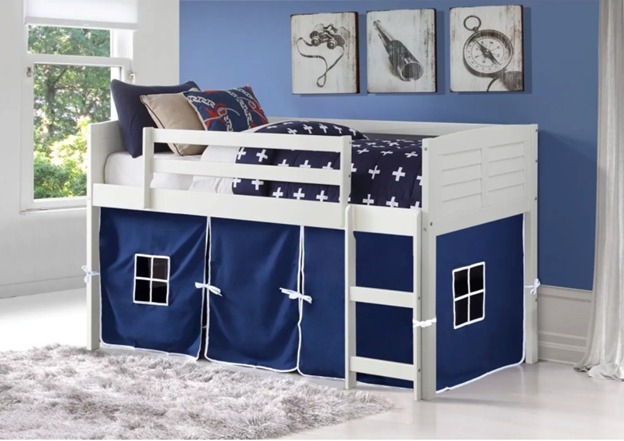 Loft Bed
Known as a mid-sleeper or cabin bed, these beds consist of either an elevated twin or a full-size bed. With the free space, you can add more storage or enjoy an uncluttered floor. There's a variety of sizes to accommodate a range of heights for all ages.
The taller [lofts](/furniture/kids-and-teens/loft-beds) are typically for older children as there are fewer safety concerns. In addition, a railing guard can be securely attached to the structure to prevent younger children from tipping it over.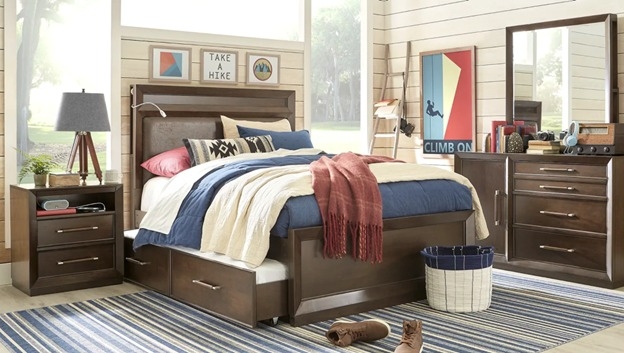 Trundle Bed
For the versatile [trundle bed](/furniture/bedrooms/beds/kids/trundle), a resting area provides two beds in one, a perfect option for sleepovers. The additional bed rolls out with a simple tug, and slides right back into its original position underneath the bed frame when no longer needed.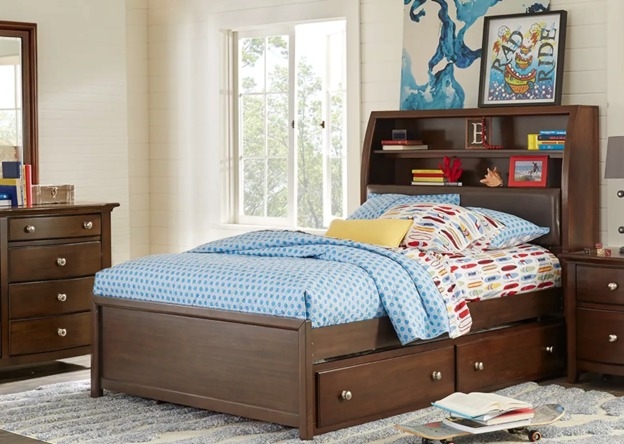 Cabin Bed
This space-saving choice can be a twin, loft, or bunk bed that comes with additional [storage](/furniture/kids-and-teens/loft-beds/style/storage) compartments. You'll have room to store away clothes, toys, or even [bed linens](/furniture/bedrooms/bedding/kids), helping keep their room tidy.
Choose the best bed for your kids based on their age, their space, and their needs now and in the future. It's a good idea to have your children test a bed and mattress for themselves, to know for sure if it's the bed is right for them. A proper bed will help [maintain good sleep habits](https://blog.roomstogo.com/sleep-health/), and provide a relaxing atmosphere in their room, as well as a great place for you to cuddle up with them and read a bedtime story together.