Kids Room Images & Inspiration
Creative Bedroom Themes
Kids can have wild visions about how they want their personal spaces to look, and those looks are often inspired by movies or books. When it comes to decorating a kid's bedroom, it can be challenging to bring their interests to life.
To find the best themes, choose what your child likes most or their hobbies. By talking to them, you can pin-point which theme would be the best for their room. By focusing on popular designs for bedrooms, you'll get a good selection of themes to explore for personalizing their own pad.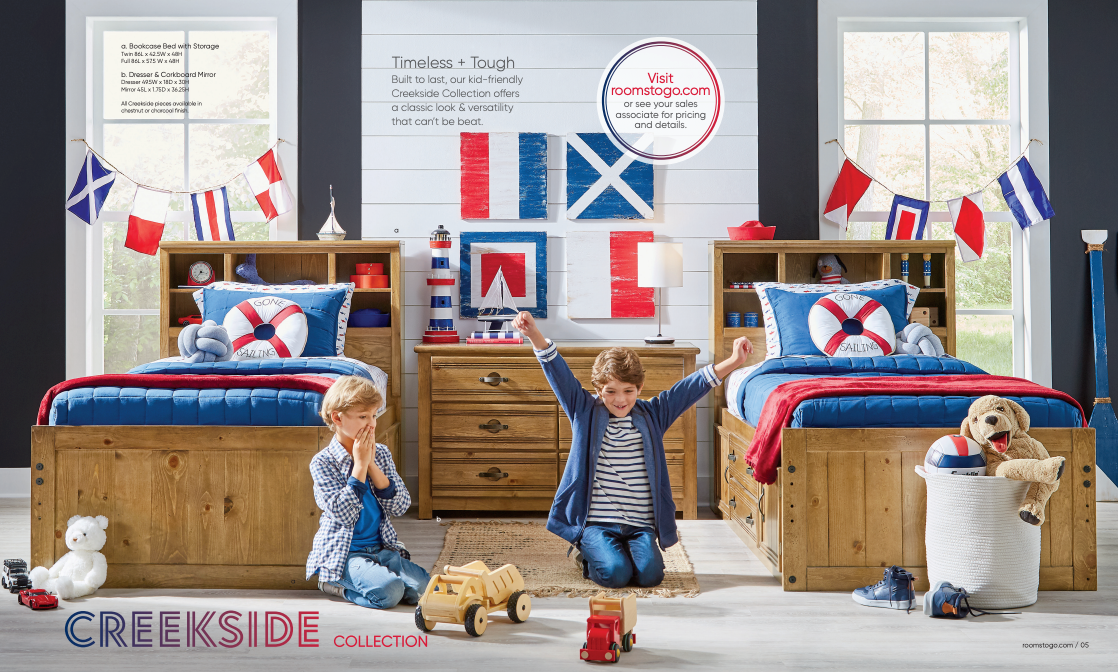 Nautical-inspired Room
Who knew boats and flags could be nifty? Take a dip into this stylish, Creekside collection with fun patterns inspired by coastal fashion. Let your child feel like a captain of their own ship searching for an adventure with a simple color palette with various textures that complete the nautical look.
This following theme uses a color scheme of red, navy-blue, and white furnishings like flags and stripes to bring a serene feeling to their space. A nod to elements of boating through statement pieces such as a miniature model boat, decorative lighthouse, and a pair of ring buoys gives the impression of a home on the sea.
With a timber-crafted loft bed and relaxing navy-blue bedding to match the style, you'll find furniture reminiscent of the inside of a ship. However, there's more to the nautical world to incorporate in a room. Select pieces that share a related coastal theme as in sea life or characteristics of a sailor's living quarters.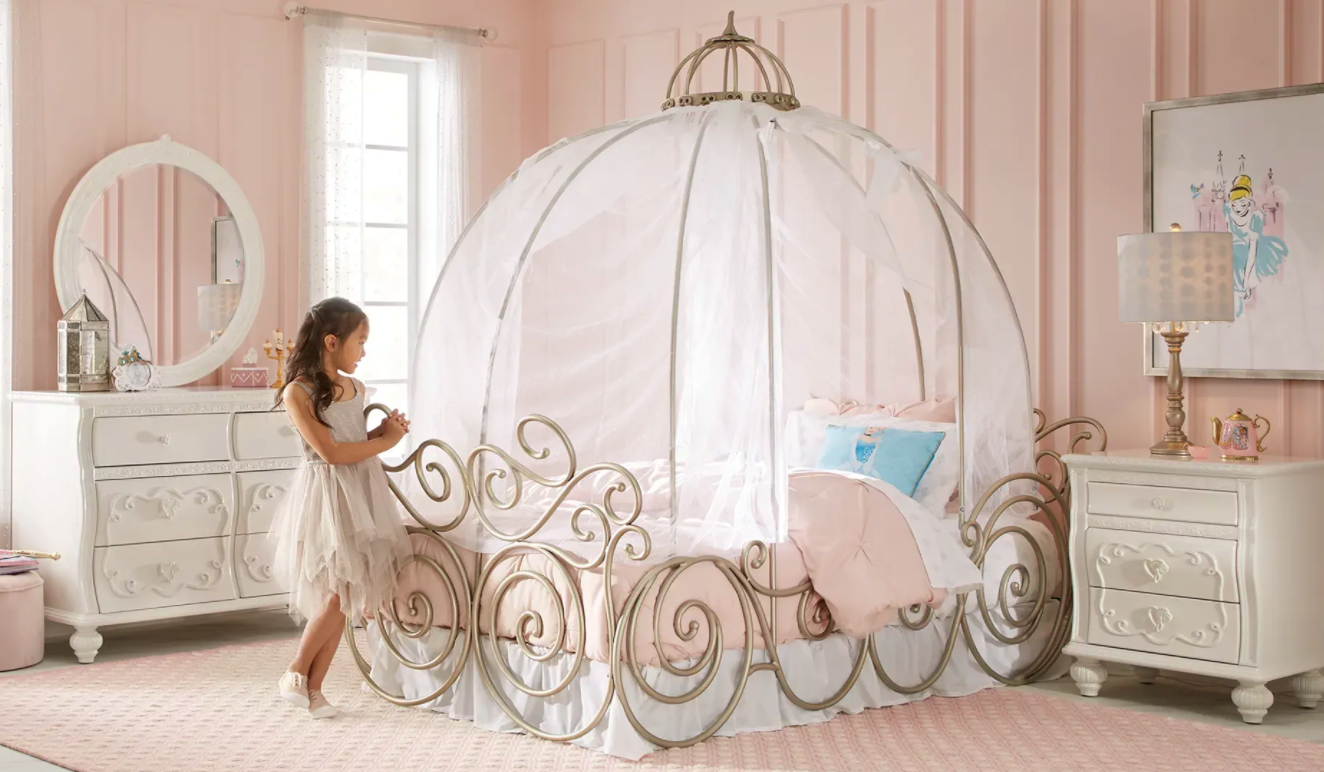 Princess-Inspired Room
Make their dream come true with Disney magic by incorporating pieces from the Disney Princess collection. From beloved Cinderella to Sleeping Beauty, Disney's decor invites your child to imagine themselves as royalty living in a castle.
Let these furnishings inspire you to curate a whimsical bedroom using a light pink, off-white, and gold color scheme. With simple, yet elegant furniture to even out to the sweetness of the soft hues of the space.
A variety of styles and color themes will allow your kids to feel like royalty with their room resembling a castle. In this curated set, the gentle pink helps the luxurious furnishings as in the imaginative bed canopy become the hero piece of the room.
This lovely, metallic bed designed to look like Cinderella's carriage to whisk them away to their own kingdom. As the hero piece with its charming, white-gold finish act as a focal point of the design in the selection of fitting furniture to focus on a royal look.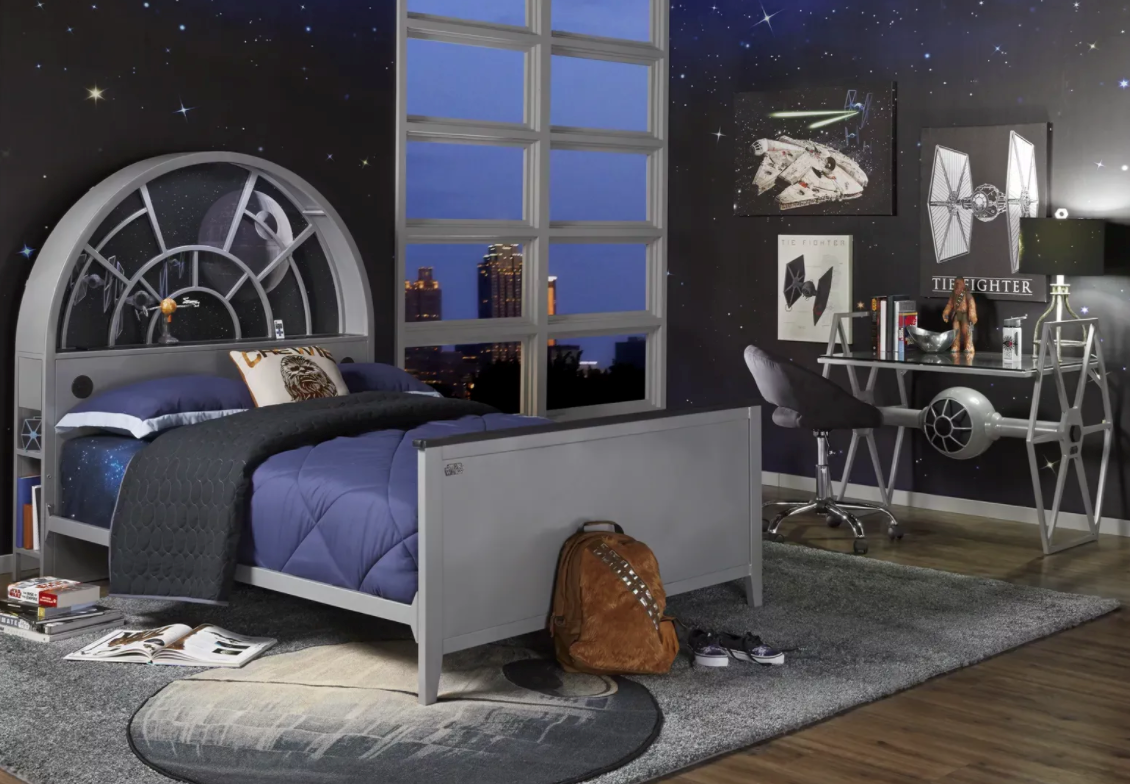 Out-of-This-World-Inspired Room
Bring a galaxy far, far away to your little fan's lair with pieces from our Star Wars collection. Set up a show-stopping space to tell an epic story through multiple futuristic pieces to inspire their own space adventures. Starting with a bedding set that features elements of the Star Wars saga including a spacecraft and cool gadgets.
Who knew you could care about storage even on an imaginative spaceship? As your Padawan grows, they'll need more space to store keepsakes and other items from their intergalactic adventures. This stellar metallic, grey bed is reminiscent of the Millennium Falcon and features handy places to house items.
For this theme, a color palette of dark blue, white, and light gray emphasizes the vastness of outer space and other galaxies. The black walls with prints of stars provide the backdrop that allows the color scheme to pop even more. All these elements work together to create an appealing space that might even awaken the Force in your little one.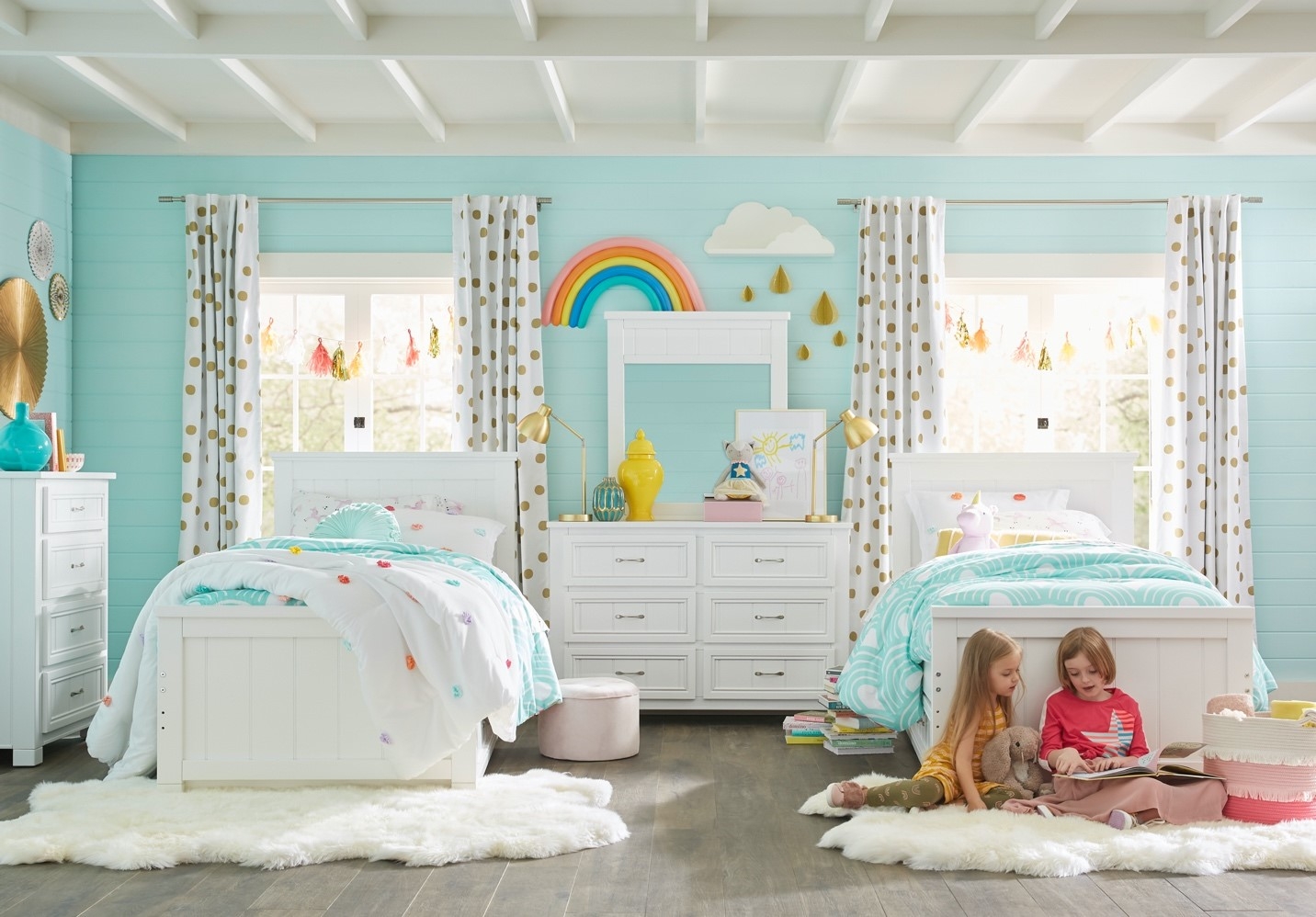 Contemporary-Inspired Room
Take an imaginative approach using pastel hues coupled with modern style to bring a blissful energy to your kid's den. By pairing playful, bright colored pieces together, you can display their playful personality. When it comes to styling their room, pastel colors can have a soothing effect on their surroundings and feature in eye-catching design concepts.
Consider this set from the Cottage Colors Collection that utilizes combinations of colorful elements in a manner that is both fresh and timeless, like a reversible comforter that's white with rainbow polka dots on one side, and a soothing turquoise pattern on the other.