How to Pick the Perfect Sofa for Your Living Room
A chic and comfy sofa is an essential centerpiece for any living room. Couches with cozy cushions and functional features allow you and your loved ones to relax and unwind in comfort, whether you're enjoying a midday catnap or throwing a lively and entertaining movie night. To find the best sofa for living rooms, you'll have to compare factors like sofa sizes, styles and designs.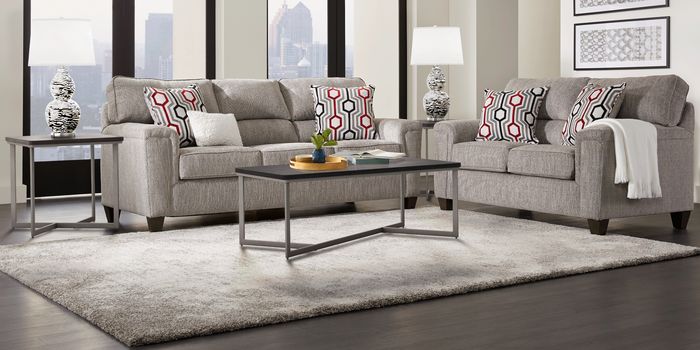 Setting up Your Central Seating Arrangement
Generally, you'll want to plan the rest of your living room around your central seating arrangement. Thankfully, sofas come in a wide array of size and style configurations, making it easy to design the ultimate living room layout using your beautiful sofa as a focal point. Use this sofa buying guide as a starting point to find sofa set ideas for living rooms of all shapes and sizes.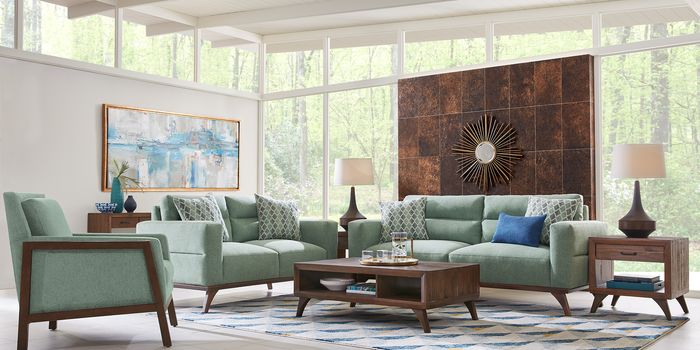 Consider How You Want to Use the Room
First, determine how you plan to use your living room and adjust your seating plan accordingly. If you enjoy gathering around the TV with your loved ones after a long day, plan to place your couch across from your media setup. However, if you prefer quiet nights and casual conversation, arrange your sofa, loveseat and side chairs away from the entertainment center.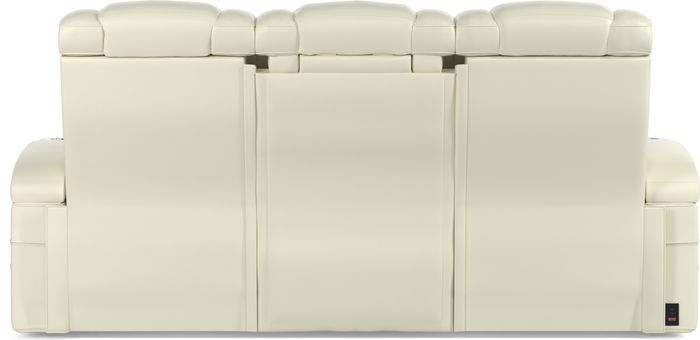 Standard Sofa Dimensions
Determining what size sofa you need for your living room will depend on the dimensions of your overall layout and the amount of seating you need. You'll also need to leave space for end tables, chairs, and movement through your space.
Taking good measurements is critical for both function and appearance. You'll need to keep in mind that sofa sizes can vary by style, so it's helpful when shopping to know what ranges to stay within. Length, height and width will all make a difference in comfort and how your sofa looks in relation to the rest of the space.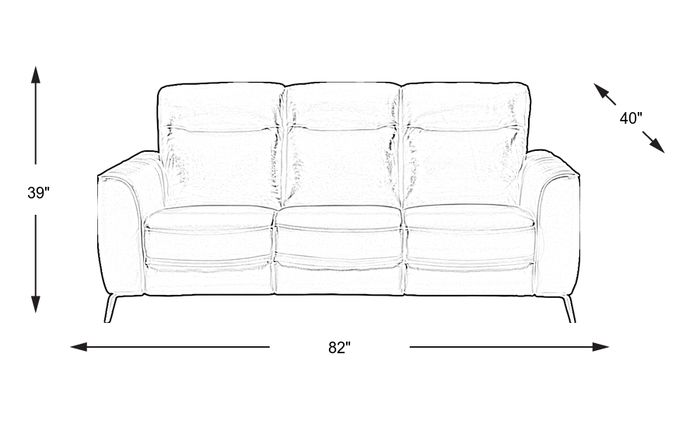 Choosing the Right Length
Couch length measures the longest part of the sofa from arm to arm. While the general range for sofas is between 72 and 96 inches, the average length is roughly 84 inches long. Sleek, armless sofas may be on the lower end of the scale, while traditional couches with thick rolled arms are likely to be on the higher side. Meanwhile, loveseats are typically between 48 and 72 inches long.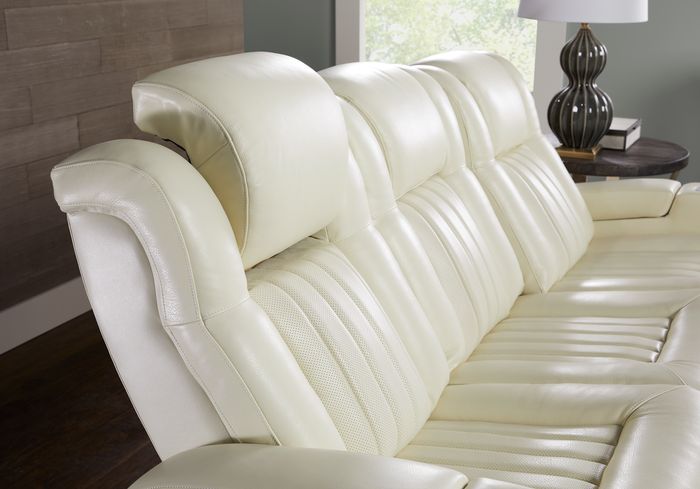 Average Sofa Height
Couch heights mark the difference between the sofa's highest point and the floor. Depending on their shape, most sofas and loveseats are between 30 and 39 inches tall. Classic arched couches may be on the taller side, while transitional sofas with high corners and a reverse-camelback design may be slightly shorter. A modular sofa built without legs will likely have the lowest height measurement.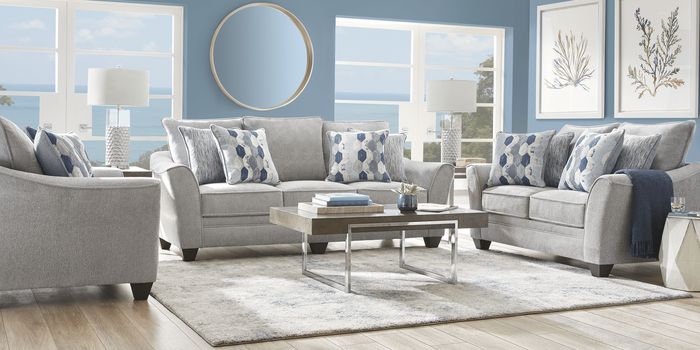 Couch Width
Sofa width or depth comes from measuring the outside edge of the couch all the way to the back, as well as the space between the front of the sofa seat and the back cushion. Narrow or overstuffed seats may be around 31 inches wide with a seat about 21 inches deep. Curved couches and other deep sofas are usually closer to 40 inches wide with a 26-inch seat.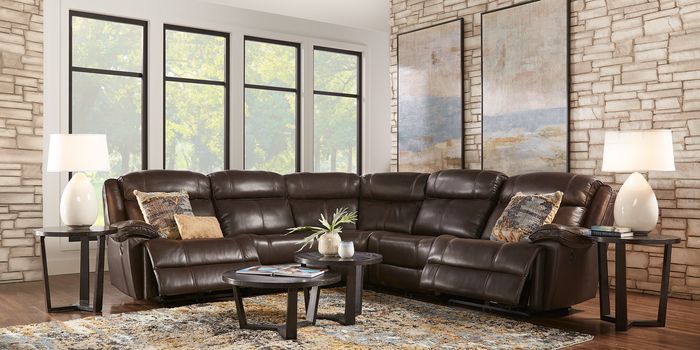 How Do I Choose The Right Size Sofa?
Once you understand the typical dimensions of most couches and loveseats, the next step is to figure out which size seat fits your space. Measuring the small room or larger open floor plan you want to furnish can narrow your search and keep you from choosing a couch that is too big or too small. Grab a notepad and tape measure and mark down the figures listed below:
Length: A common rule of thumb is to find a sofa that is approximately two-thirds the length of the wall it will sit against. Picking a big sofa for a living room that's too small will make the space feel cramped, while a too-small couch may look out of place and leave you unable to seat all your guests.
Height: Figuring out how tall the walls are can help you determine whether a taller or shorter sofa would be a better fit for the space. Choose a high-back couch to take up more room between the floor and ceiling, or opt for a low-profile sofa that is closer to the ground, leaving plenty of space for wall art and decor.
Width: Measuring the space between opposite walls lets you know what couch can fit without making your layout feel too crowded. If you plan on purchasing a reclining, trundle or sleeper sofa that extends into the center of the room, you'll need to take these measurements into account.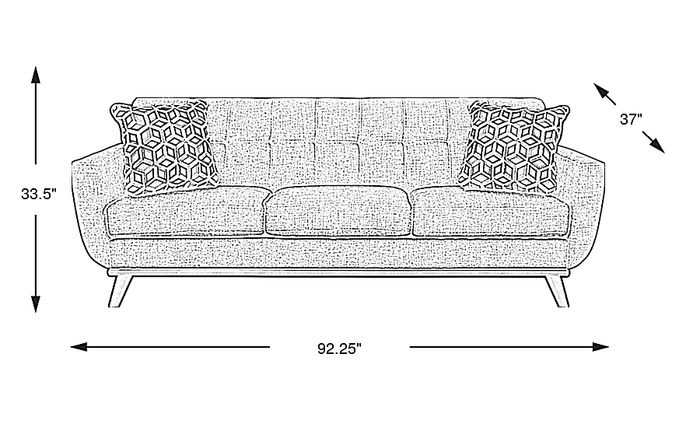 Finding a Sofa that Fits
After you learn the sizes of various sofas and calculate the proportions of your space, it's time to go shopping. Keep your room measurements handy to help eliminate the stressful guesswork that can come with picking out furniture. Use the sofa size chart and your room dimensions to guide your search for a comfy couch that suits your space.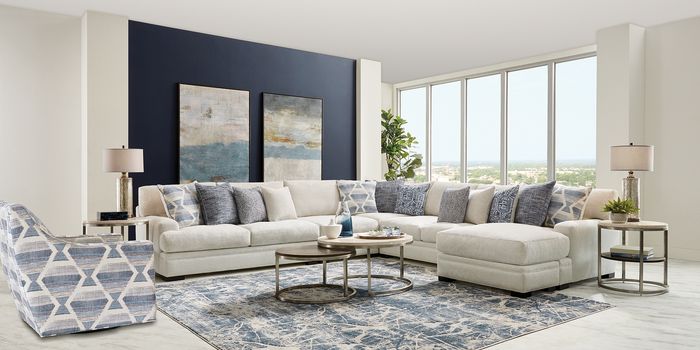 Sofas For Big, Open Rooms
Roomy five-seater sofas and eight-seater sectionals are an excellent choice if you need a sofa for a large living room and lots of room for guests. If you're unable to find the perfect big couch for your living room, adding a loveseat to your layout can provide the additional seating you need. You can also select two or three beautiful sofas for your living room and place them side-by-side.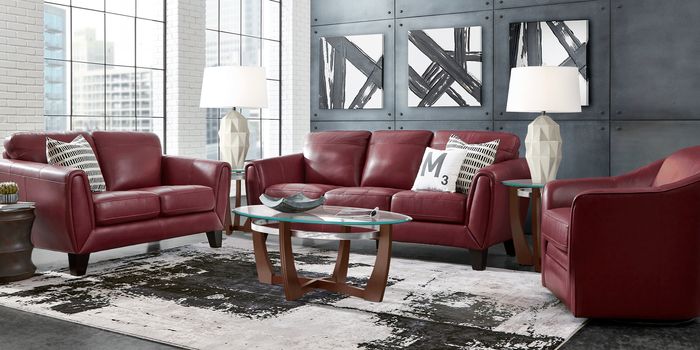 Couches for Small Spaces
Those with apartments or other small spaces will need to try different sofa set ideas instead. The best size sofa for a small living room is one designed specifically for tighter quarters. Browse Rooms to Go's selection of small sofa sizes to find low-profile, compact couches in a range of different styles.
Wondering how to make your small space appear larger? Consider lighter sofa colors for your small living room. Brighten and open up the layout by adding a beige low-height sofa for your living room. Or, set up a soft gray couch for a calm, soothing look. If you want to add an eye-catching pop of color to the room, try a light blue, mint green or pastel orange sofa.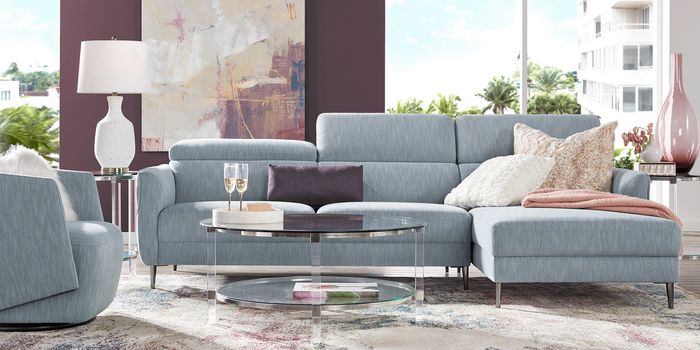 Complementing Your Decor With A Sofa
When decorating your living room, considering how you want to use your furniture can help you pick the perfect pieces. If you plan to lounge around, read or nap on your couch, a plush sofa with fabric or velvet upholstery is the perfect cozy option. A leather or microfiber couch might be a better choice if you intend to serve hors d'oeuvres and entertain guests in your living room every week.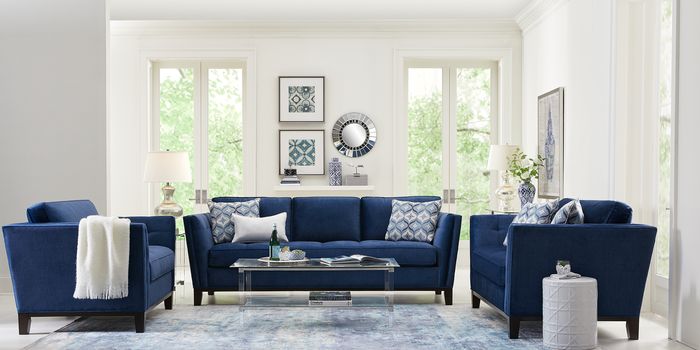 Those Small Details Matter
Your sofa should also complement the rest of the stylish furniture in your living room. A classic-style couch with rolled arms and button tufting is one of the best sofa designs for living rooms with traditional decor. Meanwhile, a sleek sofa with a low back and angled legs suits a modern living room look. To bring a mix of Old World charm and updated style to the space, choose a transitional-style sofa.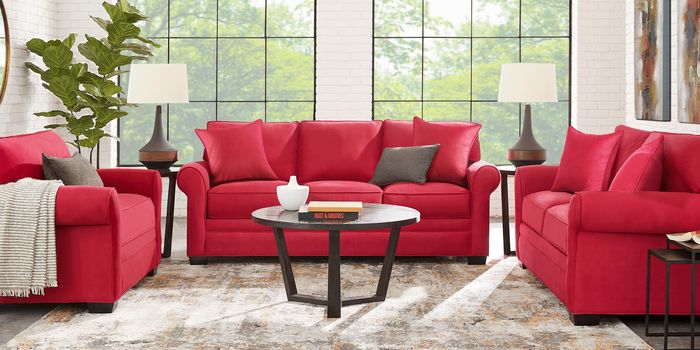 Some Sofas Have Additional Features
For an extra chic upgrade, consider seats with functional features when choosing a comfortable sofa. Select a reclining couch that lets you kick back and enjoy movie nights with the family. Try a sleeper sofa that converts into a cozy bed when overnight guests need a place to sleep. Or, give your space a subtler upgrade using a couch with built-in cup holders and USB charging ports.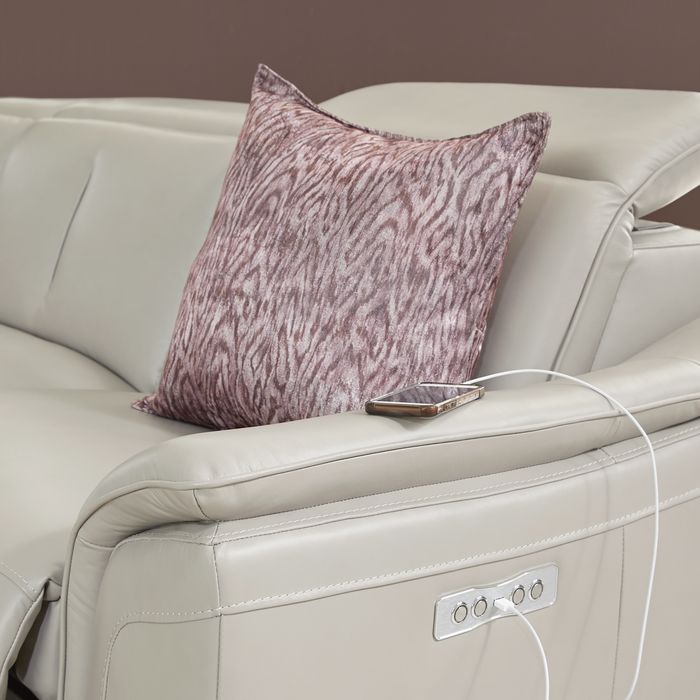 Choosing Which Sofa to Buy
Once you evaluate your space and needs, browse our selection to compare different styles with features you like. Whether you're looking for the perfect complement for your layout or wondering what size couch is best for your living room, you can find what you're looking for at Rooms to Go.
In This Guide:
How to Choose the Right Sofa for Your Living Room