How to Choose a Sectional Sofa
Due to their roomy seats and compact design, many people choose sectional sofas for their living rooms. To pick the right sectional for your space and family, you must first understand the different sizes, shapes and configurations available. From there, you can choose a sectional with the colors, materials and features you need to enhance the style and comfort of your space.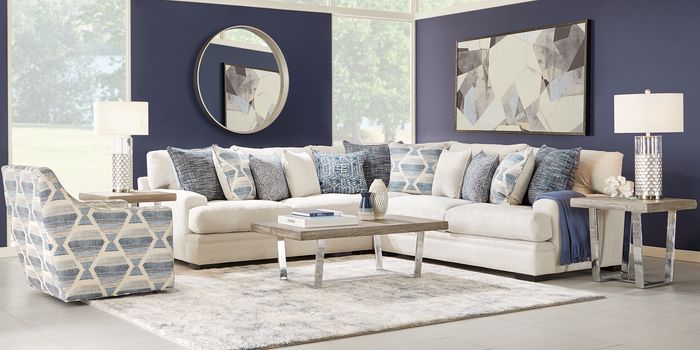 Sectional Dimensions: How to Measure a Sectional
When choosing between a couch and a sectional, many people find the dimensions of a sectional to be quite appealing. The average sectional is roughly 130 inches wide. A small sectional such as a two-piece and three-piece model measures about 112 inches, while larger four-piece or six-piece sectionals reach 160 inches or wider. Sectionals are also about 40 inches deep.
Though these measurements are the most common, every sectional will have different dimensions based on its shape and design. To find the exact measurements for a specific sectional, grab a tape measure and follow this sizing guide:
Sectional Width: The width is usually the longest side of a sectional sofa. Find the width by measuring all the components along the backside of the sofa. This could mean measuring from the widest part of a curved sectional or finding the space from corner to corner on an L- or U-shaped model.
Sectional Length: A sectional's length is the distance between the front and back edges of the piece. Measure from the back of the sofa to the end of the chaise or whichever section protrudes the farthest forward. This measurement is typically a few inches shorter than the width, though some designs may be longer than wide.
Sectional Depth: Finding a sectional's depth requires the same approach as finding couch depth. You can get this measurement by marking the distance between the front of the seat and the back cushion. This lets you know how much space you have to lean back or curl up.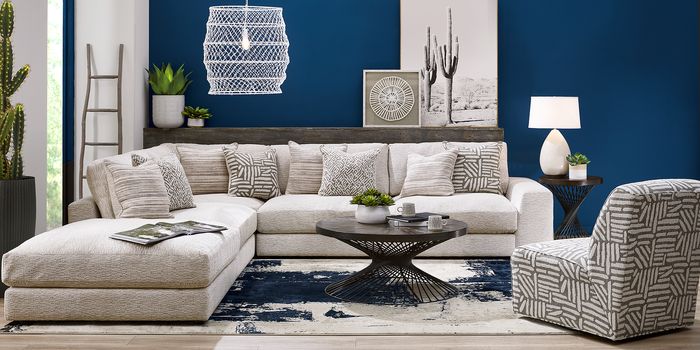 Sectional Types: Various Sectional Shapes
There are several different sectional configurations that you can choose from depending on the shape and size of your room. Each type gives you a range of options for designing a dynamic and functional layout. Here are some of the most popular types of sectionals:
U-Shaped Sectionals:
With its unique horseshoe-shaped frame, a U-shaped sectional helps to encourage conversation among your relatives and visitors. These seats typically feature a short couch with two longer sections on either side. Other models may include a corner piece with an attached chaise on the opposite end. In any case, U-shaped sectionals allow people to face one another and chat.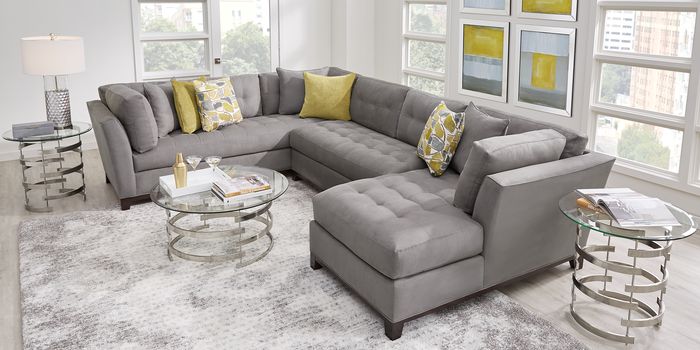 Symmetrical Sectionals:
A symmetrical sectional sofa offers the same amount of space on either side. The ends come together to form a corner couch that can seat six or more people. Perfect for spacious areas with open floor plans, these sectionals are great for keeping the center of your living room clear and uncluttered.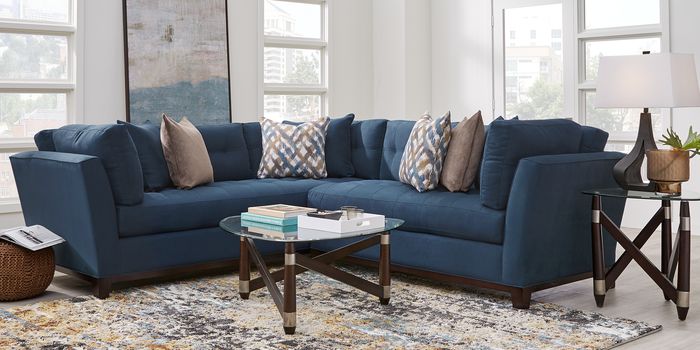 Right-Arm Facing Sectionals:
Similar to a symmetrical sectional, right-arm facing sectional sofas have two connecting pieces that create a corner shape. Also known as L-shaped sectionals, these pieces feature a short loveseat-style couch that intersects with a long chaise. When facing the seat, the chaise attachment sits to the right while the sofa arm is off to the left.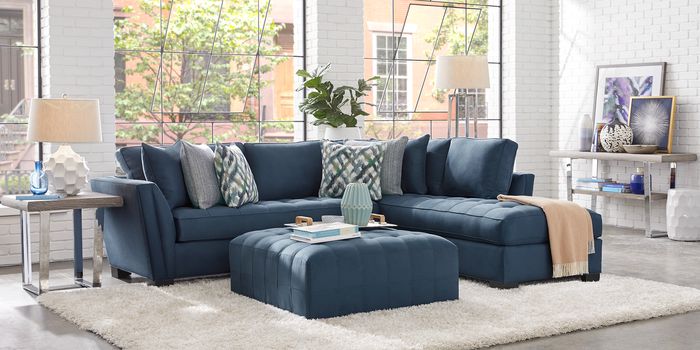 Left-Arm Facing Sectionals:
A left-arm facing sectional has the same structure as the right-facing model. However, these seats have the opposite configuration. If looking at the couch from the front, the chaise is on the left side while the sofa is on the right. The arm of this couch is on the right side.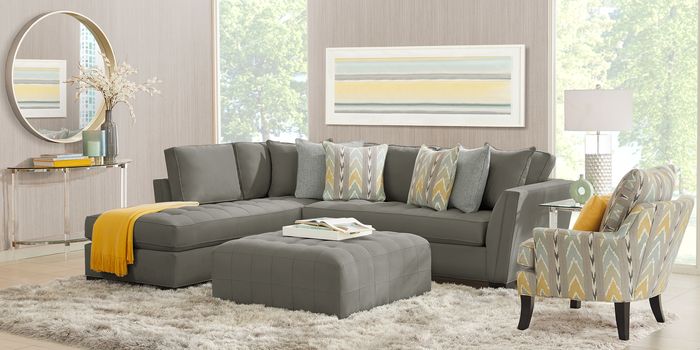 Modular Sectionals:
If you like to switch up your layout from time to time, a modular sectional is the perfect seating option for you. They have the same look as a common left-facing, right-facing, symmetrical or U-shaped sectional when the pieces are all connected. However, you can detach and reconfigure these seats in various ways to create a custom setup to suit your space.
Different Ways to Arrange a Sectional
There are many placement options to choose from when setting up a sectional or sectional set. Although these pieces often come in one configuration, you can arrange these sofas in various ways to complement your room dimensions and create a chic and unique design. Take a look at the following suggestions on sectional seating arrangements that you can use in your home.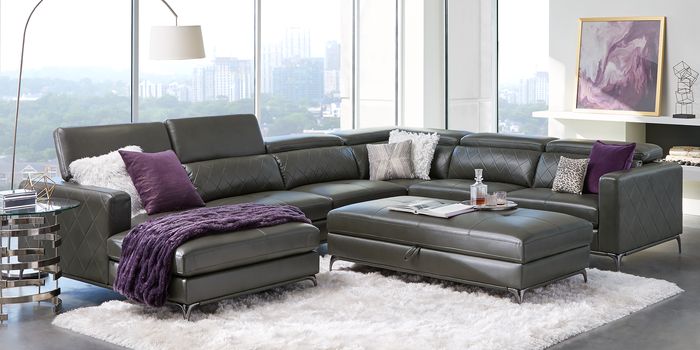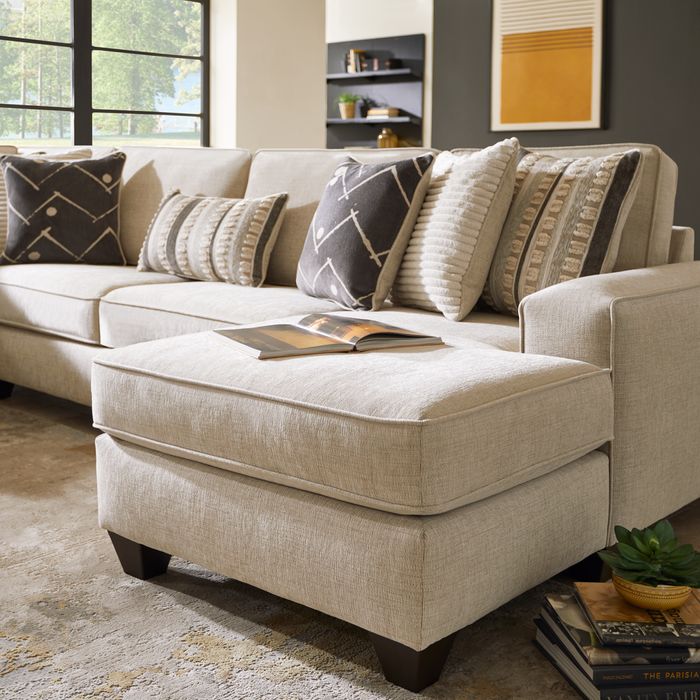 Chic Seating Options: Sectional Colors, Styles and Features
Once you understand the size, shape and design possibilities for different sectional types, you can browse various seats to find the fashionable and functional model that suits your tastes. These traditional, transitional and contemporary-style sectionals have a range of colors, fabrics and unique features to take your layout to the next level.
Sectional Sofa Colors
Choose a sectional in a beautiful shade to complement your color scheme. A black or gray sectional couch works with almost any palette and lends a sophisticated look to your living room. For a touch of warmth and charm, pick a beige or brown sectional instead. You can also consider a striking red or blue sectional to add a unique splash of color to your ensemble.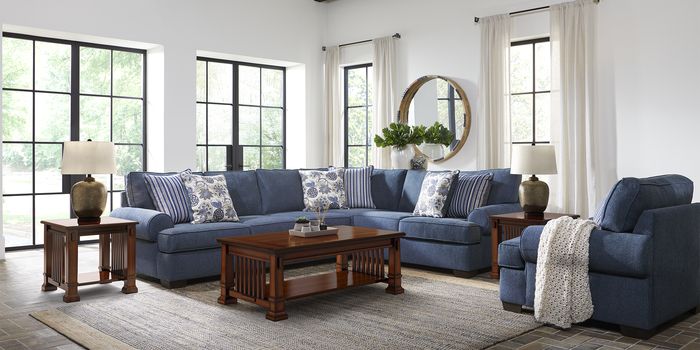 Cozy Sectional Couch Materials
Ensure that you and your family enjoy comfy and snuggly seating by picking the right upholstery for your sectional. Microfiber, fabric and suede sectionals add color and plush comfort to your space, while sleek leather sectionals offer smooth yet cozy texture for upscale layouts.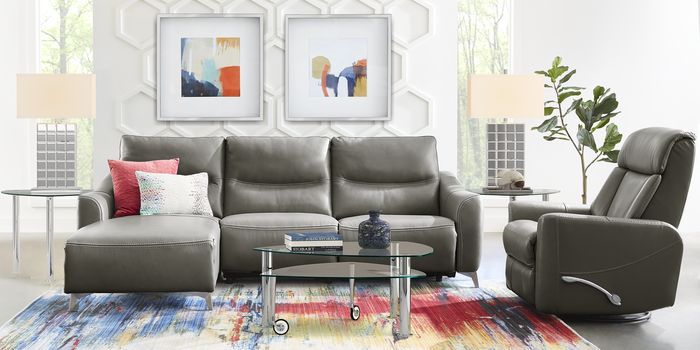 Functional Sectional Sofas
You can also find sectional couches that come with unique features to maximize your comfort. A model with built-in consoles and cupholders keeps drinks and snacks within reach. Reclining sectionals allow you to kick back and relax after a long day. If you need to save room in a studio apartment or accommodate overnight guests, opt for a sectional sleeper sofa.
Although finding seats that suit your room size and style needs can be challenging, the information in this sectional sofa guide can help you discover the perfect seating for your space. Keep some of these tips in mind during your next home decor shopping trip, and you're sure to find the perfect chic and comfy sectional for your beautiful layout.
In This Guide:
Sectional Couch Guide