Attic Room Ideas: Decorating an Attic Bedroom
What could be cozier than curling up in bed nestled under the eaves of a romantic attic bedroom? Tucked away from the rest of the house, attics offer a quiet, private space with dramatic architecture ideal for a one-of-a-kind hideaway. Plus, it doesn't hurt that reclaiming attic storage as usable square footage increases the value of your home.
Before you can decorate a magical attic clubhouse, enviable tween bedroom or memorable tower guest suite, it's important to understand this space's unique decorating challenges. We've assembled our best attic room ideas to maximize light, make the most of limited room and unlock your attic's potential.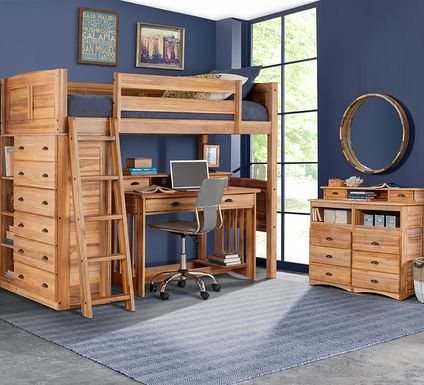 Kids Portside Sand Twin Loft Bed with Desk and Hutch
Planning Your Attic Room Layout
From slanted roofs to angular dormers, the wall and ceiling shapes that make attic bedrooms interesting also make arranging furniture a pain. According to home improvement guru Bob Vila, the elements that most influence furniture layout in oddly shaped spaces are the pitch of the ceiling and the size and location of its windows.
Keeping these factors in mind during the planning stages will help you design an attic setup that works with your room's quirks. An awkward nook or hard-to-dress window can turn into your bedroom's greatest asset with a little creativity. Consider these tips for embracing your home's character when decorating an attic bedroom.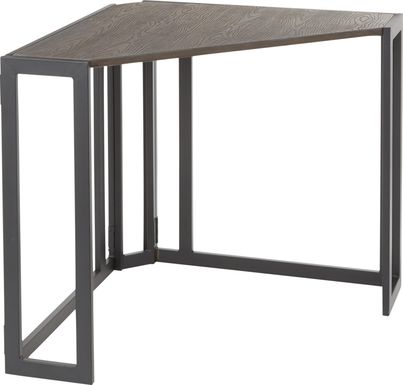 Paigefield Espresso Corner Desk
Work with Odd Angles and Sloped Ceilings
When you convert an attic into a bedroom, angled ceilings and unusual wall shapes often require creative furniture placement. Promoting design harmony might be easier than you think. To pick the right furniture for attic bedrooms and arrange it for maximum space and impact, use these guiding principles:
Accept what's there: Disguising a slanted ceiling with tapestries or curtaining off an awkward nook is possible, but it eats up space and makes your tiny attic room feel even smaller. Instead, try to embrace the dramatic look of angular architecture by accentuating it with color, texture or decor.
Make architectural features a focal point: There are several ways to turn sloped ceilings, eaves and dormer windows into fun design features. With paint in a bold accent color and a comfy armchair, an odd bump-out becomes an eye-catching reading nook. Add a bench under a small dormer window for a cute window seat, or slot in a small desk for a private study spot.
Let function follow form: Kids love small spaces that feel like their own little world, while teens appreciate rooms separate from the rest of the house. Why not lean into these special qualities for attic bedroom ideas? A cozy nook might be the perfect fit for a narrow kid's bed. Likewise, a private, loft-style bedroom is ideal to give teens their own space to study and hang out.
Position the bed for maximum headspace: As you arrange your attic bedroom decor, think about overhead clearance. Kids' beds often fit comfortably at the base of a dormer wall, but larger bedframes might not. To avoid bumping their heads, adults and teens will likely prefer to sleep under the highest part of the room, such as the peak of a sloped ceiling.
Use low walls for storage: Dormers tend to create squat walls that are hard to use. If the space isn't tall enough for other attic bedroom furniture, try using it for storage. Since attics typically lack closet space, a small dresser or short bookcase is a smart choice to keep clothes tucked away or organize books and decor.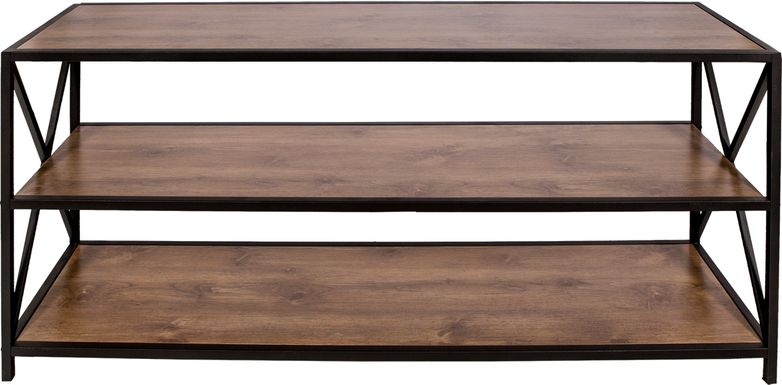 Shelleys Crossing Brown 3 Shelf Bookcase
Light Up Your Attic Bedroom
Notorious for small windows in unusual shapes and places, attic bedrooms can seem a bit dark and cave-like. If you want to make a small room look bigger, brighter and more open, the simple solution is enhancing your light sources. Light makes a room seem larger than its square footage, so take advantage of a few ideas for attic room lighting as you plan a bedroom retreat:
Use uplighting: To provide the illusion of more daylight, lamps that point upwards are perfect for attic rooms. Professionals like Matthew Tanteri, associate professor at the Parsons New School for Design, suggest using a few strategic uplights, such as wall sconces or torchieres, to supplement the sun's glow on the ceiling for lighting that feels natural.
Find the right window treatments:Attic bedrooms require privacy, so you'll want curtains, blinds or shades for most of your attic windows. However, windows on slanted walls, mini skylights or tiny casements can all be hard to cover. Use stick-on window film for the toughest customers. For more traditional attic windows, flowy drapes give your room an open, airy feel.
Add accent lamps: While hanging pendants and chandeliers may be an option in lofts with high ceilings, overhead space is at a premium in most attics. Table lamps are a good idea for attic rooms to get more light without crowding your space. Plan for extra light around the areas you'll use most, like the bed, reading chair or desk.
Bounce light around the room: To get far away from the stereotype of the cramped, stuffy attic, consider decorating with white. This color reflects natural light, which tends to make small spaces appear larger. To heighten this effect, try adding some mirrors to your walls for the illusion of a bigger, brighter room.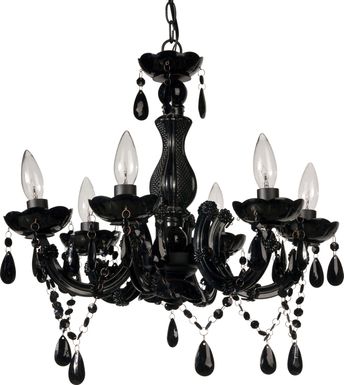 Larkspur Lane Black Chandelier
Choosing Attic Bedroom Decor
Once you've taken your attic's non-negotiable features like shape and lighting into account, the next step is choosing the decorations you want to use. When picking furniture for small spaces such as attics, the goal is to create an open bedroom that feels bigger than it is. These attic bedroom ideas will help you pick small room decor like a pro.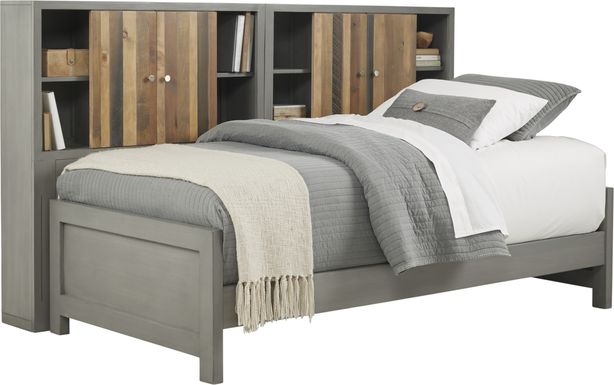 Moss Creek Jr Gray 6 Pc Twin Bookcase Wall Bed
Get Low
When you're working with low or angled ceilings in an attic, visual illusions can create the impression of extra height and volume with no renovations required. A few easy ways to add the appearance of higher ceilings to a vertically challenged attic room include:
Choose low-profile furniture: Small beds and platform beds that sit close to the ground are the best option for attic rooms. The more space between the ceiling and your furniture, the more open and relaxing your bedroom will feel.
Scale down: From short nightstands to petite dressers, small bedroom furniture will look perfectly proportional in a tiny attic bedroom. To save room while providing seats for guests, a small sleeper sofa can double as a bed and entertaining space.
Draw attention from floor to ceiling: Bold hues, textures and patterns that draw your gaze tend to read as heavy. By keeping most of your eye-catching elements near the ground, you avoid visually pulling the ceiling lower. Vibrant, fluffy and printed rugs are a good way to introduce color into white attic bedroom decor without overwhelming the space.
Less is More
The key to decorating an attic bedroom that feels spacious and well-curated is to avoid filling up your room. To make up for smaller proportions, sharp angles and low ceilings, take a minimalist decorating approach with furniture and decor. A few well-chosen accents will show your sense of style while letting the room's innate charm take center stage.
A Dreamy Attic Room
Transformed from a little-used storage space to the stuff of fairytales, your cozy attic bedroom is a Cinderella story waiting to happen. Best of all, this decorating project is easier than it might seem. With a few of our attic room ideas in hand, you can embrace the features that make your space unique and overcome any design challenges through decor, furniture and layout.