Decorating a Home Entertainment Room
If you love to entertain, chances are you've thought about designing a room dedicated to parties, get-togethers and fun nights spent with family and friends. Whether you're creating a media hub for movies and music or simply want a place to sit and relax with company, these tips will help you make your vision a reality.
Choosing a Home Entertainment System
Guests often head straight for the television, so having the right media console for the job is key to making a good impression. You'll want to consider the size of the TV you have, the area of the room and how you want to use the space. Once you have a plan, finding a stand for your flatscreen can be easier than deciding what to binge-watch next.
TV Stand
For those working with smaller rooms, a TV stand might be your best option. With nooks for gaming systems and media collections, you can fit a lot into a little space. Sturdy tops provide a safe spot for your television, while shelves and drawers help keep the essentials organized neatly below.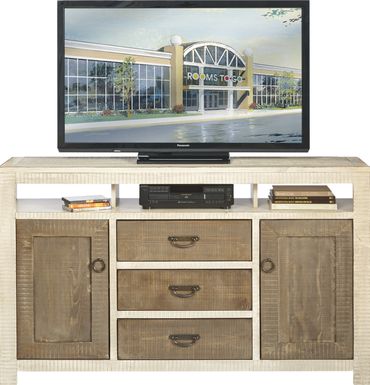 South Creek Two-Tone 66 in. Console
TV Stand with Electric Fireplace
Would you rather sit and enjoy a quiet evening with friends? Consoles featuring an electric fireplace keep company warm and toasty while providing a pleasant, relaxing atmosphere. The versatility of these TV consoles makes them a great choice for a wine tasting night.

Blaize Gray 58 in. Console with Electric Fireplace
Wall Unit
A wall unit is an entertainment room essential. These large statement pieces come in an array of designs equipped with plenty of storage options. Use the spacious drawers, cubbies, shelves and cupboards so you can display keepsakes and keep electronics organized.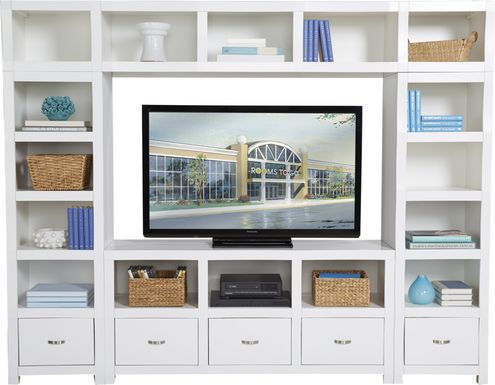 Eldon Square White 4 Pc Wall Unit
Get Comfy
A good host always has comfortable seating for guests. Before making your decision, you'll need to ask yourself a few questions. Will you need to accommodate large groups of people or just a few close friends? Where will the focus of the party be? Luckily, there are lots of great options.
Sectionals
To get a cozy vibe in your entertainment room, consider a sectional. These spacious couches have ample space to sink in, sprawl out and kick back. To create an even cozier hang out spot, add a coordinating upholstered ottoman that can serve double duty as extra seating and as a coffee table.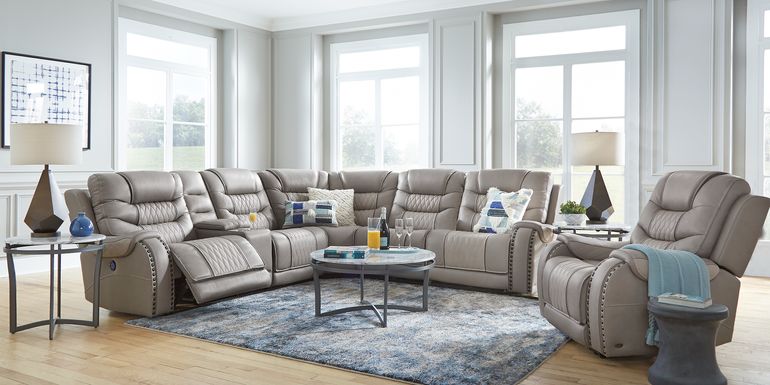 Eric Church Highway To Home Headliner Gray Leather 6 Pc Dual Power Recliner Sectional
Recliners
Recreate the theater experience with a couple of power recliners. Guests can have their own space to lounge at just the right angle. Perfect for game day and movie marathons, many of these chairs come with built-in cupholders and USB ports for added convenience and comfort.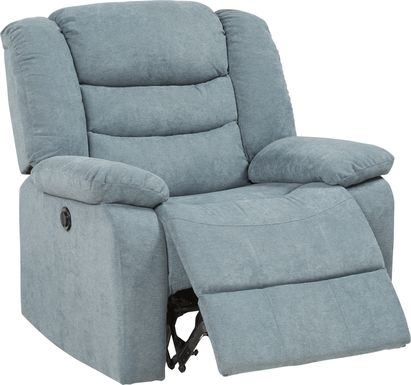 Jensen Beach Blue Power Recliner
Sofa Sets
This traditional seating option is a classic for a good reason. Sofa sets make it easy for people to chat, move around and find the perfect place to sit. Plus, separate couches, loveseats, chairs and tables allow you, the host, to rearrange and customize your layout with ease.

Cindy Crawford Home Bellingham Off White Textured 7 Pc Living Room
Light Up the Room
It's important to have several lighting options so that you're ready for any occasion. After-dinner drinks call for low, ambient light, while you may want to turn up the brightness for game night. Ultimately, lighting is key to setting the mood in your entertainment room, so variety is everything.
Overhead Lighting and Sconces
Save space and keep your home well-lit with a chic chandelier or wall-mounted sconce. Pendant lamps come in a variety of styles, so you can go as glamorous or low-key as you want. You also have the option to use one large fixture or to spread them throughout the room for focused lighting.
Floor Lamps
Versatile enough to work in any space, these pieces are a practical choice. Place an adjustable model behind the sofa so you can direct the light exactly where you need it. Alternatively, you can use a pair of stylized accent lamps to frame your home entertainment center for a radiant focal point.


Lariat Circle Bronze Floor Lamp
Table Lamps
Scatter table lamps throughout your entertainment room so you can have as much or as little lighting as you need. Since they're small, it's easy to control the brightness and create the ideal mood lighting for your get-together.
Think Outside of the Box
There are plenty of less traditional lighting options to consider, too. As we discussed earlier, many home entertainment stands have built-in fireplaces that cast a warm ambient glow. Some consoles also feature LED backlighting to take your viewing party to the next level.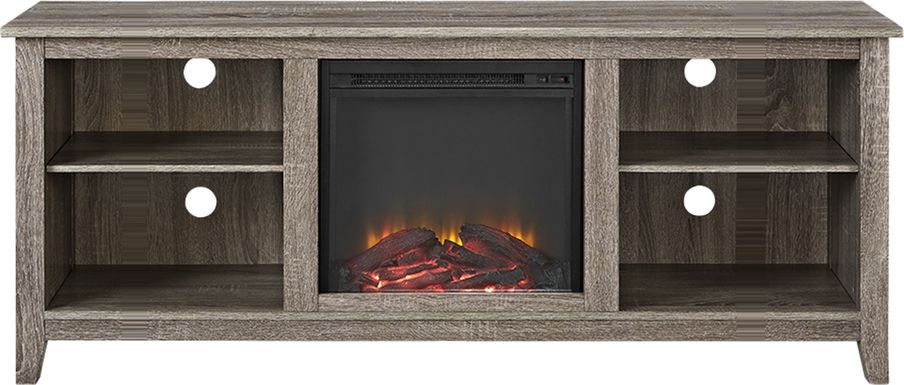 Wyatt Gray 58 In Console with Electric Fireplace
Time to Party
Now that you know your options, you can figure out how to use your new entertainment room. Here are a few ideas to help you let your personality shine in your design:
Gaming Room
Your home entertainment system is the main event when you host a game night. Consider a spacious wall unit with ample room to house multiple gaming systems. For seating, bean bag chairs are a fun alternative to traditional sofas since they allow you to rearrange as needed.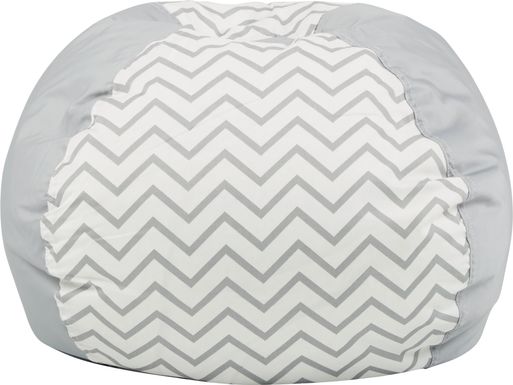 Mattie Gray Chevron Bean Bag Chair
Cocktail Party
When the purpose of your gathering is to chat and share drinks, you'll want to shift your focus to seating, tables and accent lighting. A few ottomans can serve as chairs, places to set drinks or even footrests. Avoid overhead lighting in favor of floor and table lamps for a warm, inviting effect.
Home Theater
A reclining sectional, comfy chairs and big flatscreen are everything you need to make movie night a success. Let your guests sit back with padded head- and footrests while they watch classic films or the latest releases.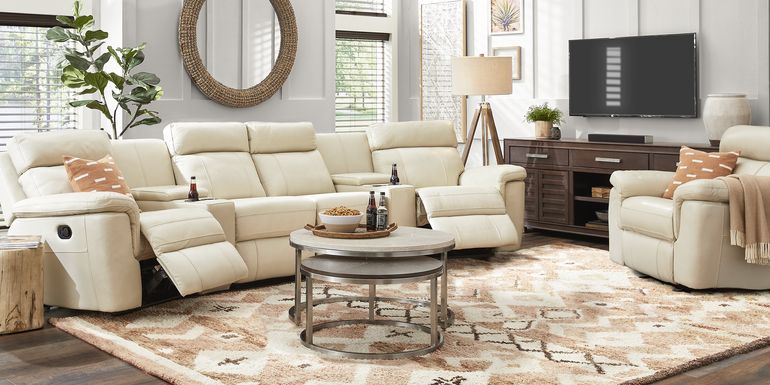 Trafalgar Square Ivory Leather 6 Pc Power Reclining Sectional
Book Club
You and your fellow readers can gather to discuss your favorite novels in your entertainment room. A mixture of seating options, including armchairs, sofas and loveseats, allows you to create an arrangement that promotes conversation. Make sure you also have a few tables for visitors to set down their coffee or tea.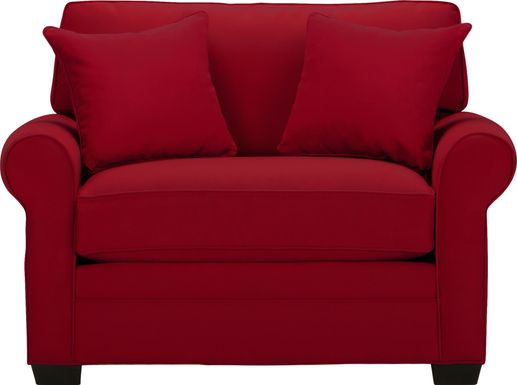 Cindy Crawford Home Bellingham Cardinal Microfiber Chair
Remember to Have Fun With It
Whether you're looking for a place to unwind with a good television show, or you want your house to be party central, designing the perfect space is a great first step. Tailor your design to your lifestyle and interests. Get creative, taking care to choose just the right pieces for your ultimate entertainment room.