Entertainment Room Ideas for Your Home
If you love to entertain, chances are you've thought about designing a media room dedicated to parties and fun nights spent with family and friends. While the concept of designating a separate space may seem overwhelming at first, with the right seating, lighting and media room decor, creating your own entertainment hub can be easy.
What's the Difference Between a Media Room and a Theater Room?
When designing a new space for entertaining, consider whether you want a media room or a theater room and think about the differences between the two. Traditionally, a media room is a space that everyone can enjoy together. It's a place where guests talk, mingle, eat food and enjoy the evening's entertainment.
On the other hand, theater rooms are darker and designed to function as a real-life cinema. Guests usually enjoy the movie in relative silence, making it more difficult to engage in conversation.
The Benefits of a Media Room
While both setups have their benefits, media rooms are better options for people who want to entertain and throw parties rather than sitting and enjoying movies in silence. When choosing how to design your home entertainment room, consider some of these other benefits: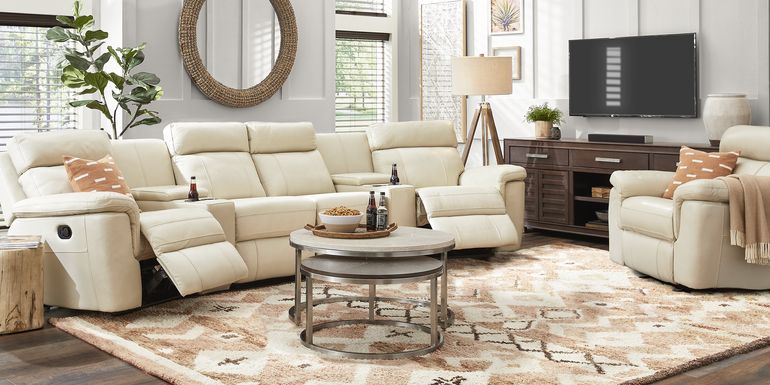 Trafalgar Square Ivory Leather 6pc Power Reclining Sectional
Mobility: A media room makes it easier for guests to move around and chat throughout the night while still enjoying movies and shows together.
Inclusivity: Instead of having to sit still for several hours at a time, young kids can roam around and play in a media room while parents chat during viewing parties.
Adaptability: Home theaters are great for watching movies, but media rooms allow you to hold movie nights, host the big game, arrange karaoke sessions and more. With such an adaptable setting, you're ready to party on any occasion.
Must-Have Media Room Furniture
When outfitting your media room, you'll need to arrange tables, seating and storage to suit your family and guests. Do you want a space to entertain large groups of people during big events, or do you envision a cozy TV room to enjoy shows and movies with the family? Whichever you choose, getting the right furniture for your layout is key.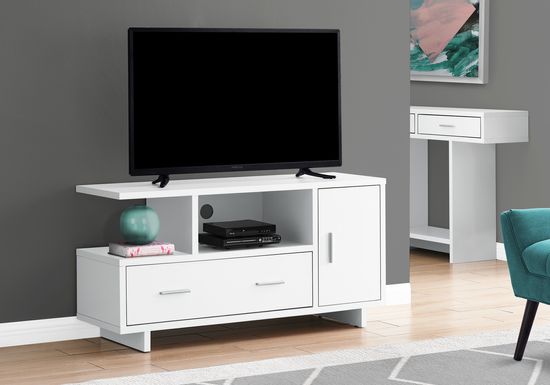 Dahlgreen White 48 in. Console
Entertainment Room Essentials
Your TV room plans should include a safe place for all your devices. Sturdy consoles provide spacious tops for big-screen televisions, while larger wall units have shelves, cabinets and cubbies to store various media devices. Here are a few TV room ideas to consider for your space:
Media Room Ideas: Seating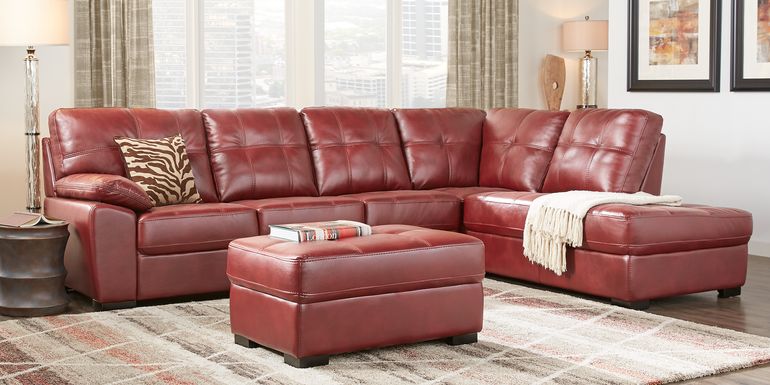 Bexley Square Red 2pc Sectional
Comfortable seating is essential for any entertainment room, but ask yourself a few questions before you decide on a sofa and chairs. Will you be hosting parties or just entertaining a few friends? How big is your space? Where do you want the focus of the party to be? Once you have the answers to these questions, check out a few of the following choices:
Sectionals: Sectionals have ample space for you and your guests to sink in, sprawl out and kick back during large get-togethers. To design a layout reminiscent of theater seating, browse for sofas that feature handy cup holders.
Recliners: Recreate the theater experience in your media room with a couple of recliners, and give guests their own lounge space that adjusts to the perfect viewing angle. Ideal for game day and movie marathons, many chairs come with built-in USB ports for added convenience. Recliners with microfiber upholstery are also easy to clean in case of accidental spills.
Seating Sets: Looking for a budget-friendly option to outfit the entire room? Seating sets offer a complete, curated look that gives you everything you need for your TV room with one convenient purchase.
TV Room Necessities: Storage
Often overlooked when decorating, the right storage options prevent media rooms from becoming cluttered or overcrowded. If you aren't sure where to begin, our selection includes plenty of chic pieces to keep your space neat, tidy and company-ready.
Bookcases: Stylish and functional, casual bookcases let you display movies, speakers, and voice-controlled smart devices. Additionally, if you want to host book clubs, these are perfect for showcasing your best-sellers.
Shelving: Strong, sturdy shelving allows you to store and display your favorite media or movie memorabilia. Some TV consoles offer built-in bookshelves so you can organize everything in one place. For more flexibility, get creative and show off your decor using a layering effect by mounting individual shelves vertically on the wall.
Storage Benches: Instead of pairing a coffee table with your leather sofa or arm chair, opt for a storage bench. Keep extra blankets stowed away until you need them for cozy binge-watching and use the spacious tops to hold drinks or serve as extra seating during parties.
Entertainment Room Ideas: Lighting
Having several lighting options ensures that you're ready for any occasion. After-dinner drinks call for low ambient light, but you may want to brighten things up for game night. Ultimately, lighting is the key to setting the mood in your entertainment room, so variety is everything.
Draw Attention to Your TV Stand with Decor
Accentuate the beauty of your entertainment center with decor. Adding decorative accents around your media room in a variety of colors and styles offers a cohesive, finished look. Whether you prefer strictly stylish pieces or chic yet practical accents, there are several choices to consider: