Decorating Ideas for a Gray Color Scheme
The color gray offers a unique blend of beauty and versatility, making it a popular choice for home interiors. Whether you're going for traditional elegance or an ultra-modern vibe for your living room, a neutral hue like gray makes choosing your furniture and decorative pieces an easy task.
Gray provides a palette-friendly base for your design, but using it effectively takes a bit of planning. Making the most of your furniture and accent choices, learning more about tones and temperature to establish mood and understanding what colors go with gray will give you all the background you need to create a stunning look for your living room.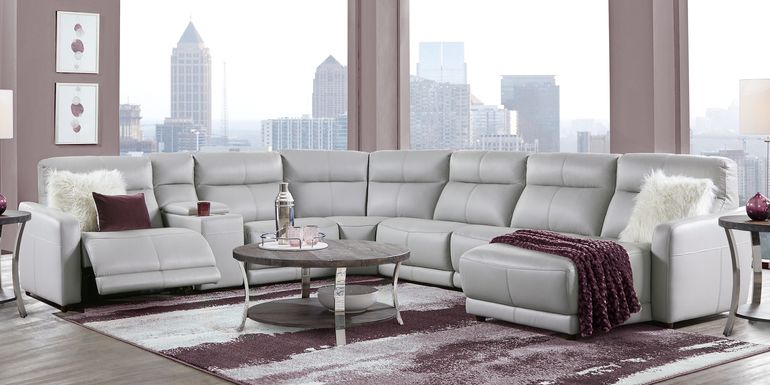 Cindy Crawford Home Salento Gray 7 Pc Leather Power Reclining Sectional
Setting the Scene with Gray Furniture
Gray Sofas & Sectionals
When you're deciding on stylish seating, a gray living room set opens up a world of design potential. The color of your furniture dictates the overall mood of a room, and using a neutral gray sofa or sectional as your base makes it easier to change things up later. You can also consider adding a gray leather living room set instead of a fabric collection to better fit your theme and lifestyle.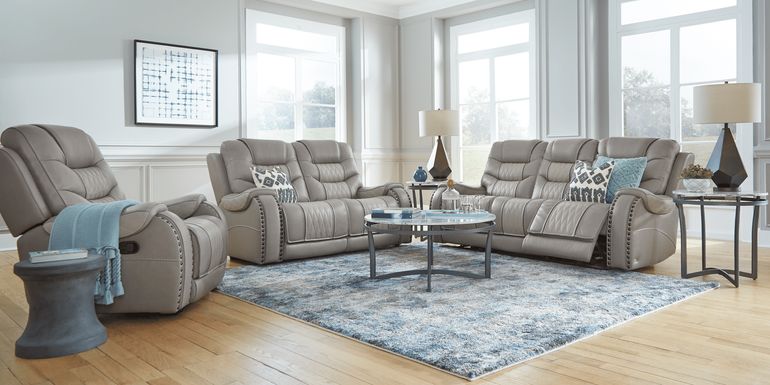 Eric Church Headliner Gray Leather 5 Pc Living Room with Reclining Sofa
Loveseats & Chaises
If space is at a premium, consider swapping out the couch for a gray loveseat. Dove-gray and silver options work wonders to make small dens and living rooms feel bigger. For a cozy alternative, gray chaises and settees take up minimal floor space while offering plenty of style and comfort.
Gray Accent Chairs
A gray chair brings plush seating to your layout. Slate, pewter and charcoal chairs come in a range of styles and designs to suit your theme. Whether you need armchairs to arrange opposite a sofa or a couple of wingbacks and an accent table to create a conversation nook, gray accent chairs coordinate with most wall paint and upholstery colors.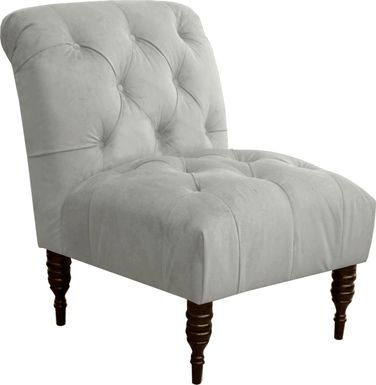 Anaele Park Gray Armless Chair
Decor for Gray Rooms
Wall Art and Accents
Decor is often the missing piece of the puzzle when making a house feel like a home. When choosing gray decorative accents, pick pieces that mimic colors found in your chairs, sofas and ottomans, as well as those that bring new textures into the mix. Also, stick with a warm or cool color palette to unify your look and create cohesion throughout the space.
If your gray living room set features shades of deep charcoal and slate, consider decorating with artwork that echoes those same colors. Try wall art with silver molded frames or prints and paintings that have contrasting hues. These little details make the artwork stand out, which is a subtle trick that creates a sense of drama and focus.
This approach also works with stylish, practical items like gray pillows and silver-finished floor lamps. These functional accents feature common gray tones that bring a sense of balance to a room and help tie everything together.
Rugs for Gray Rooms
Since gray is such a versatile color, finding the perfect rug to complement your space is pretty easy. A wide range of warm and cool hues work well with neutral color palettes. You can also use a dark gray rug as contrast against light gray walls and fixtures, or vice versa.
Creating Mood with Gray
Using neutrals to create the perfect atmosphere in a room is easier than you might think. While some color palettes evoke energy and openness, others tend to feel more relaxed and intimate. Versatile gray can do both, as long as you understand how to create harmony with warm and cool tones.
Neutrals are not on the standard color wheel, which means gray has slightly different rules for temperature. Warmth or coolness is all about undertones. A warm gray incorporates tints like red, tan or brown to form colors like taupe, greige and pewter. Shades like silver, charcoal and slate have cool blue or green undertones. The differences are subtle, but the effects are significant.
A Cool Combination
To make a den feel soothing and calm, choose a cool gray. Navy walls bring out the blue undertone of a gray couch and loveseat. Warm gold accessories and beige throw pillows balance the palette and draw the eye around the room.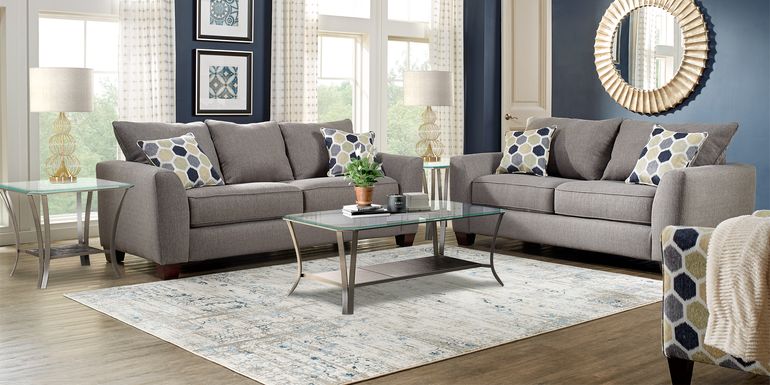 Bonita Springs Gray 7 Pc Living Room
A Warm Setting
However, using only warm tones in a gray color scheme can produce a completely different mood. Bright, cheerful chartreuse walls and dark taupe leather furniture establish a warm, rich palette. As a finishing touch, opt for yellow and gray print accent pillows to establish a cohesive, curated look.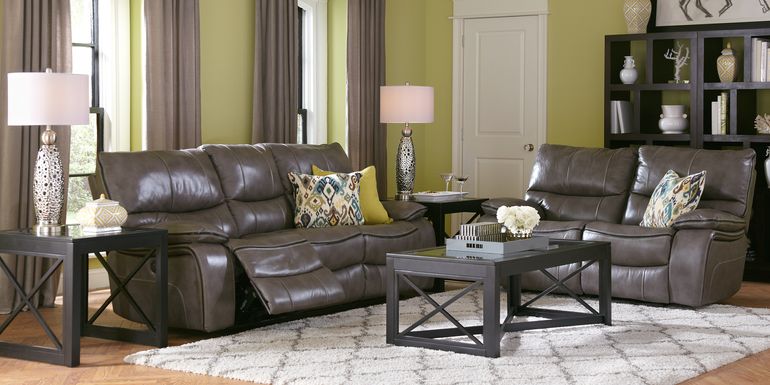 Cindy Crawford Home Gianna Gray Leather 3 Pc Living Room with Reclining Sofa
Gray Wall Colors - Light Gray vs. Dark Gray
Warm, dark gray wall paint, just like furniture in similar hues, makes a room feel cozier and more inviting, so consider using it for a large living room or den. On the other hand, cool light gray walls can open up small spaces and promote a laid-back, relaxed feeling.
Creating Color Harmony
Make It Monochrome
A monochromatic palette uses varying tones of a single hue. As there is only one dominant color in this scheme, a well-styled, all-gray space features both light and dark shades for a layered, multidimensional effect.
To make a gray living room calm and airy, start with lighter colors as a base. Soft pearl-gray walls provide an understated setting for darker furniture and allow sunlight to fill the room. Purchasing a complete family room furniture set is also an easy way to carry a gray theme across your space.
To incorporate a hint of color, try decor such as plants, pillows and throws. Neutral and complementary colors with the same temperature produce a harmonious vibe. For example, small touches of blue will reinforce a room's overall cool tone. Remember, in monochromatic gray rooms, less is more. A neutral background causes even the smallest colorful details to stand out.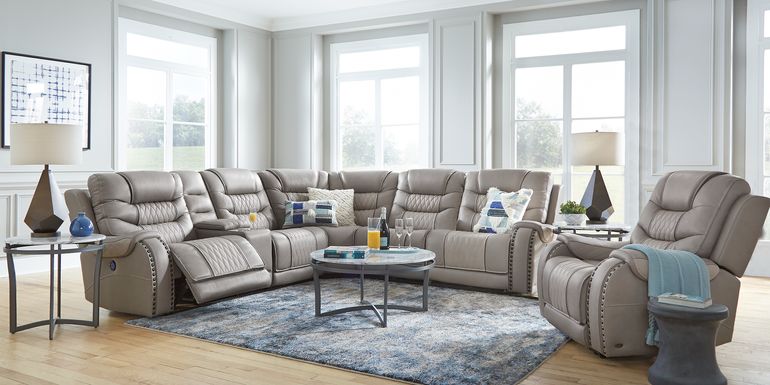 Eric Church Highway To Home Headliner Gray Leather 6 Pc Dual Power Reclining Sectional
Analogous Pairings
Analogous color schemes include hues right next to each other on the color wheel. One example is blue, aqua and green. These combinations naturally form a relaxing space that's easy on the eyes.
Accessories in analogous colors are effective and easy to use. Gold, ochre and brown pillows, art and end tables create an effortlessly coordinated look in a gray living room. Warm gray hues in the couch, chair and rug tie the room's palette together.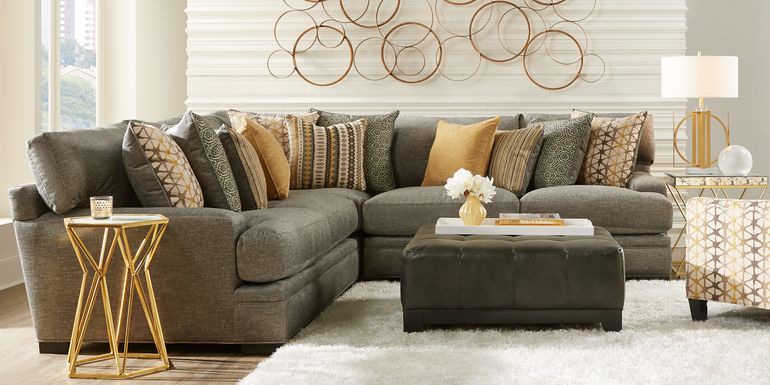 Cindy Crawford Home Palm Springs Gray 3 Pc Sectional
Complementary Hues
Complementary colors are directly across from one another on a color wheel. Think red and green or purple with yellow. These pairings have the strongest contrast, making them a fun way to experiment with bold looks and give your space more visual impact.
A light gray sofa with violet undertones is the ideal backdrop to play with colors. A gold pillow, sculpture and picture frame contrast beautifully with rich plum pillows, plush aubergine throws and a purple-gray shag rug.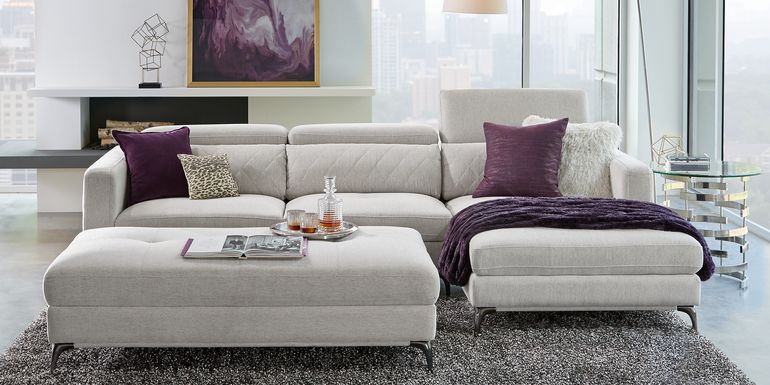 Sofia Vergara Sorrento Dove 2 Pc Sectional
Accent Colors for Gray
Need help determining what color goes with gray so you can select the perfect accents for your living room? Check out the following combinations and images below for more inspiration:
Gray and Yellow
A clean, classic combination that instantly brightens things up, gray and yellow is an elegant match. Ideal for everything from traditional themes to country aesthetics, this color combo is sure to impress. Go bright and cheery to energize your palette, or choose a deeper shade like marigold for a refined look.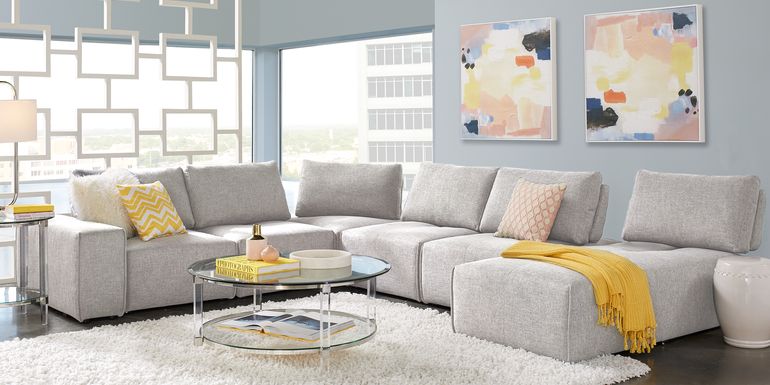 Laney Park Light Gray 6 Pc Sectional
Gray and Blue
Gray and blue are unique in that they can be either warm or cool, depending on their undertones. Sky blue and periwinkle are common in coastal themes, while indigo and navy with gray have a more modern vibe. Whether your design goal is light and breezy or chic and contemporary, this color duo delivers.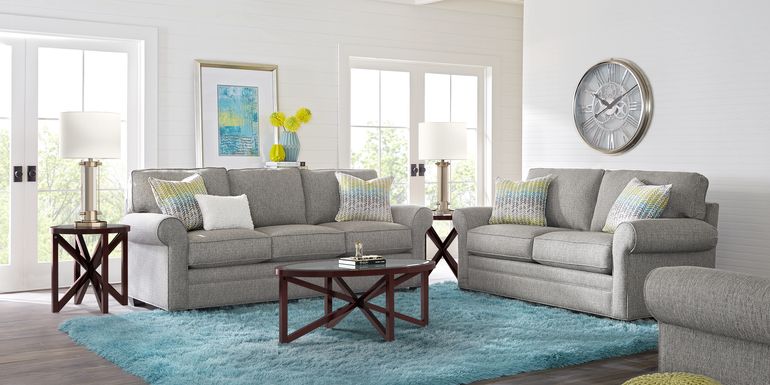 Cindy Crawford Home Bellingham Gray Textured 7 Pc Living Room
Gray and White
Gray and white hues are frequently used together, and for a good reason. Both colors are versatile and create the basis for a variety of decor styles. From large living rooms with ample natural lighting to small cozy dens, these two colors are always a sure bet.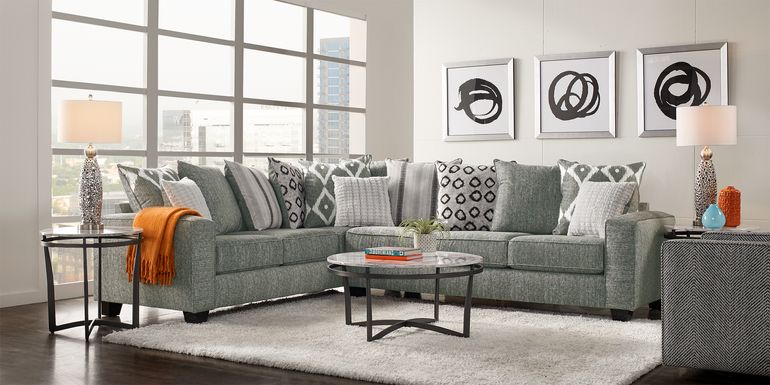 Carole Court Gray 2 Pc Sectional
Gray and Purple
Ideal for soft, subtle moods and dramatic elegance alike, gray and purple come together to give your home a truly personal touch. Lavender and orchid furnishings coordinate beautifully among light gray walls and decor. For a richer jewel-toned palette, consider rich mauve and amethyst alongside graphite or charcoal gray.

Cindy Crawford Home Metropolis Way Slate Microfiber 3 Pc Sectional
Gray and Black
Similar to how black and white color schemes offer virtually limitless freedom, gray and black are another natural pairing. At first glance, it may seem a bit excessive to introduce an intense color like black into a design, but incorporating multiple shades of gray with varying undertones lightens the mood.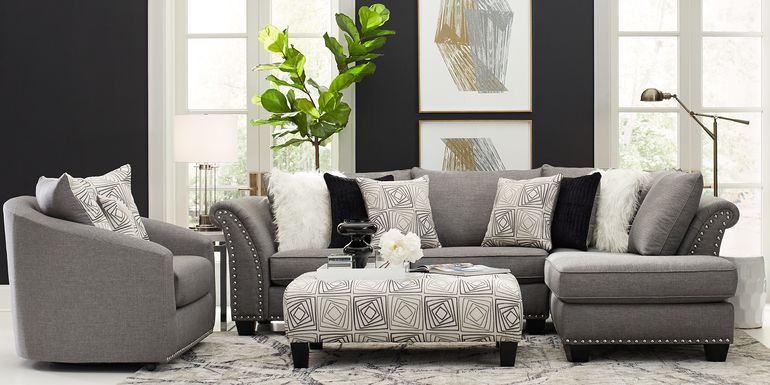 Sofia Vergara Claremont Gray 3 Pc Sectional Living Room
Nuanced Neutrals
Designing a gray living room that reflects your tastes may take a little planning, but the only real limit is your imagination. First, consider the furniture you'll need for your space. Then, look for gray hues with a warm or cool temperature to set just the right tone. Once you bring in your favorite accent colors through wall art and decor to complete your layout, you'll have created the perfect atmosphere for your home.