Planning a Coffee Station
For coffee lovers, a cup of joe is the best way to start the day. Whether you work the night shift or wake up before sunrise, a home coffee station is ideal for convenient, delicious coffee whenever you want it.
With the right furniture, decor and a few handy coffee bar ideas for your home, you can transform part of the kitchen or dining room into a chic and convenient personal cafe.
Making Room for Your Home Espresso Bar
In both small city apartments and spacious suburban homes, any amount of room will work for an in-house coffee bar. Dedicate a kitchen counter to your coffee obsession, or go big by clearing space in the dining room to play barista for guests. The truth is, with a few creative coffee station ideas, you can turn just about any place into a stylish spot for drinks.
Kitchen Coffee Bar Ideas
If you already have a coffee maker and a few mugs in your kitchen, why not develop a one-stop counter coffee station? Proximity to water, outlets and the fridge make the kitchen an ideal spot to set up shop. Add a mug tree and decorative canisters of loose-leaf tea, or complete your space with kitchen coffee station ideas like baskets to corral travel mugs and espresso cups.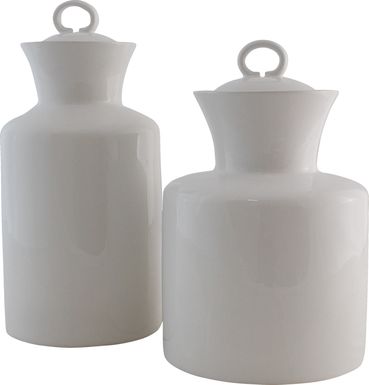 Hillda Set of 2 White Canisters
A Dining Room Coffee and Wine Bar
A home coffee station in the dining room offers endless options for entertaining. To put all your after-dinner drinks in one place, consider combining coffee and wine bar ideas for your home. A cart with bottle racks can store your finest vintages as well as syrups for specialty drinks. Likewise, a coffee bar cabinet or a server with wine glass racks holds everything from sturdy mugs to delicate stemware.
Coffee in the Foyer
With larger houses and condos, you have a bit more leeway with the location of your DIY coffee bar. If a thermos is one of the last items you grab when leaving the house, you might prefer a cafe console table for the entryway. A treat waiting at the door leaves both guests and family with a warm, welcoming impression.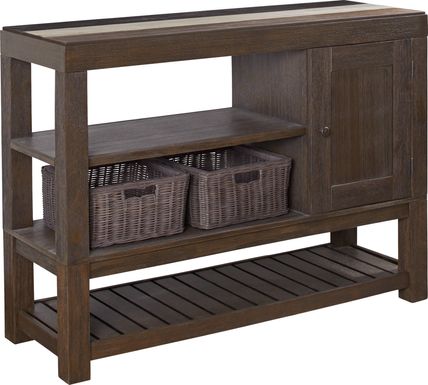 Farmington Hills Brown Sideboard
Mini Coffee Bar Ideas for Small Spaces
Adding a coffee bar to tiny homes or apartments is easier than you might think. Using your space wisely, picking the right pieces and going portable can all help you design a little home coffee station that's big on style. Check out these furniture ideas for a small coffee bar:
Coffee Bar Wall Shelf
In rooms with limited square footage, using your walls is key. Smart coffee bar shelf ideas can replicate the cafe experience while keeping your floorplan open. First, choose a wall shelf coffee station deep and sturdy enough to hold any equipment you need. Once you've picked a shelf, remember to hang it at counter height for easy access.
Small Servers, Cabinets and Sideboards
A buffet or sideboard doesn't need to be marketed as a coffee bar to make a stylish drink station. Look for small space furniture such as accent cabinets and bar cabinets that will fit your room while providing plenty of useful storage.
Home Coffee Bar with Wheels
If you have a tiny kitchen, even the best countertop coffee station ideas might cramp your style. Instead of using counter space, make your cappuccino mobile with a helpful bar cart. Use a kitchen cart to wheel drinks into the dining room for coffee with dessert, or move the party to the living room for nightcaps and espresso.
Choosing the Best Home Coffee Bar Accessories
Once you figure out where to set up a home espresso bar, think about all the tasty extras you or your partner like to add to the cup. To make getting ready for the day easier, keep all your creamers and sweeteners handy to save time.
When planning your coffee bar, make sure there's space to gather and organize everything you need. In addition to simply buying a server with shelves or cabinets, other storage ideas for a home coffee station include:
Hooks fixed to a shelf or mounted rack for hanging cups.
Baskets for tea and sugar packets next to the kettle
A dessert stand for muffins and other on-the-go treats
Extra lighting to make prep easier courtesy of a unique lamp
Coffee Bar Decorating Ideas for Your Unique Style
Searching for ways to incorporate some cute coffee station ideas into your decor? As you consider new servers and buffets, take your space's current style into account. Similar decorations will ensure that a new home coffee station enhances the existing interior design. Keep the following guidelines in mind when picking furniture for a style-savvy house coffee bar.
Rustic Coffee Bar Ideas
With its focus on authenticity and rugged beauty, this tried-and-true design style has a character all its own. From weathered hutches to metal and wood bar carts, rustic furniture coordinates easily with the components of a DIY coffee bar.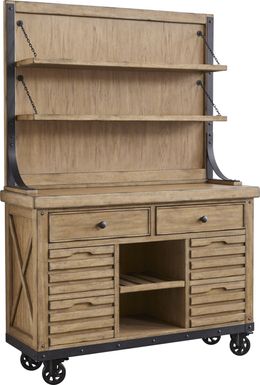 Eric Church Tap Room 2 Pc Server with Hutch
Add a few distressed accents and natural touches to complete the look, like:
Home Coffee Stations for Traditional Tastes
If your kitchen or dining room boasts traditional furniture, you're in luck. Many classic coffee stations have wide tops perfect for a cappuccino machine or simple French press. Traditional servers with drawers allow extra storage, while lighted bar cabinets make grinding and measuring a breeze. Want to add some color? Glass-front cabinets turn your mug collection into vibrant decor.
Java with a Modern Twist
For a contemporary home espresso bar, try a sleek accent cabinet with clean lines and recessed finger pulls. Alternatively, you could select a chic, contemporary coffee cart with a pullout tray and hidden shelves. Neutral finishes, textured baskets, glass fronts and spacious drawers are all hallmarks of this polished decorating style.
Farmhouse Coffee Bar Ideas
Natural wood finishes and charming details like sliding barn doors and slatted shelves make a country hutch or sideboard a lovely choice for a farmhouse home coffee station. These pieces also lend themselves to sweet and simple accents such as:
Planters filled with fresh herbs.
Decorative ceramic or glass jars.
Chalkboard decor for handwritten notes.
Tin milking buckets, bins or vintage trays.
Designing the Best Home Coffee Bar
Enjoy fresh-brewed cappuccino or espresso any time, day or night, when you take advantage of these coffee bar ideas for your home.
Become your own barista, skip the lines and get your java just right while saving money. Savor your drink, your time and your style with an in-house coffee bar that blends it all together.