Dining Room Alternatives For Busy People
Fairlinks White Wooden Dining Table Featuring White Decor & Accents
Alternatives to a Traditional Dining Room
While open floor plans are popular, many homes still include a formal dining room. Once coveted as a place to accommodate dinner parties and family gatherings, this part of the house is frequently overlooked and underused by busy households.
If your home has a formal dining room but you find yourself eating meals elsewhere, consider making the most of this space by repurposing it to serve a different function. Examine the size and layout of the area, and then carefully reflect on the best way to style it based on your work, hobby, or family needs.
Getting the Most Out of the Layout
To create a dining room alternative, first take into account the available square footage. Take measurements and be sure to note the size and location of doorways and other features. Bay windows, for example, may limit the number of bookshelves you can add for an office or den. However, if there's a window seat, it's easy to convert it into a lovely reading nook.
If you're working with a narrow room, try choosing one side for bulkier pieces and leave ample pathways for foot traffic. Angling your furniture from a single corner outward may also be a good solution, as this layout feels more spacious.
Dining Room Ideas: Hobbies
Whether you're an artist, musician, gamer, or collector, one great dining room alternative is styling a space that supports your interests. Check out our ideas below to inspire your new dining room design:
Arts & Crafts
In addition to specialized items like sewing tables or easels, a dedicated place for artwork should include furniture to organize supplies and showcase finished projects. Consider adding tall cabinets with lockable doors to store paints safely. Wall unit shelves or console tables can also hold works in progress, display finished pieces, and declutter your craft room.
Transform Your Dining Room into a Music Room
Music
Does your dining room have killer acoustics? Transform it into a personal recording studio or music room. Whether you play guitar, piano, or create digital beats, you can add sleek file cabinets to organize sheet music, bring in an L-shaped desk for turntables and electronics, or just keep things chill with a low-profile couch and chairs for your adoring fans. Continue the theme by hanging instruments, vintage record jackets, or music themed wall art.
Nika Orange Bean Bag Chair
Home Gym
If you want a personal yoga studio or a complete workout space, repurposing a dining room as a home gym is a smart investment. To keep your workout room pristine, pick up an accent cabinet or low console to hold clean towels and accessories, and look for storage benches to keep mats and hand weights from taking up room on the floor.
Minimalist Office Desk & Bookcase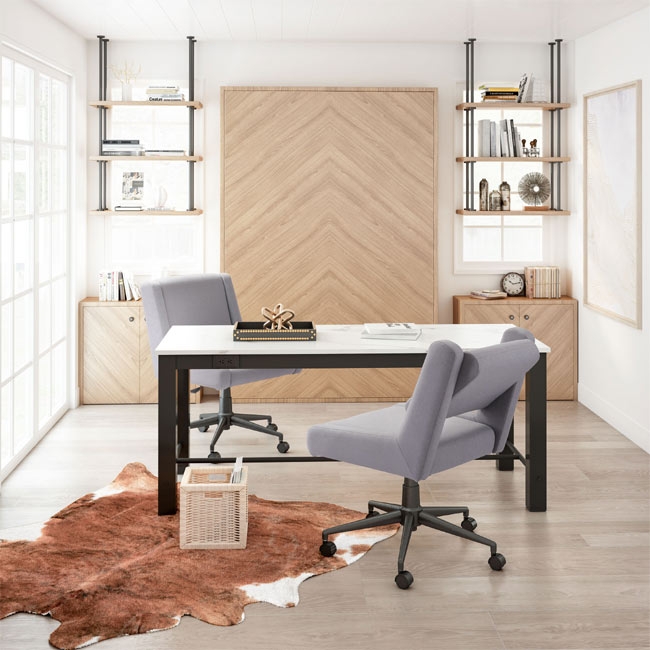 Modern Home Office Desk & Chairs
Making it Work
Having a place to figure out the household budget, store important documents, and keep track of receipts can reduce a lot of stress for busy people. Since the dining room is usually in a central part of the house, it is a great place for a home office.
If you're rocking the freelancer lifestyle, repurpose your dining room to serve as your business headquarters. Once you have your executive desk, ergonomic office chair, bookcases, and filing cabinets, you can also enhance this space with a sofa and chairs for client meetings. Keep a stocked mini fridge and coffee maker on hand to keep potential customers happy, too.
Want the best of both worlds? Add a desk and file cabinet to a corner of your hobby room. If square footage is a concern, look for options like floating, ladder-style, or writing desks which are typically smaller than a standard office model.
Kid-Friendly Spaces
Transforming the dining room into a playroom is a win-win because kids will have a place to play that's close to the kitchen and living room. By repurposing a dining room, children are free to have fun, and parents can easily keep an eye on them. With the right furniture, this dining room design will also help keep toys and games organized.
In addition to a kid's craft table with multiple chairs, bring in bookshelves and cube storage units with fabric bins to hold art supplies. Look for woven baskets to keep soft toys and boardgames tidy. A few beanbags or poufs on a fluffy shag rug makes for a perfect reading nook as well.
Fairlinks Large Dining Table with Plush Upholstered Chairs
Casual Dining Room Ideas
Instead of going for formal decor, opt for a casual dining room that combines other elements needed for your home. If you lack closet space, add extra storage cabinets with doors to your dining area to keep items neatly tucked away. Book lovers can also expand their library with more shelves here, too.
Maybe you need somewhere to display souvenirs or collectibles? Surround your table and chairs with display cases full of your favorite things. Using this part of the home as a multipurpose dining room means you can use it in a way that works for you, while still having a place for daily meals as well as parties.
Dining Room Ideas: Final Thoughts
For some people dining rooms are a thing of the past, while others enjoy gathering in a formal space with family and friends. If you find that this room is underutilized, consider how you might transform the space to make it more compatible with your lifestyle. By using the right accents and furniture, you can completely repurpose your dining room to best suit the needs of your family.