House Entryway Ideas
How to Enhance Your Foyer or Entrance with Furniture & Decor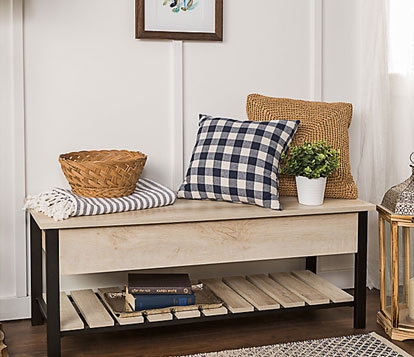 Birchcrest White Entryway Accent Bench
As the first thing guests see, an entryway presents you with a chance to make a lasting impression. The key to creating a welcoming foyer is choosing items that help visitors transition between the outdoors and inside. While some homes include a formal foyer, others can make clever use of entryway decor to get the job done.
Elements of Entryways
The main elements of an entryway include:
With these basics in place, you'll be well on your way to having a fantastic foyer. Of course, the options are nearly endless. Your entryway ideas will depend on your style and the layout of your home.
Foyer Ideas for Different Layouts
Open Concept Entryway
Even if your front door opens directly into the living room, you can still make a landing area for your house with the right foyer furniture.
It is possible to repurpose a small hallway into a makeshift foyer, but some homes require a little ingenuity. If your front door opens right into a living space, it's best to start by creating a barrier between the entryway and the rest of the house.
Using foyer furniture like a hall tree, accent bench, or screen builds a physical boundary to divide the space. If this approach seems too intrusive, an entryway rug and coat rack creates a more subtle way to set distinct areas apart.
Foyer with a Staircase
If your home opens up to a staircase, it can be tough to carve out room for a foyer. If you want visitors to come straight upstairs, use the upper landing for entryway furniture. Direct guests to take off their shoes by the door by placing a chic accent chair next to the steps. Draw attention to your mini seating area with a large potted plant or inviting wall art.
Entry into the Kitchen
Other houses make the kitchen and dining table the first thing company sees. In this case, a cart, island, or sideboard can substitute for a console. These functional pieces double as storage and food prep surfaces. Just decorate with baskets, hang a few patterned plates on the wall, and garnish with potted herbs for entry table decor that's country-kitchen cute.
Choosing the Right Entryway Decor
Where to Start with Foyer Decor
Using a storage bench for seating means you have access to a hidden compartment that will help keep your faux foyer tidy. On the other hand, adding a chair can set the stage for entry table decor. The layout may also dictate whether standing or overhead lighting works best.
Space-Saving Hooks
Attaching hooks to the wall opens up floor space while giving guests a place to secure their belongings. You can find wall-mounted coat racks that are simple, ornate, and everything in between. If you want to add a touch of whimsy, hang a blackboard with a personal welcome message above the hall tree or entryway shelves.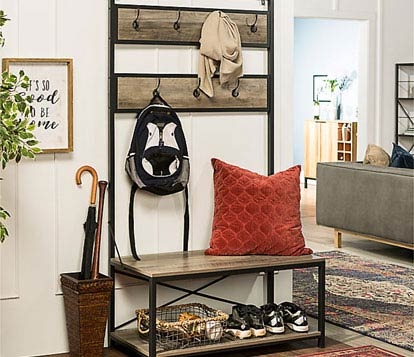 Civray Oak Bench with Built-in Coat Hooks and Storage
Charming Coat Racks
Free-standing coat racks take up more room than wall hooks, but they also create a bigger visual impact. A standing model can be perfect for design styles with a vintage or eclectic twist. A carved, painted wood coat rack is a sweet addition to cottage-style decor, while a metal model makes a statement in rustic homes.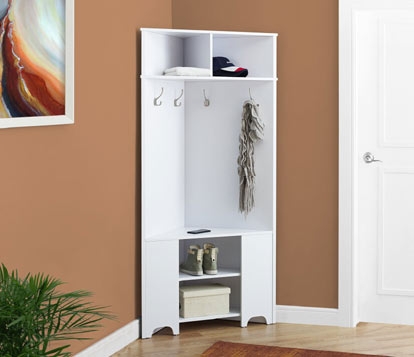 Maxey White Corner Hall Tree with Shoe Storage
Clutter-Cutting Closets
If you have a closet near the front door, make the most of this space by stocking it with hangers and shoe cubbies to let guests store all their belongings inside. This is also a smart place to drop your family's winter layers, purses, and book bags. If your home offers this option, a closet is an easy foyer idea to prevent a messy entryway.
Add Character with Umbrella Stands
Define Your Spacewith Rugs
The easiest way to bring furniture into a planned and purposeful arrangement is a rug. Whether you choose a simple mat or a dramatic round rug, these pieces make even a faked foyer feel like a separate area in your home. As a bonus, rugs catch all the dust and dirt from visitors' shoes as they enter the house.
Furniture for the Foyer
Catch-All Foyer Tables
The space near a front door inevitably becomes a landing zone for mail, keys, phones, pet leashes, and everything you shed upon stepping inside. Having a specific spot for these items keeps you organized and ensures that the house is ready for visitors.
Try placing a narrow console table along a wall and decorating with ceramic dishes and woven baskets to keep things sorted. This also becomes a great display area for welcoming entry table decor like planters, photos, books, and other pieces that give your home a unique and personalized character.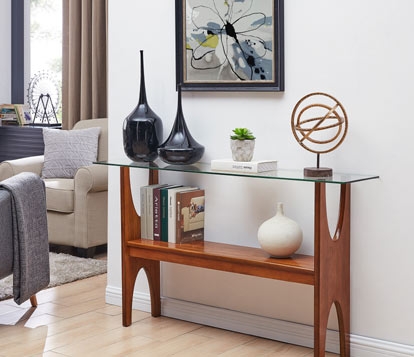 Saranac Brown Console Table with Glass Top
Putting Entryway Ideas into Practice
When it comes to decorating an entryway, there are few wrong answers as long as you love the result. Have fun with it and make your foyer design something that welcomes visitors and shows your personality in equal measure.