Modern Mashups: Combining Styles to Create Your Own
Have you ever flipped through a home magazine and wondered how designers effortlessly mix two different styles? Pulling off this balanced look is easier than you might think. If you want that same comfortable, cohesive aesthetic, but doing it yourself feels overwhelming, try these simple hints and learn to layer your decor just like the pros.
Set the Mood
One of your first considerations should be how you'd like your space to feel. If you're designing a cozy bedroom, you'll want to opt for items that evoke feelings of warmth and serenity. On the other hand, formal areas, like home offices or dining rooms, might warrant a more sophisticated vibe.
When combining styles, consider mixing textures to create the ambiance you want. For example, in a modern rustic bedroom, pair the organic look of a wooden panel bed with a plush rug for the floor. This combo softens the streamlined look, creating a welcoming, relaxed environment that has fresh, spa-like appeal.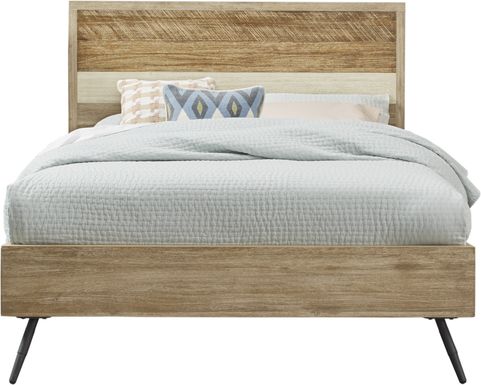 A mid-century panel bed boasts clean lines with industrial-inspired black metal legs that add contrast to the lighter finish of the furniture.
Function First
As you begin to select your furnishings, the 80/20 rule is a good guideline to follow. This approach keeps one type of decor from visually crowding out the other. Pick the anchor pieces that fulfills the room's purpose, like couches, dressers or tables. These should make up about 80 percent of the design. Bring in the other style in the remaining 20 percent as accents or accessories.
It's important to remember scale when considering your options. Try to ensure that they are similar in size. A gigantic armchair may feel cushy and luxurious, but it might look strange flanked by tiny end tables. Likewise, artwork should be proportional to other furniture, unless you want it to be the centerpiece of the room.
In a modern coastal layout, pieces like this cream-colored sofa and these woven end tables give the space a light and beachy appeal. For a bit of a contemporary spin, include a chic floor lamp or add in colorful toss pillows with interesting patterns.

Floor lamps can help light up a room and add a stylish element to your decor.
Pick Your Palette
To keep styles from clashing, limit the number of shades you use and repeat similar hues throughout the design. Sticking with a palette helps to give your home a more curated look. Choose a color scheme that fits your personality or take inspiration from existing furniture as a starting point.
Color can also affect mood, so make sure what you select works with your room's purpose. Cool blues, greens and violet are soothing and help spaces appear larger, making them ideal for bedrooms and small areas. Meanwhile, reds, oranges and yellows are bolder and create a warmer vibe well suited for places like for dens.
Coordinating metallics is another way to blend different styles. Focus on choosing similar finishes such as gold and bronze or silver and chrome. For instance, consider how you might execute a modern Scandinavian look in an eat-in kitchen. A dining table with chrome legs and a natural wood top complement a set of Swedish-inspired chairs for a casual yet clean ensemble.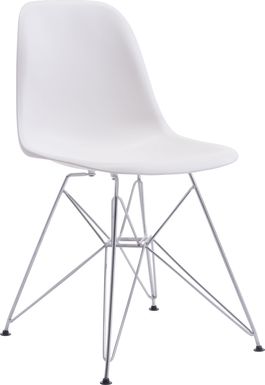 Coordinating with a natural dining table can allow for fun choices, like these Swedish-inspired casual dining chairs.
Creative Yet Consistent
Using the same lines, patterns and types of wood throughout makes mixing styles much easier. Try to find common details in the items you choose. For example, consider pairing a barrel chair that has a circular motif and a curvy couch with accents in the same shape. Keeping the wood tones similar also ties the pieces together despite their very different aesthetics.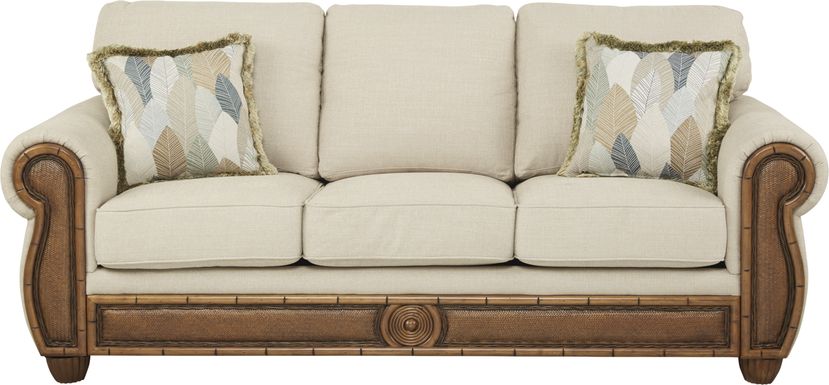 Keep your wood tones consistent. For instance, match this curvy couch with similar-styled chairs and tables.
Accentuate the Odd
Maybe you have a unique find or a family heirloom that you'd like to include. Rather than try to tuck it in a hidden corner, put it front and center as a focal point. This way, instead of seeming out of place or leaving your guests puzzled, that quirky piece lends its charm and character to the overall design.
In the case of ornate benches or multicolored chairs, arrange other furniture so that it draws your eye toward this interesting piece. If it's a special mirror, oversized clock or painting, consider putting it opposite an entrance, over a fireplace or on the wall behind a sofa. Choose a prominent spot in the room where others will notice and appreciate it for the treasure it is.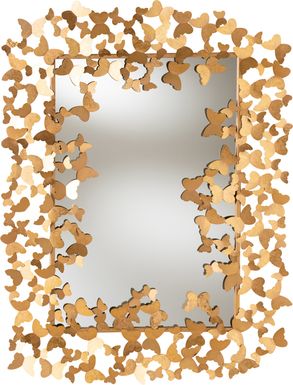 Use an ornate and flashy mirror opposite a fireplace or over a sofa to create an interesting focal point in a living space.
Find the Perfect Placement
To avoid a lop-sided appearance, spread each style evenly throughout your space. Although you may need to group larger items for seating or convenience, use accents to create a good mix of both kinds of decor. Also, be sure to check your final design for balance by ensuring both sides of the room have pieces of equal visual weight.
Pulling It All Together
Blending modern elements into other styles can be a lot of fun, plus it's a great way to keep your home dynamic and exciting. The trick lies in looking for commonalities between the different motifs. These tips provide a place to start, but you should also experiment with your own ideas. The ultimate goal is to create a space full of things you love that also reflects your personality.