What Do You Really Need for a Baby?
When designing your nursery, all that's truly essential for a cozy and functional space is a comfortable place for your infant to sleep. Being a first-time parent can be overwhelming, and the seemingly endless list of newborn necessities may be daunting. In reality, as long as you see to your baby's basic needs, all will be well.
With thousands of products designed to make life easier for you and your newborn, you may feel a need to fill the room from wall-to-wall with the latest nursery furniture and baby essentials. While this may be tempting for new parents, you'll likely realize that many of these accessories end up tucked in the corner or hidden away in a closet.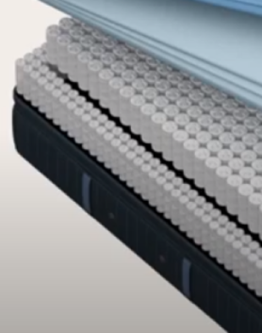 The most important nursery furniture essentials you'll need to have prior to your baby's arrival include:
The crib, mattress and bedding: To get the rest they need, infants should have a safe, comfortable spot to sleep.
A dresser or chest: These sturdy pieces will keep your baby's clothes organized and remain useful even as they grow.
A changing table: Having a secure place to switch clothing or replace dirty diapers will protect both your baby and your back from injury.
Buying a Baby Bed
One of the first items you'll want to buy for your nursery is a bed. When deciding on the right crib, remember that prioritizing the baby's comfort and safety is most important. With such a wide range of beds, mattresses and bedding, it's easy to feel overwhelmed, but as long as you stick with the necessities, you'll be just fine.
Cribs
Start your baby checklist with one of the most critical newborn essentials: the crib. Infants typically spend more time asleep than awake, and they need a safe, cozy place to rest. Cribs have come a long way in terms of design, and there are a vast array of features and options to fit every family.
Space can be a commodity when you have a new baby, so a crib that also doubles as storage can be a lifesaver. Look for a model with built-in storage drawers where you can stow linens, burp cloths and extra diapers. Midnight feedings and changes are a little less stressful when everything is close at hand.
Another popular choice is a convertible crib, which lets you adjust the bed for every age and stage. Change the mattress height as your little one learns to roll, crawl, stand and walk. When they're ready, remove the front panel to reveal a toddler bed. To size up, use a simple conversion kit to change over to a full bed.
All-in-one cribs are another convenient nursery furniture solution. These designs typically include a standard bed as well as an attached changing table with shelves or drawers. You can store all of your must-have baby items within arm's reach, which is a blessing to tired moms and dads.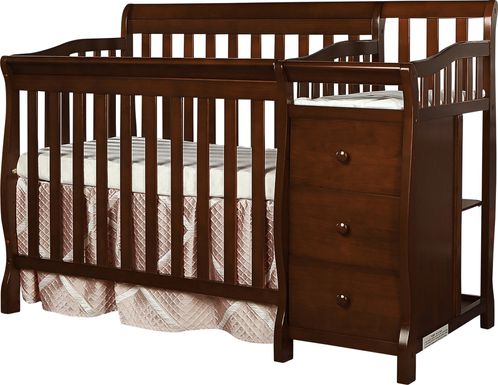 Brently Espresso Mini Convertible Crib and Changer
Mattress
Safety is key when choosing a mattress for your baby registry. The surface should be firm and fit snugly into the crib to ensure a minimal gap between the edge and frame. Most top brands meet federal quality and safety standards, but you should still double-check for added peace of mind.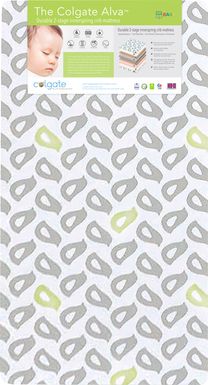 Colgate Alva Durable Crib Mattress
Crib mattresses also come with several features that help keep your bundle of joy comfy. Memory foam and latex materials keep babies cool and cradle their bodies, lowering the chances of overheating. It's also a good idea to look for waterproof models for added protection against inevitable accidents.
Bedding
Your baby's bedding should be soft, safe and properly fitted. Fabrics such as cotton are breathable and help prevent your little one from getting too hot during the night. You also need to ensure that the sheet fits securely around the corners of the mattress and that there is no excess material.
Helpful-to-Have Newborn Essentials
While these items might be lower on the list, they are still valuable additions to your little one's space. Having a dedicated area to store your baby's clothes or change a diaper can help save time and give you peace of mind, which can be invaluable for new parents.
Dressers
The right dresser is a piece of nursery furniture that your child can use well past babyhood. Search for models with large drawers to accommodate your son or daughter's wardrobe through every age. When it comes to color and finish, opt for neutral shades to complement various styles as they mature.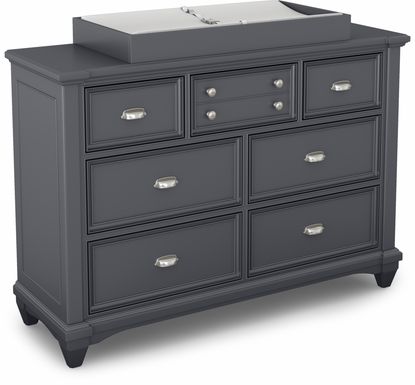 Graphite Hilton Head Dresser with Changing Topper and Pad
Adding a changing topper turns a dresser into a multipurpose nursery hub. The tray and pad provide a convenient surface to change diapers and clothing, and once your baby outgrows it, you can remove it easily. Using a changing topper with a dresser also gives you ample room to keep baby necessities nearby.
Changing Tables
If you have the space, add a standalone changing table to your baby checklist. These pieces are the perfect height for diaper changes, allowing you to work without having to strain your neck or back. Most models have a padded top and a safety strap to keep your child secure, as well as plenty of spacious shelving for diapers and wipes.
Nursery Furniture That's Nice to Have
Once you have the necessities for your baby's room, you can begin decorating the space. While these pieces might be less vital than a crib or changing table, they'll still prove beneficial when you're getting your newborn to sleep or trying to keep the room clean.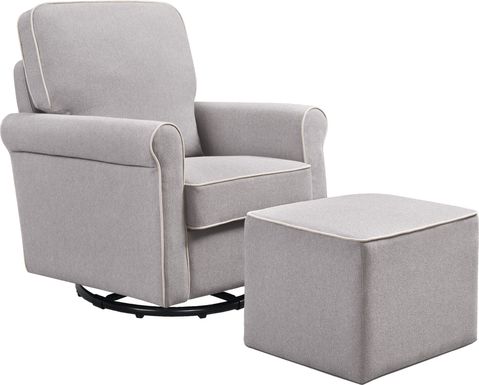 Gray Fabric Swivel Glider Chair with Matching Ottoman
Nursery Chairs
You and your little one will spend many hours snuggled up in your nursery chair, making it an important place for parents to bond with their new addition. There are many stylish designs to choose from, so pick one that's equally comfortable for mom, dad and baby. Some options include:
Rockers: A common pick for the nursery, a rocker has a high back and an arched base that allows you to sway gently back and forth.
Swivel: The side to side motion of a swivel nursery chair can help baby fall asleep.
Recliners: Many recliners have features like USB ports for charging phones and other devices, so you can stay put while your little one sleeps.
Nightstands
Children's nightstands allow you to keep your baby essentials handy. Spacious tops provide plenty of room for bottles, wipes and burp cloths. You can also try models with drawers to store extra diapers and onesies. When your little one gets older, you can repurpose their bedside table to hold a reading light and alarm clock.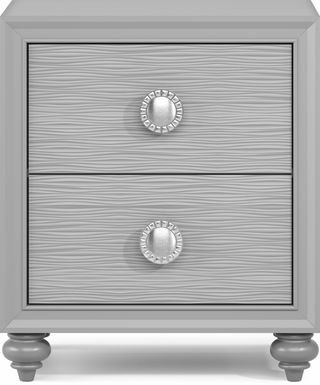 Kids Evangeline White Nightstand
Toy Boxes
With all the toys and stuffed animals your baby is sure to get from loving relatives, you're going to need somewhere to keep them. Toy boxes and storage chests are a versatile addition to your baby's nursery that allow you to keep all of their blocks and plushies in one convenient place.
Bookshelves
Another great choice for your newborn's bedroom is a bookshelf. These pieces allow you to display your baby's favorite books so you can quickly find them when it's time for a bedtime story. When your child outgrows their board books, they can swap them out for their favorite chapter books and comics.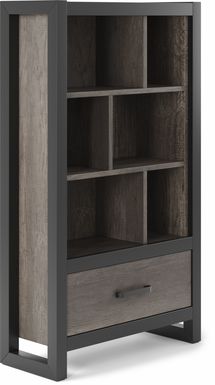 Kids Colefax Avenue Gray Bookcase
Other Must-Have Baby Items
When you have all of your foundational pieces, you can start designing your nursery with cute and stylish accents. With the vast array of choices, it can be hard to narrow down the most useful items. If you're unsure where to start, consider some of these options:
Pictures: Great for an empty wall or the top of a dresser, wall art, cute animal prints and even family photos are a nice way to add some personality to the room.
Baby Mobile: Cute and colorful, baby mobiles are staples in most nurseries. In addition to being fun to look at, mobiles provide babies with visual stimulation that helps with brain development.
Wall Shelves: When setting up a nursery, another useful storage option is a set of wall shelves. Parents can use shelving to display photos, books and more to bring a personal touch to the nursery.
What to Put on a Baby Registry
When it comes to your registry, sticking to the essentials is your best bet. Give your gift-givers a range of products and price options so that everyone can take part in the excitement. Be sure to include less pricey baby necessities on your registry, such as diapers, wipes, laundry hampers, burp cloths and clothing.