Fall Decorating Ideas
Soft Brown and Beige Sectional with Warm Green Decor & Accents
When the leaves begin to change and nights get chilly, it's time to pull out a soft blanket and embrace the season. Bring the autumnal aesthetic indoors by incorporating the gorgeous colors, patterns, and textures that fall has to offer.
The Colors
With a vast selection of shades to choose from, using a fall color palette is a simple way to transform your house into a welcoming retreat. The abundant neutral tans and browns in autumn color schemes mesh easily with existing decor. Of course, nature likes to shake things up, too, so bright accents work extremely well with fall colors and patterns.
Red - Rosy apples and cherry wood finishes are the source of inspiration here. Bring in a burgundy couch or chair to boost a muted color scheme. If you need just a splash of this warm hue, add a wine tablecloth to the dining room.
Brown - Deep and chocolatey, a dark brown hue accents fall colors beautifully. Sepia or beige pillows create a soothing, earthy vibe to your space. You can also add a rustic sensibility to your room by hanging a wooden sign announcing the arrival of the season.
Orange - Pumpkin can spice up more than just coffee, and this cheerful orange hue is ideal for fall decorating. Add both color and texture to your kitchen with clusters of squashes on countertops or use them as dining table centerpieces. Want more? Go beyond the gourd by placing marigolds in a window planter.
Yellow - Even though the days are getting shorter, the sun is still shines. A wreath made with golden leaves, fall grasses, and vines is a welcome sight on an overcast October day. Adding lemon-hued curtains to a green, lavender, gray, or navy living room also makes for a quick decor update.
Green - Autumn colors call for deep, forest shades. Roll out an emerald shag rug in the bedroom to evoke memories of grassy fields. For an effortless accent piece, fill an oversized jade vase with ferns and dried grass in complementary tones.
Fall Patterns & Prints
Incorporate the elements that define the season into your home using leaf and acorn print textiles. Try placemats featuring fall patterns for your table setting or on themed throw pillows.
For a subtler print, plaid is a wonderful way to tie in cold- weather fabrics and fall colors. Drape a checkered blanket over the back of the sofa to serve as both an accent and a handy way to snuggle in with a bowl of popcorn and a scary movie.
You can tie fall patterns into the bedroom, too. Try a terracotta leaf and vine embroidered comforter for a bit of autumnal adornment in your room. To finish off the look, try a set of subtly striped bedsheets in a spiced cider hue.
The Textures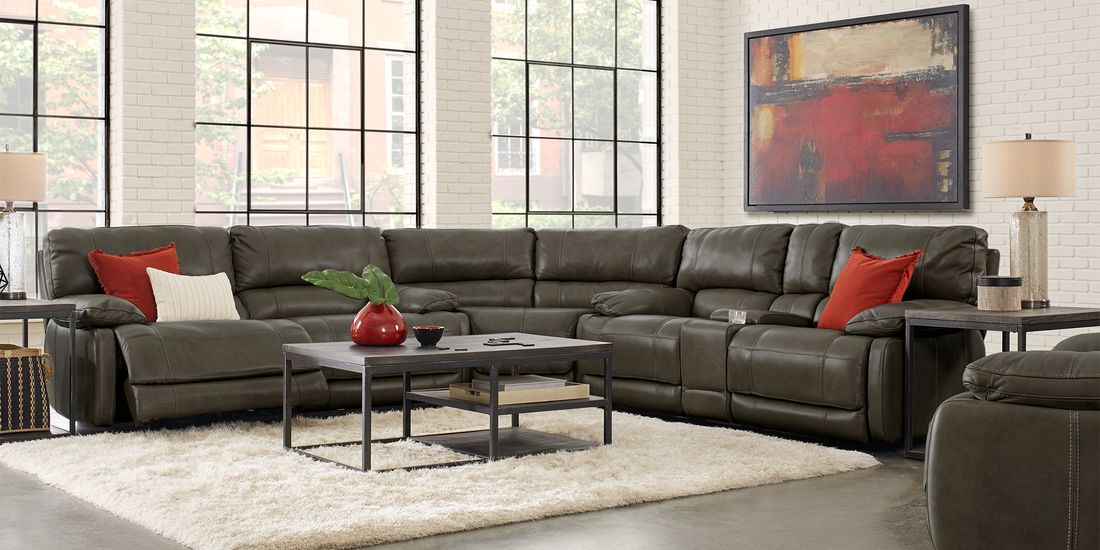 Dark Gray Cindy Crawford Sectional with Red and Orange Decor Contrasted by a White Shag Rug
Cooler weather calls for cozy and opulent materials. Lay a chunky knit afghan at the foot of the bed for extra warmth on cool evenings. For a touch of elegance, search for velvet upholstery on ottomans and stools. Richly finished woods like mahogany and walnut also create a casual and timeless feel.
Temperatures are dropping, so this is a great time to enhance your fall color palette with a few area rugs around the house. Choose dense, natural fibers to keep your feet toasty. A well-placed entryway runner can also help catch the inevitable fall debris from visitors' shoes and boots.
Putting It All Together
There are so many ways to use autumn colors, patterns, and textures, so the hard part is choosing your approach. Here are a few falls decorating ideas to try:
Bring the Outdoors In: Use the nature's own gifts by foraging for foliage in the backyard or local park. Search for twigs and sticks to display in floral arrangements for a unique focal point. Pick up an assortment of colorful leaves to finish the look.
Show Off the Bounty: Fall foods are vibrant and beautiful, so tie the harvest into your decor. Start simple by filling a woven basket with fresh apples and pears. Hollow out a pumpkin and use it as a planter for succulents. Get really crafty and use calico corn to build a festive wreath for the entry door.
Mix & Match: Take full advantage of these options by incorporating a little of everything. With so many warm earth tones, the fall color palette makes it easy to decorate like a pro. Layer a variety of patterns and textiles on beds and sofas for a cozy getaway.
It's Bonfire Season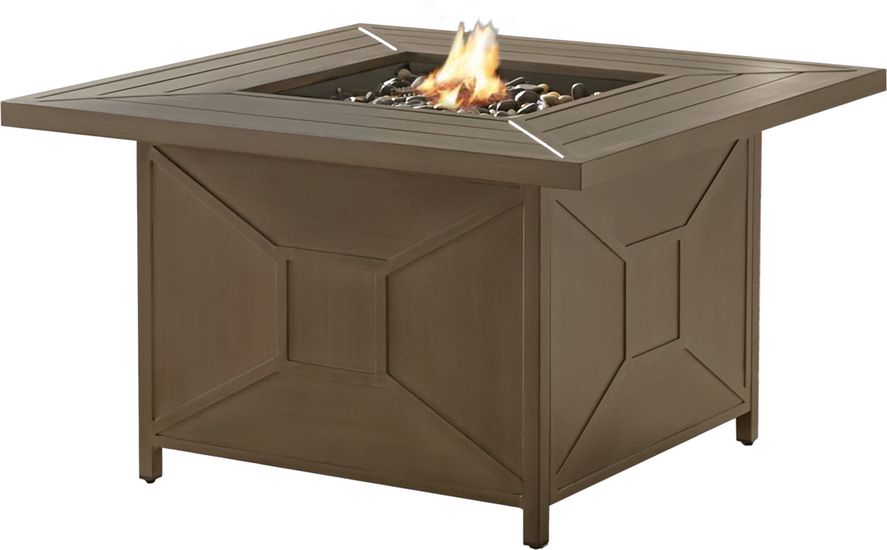 Bronze Finished Fire Table for Outdoor Patios
Before you put away the patio furniture for the winter, take advantage of cool evenings by hosting fireside get-togethers. Gather friends around a fire table to roast marshmallows and share stories. An assortment of pumpkins and cornstalks on the porch make a lovely accent when you want to keep things festive.
Final Thoughts
Remember that autumn colors are rich, inviting, and full of possibilities. Fill rooms with a mixture of fall patterns, hues, and textures for a space you'll love to come home to. Whether you want to add a few small decorative touches or deck out your house with seasonal spirit, there are plenty of fall decorating ideas to pick from.