Guest Bedroom Ideas: Spare Room Furniture & Decor
Looking to transform your spare room into a cozy suite for friends and family? Getting your space visitor-ready starts with choosing the right foundational furniture and ends with thoughtful finishing touches that make a bed for the night feel like home. Put these guest room ideas in place to turn a spare bedroom into an inviting retreat.
Guest Bedroom Essentials: What Should a Guest Bedroom Include?
The guest room furniture you need will vary depending on the size and function of your space. However, certain pieces work in almost any bedroom. Whether you have a dedicated guest suite or a spare room that doubles as an office, these bedroom decorating basics will help you host company in style.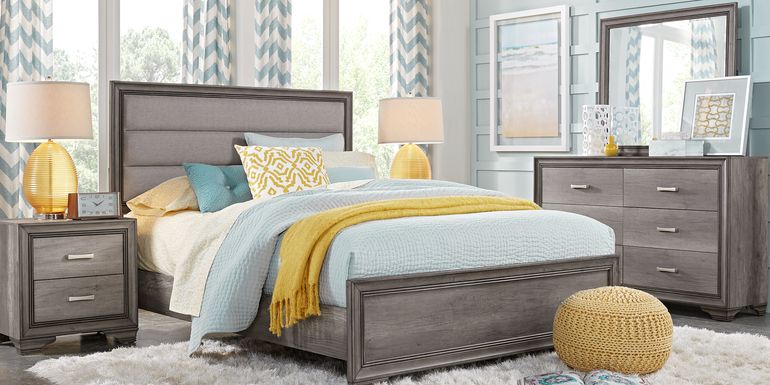 Marlow Gray 5 pc Queen Panel Bedroom
Beds
The right bed size and design can make a big difference in comfort. To decide which type of guest room bed is right for your home, consider who may be visiting. How many people usually stay with you? Will you have adults, kids or both? Answering these questions allows you to choose between several kinds of beds perfect for visitors, such as: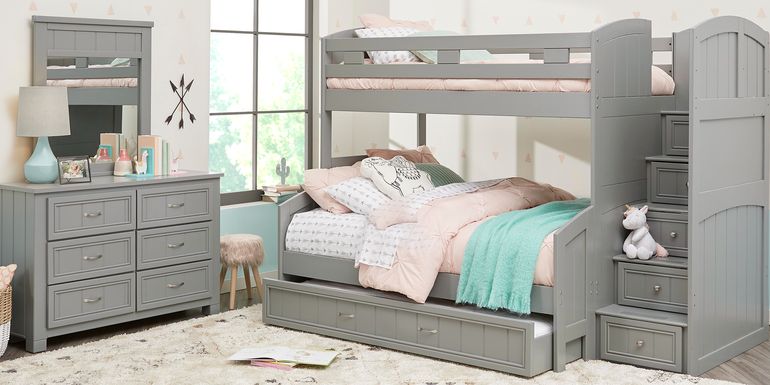 Cottage Colors Gray Twin/Full Step Bunk Bed Set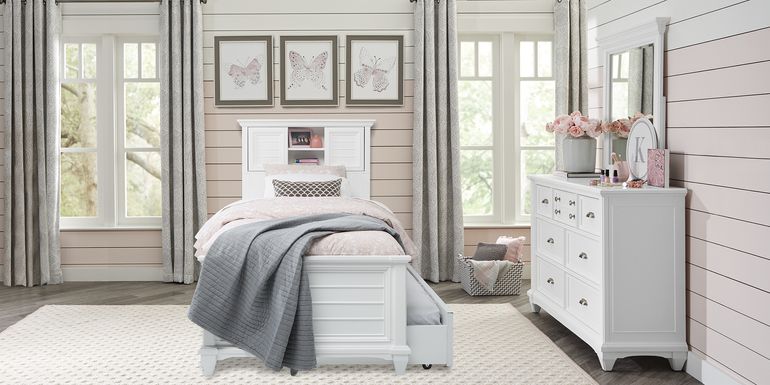 Kids Hilton Head White 5 Pc Twin Bookcase Bedroom with Trundle
Bedside Tables
Along with adding storage to a spare bedroom, nightstands provide space for the little details that make guests feel at home. To be everyone's favorite host, stock the shelves of bedside tables with essentials visitors might have forgotten, like phone chargers, bottles of water or books and magazines.
Dressers
Giving guests a place to unpack is a thoughtful way to make a spare bedroom homey and welcoming. To choose the best guest bedroom dresser, look for a compact chest of drawers. Small chests provide enough space for a suitcase of clothes while leaving room for other spare bedroom furniture.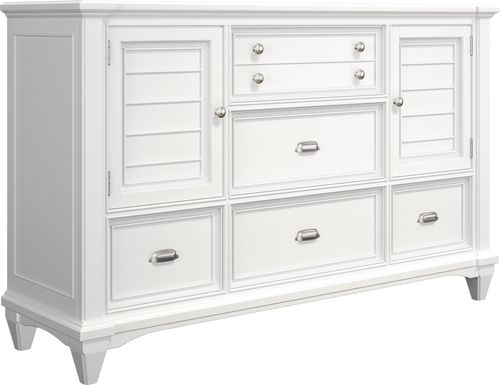 Hilton Head White Door Dresser
Mirrors
When you're living out of a suitcase, a dresser mirror is a huge bonus. Guests who share a restroom can get ready without monopolizing the bathroom mirror. Plus, they'll have a place to check their outfits for pesky travel creases and wrinkles. Hanging a mirror is also one of many classic guest bedroom ideas to make small spaces seem larger and brighter.
Desks
Dedicated guest rooms sit empty most of the time, so adding a stylish desk helps you get more out of your space. A home office guest room combo is a popular spare bedroom idea that's easy to pull off. Small writing desks with drawers are often the best desks for guest bedrooms, as they take up less space and offer storage to tuck away odds and ends when company comes.
Spare Room Space Savers: Small Guest Room Ideas
Packing all the comforts of home into one room while maintaining an open, relaxing vibe is the main challenge of guest bedroom decorating. Spare bedrooms tend to have less floor space, so making a small room look bigger is a top priority. Check out these tips to make a big impact on your guest room decor but not your square footage: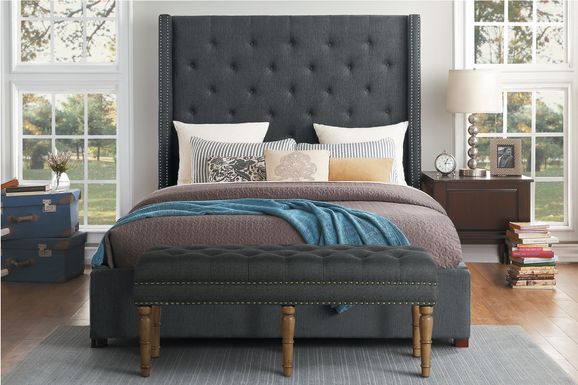 Fittonia Gray Upholstered Bench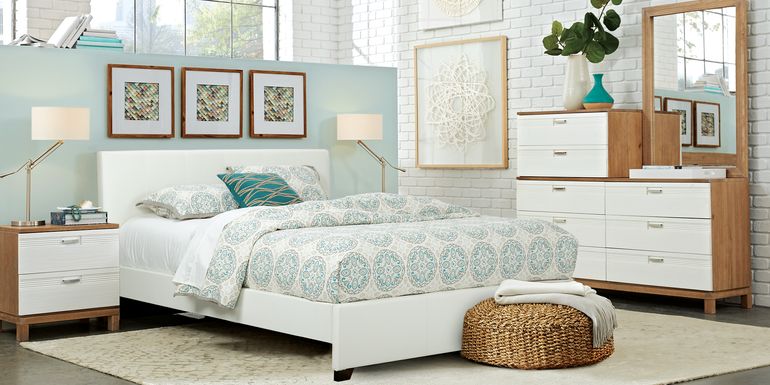 Modern Gardenia Pecan 5 Pc Queen Bedroom with White Upholstered Bed
Making a Spare Bedroom Cozy with Guest Room Decor
When friends or family decide to forgo the hotel room and stay with you, it's because they want the welcome only you can provide. As a result, many spare bedroom ideas have to do with making a guest room comfortable. Here are a few tips that allow you to roll out the red carpet with inviting guest room decor: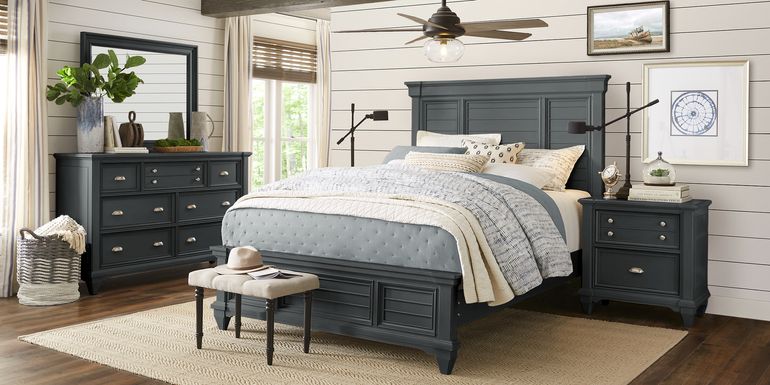 Hilton Head Graphite 5 Pc Queen Panel Bedroom Accented by Wall Art, Lighting and Decor
Consider lighting: A little illumination makes any room cozier. Blend style and function in your guest bedroom lighting by mixing task-oriented reading lamps with dramatic chandeliers and unique bedside lighting. Statement-making accents with a warm, welcoming glow provide the ambiance that a sterile hotel room can't match.
Splurge on bedding: Pampering visitors with premium linens and fluffy pillows is a simple way to show you care. As you decorate, think about creating layers of comfort. You'll likely only buy one set of guest room bedding, so select a coordinating light coverlet, medium-weight quilt and heavy comforter you can mix and match throughout the year.
Take a bold or neutral approach: There are two main approaches to guest room decor. Either keep the colors and accents soothing for a peaceful stay, or take design risks to create a memorable experience. For a relaxing space, think soft sage walls, a floral duvet and nature photos. For a chic retreat, try a statement headboard, accent wall or retro clock.
Spend time on the details: The smallest guest bedroom ideas can have the biggest impact on how guests enjoy their stay. A place to fold clothes, a plush footstool, a goody basket full of toiletries or a framed sign with your Wi-Fi password lets visitors know you consider them part of the family.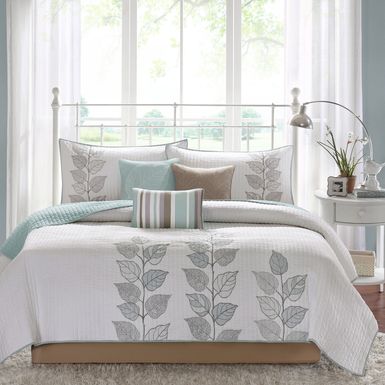 Caelie White 6 Pc Queen Coverlet Set
Guest Room Ideas to Make a Spare Room Special
More than luxury furnishings or cutting-edge style, the thoughtfulness of your guest room design makes an extended stay into a pleasant memory. The secret to decorating a spare bedroom that guests look forward to visiting is simple. When you build a little love and care into your furniture and decor, a guest room is sure to feel like a home away from home.