Bedside Lighting Ideas to Help Your Bedroom Stand Out
Good bedroom lighting brightens up your space and enhances your decor. Some people want a tranquil setting to rest at night, while others need a reading lamp so they can stay up late with the latest page-turner. It's important to choose lighting that looks great and fits your space as well as your personal needs.
Different Ideas for Different Bedrooms
The lamps or sconces you choose should show off your style, whether you favor industrial wall fixtures, rustic chandeliers or boho-chic bedroom lamps. Consider something unexpected with the following unique lighting ideas.
Gorgeous Geometrics
Geometric accents are popular in many different interior design styles. When used strategically, hexagons, triangles, circles and other simple shapes make a big statement. One easy yet effective way to integrate chic geometric details into your bedroom is through bedside lamps.
Fixtures with metallic finishes bring texture, shape and color into your layout. Shining gold and bronze bedside lighting elevates rich jewel-toned interiors, while bedroom lamps with silver or chrome finishes suit both cool and warm color schemes.
Chandeliers allow you to incorporate unique shapes, too. Hang a pair of Lysa Gray chandeliers on either side of the bed to create a balanced look while filling your room with warm lighting. A single chandelier over the bed paired with coordinating bedside lamps also creates a lovely focal point.
Geometric bedroom lights complement an array of styles. Matte black table lamps with sleek forms and crystal bases lend modern charm to contemporary master suites. Weathered wood chandeliers can revitalize both industrial and rustic bedrooms as well.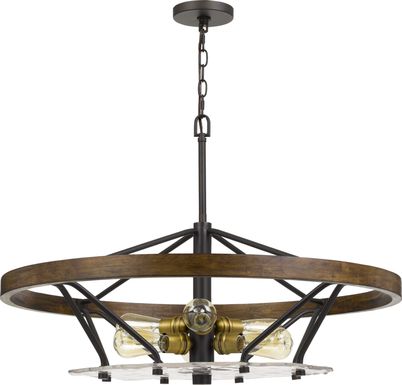 Fountain Village Bronze Chandelier
Save Space with Sconces
Looking to free up your nightstand to make room for photos or device chargers? Sconces and pendant lights are stylish space-savers. Wall fixtures like the Stratton Court bronze sconce minimize clutter and produce a soft, soothing glow that's perfect for late-night reading.
Want a more customizable option? Adjustable bedside lamps let you modify your lighting needs from the comfort of your bed. You have complete control over the direction of the light, so your partner can sleep undisturbed while you catch up on emails or the latest episode of your favorite show.
Alternatively, skip the traditional table lamp route altogether and opt for a hanging pendant fixture. Clear glass models, like the Newcourt Glass pendant lamp, complement rustic decor while illuminating the entire room. For a contemporary layout, arrange a set of pendant-style track lighting above the bed.
Classic, Cool and Creative
When most people think of bedside lamps, many picture graceful ceramic pieces topped with round canvas shades. However, distinctive bedroom lamps pack a big punch in terms of style. Skip the ordinary and choose an unusual lamp with some flair for the dramatic to ramp up a retro or industrial look.
In clean, minimal layouts, search for pieces that blend function with fashion. The Cordusio Walnut floor lamp combines simplicity with the useful surface of a nightstand. Floor lamps with directional shades, like this one, can also illuminate vanities, wall art and other areas of a room.
Use these convenient bedside lamps to balance out your decor, too. Place a pair of matching lamps on corresponding nightstands for a balanced approach to decorating. Or, hang a pendant light opposite a single bedside lamp for an eclectic asymmetrical look.
Fun for All Ages
When decorating kid's and tween rooms, the right bedroom lighting puts a unique spin on your child's interests. Vibrant floor lamps featuring sports motifs or dinosaurs let you showcase your little one's interests in a fun, functional way.
If longevity is the goal for your child's room, choose lighting that will stand the test of time. For instance, this kids' Graceful Giraffe gold bedroom lamp enhances the decor of your future zookeeper. The sculpted base evokes the beauty and adventure of an African safari, while the sophisticated color scheme appeals to teens as well.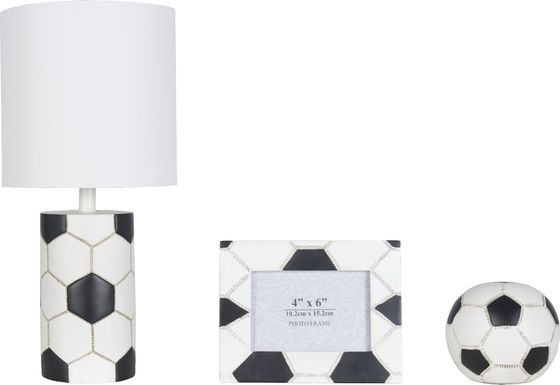 Kids Soccer Zone 3 Pc Lamp Set
The Finishing Touch
The easiest way to revitalize your decor is through your choice of bedside lighting. While the number of options may seem daunting, keep each style's perks in mind. Sconces, pendant bedroom lamps and chandeliers save space while putting a stunning twist on a bedside necessity, while table lamps are equally convenient and classic.