Does the warm glow of flickering flames help you unwind after a long day? Is grilling outside, serving drinks and sharing stories with family and friends central to your social life? If your answer to either question is a resounding yes, it's time to make a backyard patio design with a fire pit number one on your home project list.
Whether you're still in the planning stages or ready to get started, we have plenty of fire pit ideas for the backyard as well as seating and decor tips to elevate your design. From purchasing a complete furniture set to creating a one-of-a-kind layout with individual pieces, you'll learn all the ins and outs of decorating a patio with a fire pit.
In addition to fire pit design ideas, this post also covers:
Selecting a Fire Pit Design
Choosing the right fire pit design can be tough. The soothing crackle of a wood fire certainly has its appeal, but gas models offer quick, convenient access to the warm glow of flickering flames. To learn more about wood vs. gas options, consider the fire pit design ideas below: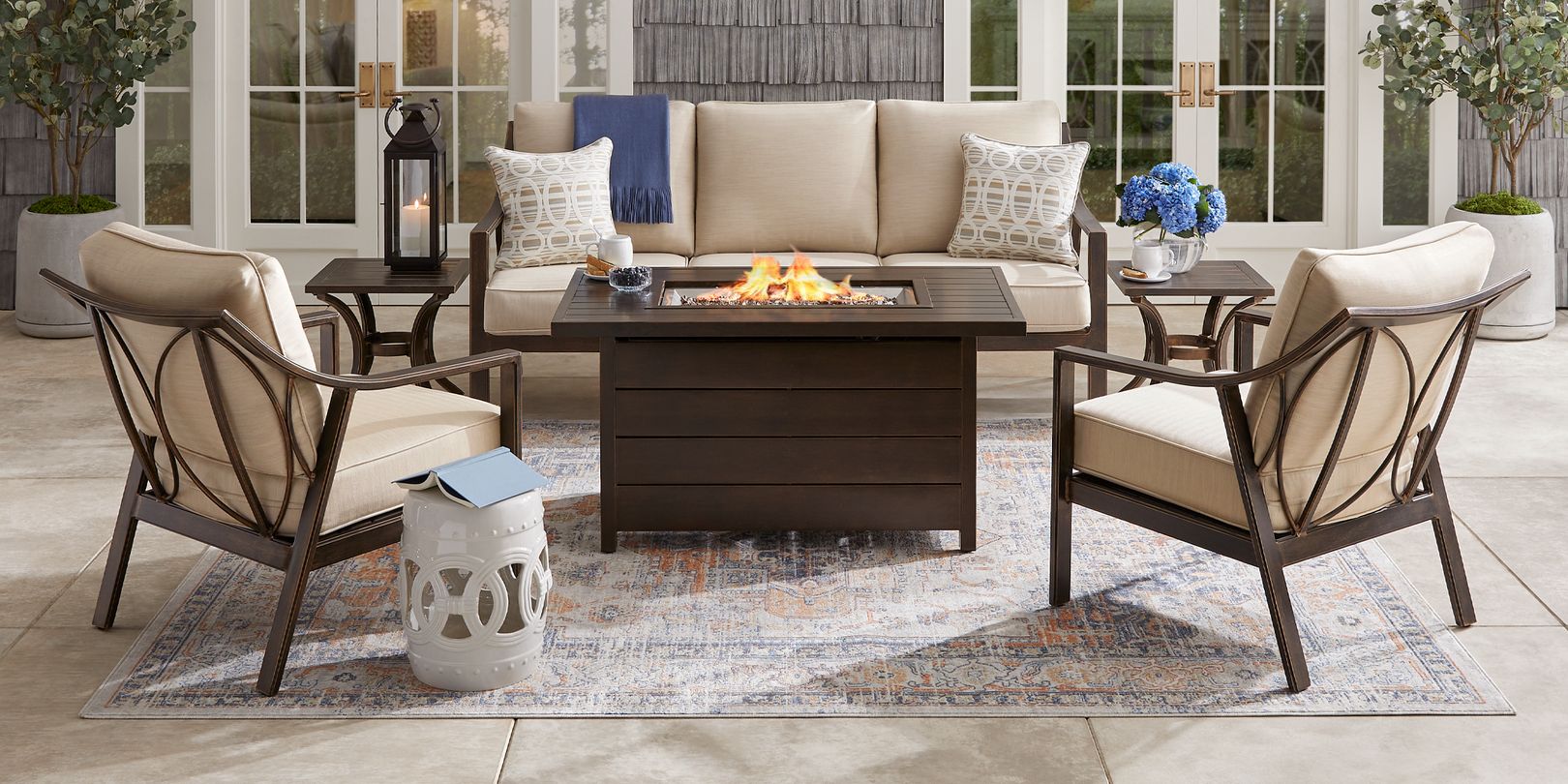 Fire pit tables let you customize flame level and heat with convenient controls.
Location
Backyard Patio Designs with a Fire Pit
Several elements come into play when selecting a spot for your fire pit. Choose an open area situated well away from buildings, trees, roofs and canopies. You may also want to avoid poolside areas to keep enthusiastic divers from dousing your fire pit. Placing wood-burning setups away from dining areas is also a good idea, as the smoke could distract your dinner guests.
Where Should a Fire Pit be Placed on a Patio?
Think about how you plan to use your fire pit when arranging it on your patio. If grilling is your goal, leave ample room for a serving cart to keep utensils, seasonings and plates nearby. To create a campfire setting, make your fire pit table the focal point by putting it in the center of your seating area, or keep the flames in the foreground with an in-ground fire ring opposite your sofa and chairs.
Bring a new element to your backyard view by setting a fire pit table across from your sofa.
What Should I Put Around my Fire Pit?
Outdoor Seating Sets with Fire Pits
To save time and money when setting up patio decor with a fire pit, consider purchasing a five or six-piece furniture collection. Choosing a fire pit seating set ensures the finish and upholstery of each piece coordinate to create a cohesive layout. Consider several fire pit seating ideas with sets that offer a mix of chairs, sofas or loveseats and then bring your vision to life with a single purchase.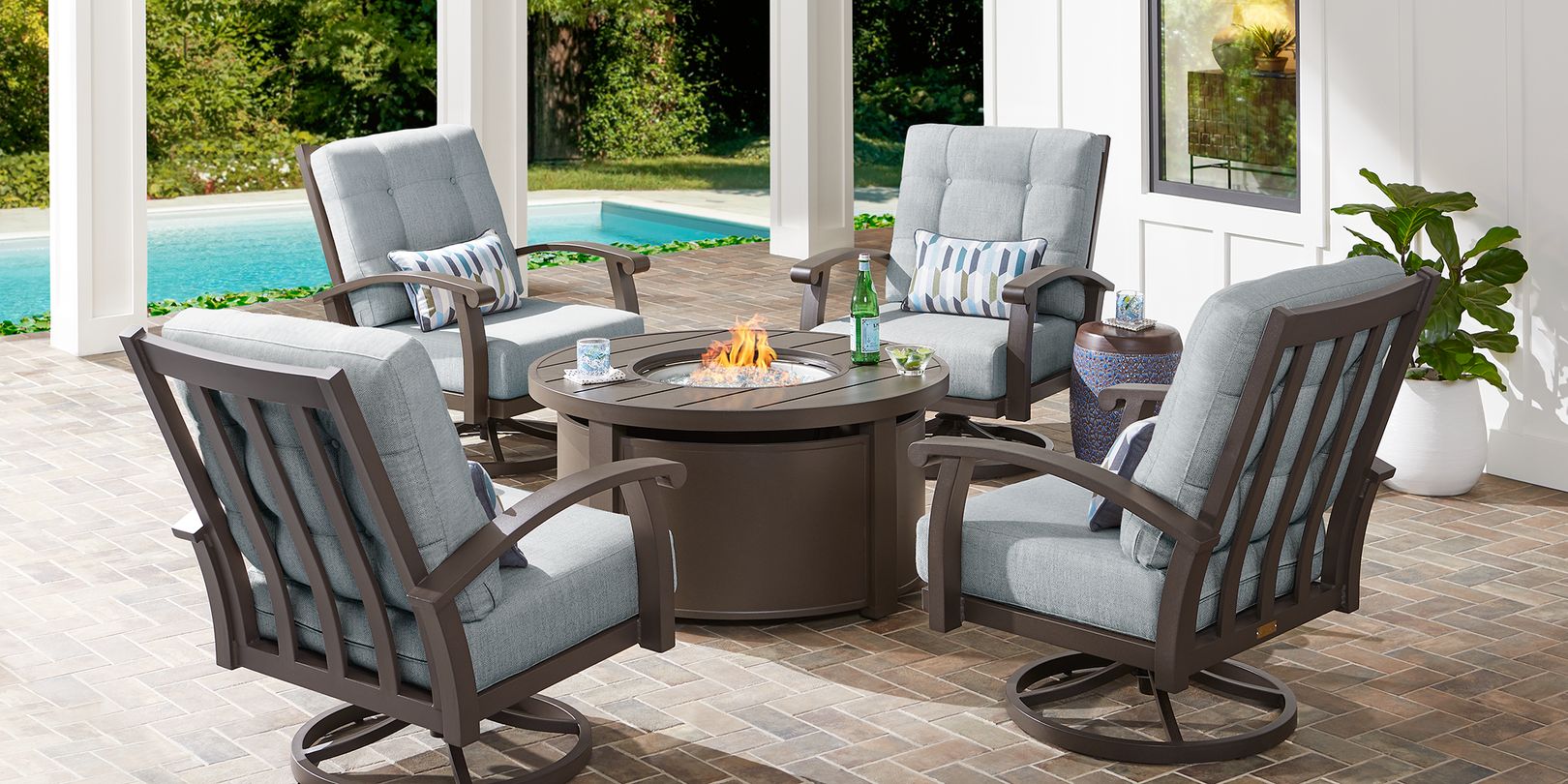 Furniture collections are an easy solution for your patio fire pit design.
Using Your Fire Pit for Seating Ideas
If you're using your existing furniture or selecting individual pieces for your patio, your new fire pit's design and shape can guide your furniture choices and layout, too. Use the following fire pit furniture ideas as inspiration for your design: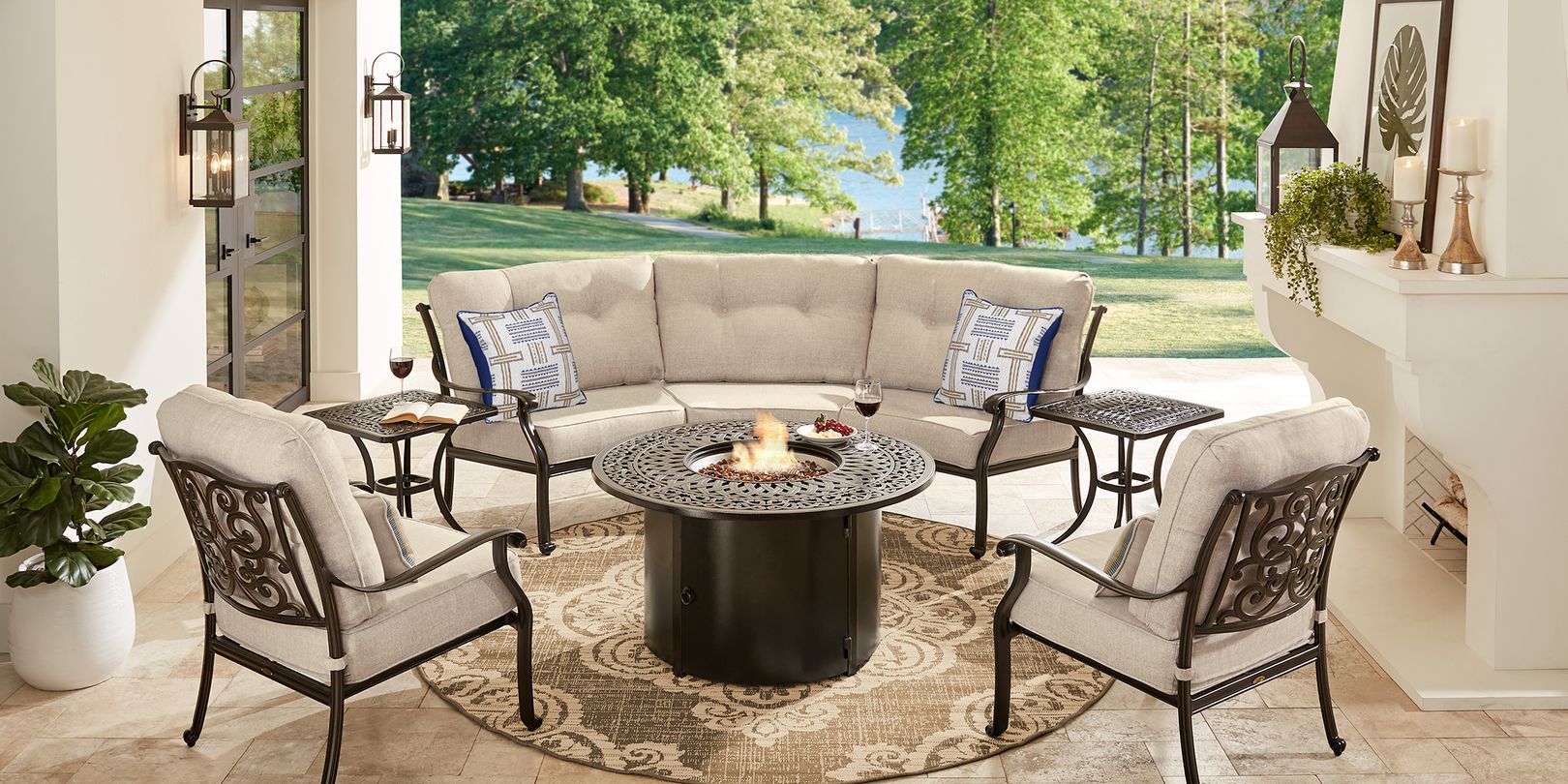 Let your fire pit's shape and design guide your furniture choices and layout.
Coordinating Your Fire Pit Decor and Furniture
Once you've finalized your fire pit area ideas and selected your seating, choose the rest of your decor carefully to coordinate with your theme and boost the comfort of your backyard retreat. Whether your design is casual and down-to-earth or sleek and modern, there are fire pit decor options for every layout.
Rustic Fire Pit Ideas
To design a meant for campfire tales and s'mores, start with Adirondack chairs around an rustic fire pit and keep the decor simple with metal lanterns atop wood side tables. Or, combine a steel fire ring with dark wood seating and use torches to light the path to your rustic backyard getaway.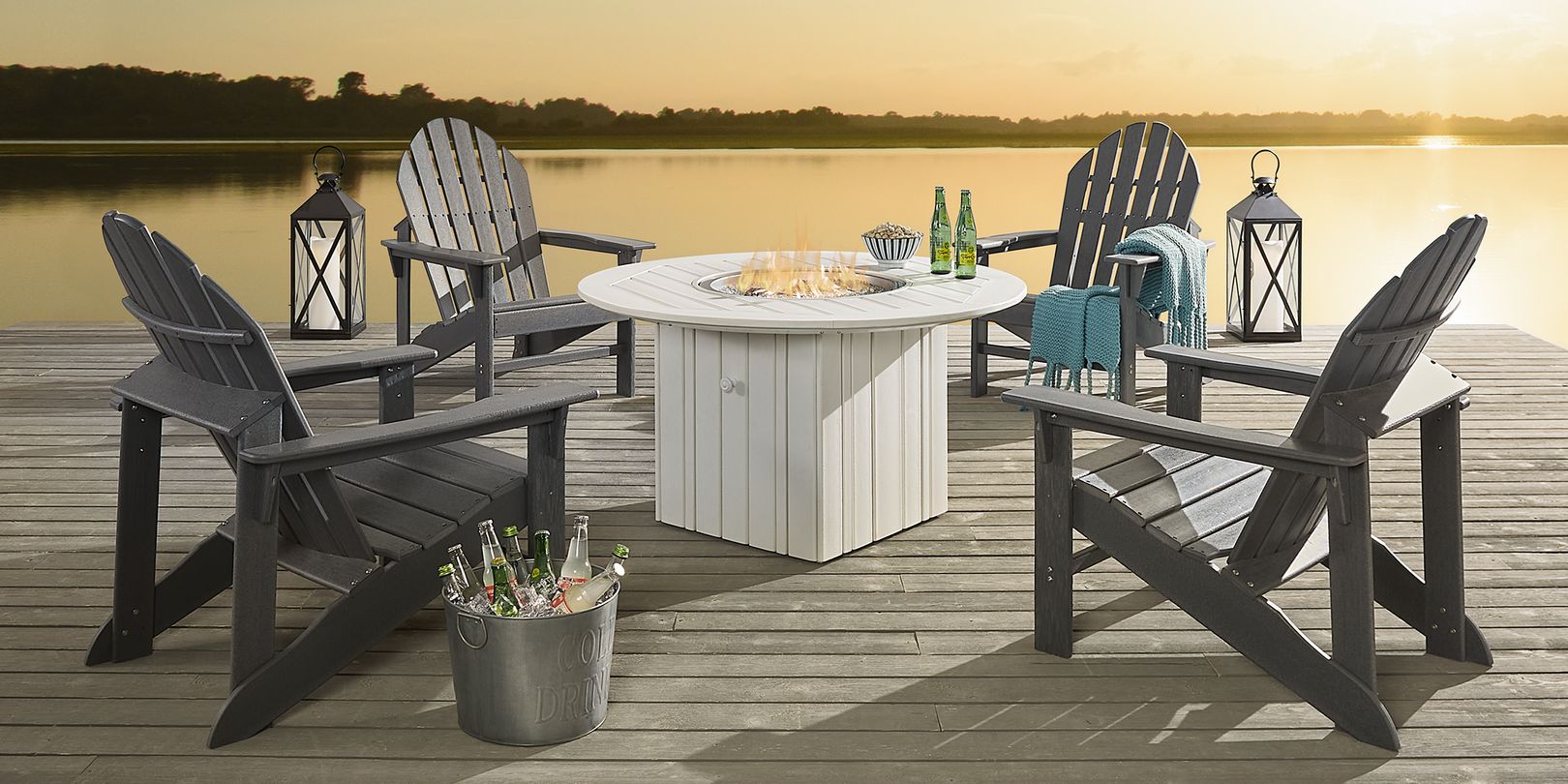 Simple designs with wood chairs around a fire pit create a casual campfire atmosphere.
Traditional Patios
If classic furnishings call to you, create a garden retreat with wrought iron benches and side tables on either side of a coordinating fire pit. For a small patio, try pairing wood rocking chairs or gliders with a chimenea and a few traditional garden sculptures to set up a peaceful outdoor escape.
Boho Backyards
Incorporate a few boho patio ideas and play with different textures by pairing a wicker fire pit with a metal sectional piled with patterned outdoor pillows. Or, mix and match shapes by contrasting a square fire pit with a round seating set to give your patio a unique bohemian vibe.
Modern Spaces
For sleek, streamlined layouts, add fire glass to your modern fire pit and enjoy the view from a chic seating set. Or, complete your wicker sectional and fireplace table arrangement with a modern patio rug. If you love hosting parties, use a console table as a drinks station for your next soiree.
Working through your fire pit design ideas step by step is the best way to get a backyard layout you'll love. Settle on the fire ring, pit or table you want, then evaluate your placement options and priorities. Once you've chosen your furnishings and coordinating decor, you'll be all set for family cookouts and fun-filled evenings by the fire.