Calming Bedroom Ideas
Relaxing Room Ideas for Creating a Bedroom Sanctuary
We often view our bedrooms as personal getaways, a quiet place to stretch out and unwind after a long day. However, when trying to create a space that promotes calmness and well-being, it can be hard to know where to start. With the right planning, furniture, color choices and decor, designing a tranquil bedroom sanctuary can be easy.
Overview
In this article, we'll teach you how to:
Cool colors like blue and gray are ideal for promoting rest and relaxation.
The first step to creating your own relaxing oasis is choosing comfortable and inviting furniture. Since you're spending time here as a getaway, you'll want this room to relieve tension and stress. Think about items like soothing beds, spacious dressers, convenient nightstands and quality linens to promote relaxation.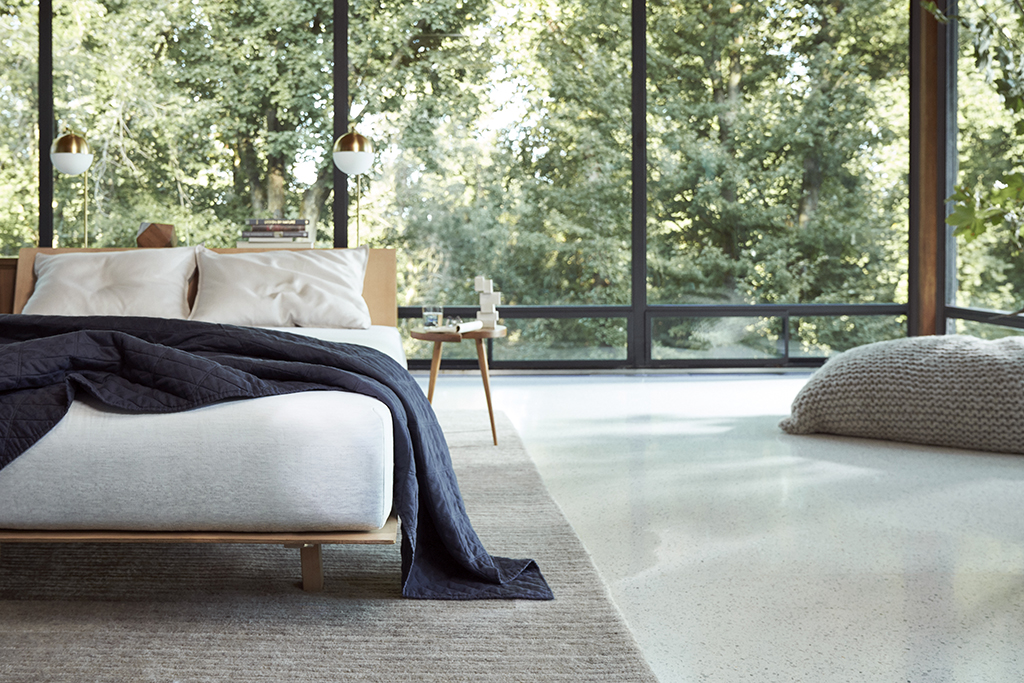 A comfortable mattress is essential for ensuring restful sleep, so be sure to choose the highest quality model that fits within your budget.
Start Your Bedroom Sanctuary with a Cozy Mattress
Whether you want to lie back and read a book or take a quick nap and recharge, your bed will most likely be your go-to lounging spot. When selecting the best mattress, look for a model that meets all your comfort needs. With choices from ultra-plush to extra firm as well as memory foam or innerspring support, make sure to test your mattress thoroughly for best results.
Declutter with Stylish Storage
Organization is important when it comes to creating your bedroom sanctuary. A neat and tidy layout keeps stress levels low and prevents the space from feeling cramped or overwhelming. Instead of walking into a cluttered room, take advantage of storage options that reflect your sense of style, color scheme and design preferences to create a calm, orderly oasis.
Dressers are a bedroom essential. Choose one with plentiful storage to help keep your bedroom comfortable and organized.
Other furnishings that you'll need when designing your bedroom retreat include:
Having a designated place for all of your belongings creates an open, tidy environment. Combine several pieces, such as a dresser, nightstand, chests or purchase a complete bedroom set to get the perfect amount of storage and relieve any stress you may have about clutter or organization.
Peaceful Bedroom Ideas: Love Your Linens
One cost-effective method to create a tranquil bedroom refuge is a new set of bed linens. Look for natural fiber sheet sets with a high thread count to wrap yourself in silky softness all night long. Calming shades such as silver or blue are best for restful slumber. For an extra cozy way to relax after a long day, opt for a blanket that's a size bigger than your bed.
Opt for linens in cool colors like blue, purple or green to create a soothing atmosphere. As an alternative, neutral hues like ivory or gray work make a space feel fresh and clean, while blending well with nearly any palette.
Get creative with your duvet by selecting patterns and colors that reflect your personality. A crisp, white comforter is a tried and true option, while green bedding gives your space a calming feel inspired by nature. For a homey, lived-in approach, a classic quilt brings charming patterns into your design. Selecting a light summer set as well as heavy winter bedding lets you stay cozy in any weather.
Save on Your Bedroom Sanctuary with Sets
Need a stress-free way to outfit your entire space? A complete bedroom set is the perfect solution. Purchasing a designer-curated collection gives your bedroom a fully coordinated look. Buying a bedroom set saves time and money, too. You'll spend less by bundling everything into one easy purchase while avoiding the hassle of hunting down coordinating pieces and buying items separately.
Color can instantly establish a more laid-back environment. Whether you gravitate toward softer hues or delve into darker shades, choosing the right palette for your bedroom sanctuary is key. When selecting your base hues, consider calming colors such as:
Pastels: Softer colors such as pale green, baby blue and light pink promote a tranquil vibe. When setting the overall tone for your bedroom, consider a blush headboard or a periwinkle blue bedding set.
Neutrals: Encompassing a spectrum of shades from white and beige to brown or black, neutrals are popular in interior design because they complement every other color of the rainbow. If stress-free decorating appeals to you, consider using tan, gray or ivory in your layout.
Earth Tones: For an outdoorsy bedroom escape, decorating with earth tones is the next best thing to being in nature. Look for bedroom furniture in earthy greens, deep browns and cool blue hues to create a look you'll love coming home to.
Neutral colors, interesting textures and rustic finishes are a great combination for nature-inspired bedroom retreats.
Proper lighting makes any space feel more inviting. Combine natural sunlight with different light fixtures to create a warm, welcoming, and relaxing bedroom. When deciding which lighting you want in your space, customize your space with unique bedside lighting or consider options such as:
Looking to take the warmth and comfort of your bedroom to the next level? Consider arranging area rugs by your bedside. These plush carpets protect warm toes from cold hardwood floors on chilly mornings. Additionally, area rugs come in a range of soothing patterns, colors and designs to complement your look.