What's Trending in Patio Furniture?
Want to give your outdoor space a fresh look? A few popular patio furniture trends are definitely worth your attention. Simple to recreate and effortlessly chic, these outdoor furniture ideas instantly update any deck or garden.
Why Is Indoor/Outdoor Decor So Popular?
Design for outdoor spaces is shifting away from solely functional furniture and towards homey comforts. Patio decor that might seem at home either indoors or outside brings both style and substance to your deck and is easy to migrate inside for the winter. Try indoor/outdoor living for yourself with these simple ideas for the patio.
On-Trend Upholstery
In the effort to make a deck or pergola feel like a cozy living room, more people are turning to fully upholstered outdoor sofas, chairs, and daybeds. Advances in outdoor fabrics mean plush patio furniture pieces can work just as well in your yard as inside your home. Plus, you can repurpose pillows and cushions when the patio is empty by dressing up a breakfast nook or window seat.
Decorative Outdoor Pillows
Mix Materials
All-plastic patio furniture may be a practical way to outfit your deck, but outdoor sets that mix materials, textures, and colors better capture the feel of interior design outside. Choose pieces that combine wood, wicker, fabric, or metal accents for an easy starting point.
This patio trend is equally stylish and budget-friendly. Rather than buying a trendy patio furniture set every year, just swap accessories to fit each season's new look. Getting eclectic with materials also limits the need to perfectly match your pieces, allowing greater freedom to experiment.
5 Pc Dining Set
Live in the Now
The retro-modern patio craze is one to watch. Upgrading spaces with vintage-look patio furniture is a full-on fashion statement that has transferred from popular interior design to exterior spaces.
Keep an eye out for pieces with simple forms and solid colors to achieve this look. Combining a mid-century modern patio furniture set with faceted tables and angular ottomans will make your deck feel polished and uber-chic.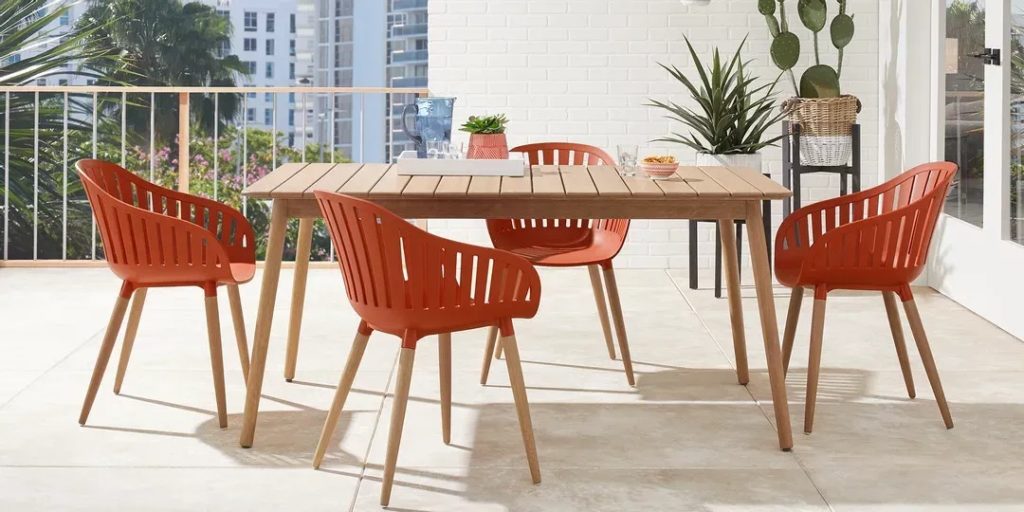 Mid Century Modern Dining Set
Less Is More
Small space living is an eco-friendly trend with staying power. To decorate a downsized outdoor area like a balcony or porch, small ensembles are all the rage. Bistro sets evoke a Parisian cafe, and vintage patio furniture built for two has an intimate air. Choose wrought iron patio furniture in bold hues or solid black to recreate this outdoor style.
Keep It Casual
If you're a fan of breezy, coastal home decor, try bringing this look outside. Sling chairs and teak patio furniture styled with linen fabric and sisal rope accents are part of the in-crowd when it comes to outdoor patio trends. Lend classic seaside inspiration to your space with shades of blue and beige, or keep things modern with a crisp white and black color scheme.
Sling Chairs
Staycation Style
One of our favorite chic patio furniture trends brings a luxury resort feel to your own backyard. Consider a pair of poolside loungers, broad leaf palms in oversized planters, and an island-style patio bar to perfect this vibe. Adding thick cushions and market umbrellas in striped cabana fabric will have you made in the shade.
Old School Cool
Our final outdoor patio trend evokes the elegance of a furnished Southern veranda. A front porch styled with wicker patio furniture, layered rugs, and plenty of cushionsand textured throws is a classic design that's both gorgeous and comfortable.
Wicker Patio Seating Set
Trendy Outdoor Furniture
Enjoy all the comforts of home on the patio with any one of these outdoor decor trends. You can even adapt them to meet your needs. If a brand new set of wood outdoor furniture is out of your budget, capture the essence of any of these ideas with an existing patio set and a few accent pieces like pillows, umbrellas, or rugs.
Outdoor Rug