Ideas for Decorating a Comfortable Backyard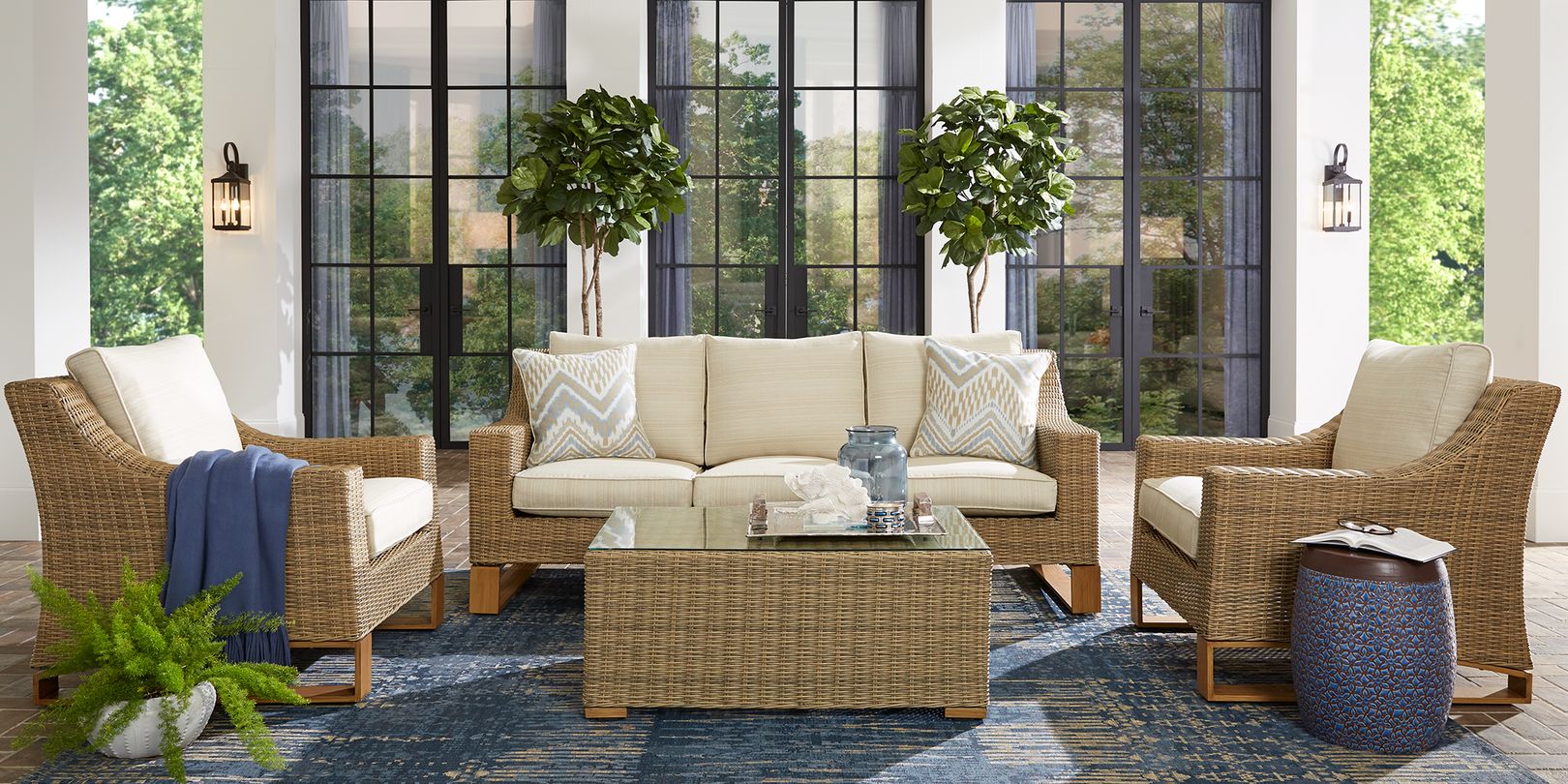 Relaxing in your backyard after a long day is an excellent way to reduce stress and enjoy some fresh air. To transform your patio, deck, balcony or backyard into a tranquil outdoor oasis, you'll need to clean and prepare the space, set up comfortable furniture and add subtle hints of soothing color that promote a pleasant, laidback atmosphere.
Overview
This post will provide suggestions and tips on: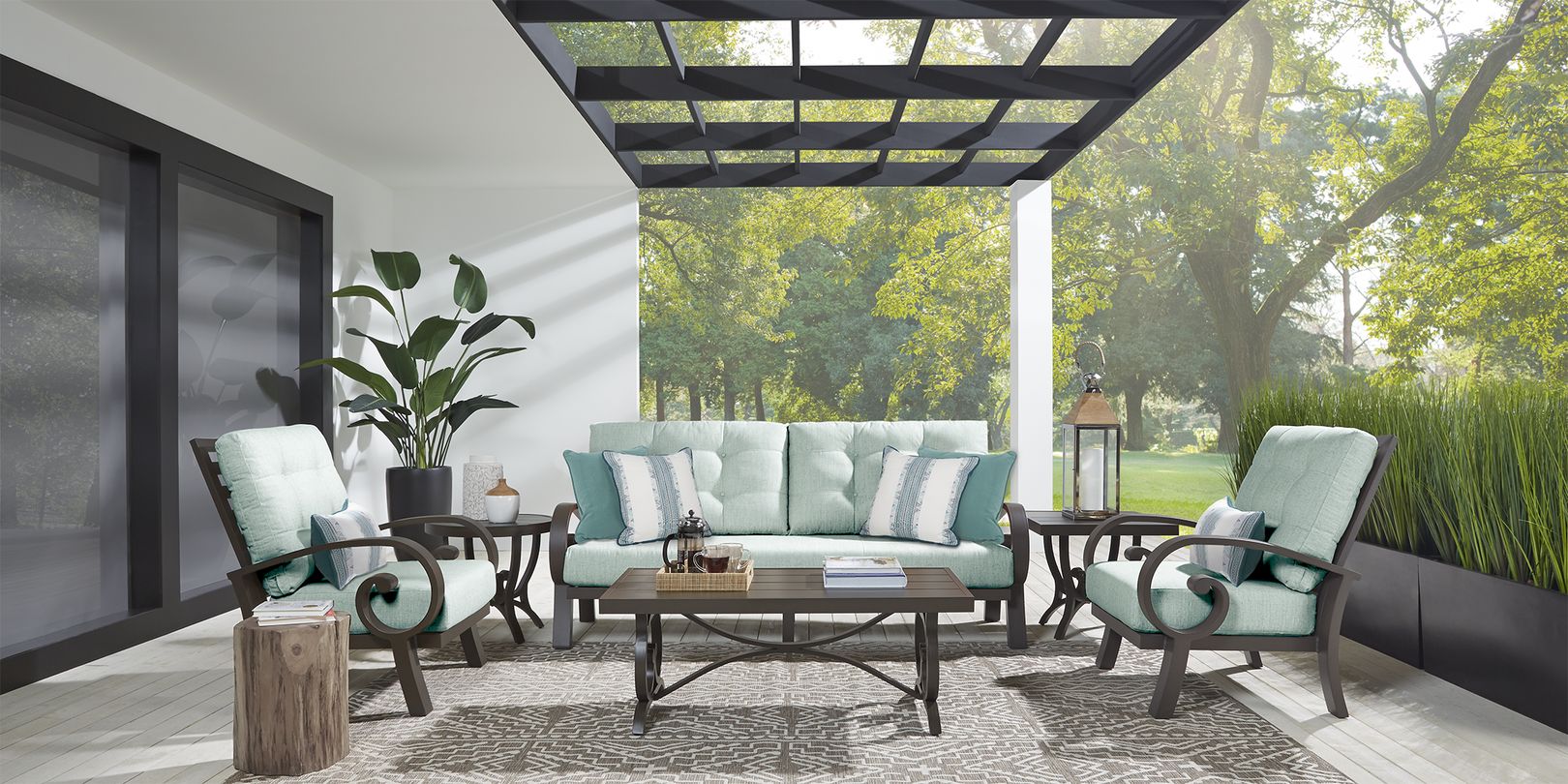 With the proper planning, furniture and color schemes, you can create a relaxing layout in your backyard.
Setting Up Your Space
Before you can begin enjoying the peace and tranquility of your patio, it's important to set the scene. Take a look at your current backyard layout and make a list of all the cosmetic changes you'll need to make in order to promote a calm, leisurely vibe. Some of these adjustments might include:
Decluttering: Removing unnecessary items like worn-out patio furniture and broken appliances from your backyard can reduce the haphazard look and feel of the layout. Put any gardening tools or toys you have lying around in a storage bin and throw out all the unsalvageable furnishings you find. Also, cover and stow away any undamaged items you want to use later.
Deep Cleaning: Power washing your patio and scrubbing the dirt off of your deck furniture might be the perfect way to refresh your outdoor hangout spot. Use proper cleaning products and maintenance techniques for your chaises and seating sets so you'll be ready to kick back and lounge around outside.
Landscaping: Overgrown lawns and unkempt flower beds may take away from the soothing scenery of your backyard, especially if your tall grass and knocked-over planters have become homes for pests. Manicure your lawn, trim the hedges and prune your flower and vegetable gardens to keep the area looking beautiful.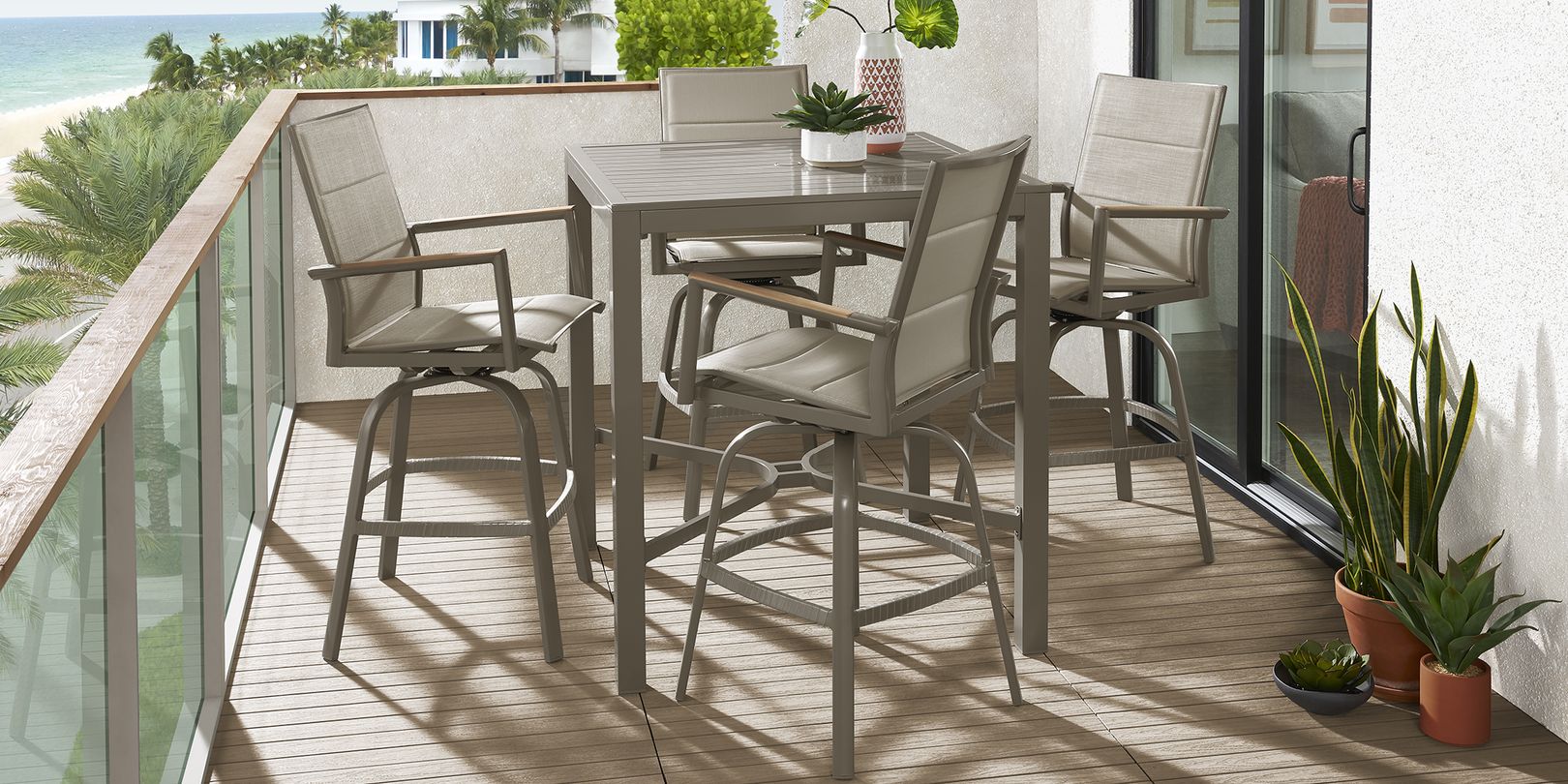 Keeping your backyard clean can help promote an open, less overwhelming atmosphere.
Selecting the Right Furniture
Now that your backyard is neat and clutter-free, you've got the perfect blank slate to establish your new, relaxing layout. Think about how you want to enjoy your tranquil outdoor space and buy patio furniture that will help you achieve that goal. Consider adding some of the following comfy furnishings to your setup.
Seating
Is there anything more relaxing than sinking into a plush, cozy seat at the end of a long day? Introducing large sectionals and reclining patio chairs into your outdoor oasis can help you evoke the peaceful, inviting atmosphere you need. You can also top your patio sofas with cushions and pillows that provide an extra soothing touch for you and your guests.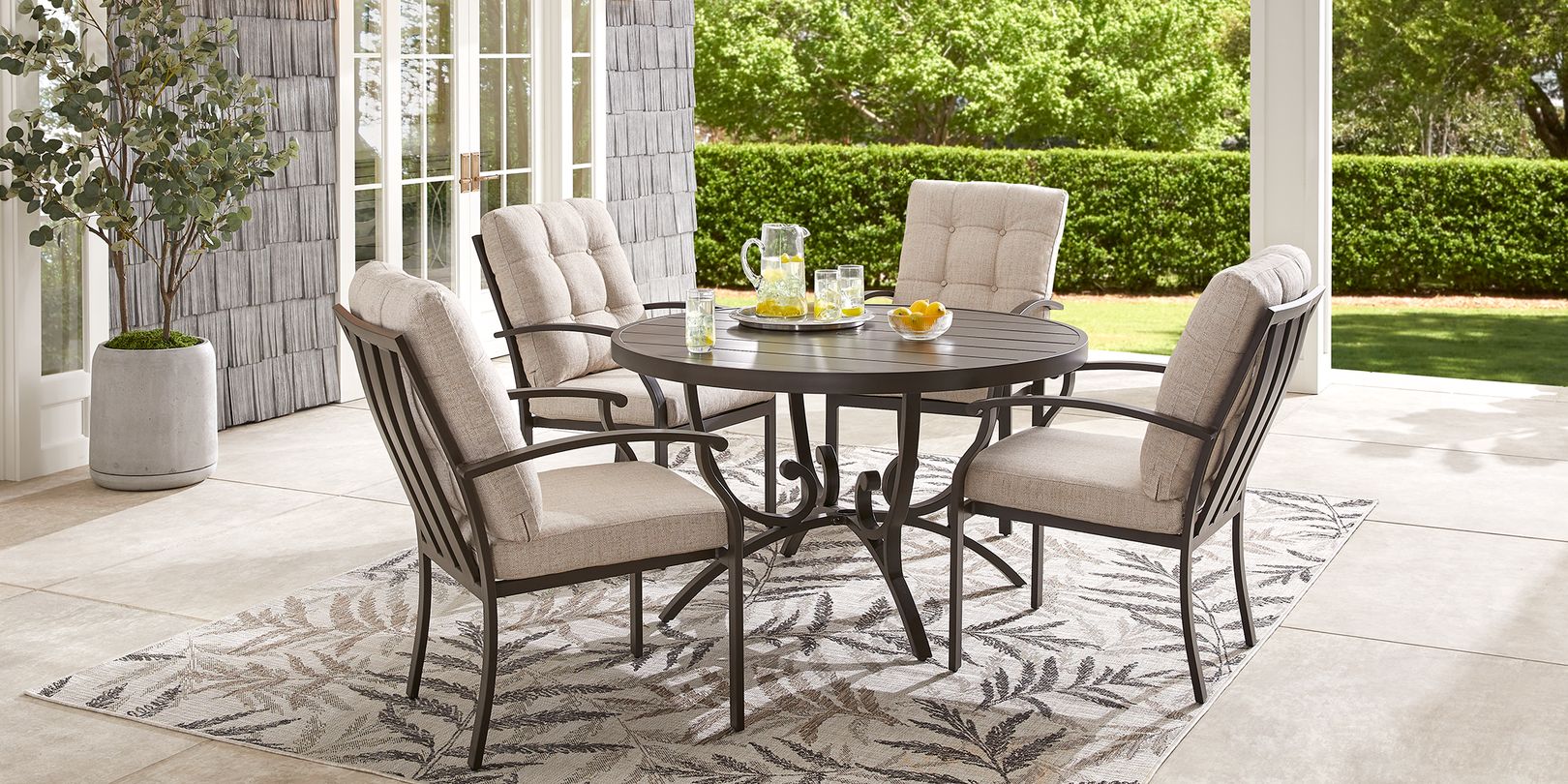 Plush, cushioned patio seats provide a comfortable spot to kick back and unwind outside.
Fire Pits
Enhance the warm, cozy vibe on your deck or balcony using a propane or wood-burning fire pit. Open flames on these tabletops set the mood for toasting marshmallows, snuggling up with loved ones and enjoying relaxing nights under the stars with friends and family. Fire pits are available in round, square and rectangle models to suit your large or small patio setup.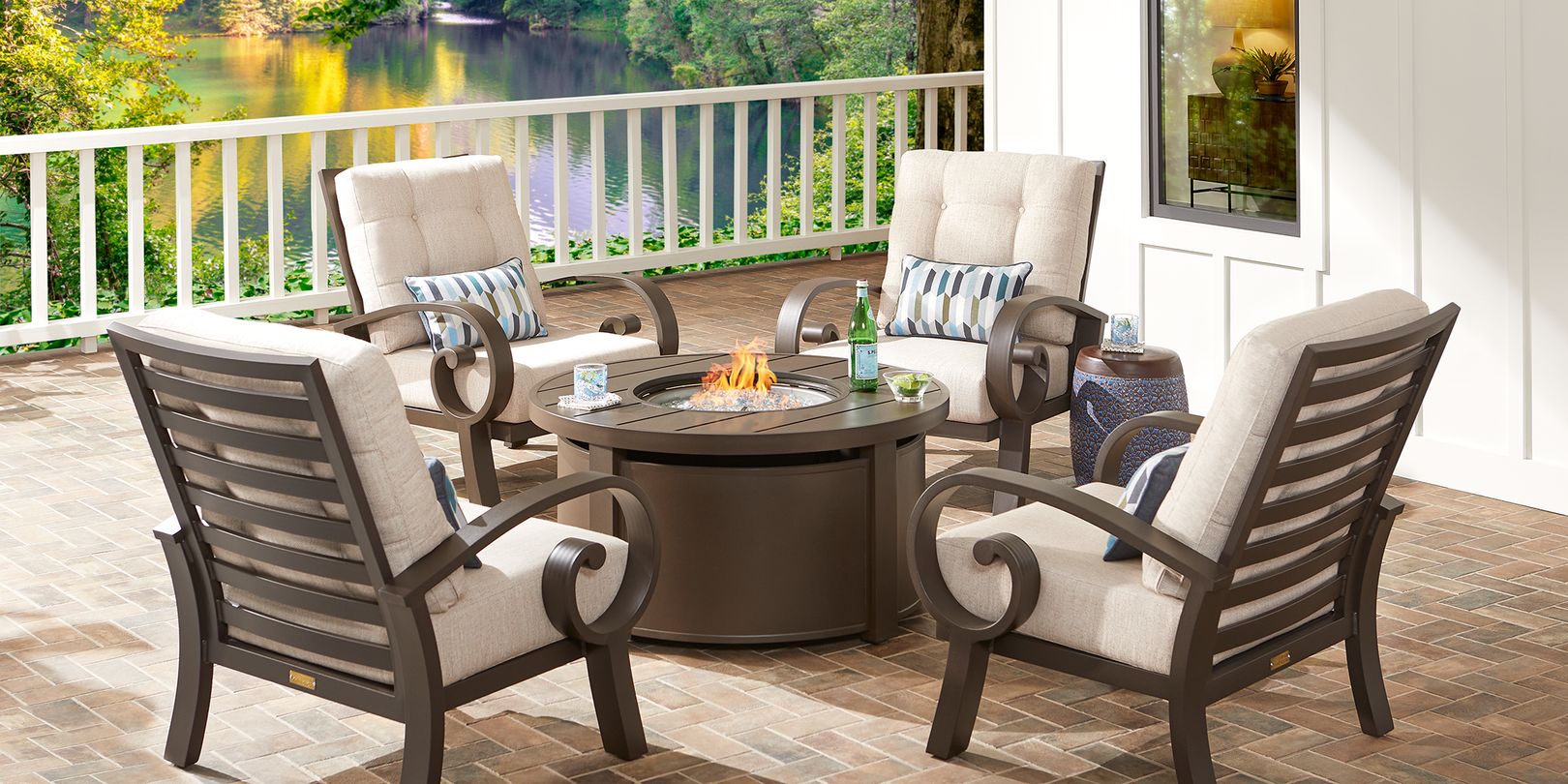 Firepits offer comfort and warmth during parties or quiet nights at home.
Umbrellas
Along with providing much-needed shade on hot, sunny days, a Sunbrella table umbrella or adjustable cantilever umbrella can bring a relaxing coastal or resort-style vibe to your backyard. Be sure to select outdoor umbrellas in warm yellow or soothing blue shades to complement the other decor in your lounge-worthy layout.
Lighting
Mood lighting is another important element when creating a tranquil atmosphere outside. Use decorative outdoor lighting like lanterns to promote an intimate setting in your deck-top dining area. Or, mount sconces and hanging pendants on your porch to provide a soft, illuminating glow.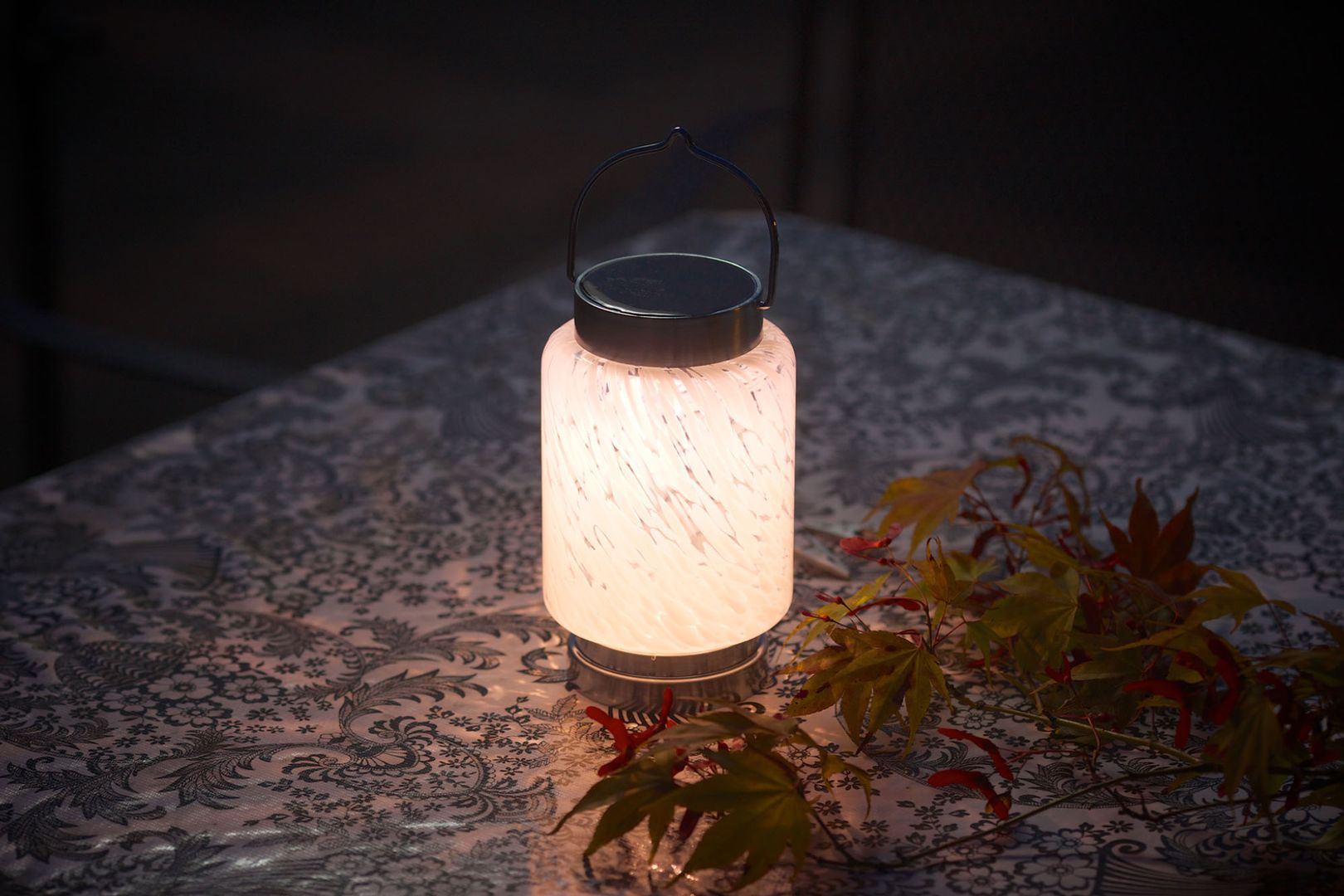 Lighting can help create a warm, calming atmosphere in the backyard or on your patio.
Tables with Storage
Chic and practical patio tables give you a place to set drinks, snacks, and any other essentials you'll need while lounging in your outdoor oasis. A round coffee table with a lower shelf or a teak console table with built-in drawers also lets you keep suntan lotion and magazines within reach as you relax outside.
Area Rugs
A high-pile outdoor area rug adds an extra layer of softness and comfort to your deck or patio. Place a plush 8x10 rug under your seating arrangement to introduce soothing texture to your setup. If you're working with a narrow balcony, use a smaller 5x7 outdoor floor mat to help the space feel cozier.
Choosing a Relaxing Patio Palette
Selecting the appropriate color scheme is essential when trying to promote a soothing outdoor atmosphere. Certain cool shades can evoke a soft, calming energy throughout your space, while warmer tones can help you feel relaxed and refreshed as you soak up the sunshine. Whatever hues you pick, be sure that they complement the other furniture and outdoor decor in your backyard.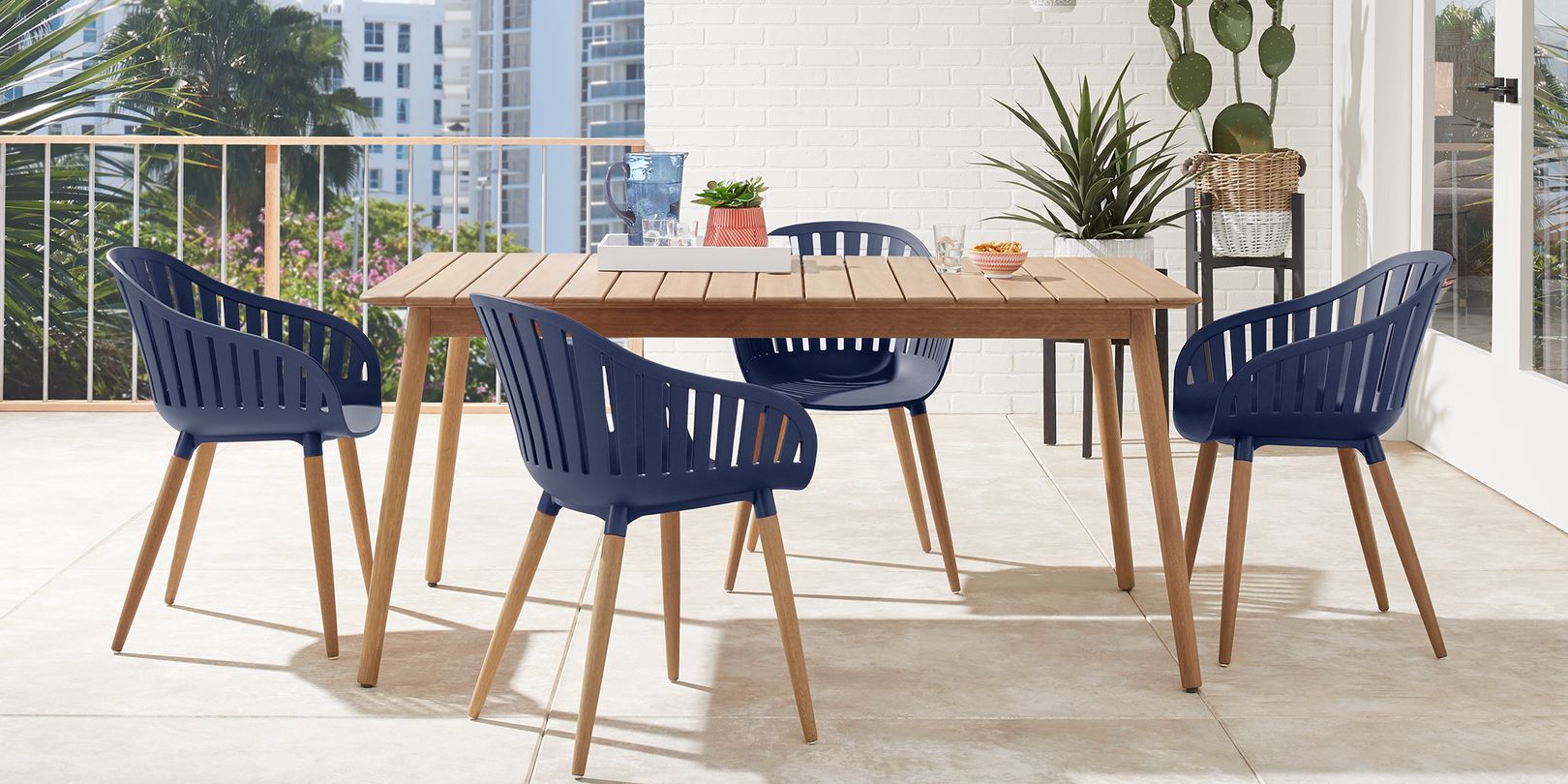 Even small, subtle hints of color can potentially help you feel more relaxed.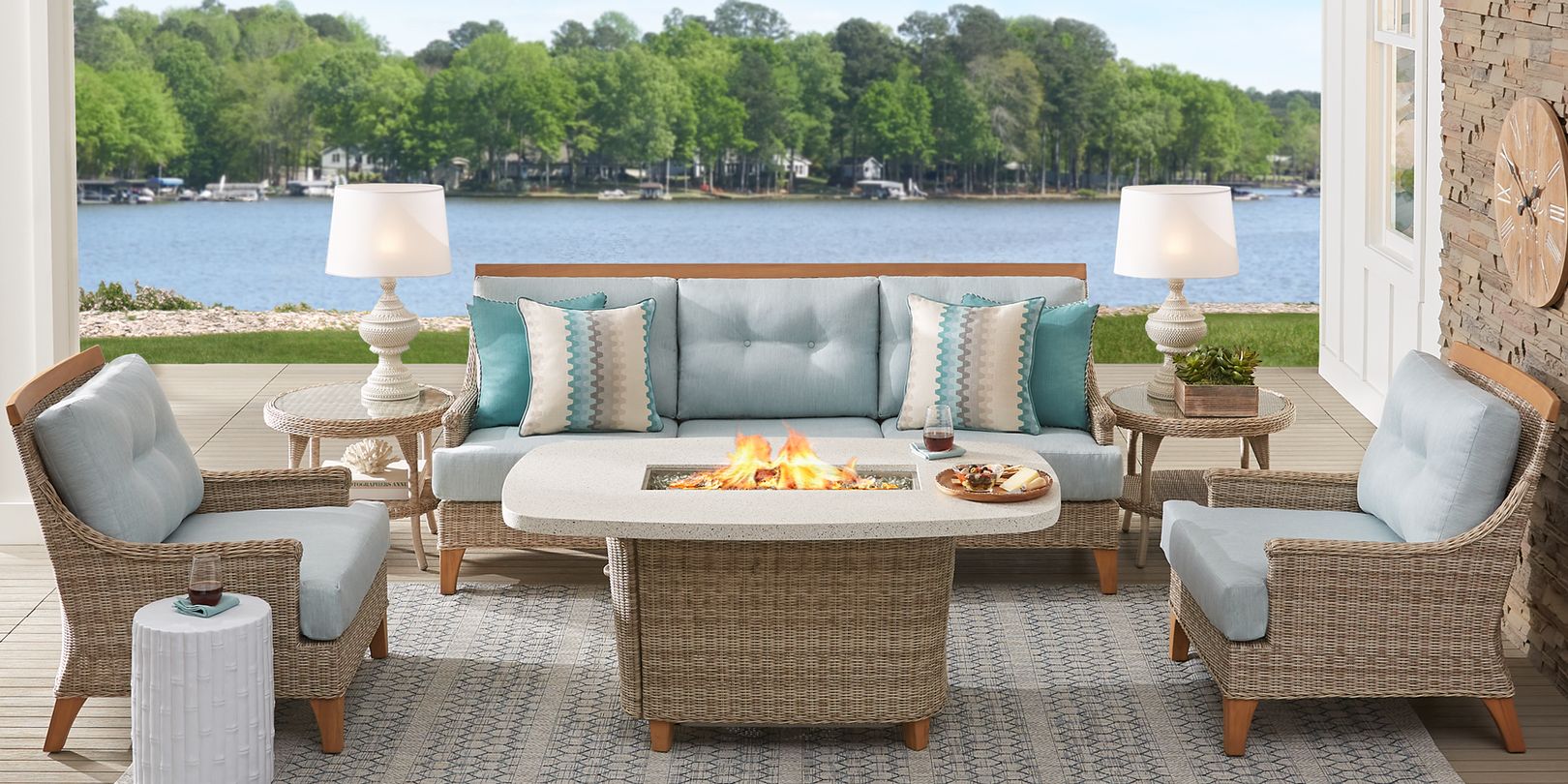 Create a balance between striking and subdued shades to make your patio feel refreshing and relaxing at the same time.
Creating a relaxing backyard layout may seem like an overwhelming project at first. However, following the steps in this handy guide can help make the process a bit easier. Declutter and redecorate your patio using your favorite comfy materials and soothing colors. Once all the right pieces are in place, you can kick back and enjoy the calm and cozy atmosphere of your new design.