Outdoor Classroom Ideas
With the rising popularity of hybrid offices, outdoor workspaces are a growing trend that's inspiring teachers to incorporate natural spaces into their lesson plans. With some forethought, preparation and the right furniture, you may find an open-air classroom is ideal for you and your students.
This post includes information about creating an outdoor classroom, including:
Nature-Inspired Lessons
Outdoor classrooms offer ample opportunities to tie lesson plans to natural settings across the curriculum. Educators, when given the option to teach outdoors, can use this space to design creative class activities. Consider some of the following ideas to inspire your lessons:
Science: Outdoor activities, like a class garden project, allow students to track and measure plants as they progress from seed to full growth. From identifying plants for botany or observing insects and animals for biology, natural spaces offer plenty of lesson ideas.
Art: Sidewalk chalk creations, sketches of plants, flowers, and trees, and mixed-media pieces with found objects are just a few projects perfect for art classes.
Language Arts: Teachers can assign nature-inspired poetry or stories for students to read or compose or ask them to write descriptive paragraphs about things they observe or appreciate when outdoors.
Math: Nature provides a wealth of opportunities for hands-on counting, sorting or measuring activities, among other fundamental math skills.
An outdoor learning setup lets teachers and students work and learn in a relaxed setting.
Evaluating Outdoor Classroom Needs
When plotting out an outdoor classroom, school administrators and teachers should address a few important questions:
How many kids will be in the class?
What age range are you teaching?
How big is the available area?
What type of furniture can you reasonably fit into the space?
Are you teaching the entire class outside or setting aside portions of the day or week?
Every classroom is unique, so it's essential to consider students' needs, curriculum requirements and location limitations. But with a little creativity and planning, outdoor learning can work for just about any subject or group while providing an exciting change of pace.
When designing an outdoor classroom, teachers often need to adapt natural learning spaces for student management. Depending on the location and the class size, instructors may want to arrange their furniture to create learning stations or set up tables and chairs for group projects.
Determine the limits of your location before choosing outdoor classroom furniture and accessories.
Outdoor Classroom Furniture
To decide what outdoor furniture is best for your classroom, consider the available space and which materials will work best. Teak and acacia wood blend in seamlessly on tree-lined campuses, while wicker, aluminum and wrought iron furniture can serve as an extension of your school's design and architecture.
Student-Centered Seating
When considering patio furniture for an outdoor classroom, seating and accents should be practical and adapt easily to various classroom activities. Optimize outdoor learning spaces with seating that best accommodates the needs of teachers as well as students:
Benches: Outdoor benches provide plenty of space for children to sit comfortably. Backless benches blend in more with the scenery, while models with backrests allow students to sit comfortably during longer lessons.
Sectionals: Sectionals provide the perfect spot for quiet reading time or group activities. Many sets also come with coffee tables that provide a surface for writing or projects.
Chairs: Outdoor chairs make it easy to recreate the classroom environment outside. Folding or stackable seats work best for clean-up at the end of the school day.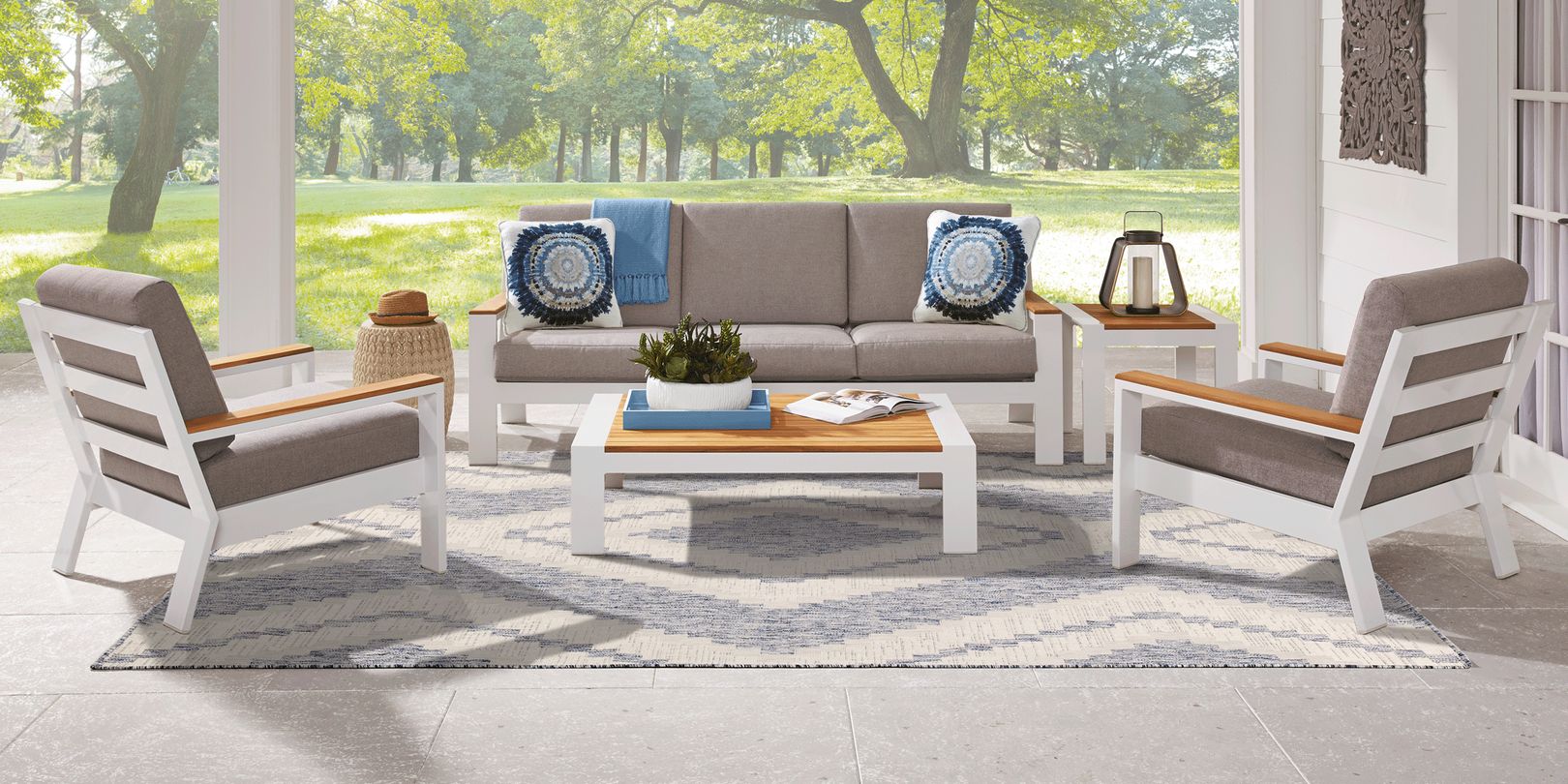 Outdoor classroom seating should be comfortable and accessible for students.
Classroom Workspaces
Aside from seating, sturdy work surfaces are also an outdoor classroom requirement. Students taking notes and working on assignments need ample space for themselves and their classroom materials. Popular options for outdoor classroom tables include: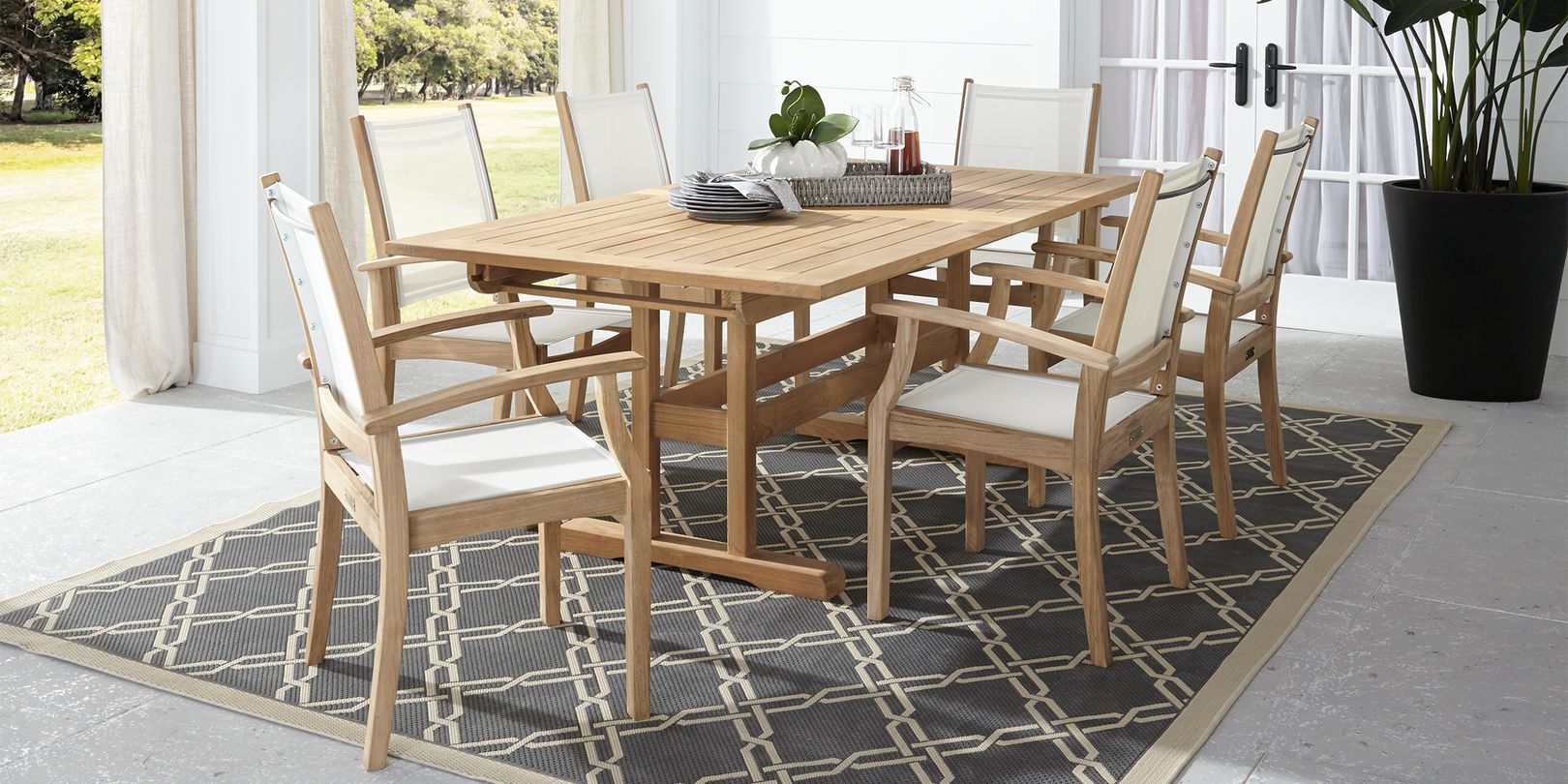 Extension tables provide ample space for activities in your outdoor classroom.
Lighting Your Outdoor Classroom
While natural light is usually enough on sunny days, direct lighting may be necessary on gloomy afternoons or when students must complete complex assignments. Consider LED or solar-powered lanterns as a quick, simple solution, or hang colorful string lights to brighten up outdoor classrooms on overcast days.
In semi-enclosed spaces, floor and table lamps illuminate desks and tables for pop quizzes and writing tasks. Hanging pendant light fixtures and sconces often have dimmable controls that allow teachers to adjust brightness with ease. Your outdoor lighting options will vary depending on wiring or outlet access and other factors, so keep the limits of the space in mind when choosing fixtures.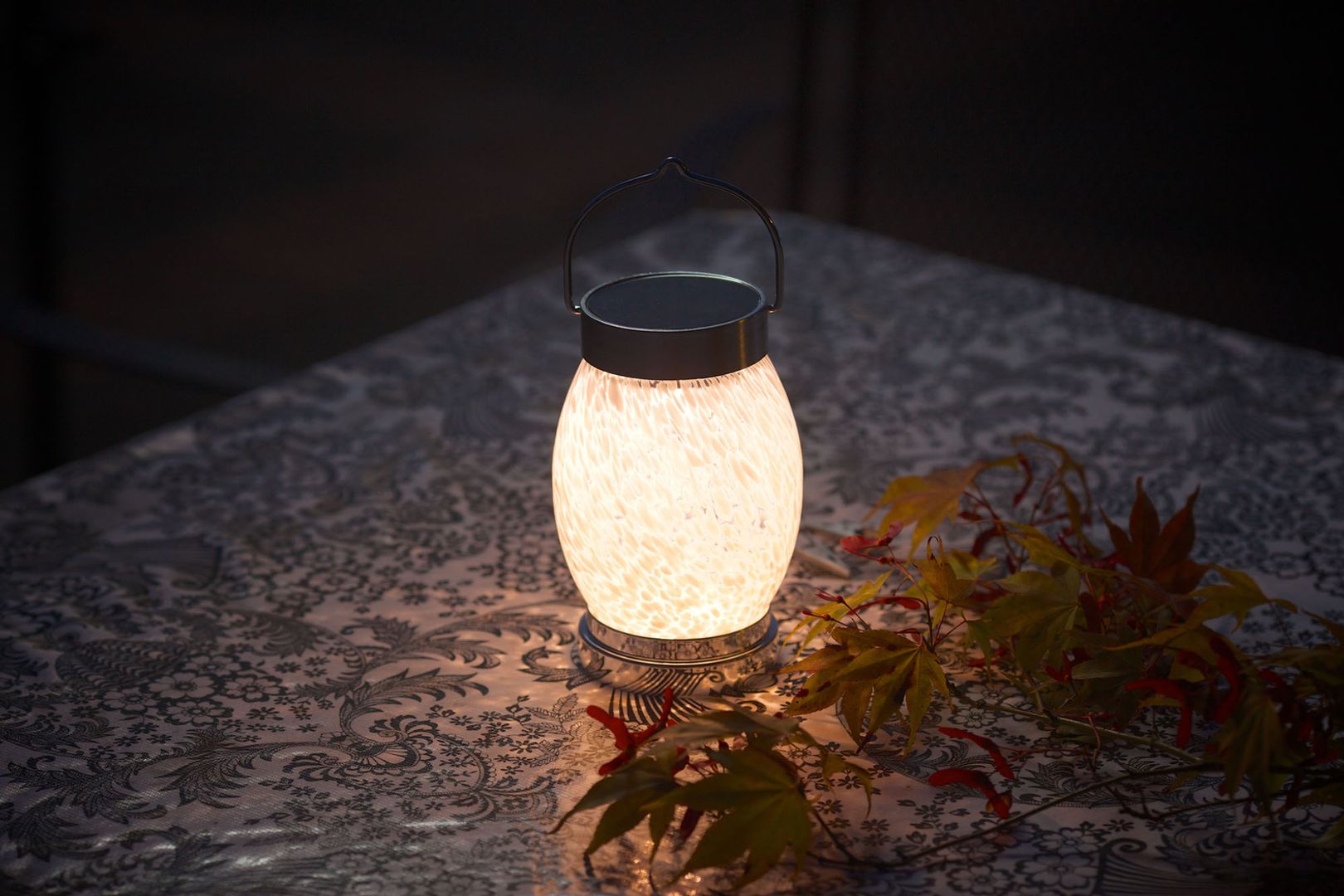 Lighting for outdoor classrooms may be necessary for certain tasks and activities.
Accents and Accessories
Once you've assembled an outdoor classroom for your students, consider useful accessories to round out the layout. In open-air settings, patio umbrellas and canopies provide much-needed shade on sunny days and keep teachers, students, and materials from getting soaked by a sudden rain shower.
Meanwhile, patio rugs can define parts of your outdoor classroom and help prevent students from tracking dirt and debris into the building when class is over. Colorful kid-friendly patterns and prints add a cheerful tone to lessons, too.
A large patio umbrella lets students enjoy the great outdoors in comfort.
Designing an outdoor classroom lets teachers expand their lesson plans and give students time to experience and appreciate the great outdoors. With the right furniture and accessories, educators can create an enriching learning space to enhance the classroom experience and keep students engaged.