Color Theory for Outdoor Home Decor
Before you dive into your next patio decorating project, take a moment to learn a little bit about color theory. Understanding basic details like how colors blend or contrast with one another and how different color combinations affect your design can help you create a gorgeous, cohesive color scheme for your deck or patio.
Overview
Using the right colors, shades and tones lets you establish a relaxing, stylish atmosphere on your patio. Check out this article to learn about:
Your color combo choices set the mood for your entire patio design.
What is Color Theory?
Whether they choose it deliberately or subconsciously, many people select their favorite colors based on how those hues make them feel. Color theory is a set of science-based guidelines that designers follow when using color combinations to create a certain atmosphere or evoke a particular emotional response in viewers and consumers.
You can use color theory to promote the energetic, relaxed, open, sophisticated or warm and cozy vibe you're going for in your outdoor design. All you have to do is fill the space with shades and tones that help bring those feelings to life. From there, you'll be able to incorporate other hues that balance or enhance those colors and establish an attractive patio palette.
Color theory gives you an idea of which hues to use when you want to liven up a muted layout.
Exploring the Color Wheel
Knowing how to read and apply the color wheel to your patio layout can be an invaluable tool when it comes to buying outdoor furniture and decor. Once you know the basics, you can better understand how to pair certain hues and coordinate and contrast your favorite colors to create a satisfying display.
Colors come from wavelengths of light that reflect off or emit from various objects. The color wheel is an organized, visual representation of this phenomenon, showcasing the different hues on the light spectrum. Primary colors, red, yellow and blue, are the predominant bands of color that make up the visible light spectrum and are impossible to recreate through other color combinations.
All other hues on the color wheel derive from the primary colors.
Considering Color Relationships
Chances are, you want to decorate your patio in more colors than just red, yellow or blue. Using the color wheel helps you recognize relationships between different hues so you can create customized pairings, personalize your patio and establish whatever mood you like within the space. Take a look at the following color relationships to learn how the hues on the color wheel work with one another.
Harmonious Colors
Hues that are side-by-side on the color wheel are known as analogous or "harmonious" colors. Combining these colors on your enclosed porch or balcony creates an engaging visual experience that's pleasing to the eye. Blue, blue-green and green or red, red-orange and orange are examples of harmonious color pairings.
An orange chair with a red accent pillow exemplifies a harmonious color pairing.
Complementary Colors
Complementary colors are directly across from one another on the color wheel, such as green and red, yellow and purple and blue and orange. While pairing opposite hues might seem counterintuitive, using these cool vs. warm color combinations helps you achieve a beautiful, balanced look on your deck or terrace.
Nature provides several examples of complementary color pairings, including the green stem atop a red strawberry and fall foliage against a blue sky. Whether you're going for a nature-inspired design or a metropolitan vibe, selecting complementary colors with contrasting intensity ensures a balanced look. Consider using one color as a base, then accent it with a lighter or darker version of its complement.
For example, a blue sofa set has a breezy, calming appearance, so you might wish to put your feet up on a light blue ottoman, kick back in an ocean blue chaise lounge or take a soothing nap on a navy daybed. Introducing an apricot-colored toss pillow, tangerine patio rug or an orange side chair adds a touch of warmth and an exciting glow to boost the energy of the layout and balance the space.
The light blue serving dish on the table is an energetic complement to the muted, burnt orange area rug beneath the dining set.
Secondary and Tertiary Colors
Combining two primary colors results in a secondary hue, while mixing a primary and a secondary color will give you a tertiary color. Some of the most common examples of these hues are:
Secondary Color Orange: A combination of primary colors red and yellow
Secondary Color Purple: A combination of primary colors blue and red
Secondary Color Green: A combination of primary colors yellow and blue
Tertiary Color Teal: A combination of secondary color green and primary color blue
Tertiary Color Magenta: A combination of secondary color purple and primary color red
Tertiary Color Chartreuse: A combination of secondary color green and primary color yellow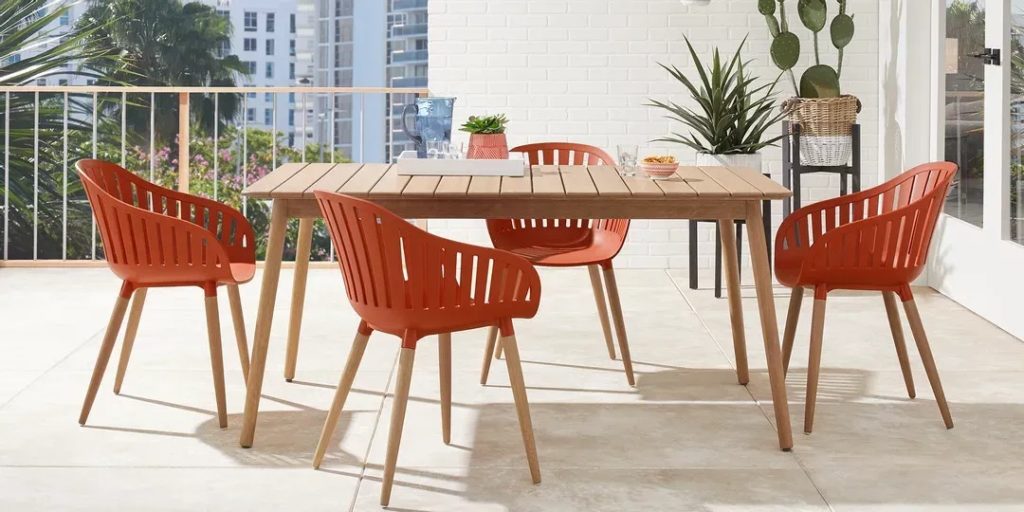 Orange, green and purple are examples of secondary colors.
Incorporating secondary and tertiary hues into your chosen color scheme is an excellent way to add depth and complexity to your setup. Where an all-yellow palette can evoke a cheerful energy in your sunroom, a few orange accents introduce a touch of cozy, charming warmth. Meanwhile, bright green furnishings can bring refreshing appeal to a soothing blue and purple pool house palette.
Use secondary and tertiary colors to create the warm or cool color scheme of your dreams.
Tints, Shades and Tones
Recognizing different tints, tones and shades is another important aspect of creating a cohesive outdoor color scheme. Using white to make a pure hue appear lighter creates a tint. Blending gray in with a pure color makes it a tone and adding black produces a shade. For instance, pink is a red tint, maroon is a red tone and merlot is a red shade.
Mixing and matching these colors is a stunning way to take your layout to the next level. If your wicker conversation set features a scarlet patio sofa, consider topping it with deep navy or forest green throw pillows for striking contrast. You could also add a wooden side table, a burgundy cantilever umbrella and set up planters full of lavender, tulips or other flowers with soft pastel petals.
When decorating your patio in various tones, tints and shades, be sure to ground the look using neutral browns and tans.
Monochromatic Color Palettes
A monochromatic color scheme includes one color varying in depth from dark to light. Multiple tints, tones and shades of a single hue are present in these palettes. For instance, while you may think of black and white as two different colors, they're actually monochrome because they are different values of gray. A white sectional, black lantern and gray rug could all work for a monochromatic patio.
When designing a monochromatic color scheme, you can either choose shades that are close together for a serene effect or pair pale and dark hues for bold contrast. Consider the difference in the effect of a light gray seating set with pale gray accent pillows versus jet-black accent pillows. You can also play with different furniture finishes like black wrought iron dining sets or white plastic seating.
Although black, white and gray are common choices for monochromatic color schemes, you can use the tints, tones and shades of any hue to add dimension to your design.
Evaluate Color Context
Have you ever brought a piece of furniture home and discovered it looks much different in your house than it did on the showroom floor? Due to different sources of lighting, surrounding colors and the presence of unique accent furniture, the pieces you choose sometimes change dramatically when you have them in one place versus another.
To avoid missing your target color scheme and aesthetic, you'll need to pay close attention to your furniture fabrics and finishes to ensure they look nice wherever you place them. Once you decide on your patio palette, use the following tips to achieve your desired look.
Use the right lighting and accessories to enhance your outdoor color scheme.
Pay Attention to Lighting
When you're shopping for new patio furniture, digital online photo enhancements and the beams from floor lamps and sconces around the display might make the furniture look different than it does on your patio. Lighting can change the appearance of colors, so look for product images depicting natural settings to get an idea of what they might look like on your deck or porch.
If you know what kind of mood you want to set on your deck or terrace, choose ambient lighting to support your colorful furniture. Fire pits and table lamps are perfect for warm color palettes and cozy aesthetics, while softer lights such as lanterns with LED-compatible lights emit a gentle glow that works well with laidback decor on modern patios.
A cozy fire pit and two lanterns transform a monochromatic seating set into a cozy retreat.
Select Colorful Accessories
Decorative accessories can influence how you perceive the colors of your furniture. Red items may appear brighter next to black and blue pieces than they do beside white or yellow accents. As such, you'll need to choose decor that suits your outdoor color palette ideas and helps your dining set, patio seating and other furnishings stand out.
For beachy and tropical setups, use teak furnishings with a subtle golden glow to make your blue and white patio palette appear brighter. Gray wicker pieces lend a sophisticated flair to your layout and soften the look of the vivid blues and greens in the space. Meanwhile, an antique bronze bistro set with taupe seat cushions atop a light brown rug showcase traditional appeal and gorgeous contrast.
White and navy toss pillows make a stylish yet subtle accent for a couch with seafoam green cushions.
Finding Your Outdoor Color Palette
Understanding how professional decorators use the color wheel can help you make informed decisions and establish the exact color scheme you want. Try out some of the color pairings and palettes in this post and see how creative you can get when outfitting your patio in all your favorite colors.