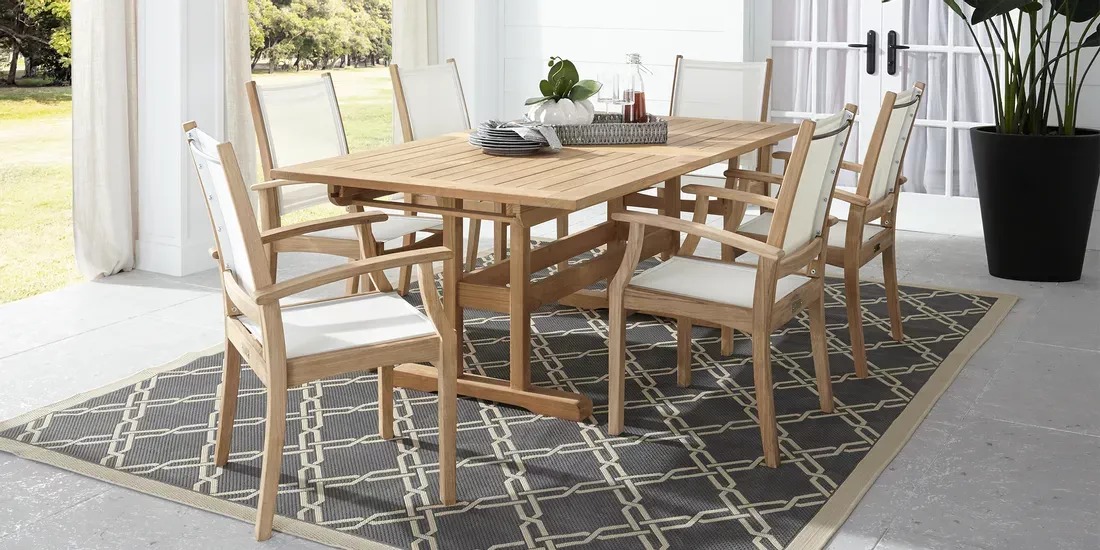 What Makes Outdoor Furniture and Decor Environmentally Friendly?
Going green is a lifestyle change that requires you to incorporate sustainable products and practices into your daily routine. When it comes to buying patio furniture, many people who wish to establish an eco-friendly design prefer companies that use green construction methods. However, some stores also offer a selection of environmentally friendly outdoor decor for shoppers to choose from.
Overview
Whether you're a DIYer looking for greener outdoor furniture building options or want to add some eco-friendly furnishings to your current patio design, this article can help you learn about:
What is Eco-Friendly Building?
Environmentally conscious building requires architects, artisans and furniture builders to select tools and materials that help mitigate their project's effect on the air, soil and nearby waterways. Builders who are trying to be more eco-friendly should strive to do the following:
Use sustainable materials
Reduce waste output
Enhance indoor air quality
Ensure water and energy efficiency
Ease the strain on local resources
An eco-friendly build should have minimal impact on both local and global ecosystems.
List of Eco-Friendly Materials for Building and Furniture Construction
Some traditional building materials can have a negative impact on the environment. Fortunately, there are several eco-friendly alternatives available. If you're planning to build or buy patio decor featuring greener materials, consider some of the following options.
Plant-Based Materials
Strong, lightweight plant fibers like bamboo, wicker and rattan are common eco-friendly substitutes for wood lumber. Builders use them for flooring and furniture frames like chairs, tables and couches. You can also use plant-based rigid foams that come from naturally-grown hemp or kelp as a plastic-free alternative to traditional insulation materials.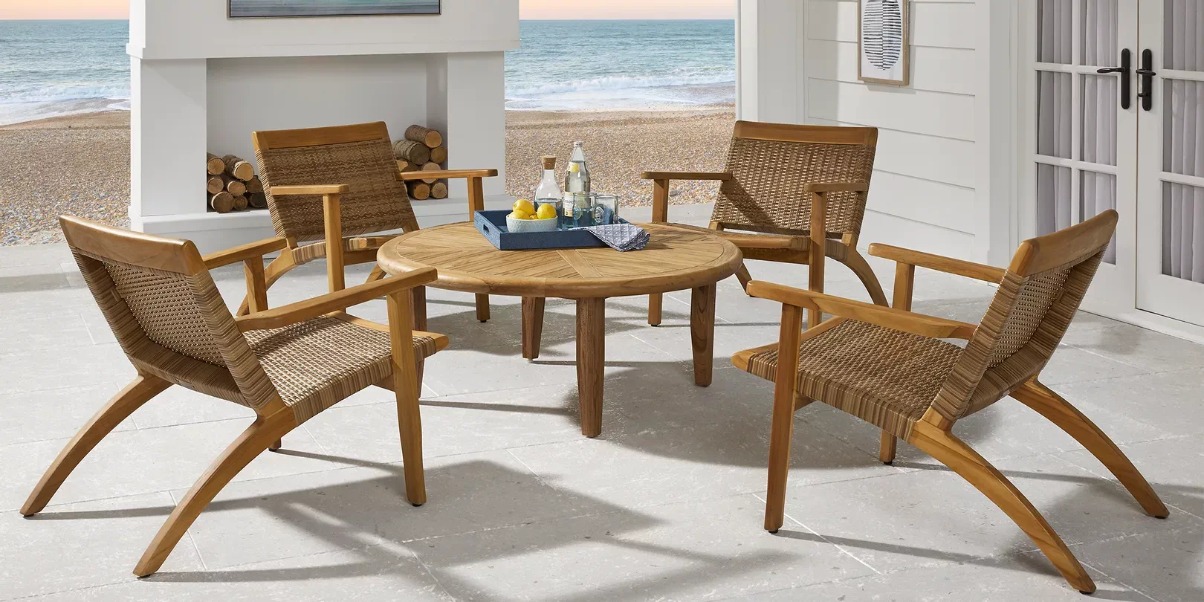 Its rapid regrowth rate makes bamboo a sustainable alternative to wood.
Biodegradable Materials
Other natural building materials that could work for your sustainable patio include cork, stone and adobe brick. Cork makes an excellent insulator and naturally-occurring stones are a sustainable alternative to resources that require chemical treatments. Adobe brick comes from a mixture of clay and straw, making it a perfect biodegradable option for your backyard fire rings and walls.
Recycled Materials
If traditional building materials are your only option, try to find items featuring recycled plastic or POLYWOOD, recycled glass, repurposed steel or reclaimed wood. Manufacturers shape discarded wood and plastic into viable timber for chairs, stools and larger structures like gazebos and pergolas. Colorful glass bottles and jars make beautiful decorative accents for kitchens, bathrooms and patios.
Stick to natural, biodegradable and recyclable materials to ensure eco-friendly building practices.
Green Construction Practices and Techniques
Eco-friendly construction techniques show you how to use sustainable materials so you can assemble your furniture or build your home with minimal environmental impact. If you're looking to go green or live a zero-waste lifestyle, use the following tips and trips while building and decorating your outdoor retreat:
Stay Small: A compact building requires less lighting, cooling and heating than a large, wide-open floorplan. Furnish your small space strategically to maximize functionality and style in a modest home.
Utilize Solar Energy: If you live in a place that gets plenty of sun, consider installing solar panels to power your sustainable home. You could also hang solar lanterns to light up your backyard or balcony after dark.
Efficient Lighting: Strategic window placement is an eco-friendly building tactic that maximizes sunlight in a room, reducing the need for electric light fixtures. Table and floor lamps with LED bulbs are another green alternative to incandescent lights.
Insulate Properly: Good insulation can minimize the power it takes to cool or heat your home or enclosed patio. Some environmentally conscious options include straw, sheep's wool and plant-based foam.
Use Locally-Sourced Materials: Long-distance shipping requires fuel, but you can offset that energy consumption by shopping local. Avoid inflating your construction project's carbon footprint by using materials available nearby.
Consider Eco-Friendly Heating: When choosing between wood and propane fire pits, gas-powered options burn cleaner than wood-burning models. A geothermal patio heater that gets its power from natural heat underground is a sustainable choice as well.
Use Sustainable Decor: Once you're ready to outfit your sustainable home or patio, consider eco-friendly decor ideas like wooden dining sets, sectionals with cotton upholstery and jute rugs. Also, consider using recyclable and second-hand furnishings.
Shop consciously and intentionally so you choose timeless furnishings that suit your outdoor design as well as your green lifestyle.
Reducing your impact on the environment is the primary benefit of eco-friendly building and decorating. Explain your green building needs to your contractor and practice mindful shopping to ensure you buy furniture and decor featuring sustainable materials for your comfortable, stylish and eco-friendly home.