Loveseat Size Guide
Common Loveseat Dimensions
Choosing a Loveseat: Dimensions and Buying Tips
While it's easy to think of a loveseat as a scaled-down sofa, these seats can come in various compact, medium and full sizes. To choose the right type of loveseat for your layout and lifestyle, consider your new loveseat's dimensions, the room's size and budget and your preferred color and style.
Buying the best loveseat for a finished look starts with picking the size.
This article includes advice on choosing the best loveseat, including:
Couch and Loveseat Dimensions
In most cases, loveseats accommodate two people comfortably. However, you can also find loveseat-sized sofa chairs for a single person and wider settees to fit three or four individuals. Knowing various types of loveseat dimensions can help you choose a standard model or seating in a different size.
How Long is a Loveseat?
The look and style of a loveseat can determine how long it is. The standard loveseat length is about 52 inches when measuring from arm to arm. A few other common ranges include:
Small & Modern: Compact or small loveseats and modern designs with sleek, armless silhouettes can be between 45 to 51 inches in length.
Classic: Traditional loveseats complement full size sofas and average between 58 and 64 inches long due to their wide rolled arms.
Oversized: Designed with plush cushions and deep seats, oversized loveseats can measure 71 inches or longer.
How Wide is a Loveseat?
Regardless of length, the average loveseat width is around 30 to 36 inches from the front of the cushion to the back frame. For a roomier seat, search for deeper curved options on the higher end of the scale. Loveseats with fluffy tufted cushions are likely to be on the narrower side. In general, most seat cushions are usually between 21 and 26 inches wide.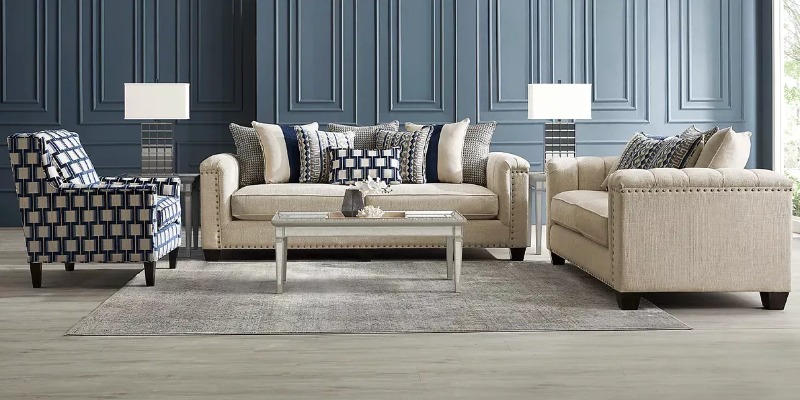 How Tall is a Loveseat?
A common loveseat height allows these couches to pair well in sets. Many loveseats range between 30 and 36 inches tall, the same height as a standard sofa. On the other hand, legless modular models can stand at 20 or 21 inches high. Some small-scale options may be about 28 inches from top to bottom, while other high-back seats can reach up to 40 inches tall.
Room Dimensions
Once you have the typical loveseat dimensions down, you also need to consider the measurements of the room you want to furnish. Whether you're outfitting a small room or an open floor plan, your sofa must fit through the doorway and be the right size for the layout. Proportions are also critical, as an outsized loveseat may overwhelm the rest of your furnishings.
Measuring your rooms will tell you what size loveseat can fit within the layout while providing room for surrounding furniture and decor. Grab a tape measure and take down the following dimensions.
Room Length
Most people place their sofas against the longest wall in the room. Measuring this area lets you choose between a wide-back loveseat that will fill in the entire space or a small room sofa. It also determines how much room you have left for end tables, chairs, accent furniture and decor you may want to set up along the same wall.
Room Width
If you are considering a reclining loveseat or sleeper loveseat that will reach into the middle of the room, this measurement is essential. Figuring out the distance between opposing walls lets you avoid crowding your other furniture or blocking footpaths with your comfy loveseat.
Room Height
Knowing the height of your room indicates whether a taller or shorter loveseat would look better in the space. If you have high ceilings, you may want a high-back couch to occupy more vertical space. On the flip side, low-profile seats make low ceilings seem higher while providing extra room for wall decor like paintings, decorative mirrors and clocks.