Investing in Brand New Outdoor Decor
Refurbishing pre-owned or thrown-out furniture has become a
popular patio decorating trend
in recent years, and it's easy to see why. Along with giving you a creative project to sharpen your design skills, restoring second-hand furnishings helps you save money and transition to a more
sustainable
lifestyle. However, there are also several drawbacks to bringing home used patio furniture.
Overview
While you may be willing to put in the time and effort it takes to repair a second-hand
patio seating
or
dining set
, there are some instances where buying all-new outdoor furniture is the best option. Check out this article to learn why new patio decor is well worth the investment, especially in terms of:
There are several benefits to choosing new outdoor furnishings over previously-owned patio pieces.
Convenient One-Stop Shopping
Finding second-hand patio furniture can be a complicated task. You might have to travel to multiple yard sales or outlet locations to find the items you need to create the
outdoor design
you want. Even if you take your search to a convenient online marketplace platform, you run the risk of losing money due to scammers and unreasonable prices. On the other hand,
buying patio furniture
from a reputable home decor retailer is a quick and easy way to get exactly what you're looking for. Go directly to your chosen store and test the
outdoor sofas
,
chaises
and porch swings to make sure they're comfortable before you buy them. You can also look at online reviews to see if the shop's prices, products and customer service are up to your standards.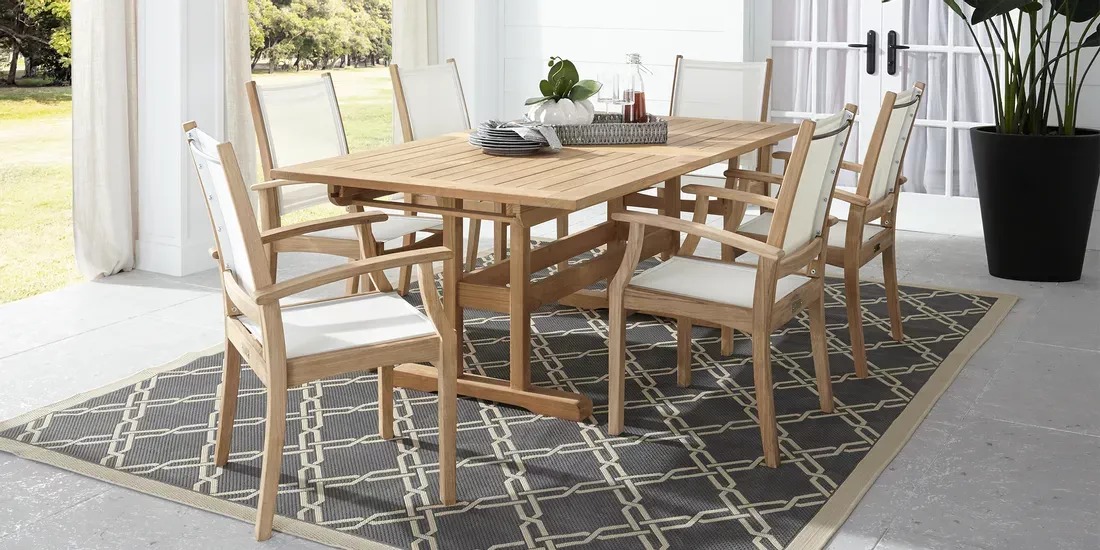 Whether you browse in person or online, legitimate furniture retailers provide convenient, one-stop shopping for new patio items.
A Wider Range of Style Options
People who favor a
boho
or eclectic aesthetic often use mismatched, second-hand patio furniture to create an avant-garde design. While thrift store decor can deliver the chic and quirky ensemble you're after, it can also leave your layout looking cluttered and unkempt. And if you want to establish a more cohesive setup, you'd be hard pressed to find the right coordinating pieces using this approach. When you look for brand new outdoor furniture at a store, it's easier to find items in the latest styles,
materials
and colors. Many stores offer online shopping tools that help you narrow your search to the
retro
, classic,
modern
, or
rustic
designs you want for your patio. Whether you want to establish a unique or uniform layout, you can achieve your style goals with new patio furniture.
Stores offer vast selections of chic patio furniture collections to suit almost any taste.
Superior Care and Quality From the First Use
Even if the pieces you find at thrift stores and online marketplaces suit your style and color scheme, second-hand patio furniture often shows signs of wear and tear. You may notice more extensive damages like torn or faded upholstery, rusted metal frames and even broken mechanisms in patio recliners, gliders and swivel chairs. Other issues like splintering wood, cracked glass tabletops and pest infestations can make some used outdoor furniture unhealthy and unsafe for a sensory-friendly patio design. While you may intend to repair these furnishings as part of your
zero-waste lifestyle
, you may still have to throw these items away if the damage is too severe.
Previous spills, rips and exposure to the elements can lessen the quality of used patio furniture.
Brand new patio furniture, on the other hand, should be damage-free when you receive it. Since they're unused, the
teak
,
steel
and tightly woven, moisture-wicking
performance fabrics
on these pieces may be sturdier than the worn materials on second-hand items. Using
furniture cleaners
,
covers
and proper
maintenance techniques
also helps you help these new products look newer longer.
Investing in Your Outdoor Design
Price is one of the main determining factors for people deciding between new and used outdoor furniture. Most of the time, second-hand patio decor is either incredibly affordable or completely free, so it can be hard to pass it up. However, sometimes the tools, materials and fixtures you need for repairs can cost as much as or even more than a new piece of furniture. While brand new furniture can be expensive, the lasting stability and style make it well worth the investment. If you're planning to incorporate
fire pits
,
light fixtures
and
automated tech features
that require additional maintenance, paying a little extra money can also ensure that you get the best performance out of your patio pieces. Luckily, many outdoor furniture stores host regular sales events for those in need of affordable patio furnishings. Depending on where you shop, you can find discounted prices for the holidays or during certain
months of the year
. To save even more money, take advantage of your local retailer's warranties and flexible financing opportunities.
Shopping seasonal and holiday sales is a smart way to find low prices on high-end patio furniture.
Despite the higher prices, new furniture brings so many benefits to your patio,
balcony
,
deck
or backyard. If you're looking to establish the perfect stunning and comfortable vibe for your outdoor hangout spot, buying brand new furniture sets and decor is an excellent way to bring your design dreams to life.