Choosing the Best Power Lift Recliner or Chair
What to Look For
What to Look for When Buying a Lift Chair Recliner
When searching for the best lift chair or recliner for your home, it's important to focus on what feels good. Choosing a chair with the right adjustment positions and practical features is the key to maximizing your comfort. You should also select a soft, supple seat that is easy to clean and complements the other decor in your layout.
Overview
This guide offers helpful tips on choosing a cozy and stylish power lift recliner, including:
Many people buy power lift recliners and chairs to help address temporary and long-term mobility issues. Adjustable lift chairs bring your seat to you by rising and lowering to help you sit comfortably and safely.
Shoppers choose these practical seats to accommodate all sorts of mobility needs. Some people buy lift chairs for elderly relatives to help them sit slowly. Others use them as part of their universal design layout to make transfers easier for people. Whatever your reasons, lift recliners are an excellent addition to your comfy, accessible setup.
In addition to their lifting and lowering motions, power lift chairs often come with extra adjustment features. Different types of chairs shift into various positions to boost your comfort. The most common lift chair types are:
Two-Position Lift Recliners: A standard two-position lift chair sits upright while you enjoy meals and conversation in the living room. When you want to watch a movie or flip through a good book, the chair reclines so you can kick back and get cozy.
Three-Position Power Reclining Lift Chair: Three-position lift recliners are some of the best lift chairs for sleeping. In these seats, you can sit up, lean back or lie almost completely flat if you want to take a short nap.
Infinite Power Lift Recliner: If you need lift chairs for seniors, consider adding infinite lift recliners to your home. These chairs offer the same upright, reclining and horizontal poses as the other options. However, they also have adjustable foot- and headrests that let your loved ones find their most comfortable position.
Take your lift chair's full, extended measurement to avoid blocking footpaths when reclining.
Many of the best lift chairs also come with extra features that take your relaxation to the next level. Some offer a soothing swivel, gliding or rocking motion, while others have cup holders, storage consoles and side pockets that keep drinks and snacks within reach. You can also find seats with high-tech options like wireless remotes, USB ports or built-in heat and massage mechanisms.
Side storage pockets keep magazines and newspapers close by, while a handy remote lets you customize your comfort with the push of a button.
With so many types of power lift chairs available, how do you choose the right one for you? The first step is finding a seat with soft, supportive materials to keep you comfy. Plush padding makes chairs nice and cozy, while breathable, textured fabrics help these seats look and feel great. We've put together the following tips to help you select a chair with the right cushions and upholstery to suit your needs.
Lift Recliner Cushion Styles
Cushioned seats and backrests should provide the springy, supportive surface you need to relax in your lift chair. Pillow-back power lift recliners conform to your shape and let you sink into softness. Button-tufted seats, on the other hand, tend to be firmer. For a mix of suppleness and stability, try a split-back chair or add a cushy throw pillow for extra lumbar support.
Lift Chair Fabric Types
Your power lift recliner should be gentle on the skin and soft to the touch. Plush microfiber upholstery keeps your lift chair feeling warm and snuggly when it's cold out while staying light and breathable on hot afternoons. Top-grain leather, poly-blend chenille and velvet seats also provide smooth, soothing texture and give your room a luxurious look.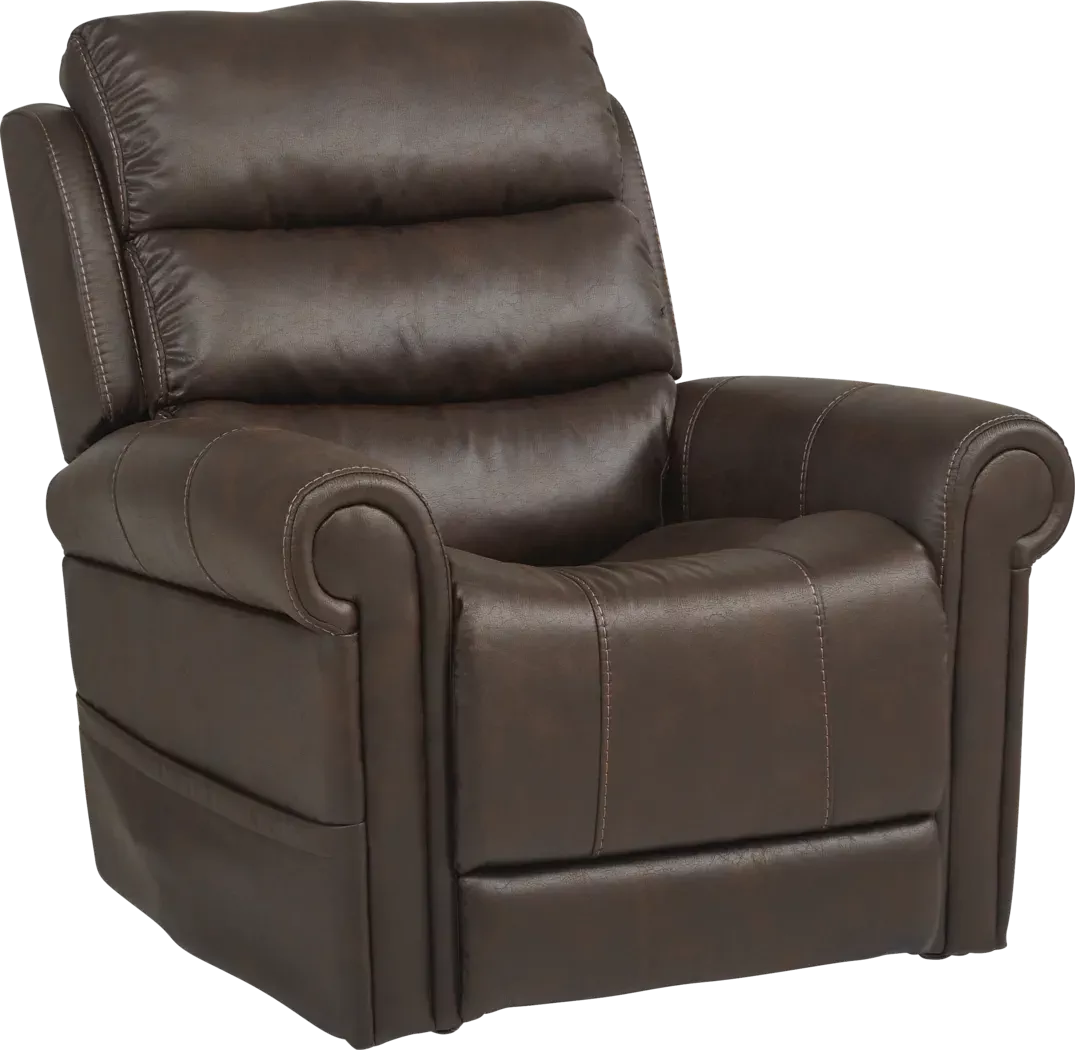 A leather-like power lift recliner is breathable and cool on hot days yet warm and cozy on chilly nights.
Once you find the right lift chair to suit your needs, you'll also want to make sure it also works for your space. Since lift recliners take up a lot of room when fully extended, this is especially true if you're outfitting a small living room or a tiny studio apartment layout. Keep these things in mind when decorating your living room with power lift recliners.
Lift Chair Dimensions
A lift chair is roughly the same size as a regular manual or dual power recliner. In an upright position, a power lift recliner is between 20 and 40 inches wide. When fully reclined, they may reach up to 77 inches long. Though shorter than standard models, 45- to 50-inch extra wide lift chairs provide ample space for those who sit beside medical equipment or like snuggling with pets and grandkids.
Make sure your power lift recliner is the right fit for your body and your space.
Power Lift Recliner Placement
To find the best spot for your power lift chair, you'll need to measure the entire room as well as the distance between other furnishings. Leaving about 20 inches of space in front of and behind your chair keeps you from bumping into things as you lift and recline. As such, many people set these seats diagonally into a corner or place them against a far wall near their seating arrangement.
Surrounding your lift chair with practical furniture makes your seating area functional and cozy. Some of the most common pairings for power lift recliners and chairs include:
Along with all the comfort and layout considerations, the best lift chair should complement your unique sense of style. A casual power recliner with stitched detailing and rich brown upholstery is perfect for a comfy rustic or mid-century modern living room design. Sleek, gray contemporary chairs are a better fit for a room with low-profile furniture and a neutral color scheme.
Add a warm beige power lift recliner with scroll arms and diamond tufting to your layout if you love the elegant look of classic decor. Or, for a more eye-catching option, consider jewel-toned seats in shades of ruby red and emerald green. Want to enhance the simple, cozy vibe of your living room? Try a modern lift chair with deep navy or forest green upholstery.