Differences Between Pergolas and Gazebos
Both pergolas and gazebos offer shade and shelter to help you enjoy your patio in the face of intense sunlight or inclement weather. However, these two structures have their own unique qualities that could make one better for your space than the other. Knowing the differences between a gazebo and a pergola can help you decide which option is right for you.
In this article, you'll find tips and advice on: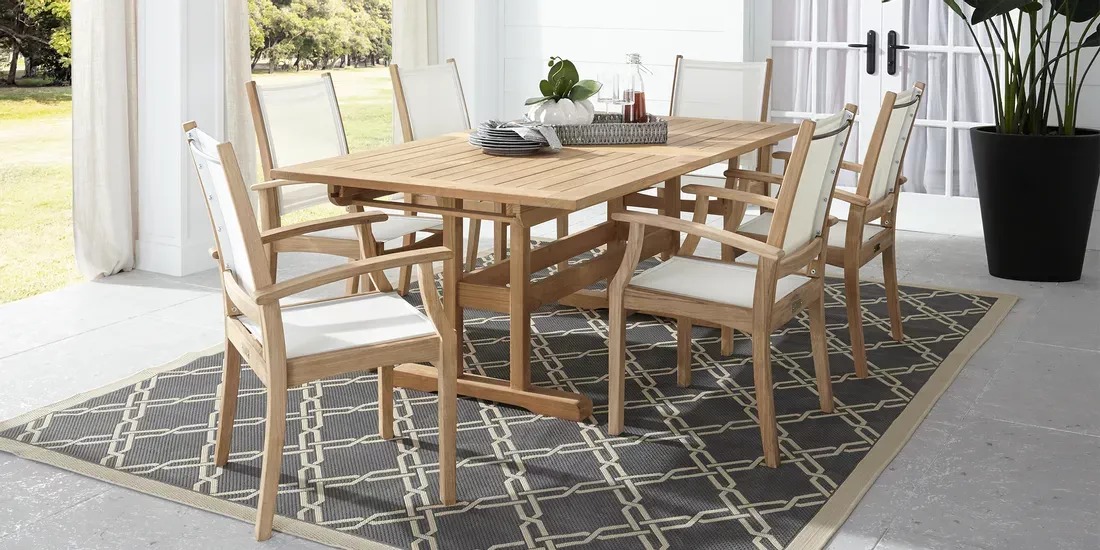 Choose a pergola or gazebo to enhance and protect your outdoor relaxation spot.
What Is a Gazebo?
Gazebos are stand-alone structures that you often see in green spaces like public parks and gardens. Many have a round or octagonal shape and a pitched roof that provides shade from the sun and allows rain to run off the edges. Some also have fully- or partially-enclosed sides that serve as wind screens or offer additional privacy as you relax outside.
Typically, these units have raised floors to prevent flooding during heavy rain. In a fixed gazebo, there may be built-in benches that you can decorate with plush cushions and pillows. You might also find temporary, pop-up structures that provide shade during large outdoor parties or cover your deck-top grill so you can barbecue in the rain or snow.
Gazebos usually stand alone in spacious gardens and backyards.
What Is a Pergola?
One of the main differences between a pergola and a gazebo is the roof design. Pergolas often have a flat or arched rectangular roof. However, some units have an open, crossbeam design that lets sunshine stream through the top of the structure. Adding a retractable awning or fabric shade over the roof can give you fuller coverage and more protection from the elements.
Where gazebos tend to have a curved, ornate frame, pergolas usually have a more straightforward look. Instead of full or partial walls, most pergolas have two or four posts set in the ground or in concrete. You can build a pergola over your deck or attach one to your home or pool house to expand your existing patio layout.
Pergolas can stand alone or attach to the side of your house.
Pergolas vs. Gazebos: How to Choose Between the Two
Before deciding on a gazebo vs. a pergola for your deck or backyard, you'll need to determine which option is more suitable for the needs of your patio, as well as the climate where you live and your personal space and style preferences. Take the following details into consideration to ensure that you make the right choice for your setup.
Make your patio feel more relaxing with a pergola overhanging your seating or dining area.
Climate, Shade & Shelter Concerns
Again, pergolas and gazebos typically have different roof types. If you live in a sunny area, a pergola with an open, slatted roof could be perfect for your breezy patio or terrace. When the sun beats down on your setup or strong winds threaten to topple your outdoor seating and decor, you can put up a protective wind blocker or use planters full of lush greenery for shade.
On the other hand, a closed-top gazebo might be a better option if your region gets a lot of rain during the year. Gazebos can shield you from the sun as well, but you usually have to trek across your backyard to enjoy them. Pergolas are typically closer to your home, giving you easier access to consistent coverage.
Spatial Differences for Each Structure
Your choice between a gazebo and a pergola might also come down to how much room you have to work with. Since gazebos are their own stand-alone units, they tend to take up a lot of room. People looking to furnish vast backyards often choose a large gazebo over a freestanding pergola.
Mounted pergolas that attach to the outer wall of your home are excellent for those looking to decorate small patios and decks. Depending on where you shop, you might be able to find a small gazebo that fits your limited layout. Whichever structure you choose, be sure that it leaves plenty of space to accommodate your furniture and facilitate your favorite outdoor activities.
Style Options for Gazebos and Pergolas
When considering different outdoor structures, it's important to recognize how each option complements your overall design. Pergolas and gazebos can both come in various colorful finishes and feature stylish wood, metal, aluminum, or PVC materials. However, they each bring their own chic appeal to your space, so you'll need to figure out which one best suits your aesthetic:
Chic Setups for Pergolas: Their sleek, simple designs make pergolas perfect for modern or minimalist spaces. If you drape sheer fabric from the rafters, these structures might also work for a coastal or beach-themed layout. Favor a more free-spirited boho look? House your rattan and wicker seats, hammocks, lanterns and string lights under a pergola with weathered wood detailing.
Gazebo-Friendly Decor Styles: Gazebos were popular during the Victorian era, so they're a common staple of classic and traditional backyards. You can also add wooden and wrought iron accents to give the unit a charming farmhouse feel. In some cases, a gazebo's unique round layout can also lend itself to a chic contemporary or tranquil Zen design.
Decorating a Pergola vs. Gazebo
Due to their respective open and enclosed designs, pergolas and gazebos require different decorative approaches. Once you decide on the type, placement and style for these structures, use a few of these outdoor decorating tips to furnish the space so that it suits one of the following purposes:
In the end, using a pergola vs. a gazebo or vice versa is a personal choice. Both can enhance the look and feel of your patio and offer protection from the elements. As such, you'll need to decide which of these functional structures will suit the vision you have for your deck or backyard. From there, you can erect one of these units and start enjoying your new, chic hangout spot.