How to Build a Vertical Garden
Creativity is key when you're trying to maximize space in a limited layout. If you're a plant lover living in a tiny condo or studio apartment, it's easy to overcrowd your patio floors, tabletops and banisters with flower pots and ferns. Setting up a vertical garden is a great way to take up less room while utilizing your green thumb in a small space.
Overview
Check out this post to learn about:
Save space on your small patio by growing your greenery in a vertical garden.
What is a Vertical Garden?
As the name suggests, a vertical garden is a collection of plants that you stack on shelves, mount on a wall or hang from the ceiling instead of sitting on tables or on the ground. If you're looking to add colorful blooms and lush greenery to your enclosed porch, deck, patio layout or balcony, a vertical garden is a unique, eye-catching alternative to a traditional garden setup.
Despite the uncommon placement, a vertical garden can hold many of the same plants you see in a regular on-the-ground garden. For instance, you can use a vertical garden planter to grow:
Fruits & Vegetables: Vertical vegetable gardens are ideal for growing hanging plants like strawberries and tomatoes. Raised planters that hang from the ceiling or rest against a wall are also perfect for planting beans, carrots, peas and peppers.
Flowers & Houseplants: Want to introduce refreshing pops of color into your design? Fill your mounted garden boxes with your favorite flowers. Depending on how many flower pots you have, you can grow several different plants in your vertical garden, including orchids, geraniums, pansies, ferns, vines and succulents.
Herbs: If you're new to gardening or have limited space to work with, you can start a vertical herb garden outdoors. Herbs such as basil, mint, chives, cilantro, lemongrass and dill are excellent space-saving plants for beginner gardeners.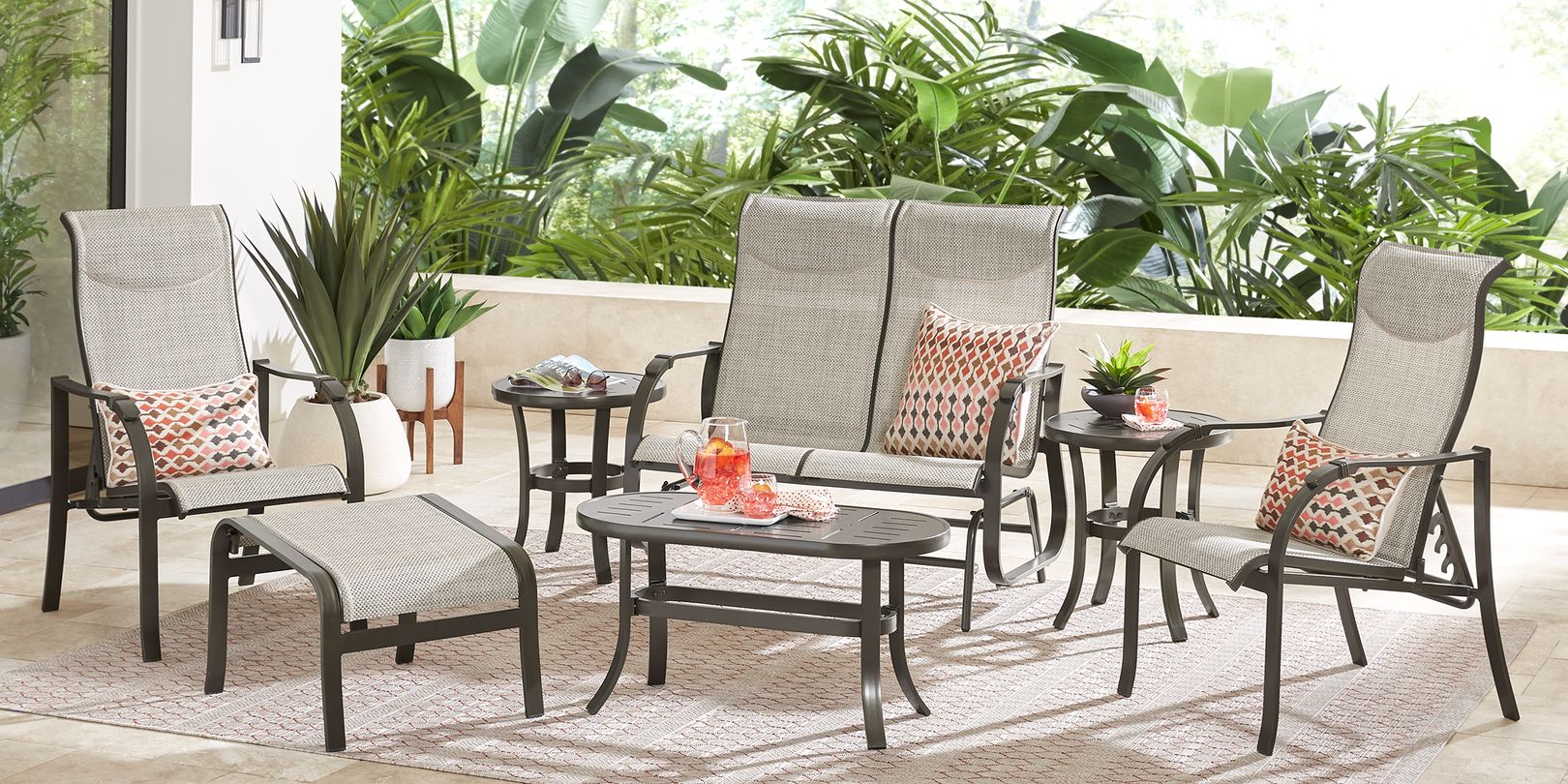 Rather than overcrowding your patio with planters, a vertical garden lets you grow several different types of plants in one spot.
Benefits of Vertical Gardening
There are several advantages to using vertical garden planters on your patio. Along with adding colorful flowers to your layout and giving you easy access to fresh produce, these raised gardens help you keep your space clear and clutter-free. Hanging up, mounting or stacking your plants keeps them off your outdoor tables and floors, so vertical gardens are perfect for decorating small spaces.
Your outdoor maintenance routine might become a bit easier with a vertical garden as well. Since they're less susceptible to typical garden hazards like pests, weeds and fungus, you can simply water and trim your vertical garden plants after finishing your regular patio furniture care regimen. Then, during the winterization process, you can just pick up your planters and bring your whole garden inside.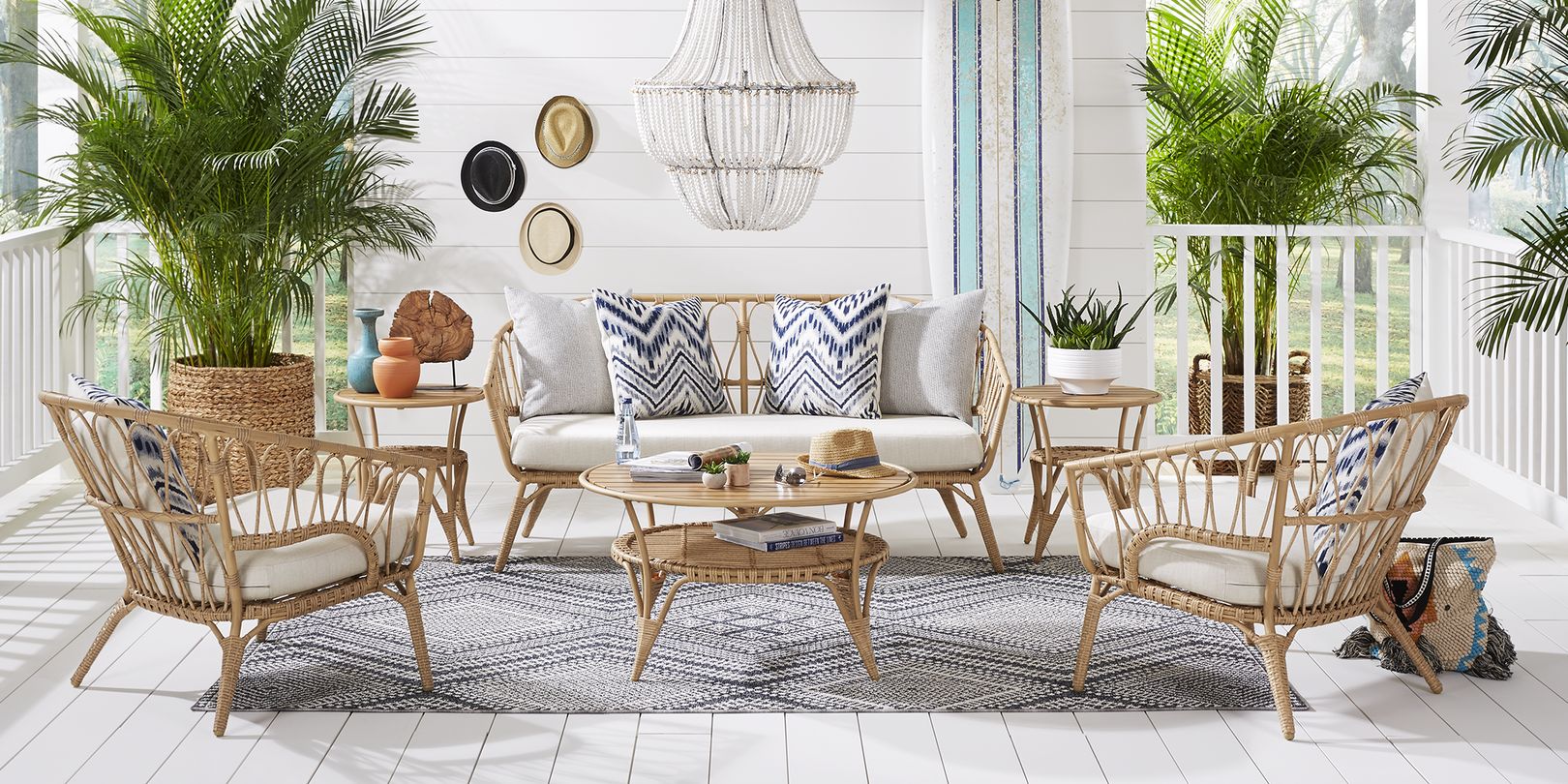 Where traditional gardening requires you to crouch down on the cold, hard ground, vertical gardens let you stand upright and perform quick and easy plant maintenance.
How Do You Make a Vertical Garden At Home?
Some gardeners build a customized framework for their patio plant walls, while others keep it simple and use stacks of wooden planks or milk crates to hold their vertical gardens. If you lack the necessary time, skills or supplies for a DIY project, you can use different outdoor furnishings as make-shift flower stands.
A narrow console table is an excellent spot for starting a small vertical garden on your apartment patio or balcony. When you want to add more plants to your raised garden, you can use mounted shelves and other wide wall hangings to hold additional flower pots. Another smart option is to lean a ladder with wide rungs against your patio wall and set planters on each ledge.
If you've got a spacious terrace or courtyard, you can use tall bookshelves and large extension tables to establish your vertical garden. Again, you can include mounted fixtures on the side of your home or on your patio walls to hold more planters. Want to surround your entire setup with lush greenery? Use hooks and built-in ledges to turn your backyard fence or deck-top privacy screen into a plant wall.
Consider the size of your patio to determine how much room you have for your vertical garden.
Choosing the Best Vertical Garden Planters
Using the right outdoor planters and garden boxes is essential when setting up a vertical garden. Those trying to live a more sustainable or zero-waste lifestyle might choose to recycle old paint cans and tin buckets. Meanwhile, those who want to streamline their gardening process may prefer a steel or wrought iron planter with insulated fabric bases and built-in irrigation channels.
If you want to establish your vertical garden close to your dining or seating arrangement, consider setting up a planter bench that doubles as a comfy seat and flower bed. You can also use small terracotta flower pots to create a wall of gorgeous potted plants above your conversation set or hang your plants from the eaves of your enclosed patio.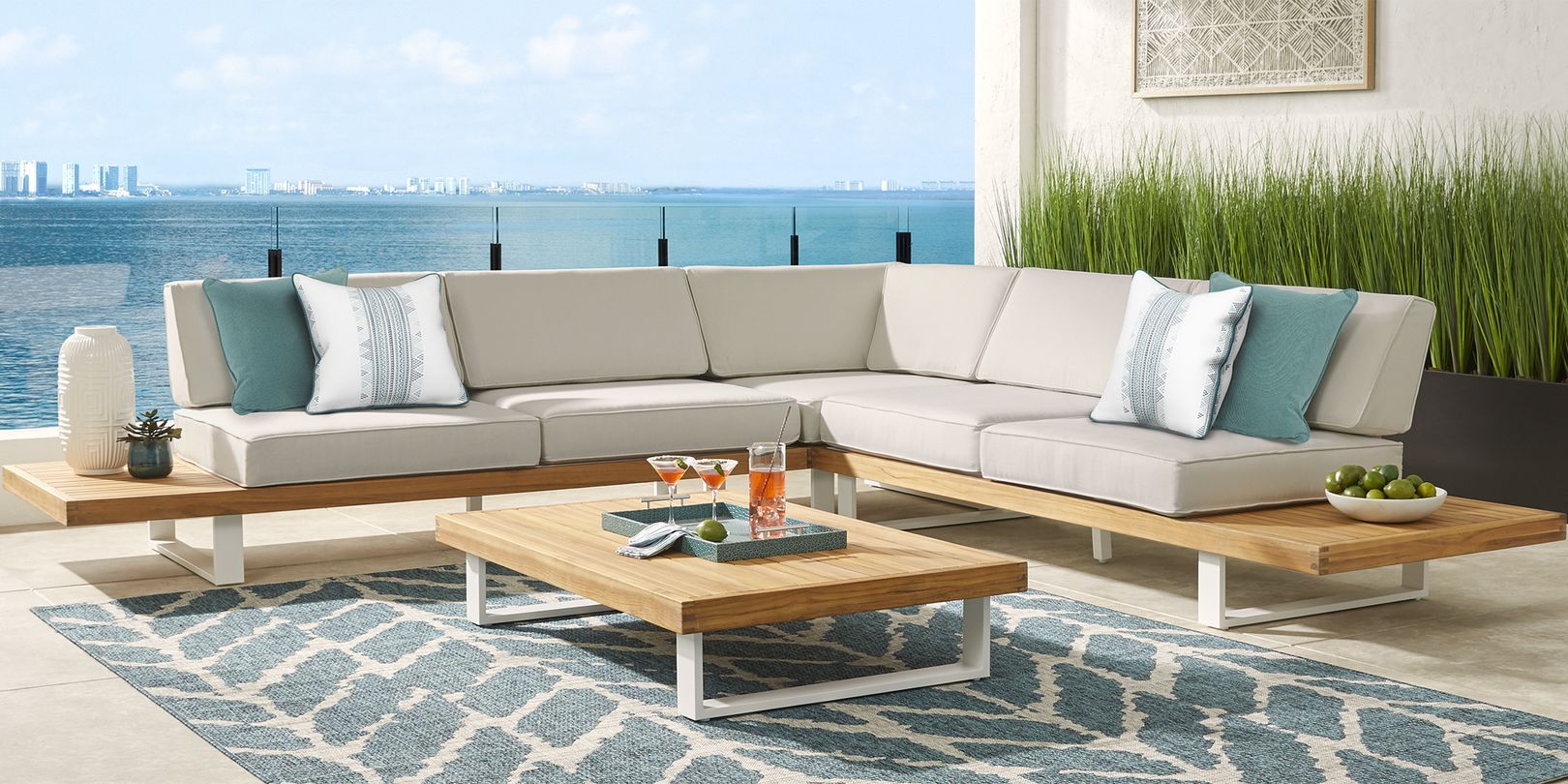 Line up individual planters along a wall or use one long garden box to grow greenery and frame your seating set.
Caring For Your Vertical Garden
Your vertical garden will require a lot of the same care as a typical on-the-ground garden, including regular pruning and watering, soil and fertilizer checks and the occasional rotation to ensure all your plants get enough sunlight. You'll also need to keep an eye on your patio thermometer to determine whether the area is too hot, cold or humid for your plants.
Another crucial part of vertical garden maintenance is making sure the framework holding the plants is sturdy and secure. Solid teak or other wooden console tables make an excellent stable base for large planters. If you prefer a lightweight metal or aluminum table, you'll need to move taller, heavier plants lower to the ground as they grow.
Make sure your vertical garden planters have a sturdy foundation, healthy soil, fresh fertilizer, and plenty of access to water and sunlight.
Setting up a wind screen is a good idea if you're building your vertical garden on a balcony or breezeway. Strong gusts of wind can knock smaller flower pots over or send your hanging plants crashing down. Having a protective wind blocker around your vertical garden and using extra hooks to anchor your plants is a smart way to keep your patio planters in place.
Practice proper plant care and maintenance to keep your vertical garden beautiful and thriving.
As you can see, building a vertical garden is an excellent way to save floor space while enhancing the natural beauty of your small patio, deck or balcony. If you want to create your own colorful plant wall or raised vegetable garden, use the tips and information in this article to get your vertical garden growing.