Exploring Teak Outdoor Furniture Options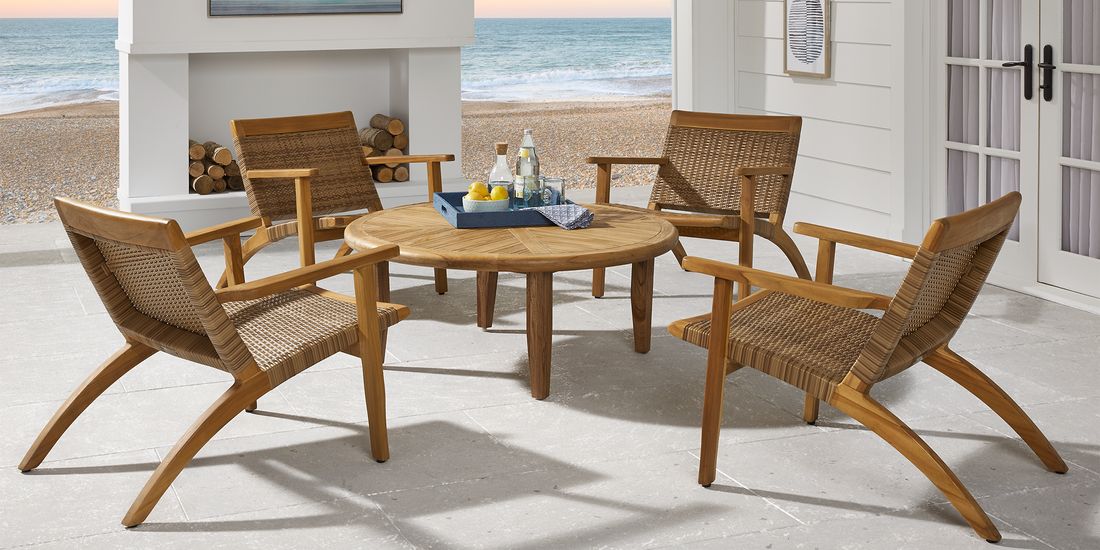 When you're looking to buy outdoor furniture, it's important to select sturdy, versatile pieces that can fit your budget and complement your sense of style. If you've ever shopped for wooden patio furniture, you may have realized that this outdoor material is an excellent, often-affordable option for decks, porches and balconies.
Many people consider teak wood furniture to be the gold standard for all outdoor decor, including other wooden options. Want to know what makes teak a fitting choice for chic and comfortable patio layouts? Learning about the various design properties of these items can help you understand the benefits of adding teak furnishings to your setup.
Overview
Check out this post to discover: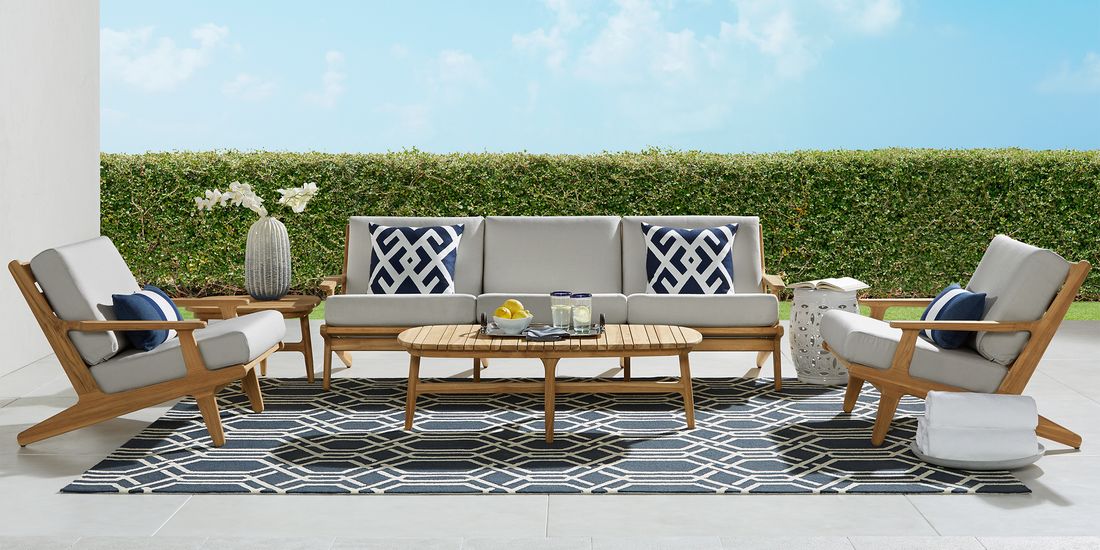 Cindy Crawford Outdoor Sofa Set in Teak
Teak Patio Furniture Quality and Construction
Teak is the preferred lumber type for many modern woodworkers. It comes from a strong yet supple tropical hardwood tree species, so skilled artisans typically have an easy time cutting, shaping, gluing, polishing, and staining the material. Also, a tight, straight grain and a naturally high oil and rubber content make it harder for moisture, mildew and pests to penetrate teak wood.
Thanks to these natural defenses, teak furniture can be fairly easy to maintain. Using the right cleaners, oils and sealants on your teak patio pieces can help retain the beautiful wood finishes over time and protect your furnishings from wood-boring insects. You might also consider maintenance techniques like re-staining the furniture every few years and covering it during inclement weather.
Teak Furniture Maintenance Products
Typical Teak Furniture Prices
Since this is such a strong and beautiful material, furnishings featuring teak wood can sometimes be expensive. Lightweight aluminum and even other woods like red cedar, mahogany and acacia tend to cost less than teak. Even so, many people who wish to incorporate these versatile furnishings into their deck, balcony or patio layout consider them a worthwhile investment.
Although teak patio furniture can come with a high price tag, there are some smart shopping techniques you can use to bring these pieces home while sticking to your budget. Saving your shopping trip for the winter months is a great way to find discounts on teak outdoor decor. You can also take advantage of seasonal and holiday sales events at your local patio furniture retailer.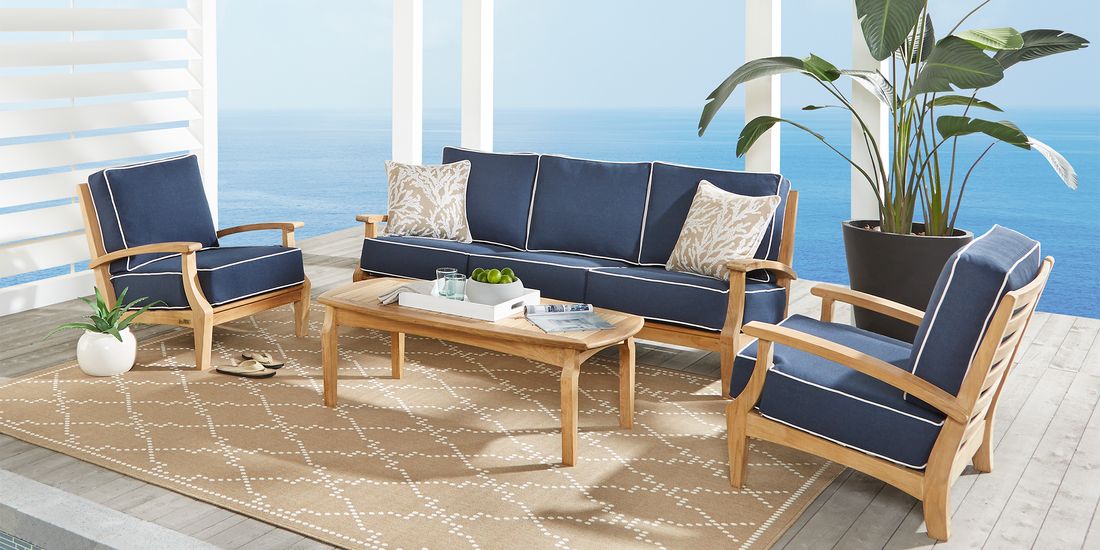 Teak Seating Set with Sunbrella Cushions
Chic Teak Patio Designs
While it's easy to associate wooden decor with traditional or rustic design, teak can complement almost any aesthetic. Whether you want to follow the most popular patio furniture trends or create a one-of-a-kind look, teak furniture can help you achieve your style goals. Use teak for your: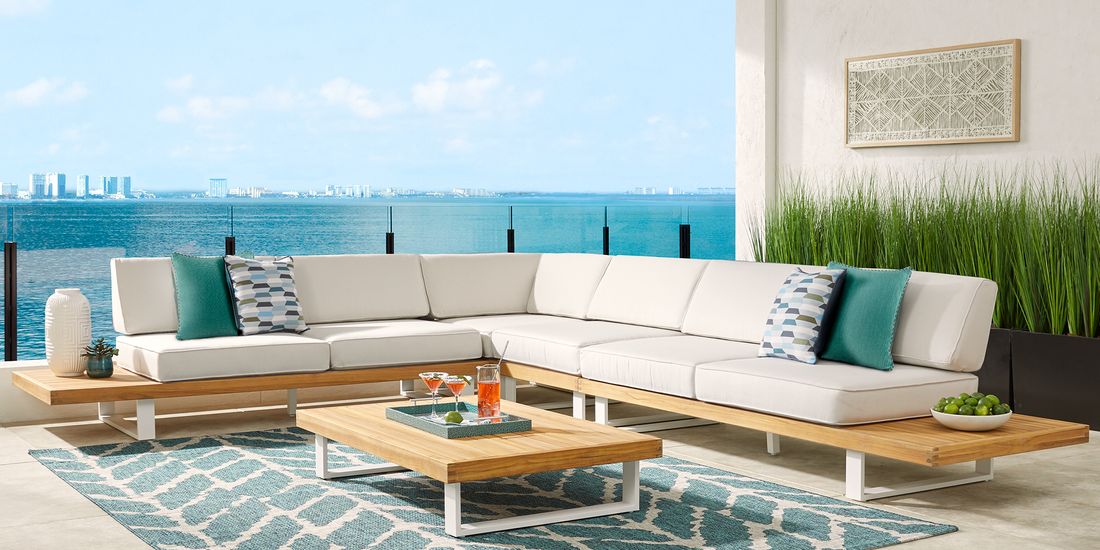 Teak Sectional Seating Set
Teak Outdoor Furniture Options
However you plan to decorate your patio layout, teak furnishings can make a stunning addition to the space. Think about how you intend to use your balcony, deck, backyard or terrace, then consider using the following teak furniture and decor items to achieve that goal and make your design dreams a reality.
Patio Seating
If you intend to use your patio as a spot for your friends and family members to kick back and relax, consider investing in a teak seating set featuring a sofa, loveseat and a pair of club chairs. Or, try a teak conversation set with padded footrests and glider chairs for an extra cozy touch. Those decorating smaller patios can use a teak bench or porch swing for space-saving seating.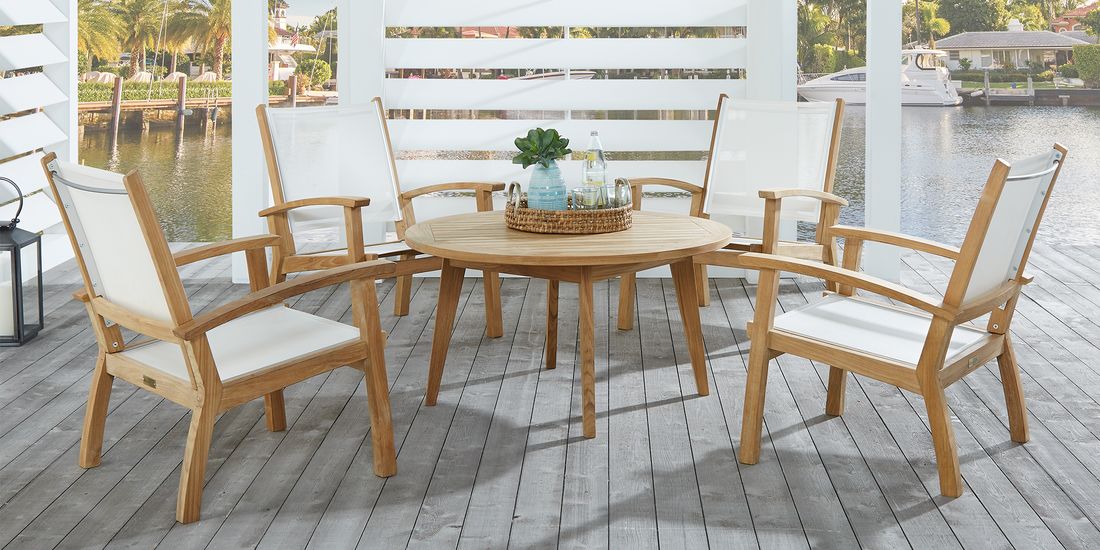 Tan Teak Outdoor Chat Set
Dining Sets
Teak's natural oils and tight grain can help it stand up to moisture, stains and spills, so a teak dining set is perfect for enjoying outdoor meals. Outfit your deck with a teak extension table to provide plenty of room for all your favorite foods, and set up dining chairs so each guest has a comfy place to sit. You could also use a teak bar or bistro set to enjoy outdoor lunches and brunches in your limited layout.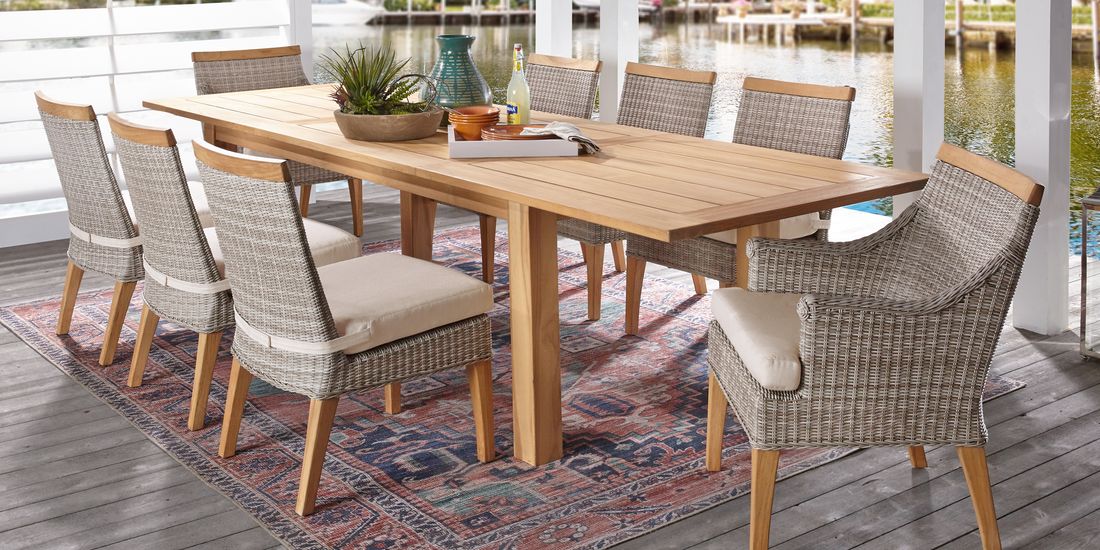 Teak Dining Set
Teak Accent Furniture
Adding a few teak items to your space is an excellent way to spruce up your current patio design. Set up a few teak Adirondack chairs around your backyard fire pit to create a cozy space for toasting marshmallows or chatting with friends under the starry sky. Or, use a teak lounge chair and a few side tables on the front porch to establish a comfy seat for sipping coffee and watching the sunrise.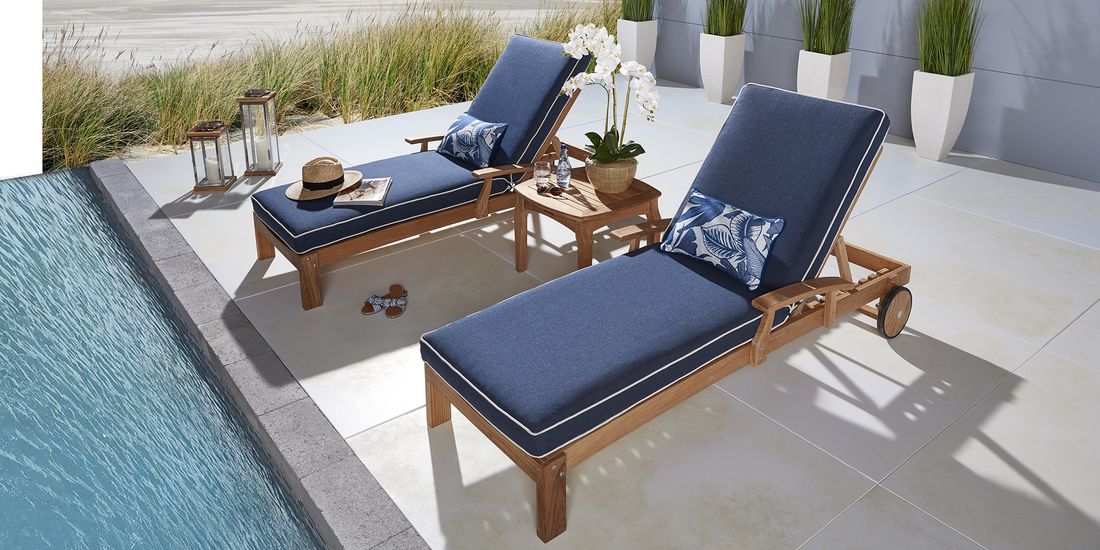 Pleasant Bay Teak Lounge Chair Set for Poolside Seating
Gorgeous teak patio furniture and decor is an excellent choice for backyard, porch deck, balcony and terrace areas of any size or style. Consider using these versatile furnishings to bring chic, comfy appeal to your layout and ensure that you enjoy your outdoor leisure time.