Wicker and Metal outdoor furniture each have their advantages.
How to Choose Wicker or Metal Outdoor Decor
Both metal and wicker patio furniture are popular options for those looking to decorate their backyard hangout spots. To choose between these two furniture materials, you'll need to understand how each one suits the aesthetic of your deck or terrace. After you figure out those details, you can furnish the various areas of your patio with either wicker or metal decor.
Overview
Check out this article to learn about: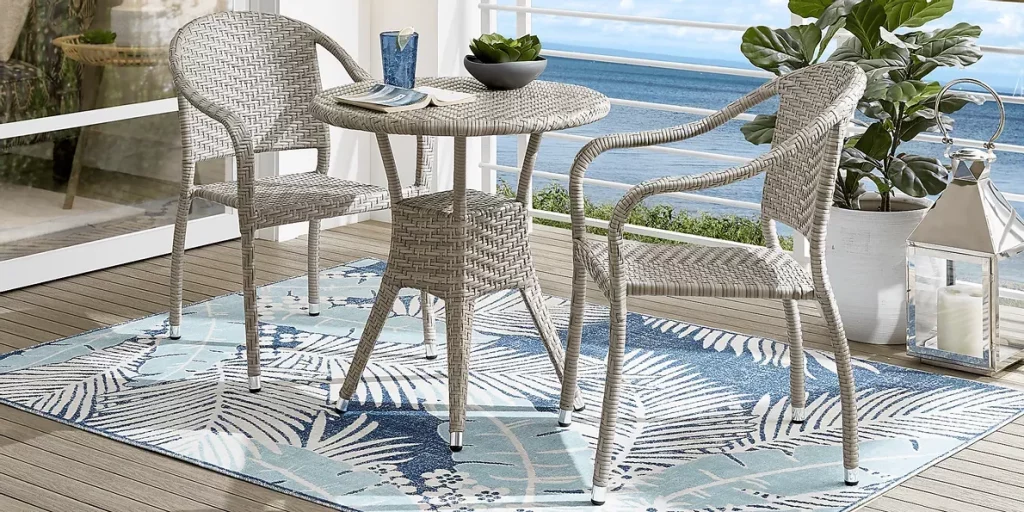 Create the stylish outdoor design of your dreams using wicker or metal patio furniture.
Wicker vs. Metal Outdoor Furniture: What's the Difference?
Step one in choosing between wicker and metal patio decor is understanding what makes each one of these outdoor materials unique. Here's a quick, detailed breakdown of the differences between wicker and metal furnishings.
Wicker Patio Furniture
Most wicker outdoor furniture features rattan, bamboo or synthetic plant skins bound to a steel, aluminum or cast aluminum frame. However, some of these patio pieces have woven materials throughout. The word "wicker" actually refers to the weaving process of binding these plants together rather than the woven materials themselves.
Curved Wicker Sectional Set
Metal Patio Furniture
Metal furnishings bring a sleek and stable vibe to your layout. Pieces featuring this material typically include a mix of different alloys and minerals that give them their dense, sturdy feel. While you can find solid metal patio items, the word metal often encompasses other materials like steel, aluminum, cast aluminum and wrought iron.
Curved Metal Sectional Set
How to Choose Between Wicker and Metal Patio Decor
Before you decide to decorate your outdoor setup with either metal or wicker furniture, there are a few things you'll need to consider. Depending on how you want your layout to look and feel, one of these furniture types might be a better fit for your overall design vision. Take the following details into account when choosing between wicker and metal furnishings.
Outdoor Design Styles
Your design preferences can help you choose between these two outdoor furniture options. Many people associate wicker pieces with a laidback, casual vibe, so you often see these furnishings in cottage-style, beachy or boho setups. Meanwhile, sleek and simple metal items usually appear in traditional, contemporary or modern layouts.
With the right accompanying decor, both these versatile materials can work for almost any outdoor design.
Available Color Options
Wondering which of these furniture types would best suit your patio palette? Generally speaking, metal outdoor decor comes in a wide range of different colors and finishes. Whether you want to add yellow, teal, green, red, pink, orange or blue hues to your layout, you can usually find metal accents that complement your color scheme.
On the flip side, most wicker patio furniture features simple white, black, gray, brown and beige finishes. Neutral shades such as these can blend in with almost any outdoor palette. They also help brighter, more vibrant tones stand out, so you can add colorful cushions and throw pillows to your wicker furnishings to create stunning contrast.
Select furniture materials that suit your unique color scheme.
Decorating With Wicker and Metal Furniture
Once you figure out which of these furniture materials would work best for your patio layout, it's time to outfit your space! Depending on which outdoor area you're decorating, one of these furniture types might be a better choice than the other. Use the following suggestions as a guide when furnishing various open-air hangout spots.
Get creative with your outdoor design and mix and match wicker and metal furnishings.
Since wicker and metal patio furnishings each bring their own unique qualities to your layout, your choice between these two options mostly depends on your personal preferences. Think about how you want your deck, balcony or terrace to look and what type of atmosphere you want to create for the space. From there, you can make the best choice for your chic setup.