Gas vs. Wood Fire Pits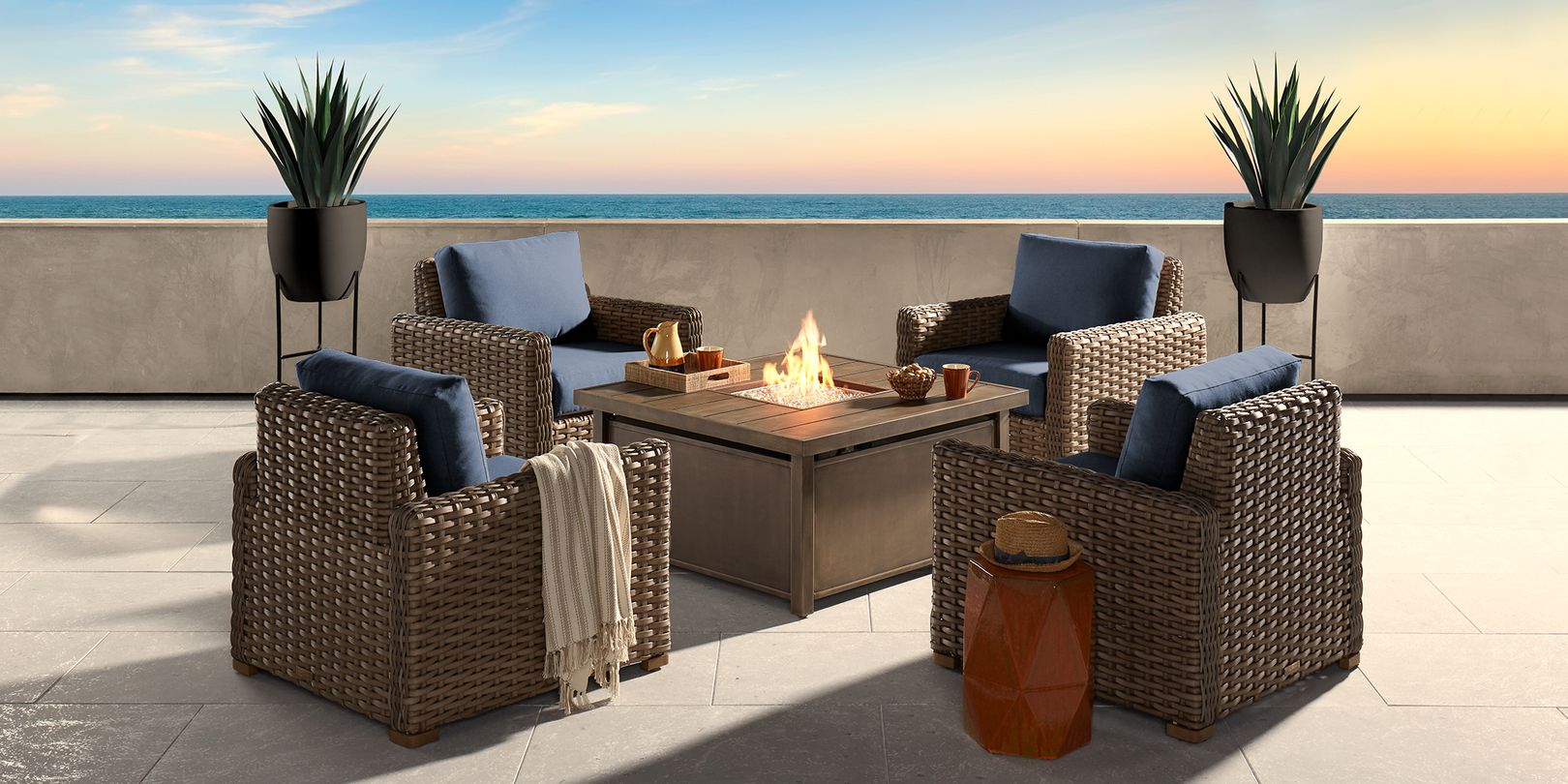 Fire pit tables put a chic and functional finishing touch on any outdoor design. Whether you're chatting with friends on the patio or stargazing in your backyard, these stunning centerpieces bring soft light and cozy warmth to your patio layout. Before you can add one of these tables to your space, however, you'll need to decide whether a wood-burning or natural gas fire pit is right for you.
Decisions between propane vs. wood fire pits typically come down to factors such as style, features and ease of use. Consider the following comparisons between wood-burning vs. propane fire pits to determine which option best suits the fire pit ideas you have for your patio.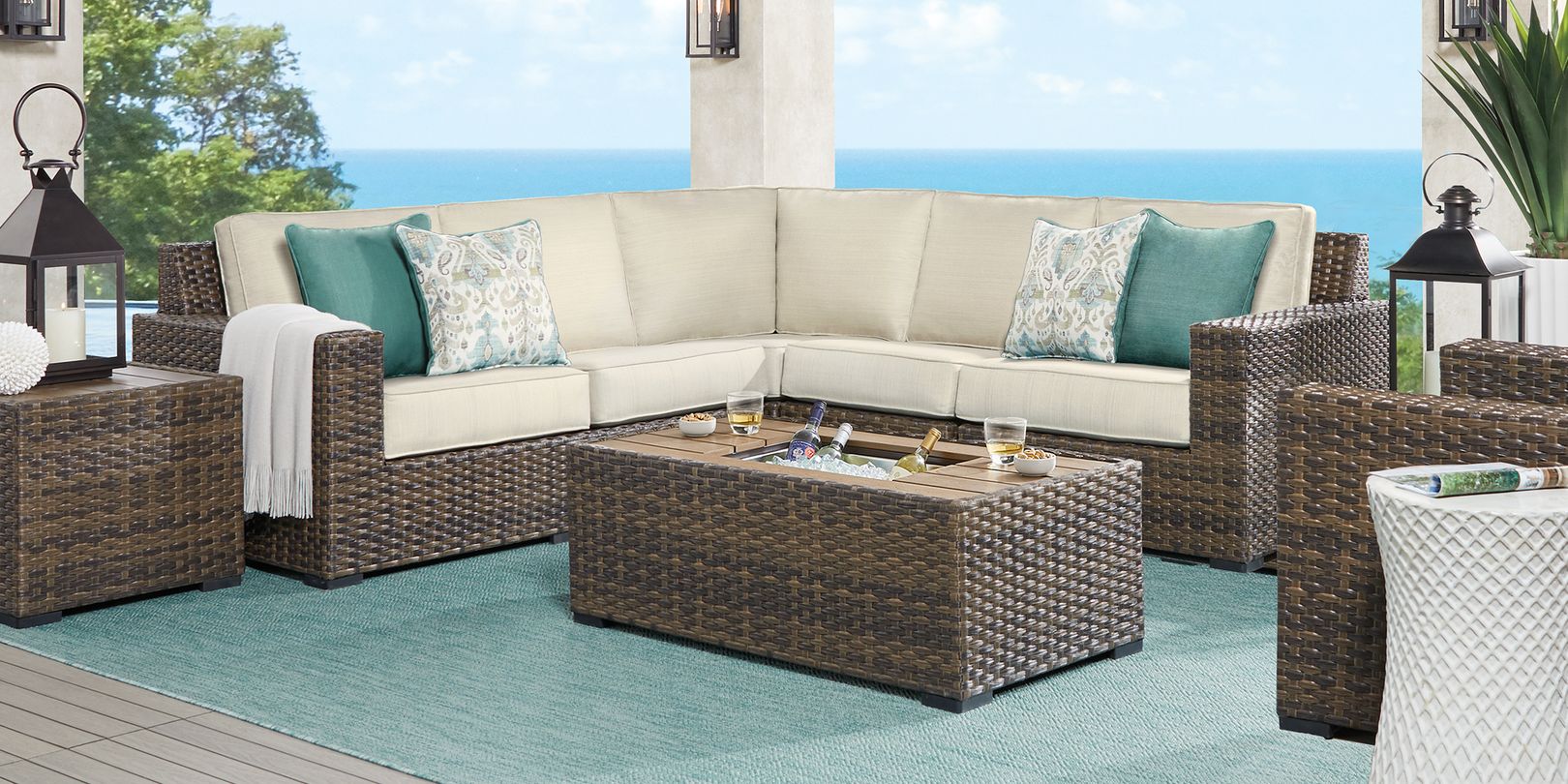 Weighing the pros and cons of each option can help you decide between wood-burning and gas-powered fire pits.
Overview
In this post, you'll learn several differences between wood vs. propane fire pits, including:
Styles and Finishes
Before deciding on one fire pit over another, you'll need to consider which style best suits your existing layout. To start, take note of any materials that feature prominently in your patio design. These can include everything from the brick and stonework of the patio itself to the various metal and aluminum furnishings in your seating and dining sets.
Next, browse the wide range of propane and wood-burning fire pits to discover which options complement your materials. You might choose an aluminum wood-burning fire pit if you favor metal furnishings and a sleek, minimalist vibe. Alternatively, wicker, wrought iron and wood-finished propane fire pits offer a natural touch that's right at home in rustic and farmhouse designs.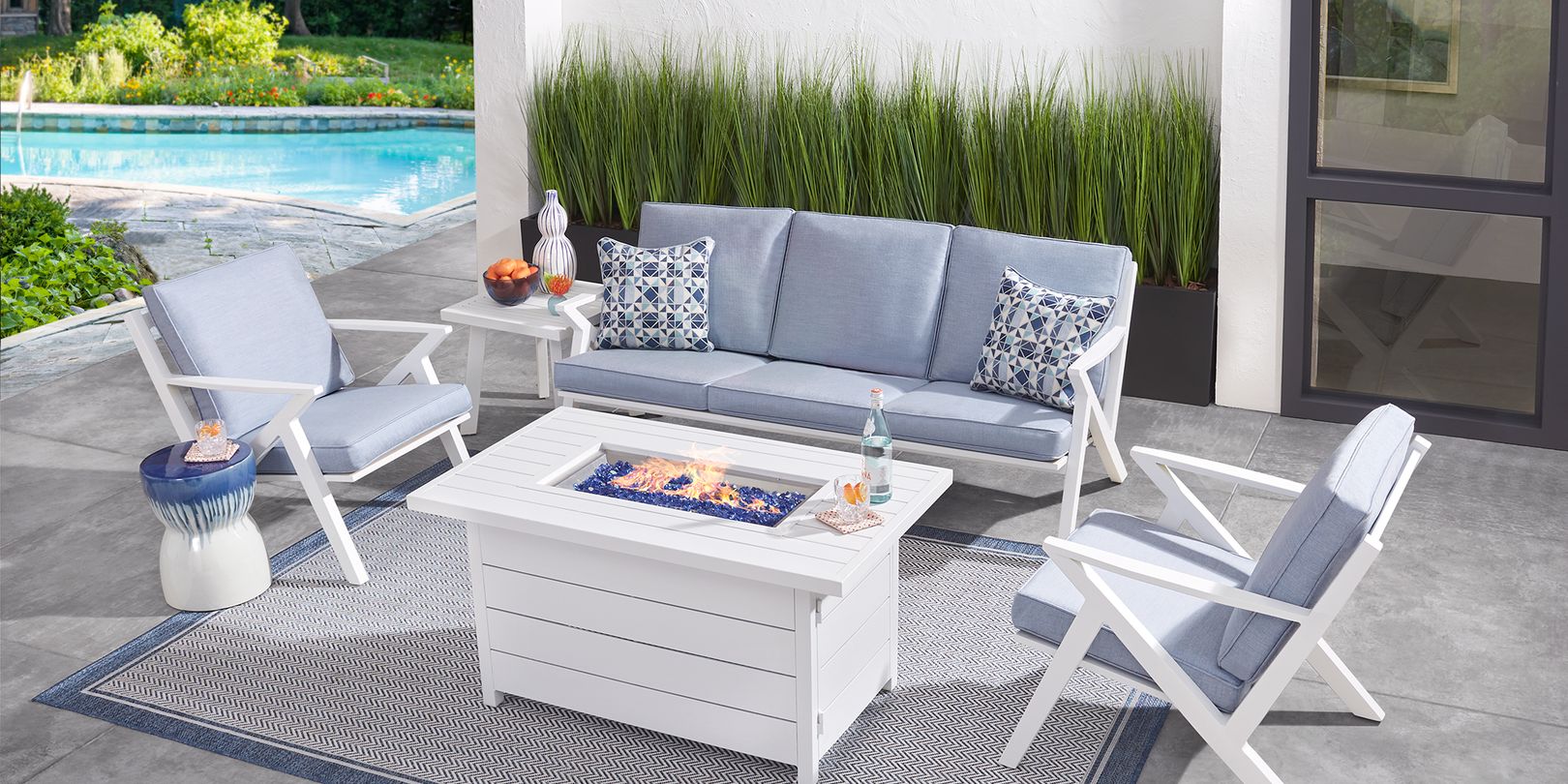 A propane fire pit with plank-style accents and a wood finish gives your outdoor patio a cozy, rustic feel.
Practical Features
Besides providing light, warmth and style, a fire pit can also serve other uses. For instance, a propane fire pit table with a removable lid doubles as a cocktail table and light source. Enjoy drinks, appetizers and board games during the day. Then, as the sun begins to set, simply remove the lid, ignite the fire pit and relax around the warm glow.
On the other hand, wood fire pits can also serve as a spot to roast marshmallows and cook food. So long as you have the proper equipment, such as grill grates, pots and roasting sticks, wood-burning fire pits can take your backyard barbecues to the next level. Similar to propane fire pit tables, some wood fire pits may also feature a removable tabletop for extra functionality.
Fire pits with wide edges and spacious tabletops offer a convenient spot to set drinks and dishes during parties.
Wood vs. Gas Fire Pit: Fuel Accessibility and Efficiency
As the name suggests, a wood-burning fire pit needs firewood in order to function. To some people, gathering or chopping their own firewood from fallen trees and branches is preferable to purchasing a new propane tank. With proper storage, you can keep a ready supply of dry, termite-free wood on hand for your wood fire pit.
While it may be easier for some to fuel a wood fire pit, a propane model is the more fuel-efficient option. Natural gas produces fewer carbon emissions than wood, especially over long periods of time. As such, a propane fire pit might be the better choice if you like hosting lengthy late-night gatherings and want to live a more sustainable, zero-waste lifestyle.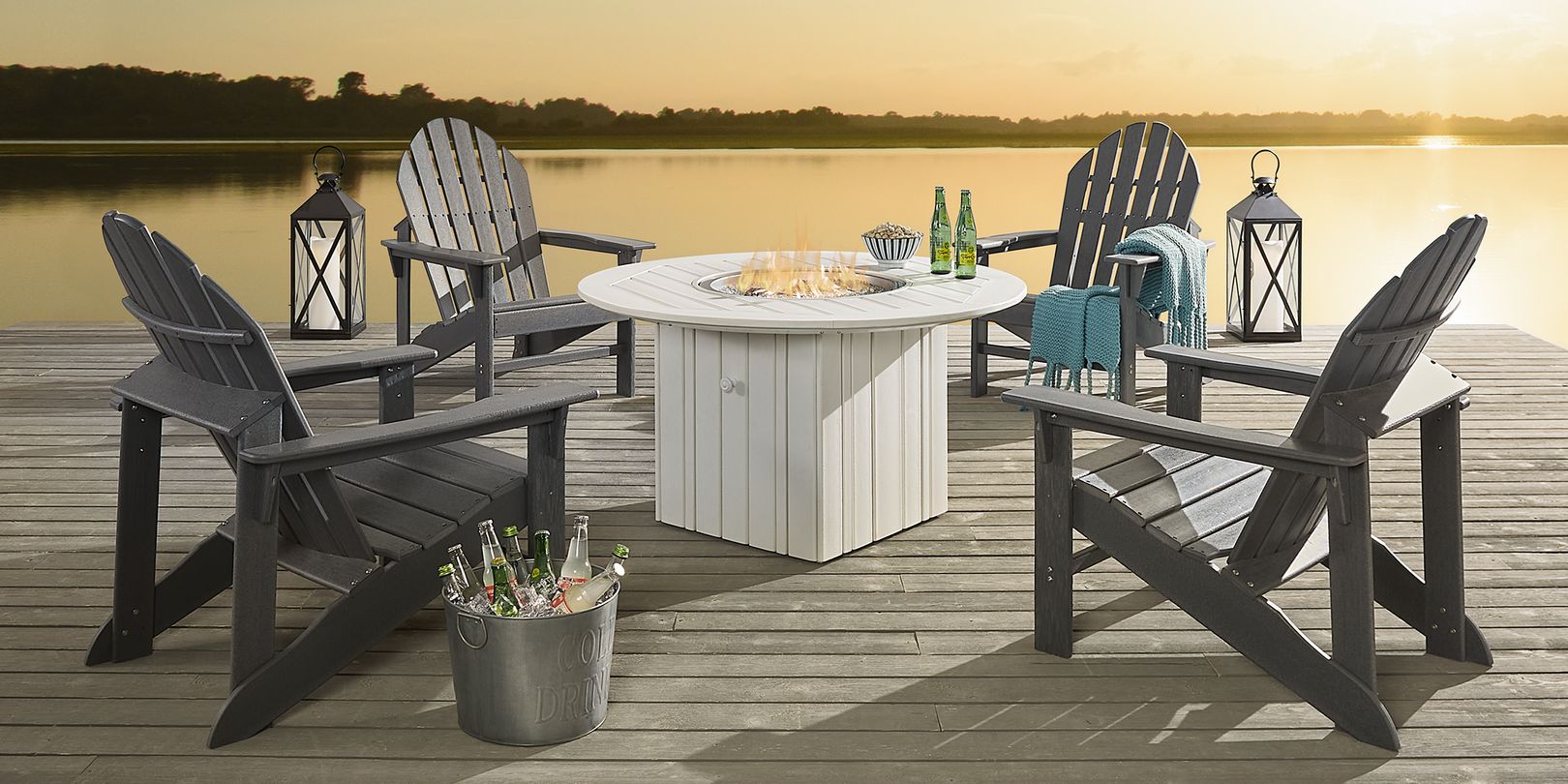 Propane fire pits are a clean, fuel-efficient option for heating up your outdoor patio.
Wood Fire Pit vs. Gas: Ease of Use
With a gas fire pit, all it takes is the push of a button or the turn of a dial to get a fire going. Some propane models also let you control the amount of fuel you release, so you can roast marshmallows over a low flame with the kids, then turn up the heat and chat around a roaring fire when the evening cools down.
Getting a wood fire started involves a bit more work. You'll need to use proper kindling, stack the firewood properly so the fire can grow and continuously monitor the flames so you can add logs or shift the coals around to keep the fire burning. However, once you get it going, the natural allure of a wood fire is a wonderful reward.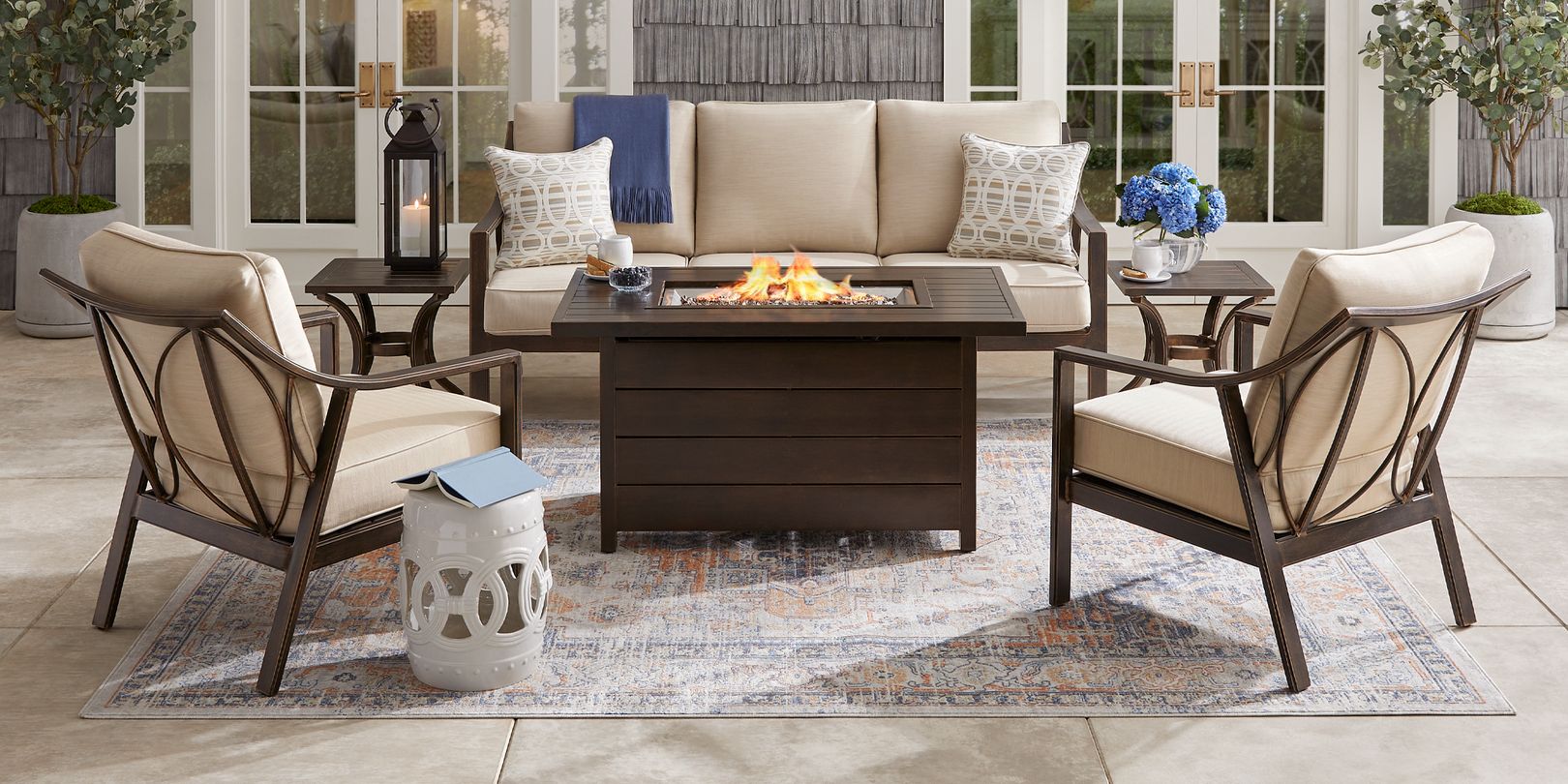 Gas-powered fire pits turn on with the push of a button, while wood fires are more labor-intensive.
Are Wood or Propane Fire Pits Better?
Since the choice between wood-burning vs. gas fire pits is usually a matter of preference, one of these patio heating units may be a better option for you than the other. Whether you enjoy the rich smell and natural appeal of a wood fire or favor the simple efficiency of a propane fire pit, this post can help you make an informed decision and select the right model for your space.