YOUR TEAK FURNITURE BUYING AND MAINTENANCE GUIDE
Made to be part of your life for relaxing and entertaining for years to come, teak is an incredibly durable hardwood that's absolutely beautiful.
High Density Strength
Teak wood is native wood to Southeast Asia and is a very dense and oily wood, making it the most desirable wood for outdoor furniture. The natural oil within the wood offers it protection and keeps water from seeping into the wood to provide resistance to mildew and rot. This means teak furniture can be left outside and endure years of rain, wind, heat and cold. Due to its beauty and strength, teak wood is currently used to create many things including boat decks, bridges, flooring, countertops and outdoor furniture.
Naturally Beautiful
The beautiful color and grain of teak makes it one of the most attractive to makers. When brand new, teak has a soothing golden blond color. Once weathered, it turns a natural silver and light grey patina which many people enjoy. Due to its strength, teak can be produced in a range of designs which often creates a wide choice of teak furniture styles.
Sustainability
All of our teak is plantation grown in partnership with the Indonesian Government. Our teak is also FSC (Forest Stewardship Council) certified.
Recommended Outdoor Products for Preventative Care and Cleaning
Heavy oils, varnishes and water sealers are not recommended or necessary on teak furniture. The natural oils in the wood seal out water. To maintain a golden color you can treat the furniture with a teak protector or shield. Depending on the exposure to the weather, it may be several years before it will require any further treatment.
Over time, teak weathers to a gray patina. Regular cleaning of your teak furniture can remove some of this weathering and brighten the wood considerably. Using a teak cleaner also helps to remove mildew, dirt and stains that can harm the wood.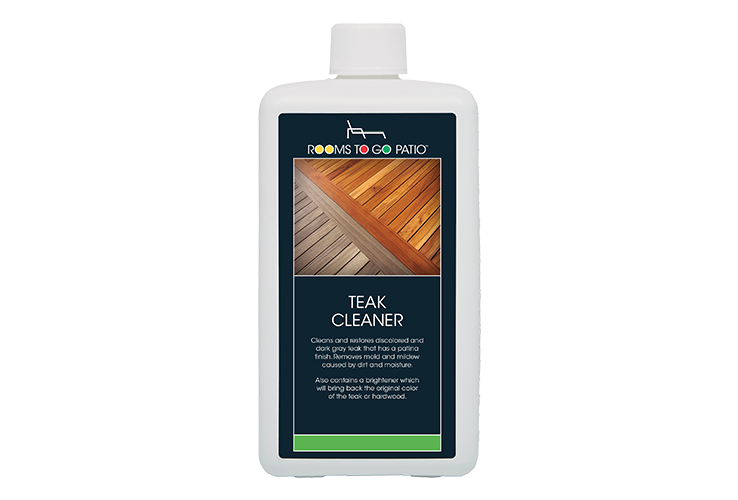 Cleaner
Teak is very durable and will last for generations. It only needs some basic cleaning to remove dirt and prevent external mildew growth. You should choose a sunny day to clean your teak furniture so that it will dry faster. We recommend using a specially formulated teak cleaner such as Rooms To Go Outdoor Teak Cleaner, which will clean and brighten the wood at the same time. Mild soap and water will also suffice for basic cleaning.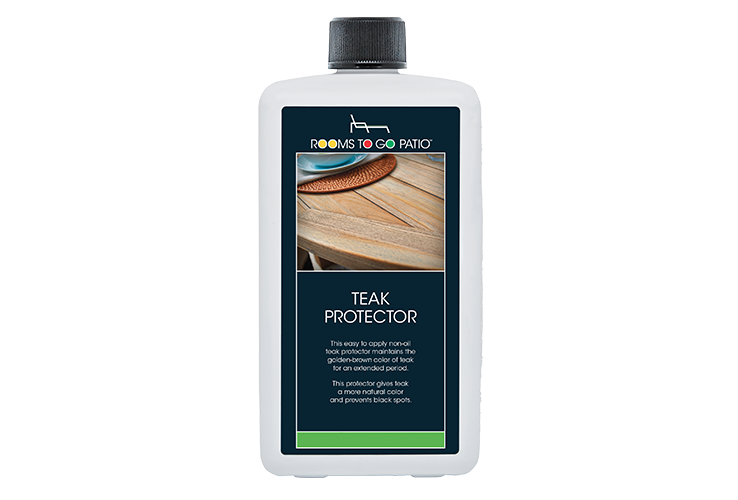 Protector
Rooms To Go Outdoor Teak Protector is much better than teak-oil/sealer. Why? Simply put, it maintains the golden-brown color of teak for a longer time. Additionally, teak-oil often causes black spots on teak. Our protector prevents black spots. It is not an oil and it is not greasy, so clothes stay clean. Most teak-oils/sealers contain hazardous solvents/voc's. Our protector is completely water based.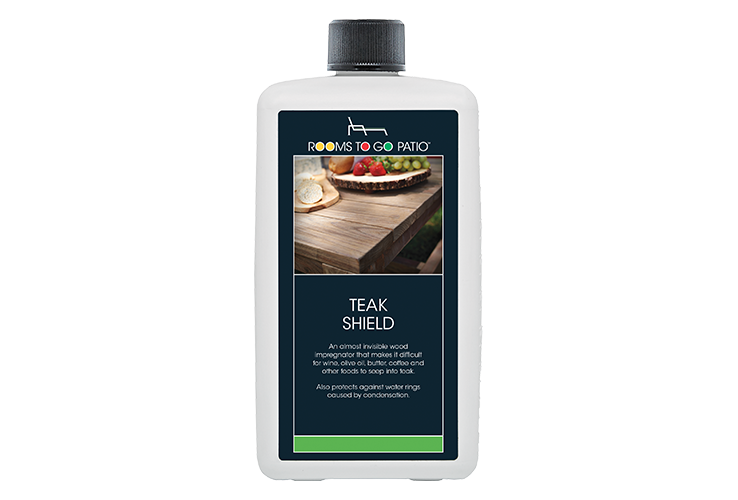 Surface Shield
Rooms To Go Outdoor Teak Shield, a naturally water-based product, protects teak against food and drink stains. It is an almost invisible wood impregnator that makes it difficult for wine, olive oil, butter or coffee to seep into teak. This ensures that after a meal, the teak table can just be wiped with a damp cloth, without any nasty stains remaining. This is why Teak Shield is also suitable for the protection of wooden furniture being used indoors.