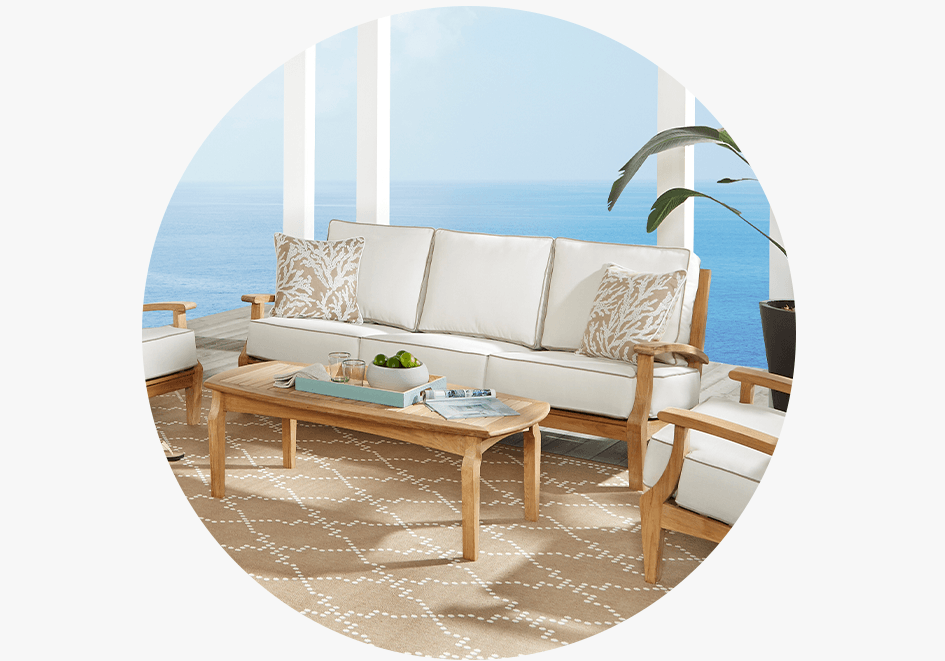 Durability
Sunbrella fibers are saturated to the core with highly UV-stable pigments, so they're resistant to fading from sun exposure for unparalleled performance. They resist mold and mildew as well, leaving your patio furniture looking newer for longer.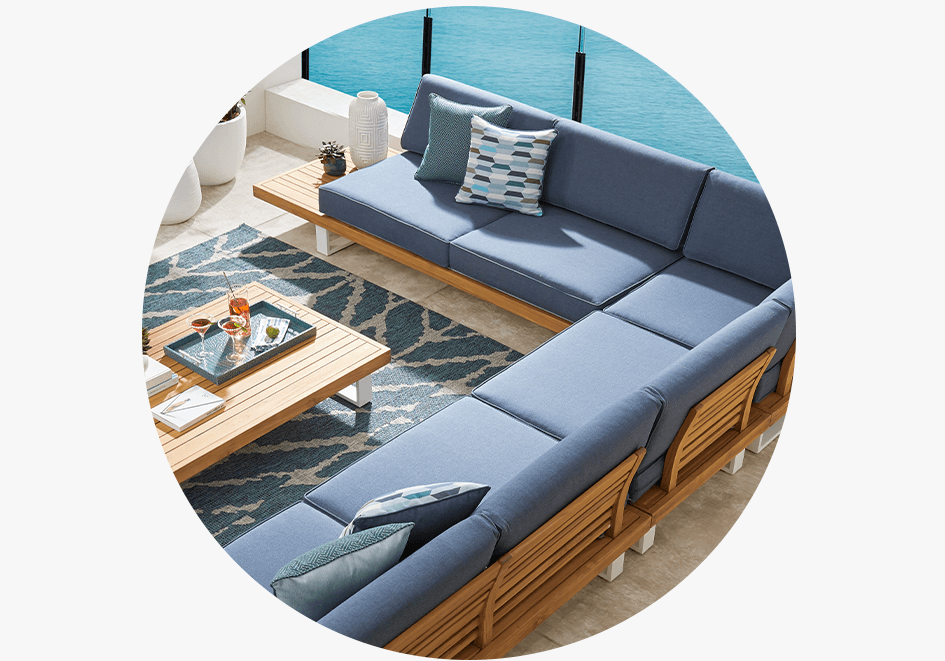 Design & Performance
Combining bold, vivid hues with durable construction, Sunbrella fabrics are created to be long-lasting and ideal for everyday use. They empower you to create elegant coordinating designs that are strong, yet soft to the touch.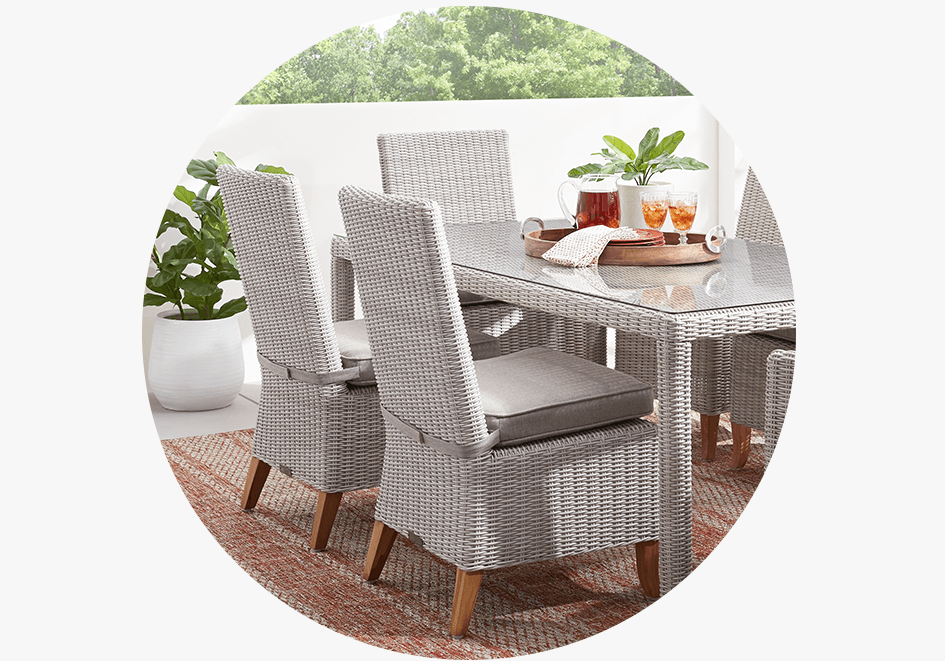 Easy to Clean
Created to hold their color for as long as possible, Sunbrella fabrics offer a fuss-free cleaning process. Simply apply mild soap and water to your Sunbrella fabric and brush away staining to leave the color of your furniture bright and vibrant.
Lounge in Style that Never Fades
FAQ : Sunbrella
How do I wash Sunbrella fabric?
Regardless of the how much cleaning Sunbrella fabric needs, it's very easy to wash. Just brush off any loose dirt, spray on mild soap and water, gently rinse until the soap residue is removed, and air dry.
What is Sunbrella fabric made from?
Sunbrella is made from 100% solution-dyed acrylic, creating a fabric with color to the core that is durable and resistant to mold and mildew while remaining comfortable and soft to the touch.
Is Sunbrella fabric durable?
Sunbrella fabric is designed to be highly durable, resisting the higher levels of wear and tear commonly undergone by outdoor upholstery. The 100% solution-dyed acrylic fabrics retain color for longer and are resistant to water and elemental damage.
Is Sunbrella fabric fade- or stain-resistant?
The 100% acrylic yarn Sunbrella uses for their fabrics is solution-dyed, meaning that each strand is dyed down to the core. This makes Sunbrella fabric fade-resistant, and its acrylic fabric makeup naturally repels liquids, meaning it's resistant to staining as well.
Is Sunbrella fabric worth the money?
Absolutely. Designed to be durable and long-lasting, Sunbrella fabrics offer vivid hues and stylish patterns to bring life to your patio and safely survive the elements.
Is Sunbrella fabric soft?
Yes! Sunbrella fabric is made with 100% solution-dyed acrylic creating a softness more reminiscent of indoor furniture upholstery, rather than the coarse feel typically associated with outdoor upholstery.
Is Sunbrella fabric waterproof?
Sunbrella fabric is designed to be breathable and soft; so, while it is water-resistant, it is not completely waterproof. Do not fully submerge fabric in water or prolong its exposure to heavy rain.
Why Buy Outdoor Sunbrella Furniture from Rooms To Go?
Add style and comfort to any space with versatile Sunbrella outdoor fabrics. From patio umbrellas to accent pillows, these textiles provide superior weather protection. A necessity for warm summer days, a chaise lounge with Sunbrella cushions or a couch piled high with outdoor fabric pillows stands up to daily use, sunshine or rain.
Want to keep things cool and shady while chatting over coffee? Pair a full sectional with one or two umbrellas made from fade-resistant outdoor fabric. Does your back yard have its fair share of poolside pandemonium? No sweat. These all-weather materials are water and mildew resistant, easily handling splashes, wet bathing suits, and summer storms.
At Rooms To Go, we offer a wide range of Sunbrella fabric products to help you upgrade existing patio furniture or restyle your entire deck. Consider loveseats, or pair a chair with an ottoman.
When temperatures start to drop, bring the party inside with our indoor/outdoor fabric decor. Sunbrella pillows and seat cushions make smart, stylish additions to dining with beautiful chairs or living rooms that blend easily with the rest of your decorations. Chic yet durable and soft yet long-lasting, our outdoor fabric items are always in their element.