Decorating an Entertainment Room
Media Room Ideas for Maximum Entertainment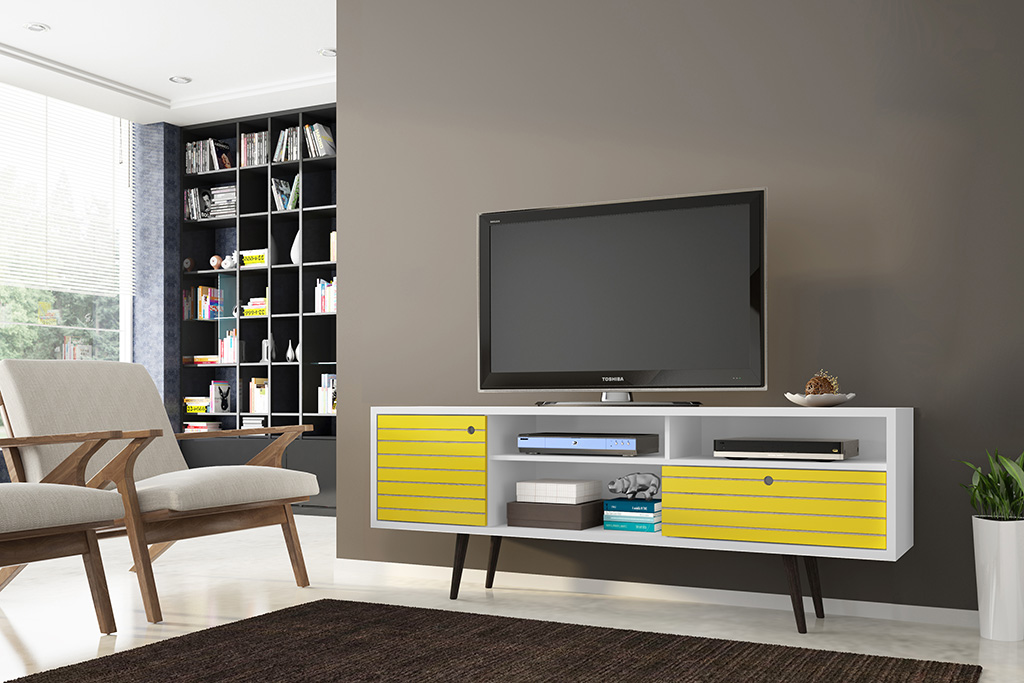 If you love to entertain, chances are you've thought about designing a media room dedicated to parties and fun nights spent with family and friends. While the concept of designating a separate space may seem overwhelming at first, with the right seating, lighting and media room decor, creating your own entertainment hub can be easy.
Overview
In this article, you'll learn about:
When designing a new space for entertaining, consider whether you want a media room or a theater room and think about the differences between the two. The room's intended purpose, your family's television or gaming habits and your entertainment goals will help you determine which setup is best for your needs.
Media Room
Traditionally, a media room is a space that everyone can enjoy together. Furniture layouts in these entertainment rooms encourage watching TV as well as conversation. Cocktail and end tables offer a stable surface for drinks and keep remotes nearby when you need to pause the movie for bathroom breaks or a pizza delivery.
Theater Room
Theater rooms function more like a real-life cinema. Seating should ensure optimal wide-screen TV viewing, and windows may have blackout curtains rather than blinds. Movie buffs with home theater rooms often install state-of-the-art sound systems, too. In this type of room, guests enjoy films in relative silence, and the emphasis is on the movie rather than conversation.
A complete home theater setup is the dream for many movie buffs. However, media rooms are a better option for those who prefer to entertain by hosting game day get-togethers and throwing casual parties, especially when what's on the screen is secondary to drinks, food and lively conversation. When choosing how to design your home entertainment room, consider some of these other benefits:
Mobility: A media room makes it easier for guests to move around and chat throughout the night while still enjoying movies and shows together.
Inclusivity: Instead of having to sit still for several hours at a time, young kids can roam around and play in a media room while parents chat during viewing parties.
Adaptability: Home theaters are great for watching movies, but media rooms allow more versatility for enjoying movie nights, hosting the big game, arranging karaoke sessions and more. With such an adaptable setting, you're ready to party on any occasion.
Reclining sectionals help you create an adaptable layout for movie nights and parties.
When outfitting your media room, you'll need to arrange tables, seating and storage to suit your family and guests. Your entertainment room ideas and goals along with sturdy support for your flatscreen, surfaces for drinks, seating and convenient storage solutions are all factors you'll want to consider. Once you know your media room's purpose, getting the right furniture is key.
Do you want a space to entertain large groups of people during big events, or do you envision a cozy TV room to enjoy shows and movies with the family?
Whichever you choose, getting the right furniture for your layout is key.
Furniture Ideas
Your TV room plans should include a place for all your devices. Consoles provide spacious surfaces for big-screen televisions, while larger wall units have shelves, cabinets and cubbies to store devices and display decor. Plan your purchase carefully to ensure gaming systems, speaker components, cable boxes and receivers stay within reach of your flatscreen's various media inputs.
Here are a few TV room ideas to consider for your space:
TV Stands:
A TV stand delivers big entertainment in a small space. With nooks large enough for game consoles and media players, along with cord cutouts, you'll have access to all your devices without the clutter. Want to create a warm and inviting atmosphere for your get-togethers? Search for TV console tables with a built-in electric fireplace.
More TV stand styles to consider:
Wall Units:
If you've got plenty of vertical space to work with, a wall unit comes equipped with spacious drawers, cubbies, shelves and cupboards to keep your electronics organized. Look for designs and finishes that coordinate seamlessly with the rest of your entertainment room furniture.
End Tables:
Provide family and guests with an easily accessible spot for drinks and appetizers with a set of end tables for your layout. Many models come with convenient drawers to store remotes and controllers, so you always know where to find them on movie or game night.
Coffee Tables:
A coffee table offers houseguests a place to prop up their feet and keep their favorite drink nearby. More spacious than an end table, you can serve trays of food and still have plenty of space for game controllers and beverages. For a coordinated look, opt for a living room table set that includes pieces to place at the front and sides of your sofa or sectional.
Seating
Comfortable seating is essential for any entertainment room, but ask yourself a few questions before you decide on a sofa and chairs. Will you be hosting parties or just entertaining a few friends? How big is your space? Where do you want the focus of the party to be? Once you have the answers to these questions, check out a few of the following choices:
Sectionals:
Whether you choose a set for a laid-back media room or a home cinema, sectionals have ample space for you and your guests to sink in, sprawl out and kick back during large get-togethers. To design a theater seating layout, browse for sofas with handy cup holders and other convenient extras.
Power-reclining sectionals with cinema-style extras like foldout consoles, cup holders, individual seat lighting and LED strips to illuminate pathways are ideal seating for darkened theater rooms.
Recliners:
Recreate the theater experience in your media room with a couple of recliners, and give guests their own lounge space that adjusts to the perfect viewing angle. Ideal for game day and movie marathons, many chairs come with built-in USB ports for added convenience.