Three Easy Ways to Add Instant Outdoor Ambiance
The right atmosphere is essential when creating an outdoor oasis. Poolside relaxation should feel like a breezy escape, while an inviting, heartwarming vibe works well for lounging with family on the deck. Set the stage in your backyard for festive parties, romantic evenings or relaxing weekends by creating ambiance using beautiful lighting, soothing fountains and a cozy, glowing fire.
Create cozy ambiance with warm lighting, comfortable seating and a beautiful view.
Patio Lighting
Extend the use of your backyard into the night with sconces, lanterns, umbrella lights or landscape lighting. Available in various styles, it's easy to find outdoor lighting that looks beautiful day or night. Whether you want to illuminate the whole yard, emphasize distinct landscape features or add soft mood lights, ambient lighting sets the scene for any occasion.
While string lights and umbrella lights take a little time to put up, it is an easy DIY process. Many lanterns are battery or solar-operated, and you can carry these portable lights between lounge areas or light up a cozy seating set with a pair of floor lanterns on each side. Some landscape lighting requires professional installation. However, solar spotlights and path lighting makes setup a snap.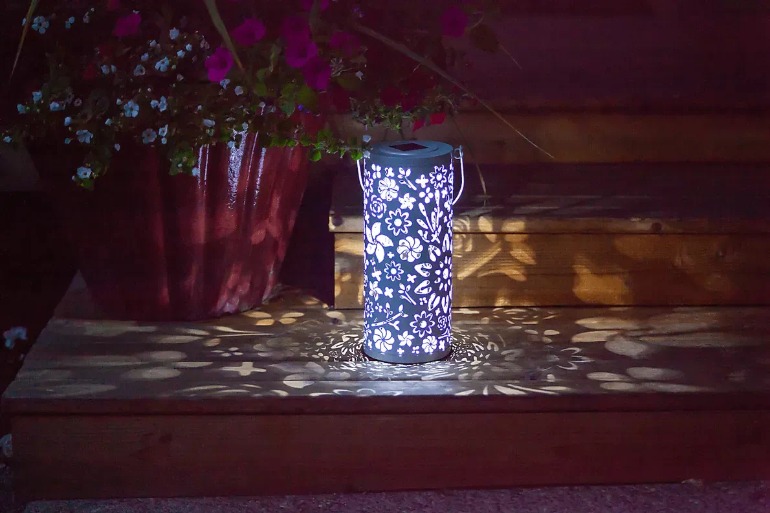 Hanging lights and lanterns with patterned shades add a colorful glow to tables, stairways and landscaping.
When searching for patio lighting, you'll have a range of options to choose from, which allows you to set the right mood anywhere you want. In addition to ground-mounted lights and decorative accent fixtures, there are a few other types of outdoor lighting to consider, including:
Wall Lighting: Install sconces alongside your home's siding, beside the front door or on the back deck for functional, stylish fixtures you can turn on with the flip of a switch.
Hanging Lights: Chandeliers and pendants add an air of elegance to any dining area, lounge space or front entrance.
Lamps: Make your patio sectional set feel just as cozy as your living room with table lamps and floor lamps in coordinating designs.
Light up your home exteriors with cozy outdoor lighting that's practical and stylish.
Backyard Fountains
Fountains add interest and atmosphere to your porch, garden or patio. Running water's soothing flow and subtle splashes have a calming white-noise effect, and these water features can also attract birds, adding natural entertainment and charm to your backyard. Place a garden bench, chair or glider nearby to observe your new feathered friends and enjoy the peaceful sounds of your fountain.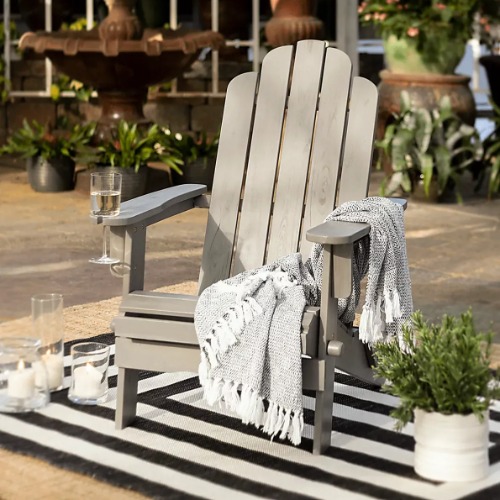 Candles and a cozy throw make this Adirondack chair the perfect seat by the fountain.
Koi ponds with water lilies and other aquatic plants transform your backyard into a peaceful Zen garden. Larger fountains that provide a water current for plants and fish often require a power source; however, you can install a solar fountain in any area exposed to full sunlight. Decorative boulders and river rocks help blend these beautiful water features into your landscaping.
Outdoor Fire Tables and Fire Pits
Make the most of your patio or pergola by adding the element of fire. Outdoor heating features such as a fire ring or a fire pit take the chill off cold evenings and extend the use of your patio beyond the summer season. The crackle of a warm, glowing fire beneath the stars is perfect for romantic dinners and backyard campouts with the kids.
You can also warm up your patio with a cozy fire, whether you make it the focus of your lounge area or use it as a simple accent among your decor. Choose from tabletop fire pits with fire glass centers that operate on bio-ethanol or consider wood-burning fire bowls for a rustic approach.
Complete your plush seating set with a fire pit for warm, romantic ambiance.
Fireside seating is the highlight of many late-night parties. Conversation sets centered around a fire table are a cozy choice, and you can keep them fueled with propane tanks or natural gas. Going for a more resort-like feel?
Patio furnishings that include a fire feature are usually easy to set up yourself. Whether you prefer roasting marshmallows, staying toasty or merely adding atmosphere, these fire pit ideas can take your patio to the next level. Just remember to protect your favorite fire accent by using a fire pit table cover.
How to Create Outdoor Ambiance
A calming, well-lit layout looks, sounds and feels like an oasis in your own backyard. Using stylish and functional accessories to decorate your patio is a simple way to achieve the right aesthetic and set the perfect mood. With our outdoor ambiance tips and tricks, giving your patio or deck an instant glow-up is a breeze.