What Is the Best Patio Furniture Material?
Generally speaking, the best outdoor furniture material should hold up against daily use and the elements while providing the comfy, stylish look you need to enjoy your patio. To decide which material can deliver on this expectation, you'll need to know what options are available, discover which one best suits your setup, and learn how to care for the material once you make your choice.
Overview
Want to know which outdoor materials would work best for your setup? Check out this post to:
Types of Patio Furniture Materials
Outdoor furniture and decor items feature a wide range of materials to choose from. Before you can decide on the right one for your patio layout, you'll need to understand the qualities of each one. Take a look at the following list to learn about the various types of outdoor materials and the benefits of adding them to your space.
Aluminum Patio Set
Selecting Climate-Friendly Materials
Each of these patio furniture materials can provide comfortable and stylish support for your outdoor oasis. However, depending on the temperatures and weather in your particular region, some of these options might be a better fit for your space than others. Considering how the climate could affect your furnishings is a smart way to choose the best patio materials for your home.
Rain and Snow
If you live in a place that experiences a lot of precipitation, you'll want furnishings that can hold up against strong winds and dampness. Heavy steel seating arrangements and wrought iron dining sets are less likely to blow away in the breeze than lighter pieces. However, these items might be more susceptible to rust after extensive exposure to rain and snow showers.
Setting up a patio wind blocker or placing your wrought iron chairs and steel tables beneath an awning could be the best way to shield your outdoor furniture from inclement weather. Using these structures can also prevent your metal porch swings and chaises from becoming too hot to touch on warm, sunny days.
Steel Patio Accent Chair
Heat and Humidity
Generally speaking, rattan and wicker sofas, wooden bistro sets and plastic benches hold less heat than most metal furnishings. As such, they're a popular choice for those living in warmer climates. Keep in mind, however, that the intense UV rays and extreme humidity in these areas can sometimes cause these finishes to warp or fade over time.
Tall outdoor umbrellas, canopies and other shade ideas can shield your patio furniture from some of the harmful effects of direct sunlight. If you live in an especially hot region and want to add aluminum conversation sets and plastic dining pieces to your patio layout, consider using automated features like outdoor fans and air conditioners to keep your furniture from melting or overheating.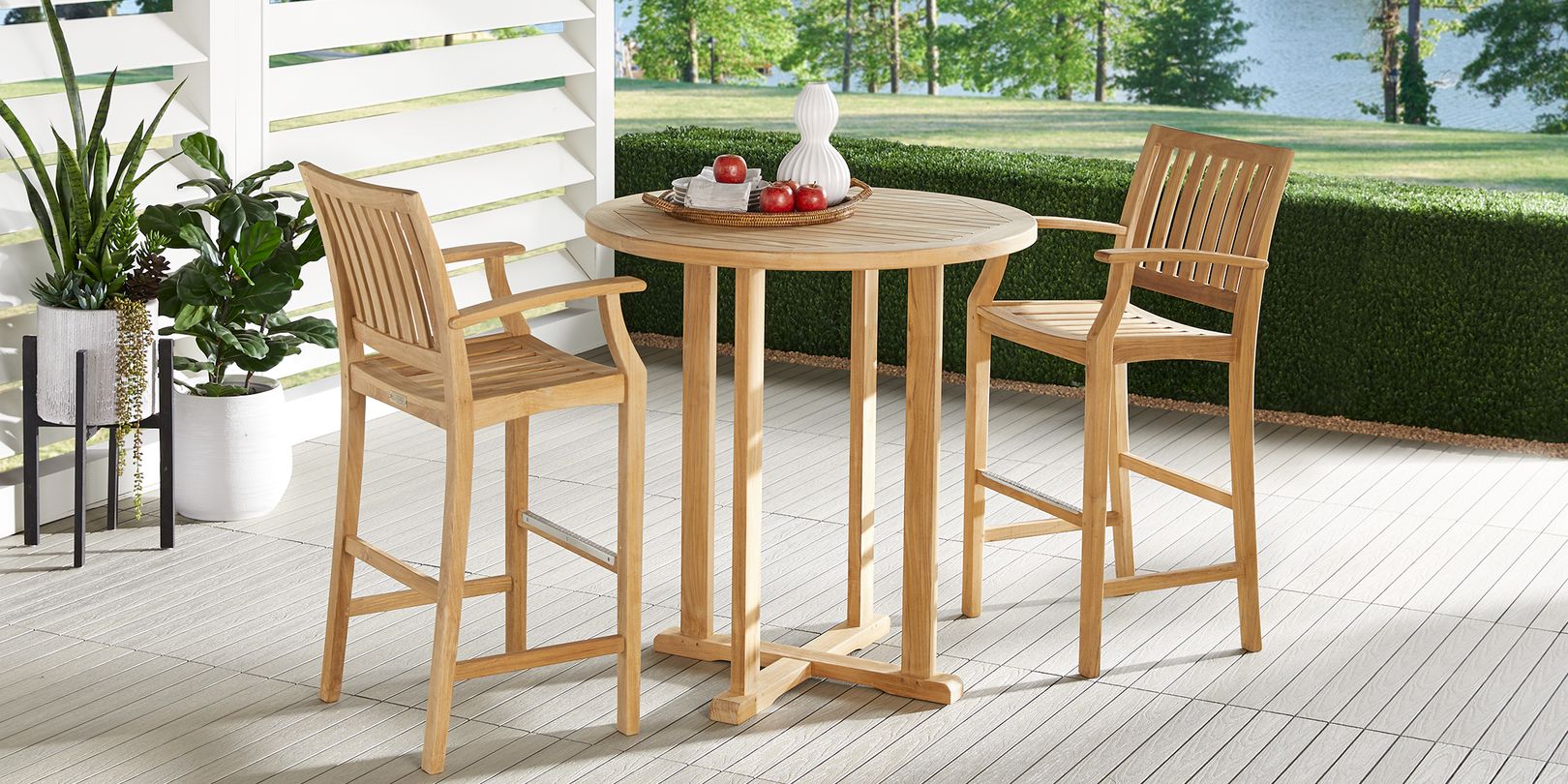 Teak Wood Bar Set
Care Tips for Various Outdoor Furniture Materials
Before you start buying patio furniture in your preferred finishes and materials, you need to understand how much care and maintenance those furnishings will require. Make sure you have covers to shield metal accents from rainy weather, as well as the proper cleaners and sealants to protect wooden items from dampness, stains and gnawing pests.
Comparing the quality and care needs of various outdoor furniture materials can help you decide which furnishings will work best for your setup. In some cases, you may need to pay a little extra money for a patio set with the comfortable, robust design you're looking for. However, the stability and style that these pieces bring to your space are usually well worth the additional cost.