Teak, Eucalyptus and Acacia Wood Outdoor Furniture Care
Wood patio furniture enhances your home's curb appeal while giving you and your family a place to relax, entertain and have fun. Of course, once you've purchased a wood sectional or teak dining set, you'll want to protect and maintain your patio furniture. However, the upkeep needed for hardwood furnishings outdoors is a little different than polishing an oak coffee table in your living room.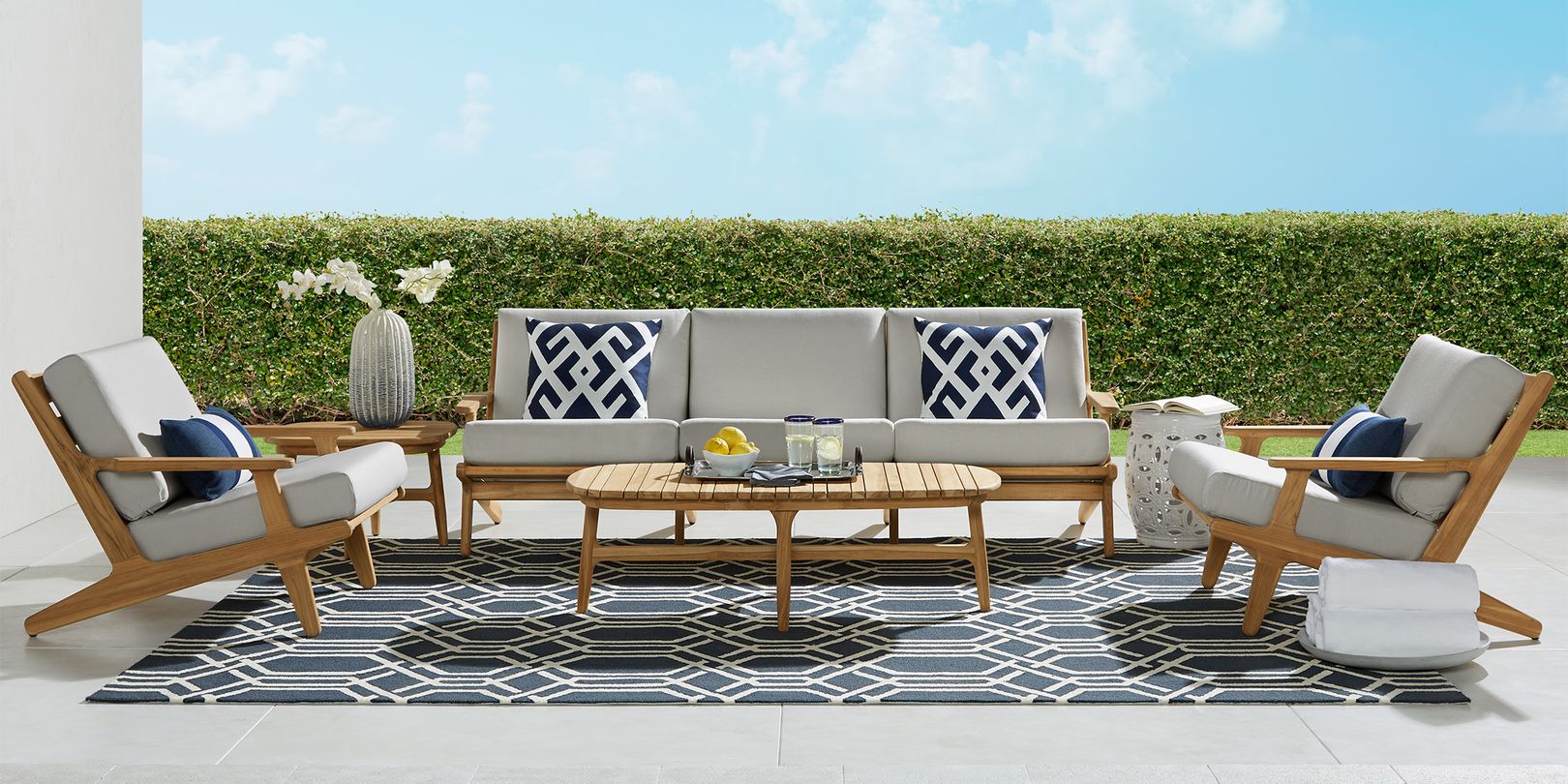 Maintaining teak outdoor furniture takes a bit more effort than caring for indoor furnishings.
Sunlight, moisture and other natural elements take their toll on patio furniture. Spending some time and energy cleaning outdoor wood furniture keeps teak, acacia and eucalyptus tables and seating in good condition, making the most of your investment by maximizing their lifespan.
In this article, you'll learn all about wood patio furniture care, including:
How Often Should You Clean Wood Patio Furniture?
The frequency of your outdoor wood furniture care routine depends on several factors, and you should always refer to the maintenance instructions included with your furniture purchase. However, the general rule of thumb for teak, eucalyptus and acacia wood outdoor furniture care is twice a year, but use, storage and weather conditions can affect your routine:
A regular cleaning schedule helps ensure wood dining sets are always ready for entertaining.
What Do You Use to Clean Wood Patio Furniture?
When deep-cleaning outdoor wood furniture, use the equipment and products recommended by the manufacturer. However, if your furniture care guide is missing or your patio layout is second-hand, gather the tools listed below for acacia, eucalyptus or teak furniture cleaning:
Soft-bristle brush or portable vacuum with attachments
Cleaning sponge, microfiber cloths and lint-free towels
Silicone lubricant spray
Wood stain, exterior primer and paint, teak stain shield, protectants or sealant, if needed
Paint brushes in various sizes
Mild dish soap or a cleaner made for teak or other hardwoods
Gallon bucket and warm water
Low-pressure garden hose sprayer
Coarse- and fine-grit sandpaper and steel wool
While a pressure washer could save you some time and effort, strong water jets can damage wood fibers and weaken structural joints. You'll also want to avoid harsh chemicals that could harm natural, stained or painted finishes. Mild dish soap or a cleanser made for teak, acacia or eucalyptus wood outdoor furniture care is a better option.
How to Clean Wood Patio Furniture - Step by Step
Before you dive into furniture cleaning, choose an inconspicuous area on your teak lounge chair or side table and test sealants, treatments or paint to see their effect on your furniture's finish. Let the products dry as directed before checking to see if the results meet your expectations.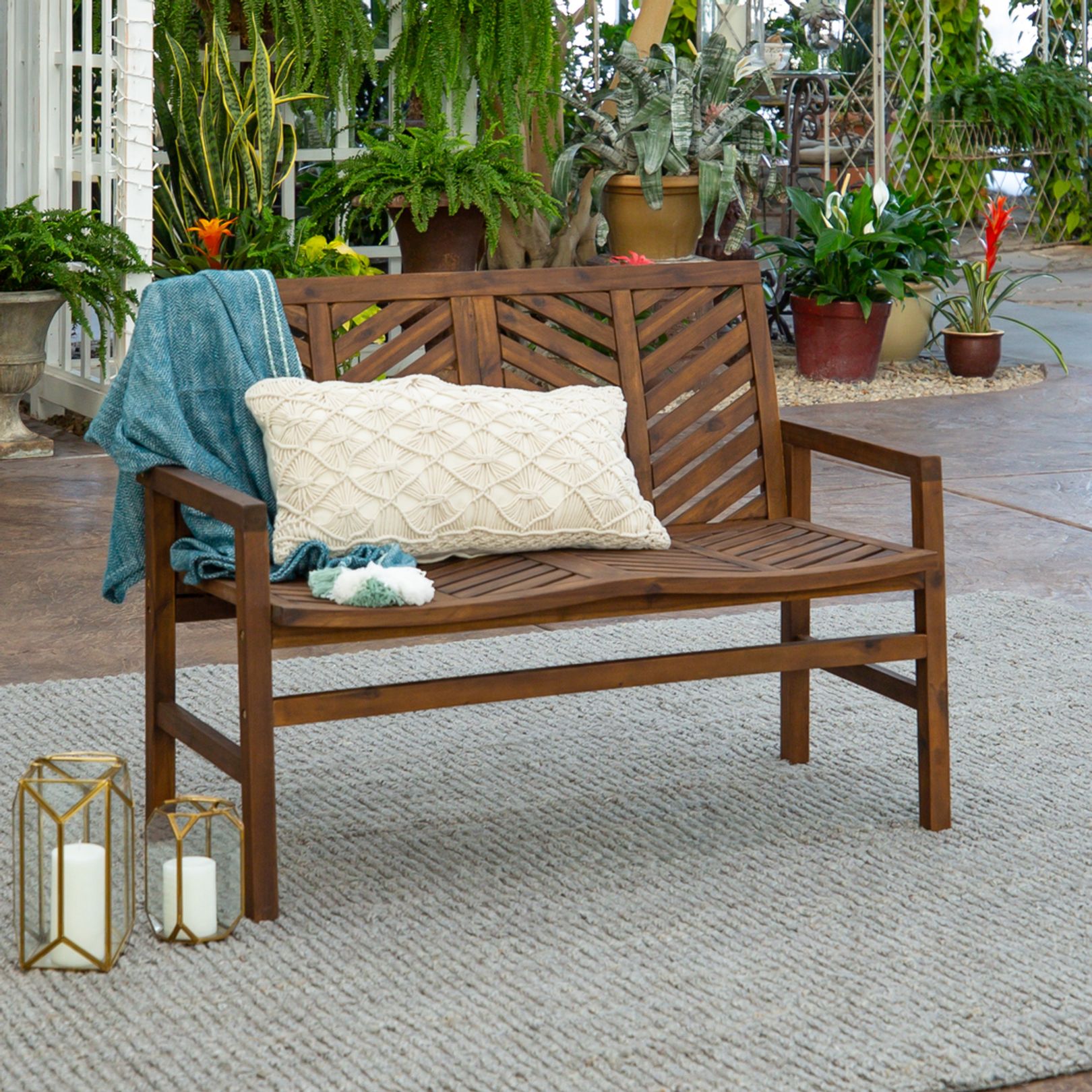 Choose a small hidden area, like the underside of a wood loveseat, to test products before use.
Once you've successfully tested your chosen products, it's time to start cleaning your outdoor wood furniture. For best results, always start with gentle cleaning methods before trying harsher cleansers on tougher stains:
Clean Surfaces: Use a soft bristle brush or vacuum to remove loose dirt and debris from your teak chair or wood porch swing. Take note of any chipped paint, stains, mold spots or mildew as you work and flip your furniture over to clean the underside.
Remove Rust: Inspect metal components on teak chaise lounges and other furnishings and accents. Use sandpaper or steel wool to remove rust from bolts, hinges and other metal parts.
Wash it Down: Fill your bucket with a gallon of warm water and add a quarter cup of dish soap. Gently scrub all surfaces in the direction of the wood grain, removing mold or mildew spots as you go. Rinse your sponge, brush or cloth frequently and change the water as needed. Allow specialized cleansers time to work according to their instructions.
Rinse & Dry: Use a low-pressure sprayer to give furniture a thorough rinse and remove soapy residue. Wipe down surfaces with towels to prevent water from pooling. Then, tip your furniture on its side and allow pieces to dry completely, which usually takes at least eight hours.
Smooth it Out: Remove ridges, rough surfaces and stubborn stains with sandpaper. Use coarse or fine grit when necessary and rub in the same direction as the wood grain. Brush or vacuum sawdust off surfaces or rinse the furniture again and allow it to dry.
Stain, Prime, Paint or Seal Follow the directions on your preferred products and use wide and small detail paint brushes to apply stain, exterior paint or sealants to your furnishings.
Lubricate Moving Parts Test movable components like folding chair hinges, bar cart wheels and working parts on wood gliders and cantilever umbrellas for stiffness or squeaks. Apply silicone lubricant spray to reduce noise and allow free motion.
Maintaining the metal elements of your wood patio set keeps them in good working order.
Outdoor Wood Furniture Care FAQs
How Do You Remove Mildew from Outdoor Wood Furniture?
If gentle scrubbing with a sponge or cloth fails to remove mold and mildew from your wood furniture, add equal amounts of white vinegar and warm water to a spray bottle. Spray this solution on mold spots or mildew and let it sit for an hour. Then, wipe the area down with a damp cloth and dry with a towel.
How Do You Remove Algae from Wooden Garden Furniture?
If you're trying to clean a wooden bench overtaken by algae, moss or lichen, the vinegar and water spray mentioned above, along with a little elbow grease and a hard bristle brush, may solve the problem. If the issue persists, consider a commercial algae cleaner designed for wood furniture.
Can You Remove the Patina from Teak Furniture?
If you want to restore your teak coffee table or bar set to its former golden-brown glory, use fine-grit sandpaper or a sanding sponge to gently remove the oxidized surface layer. Clean off any remaining sawdust before applying a sealant to preserve your teak furniture's new finish.
Patio furniture allows us to relax and spend time outdoors, either in peaceful solitude or with family and friends. Keeping your wood furnishings clean and in good condition takes some of the stress out of hosting backyard parties while also protecting your investment and boosting your home's comfort and appeal.