Patio Furniture Maintenance
When it comes to buying patio furniture, smart shoppers know that the best pieces are the ones with fabrics and materials that can withstand extensive use and exposure to the elements. However, even if you bring home items with the toughest materials you can find, you'll still need to use proper care and maintenance techniques to help them maintain their solid structure and stunning look.
Overview
In this post, you'll find some practical tips on:
Proper patio furniture maintenance can protect your outdoor design from stains, spills and the elements.
Tools for Cleaning Patio Furniture
Step one in practicing proper outdoor furniture maintenance is ensuring you have the proper cleaning and care supplies. Whether you're dealing with a small spill on your patio table or tackling larger scuffs and stains on your conversation set, you'll need to keep the following tools on hand.
Every-Day Care Tips
One of the most effective ways to take care of your patio furniture is to clean up messes as soon as they happen, preventing moisture and stains from setting in and damaging the frame and upholstery. Wipe up food and drink spills and brush off crumbs after everyone gets up from the dining table. Also, attend to any dents, paint chips and scuff marks you notice while enjoying your patio.
For good measure, make weekly cleanup part of your patio maintenance routine. Wipe down your bar, bistro, coffee, and side table surfaces. Vacuum between the seat cushions and machine or hand wash your outdoor pillows according to the instructions on the label. You can also sweep, clean and dry your outdoor rugs to refresh your patio layout for the following week.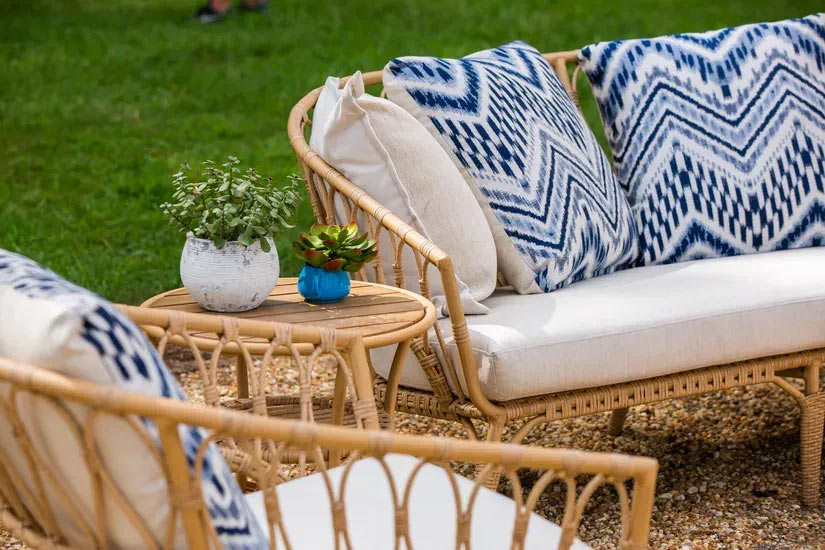 Use basic housekeeping practices to tidy up your patio layout each week.
Seasonal Outdoor Furniture Maintenance
Throughout the year, your outdoor furnishings will require different types of cleaning and care. By following a regimen of seasonal maintenance practices, you can lessen the effects of wear and tear on your patio furnishings. Use these tips to perform proper outdoor furniture care during the summer, autumn, winter, and spring.
Summer
People tend to spend the most time on their patios during the summer months, so frequent cleanings are a must if you want to get rid of sunscreen residue and barbecue and cocktail spills. UV rays can also affect your plastic and aluminum pieces, so you'll need to use umbrellas and other types of shade to keep your furniture finishes from fading and prevent your setup from overheating.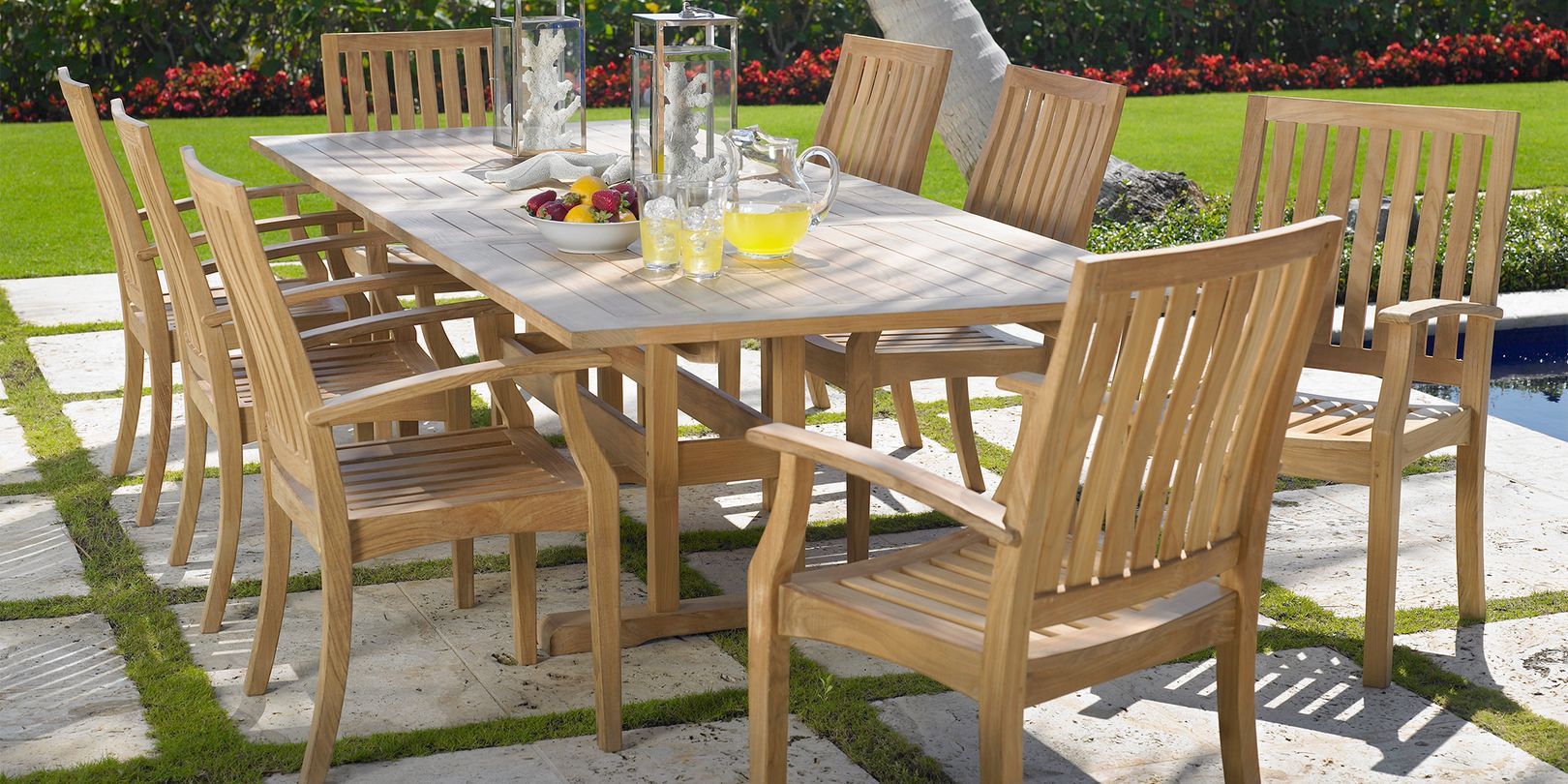 In the summertime, it's important to protect your outdoor furniture from harsh sunlight and clean your furnishings after each use.
Autumn
You can also use your patio in the fall, especially if you have a fire pit to keep you warm on chilly days outdoors. However, you may need to cover your furniture more often to shield it from rain, frost and snow showers. Perform safety checks on your gas or wood-burning fire pit to prevent accidental fires and use wind blockers to keep the autumn breeze from knocking over your furnishings.
Depending on where you live, you'll need to use covers to protect your patio furniture from chilly weather.
Winter
Some people choose to keep their patio furniture set up throughout the winter. If you choose to go this route, you'll need to winterize your outdoor furnishings by cleaning, sealing and covering your furniture to keep moisture from rain and snow from soaking into the frames. Also, place decorative accents like throw pillows and sculptures in storage bins until you're ready to use your patio again.
If you live in a warmer climate, you can stick to a regular cleaning schedule and use your patio furniture throughout the winter.
Spring
In the spring, you can take the covers off your patio set and get it ready for outdoor lunches and get-togethers. Check your seats and tables to see if any birds or rodents have built nests in the cubbies and cushions, then clean and sanitize your furniture. If you like, you can refinish your outdoor furnishings to restore their rich, vibrant sheen.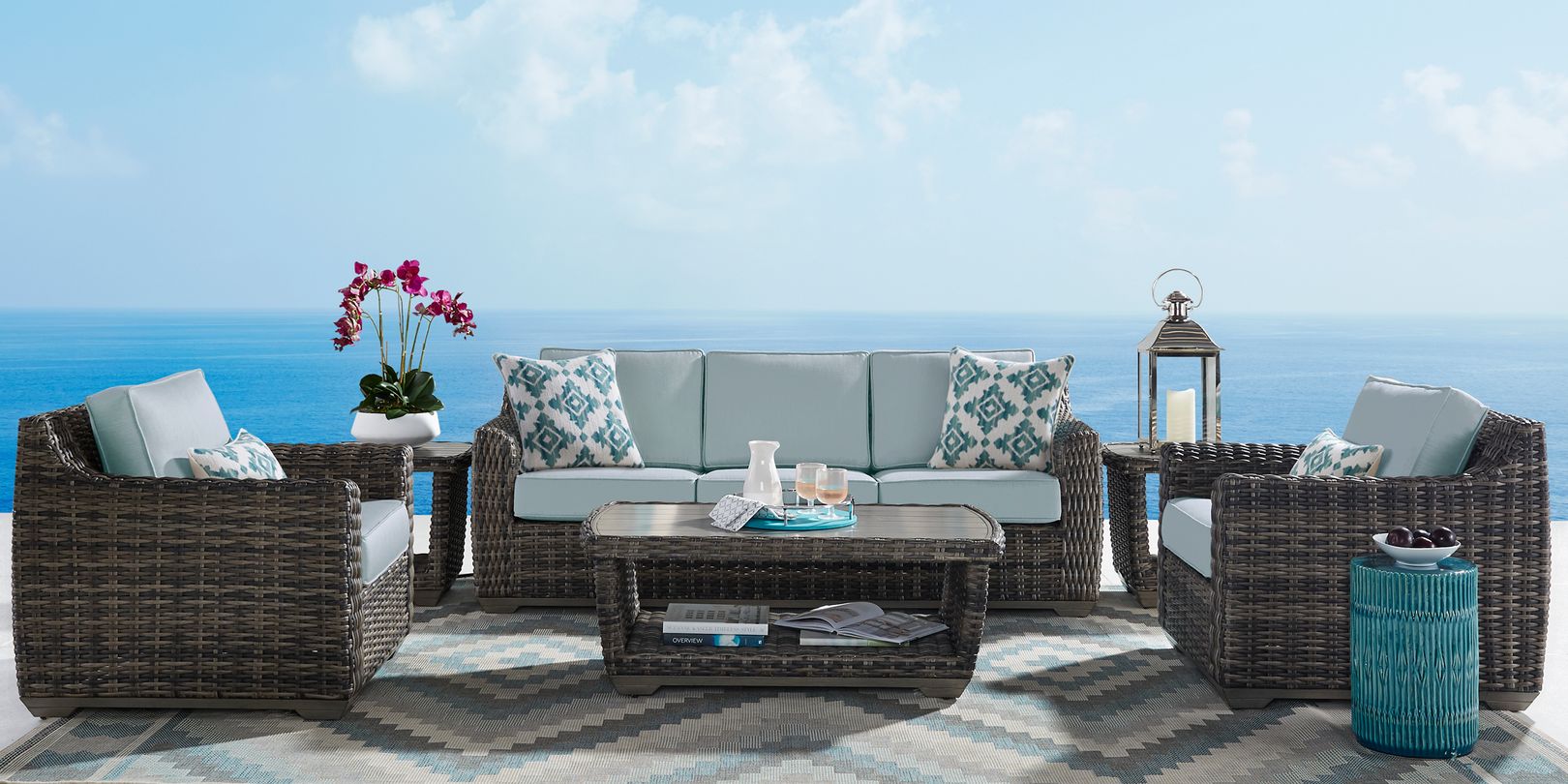 Make your patio part of your spring cleaning routine to prepare your outdoor setup for warmer weather.
Off-Season Storage For Patio Furniture
If you have enough room, consider storing your patio furnishings inside your garage or in a backyard shed. While furniture covers may provide ample protection for some outdoor items, putting them indoors ensures that they sustain less damage from the elements. Those who lack a garage or shed can stow their furnishings in the basement until the new season starts.
Maintaining your outdoor furniture throughout the year can have some incredible benefits. Completing regular cleaning and maintenance tasks lets you reduce the effects of wear and tear, moisture and harsh sunlight to help keep damages like fading, rust and mildew at bay. Use the furniture care tips in this guide to ensure that your outdoor setup stays beautiful and comfy in every season.
A house full of kids and pets doesn't stay clean for long. Finding the right balance between a relaxed, welcoming home and one that is not totally wrecked is a continuous struggle. You want the family to use and enjoy your living room or den without having to encase everything in plastic to keep it stylish and looking great. To preserve your furniture in a busy household, choose fabrics wisely and learn the best ways to clean inevitable messes and spills.
Indoor-Outdoor
Indoor-outdoor fabrics are family-friendly. They still have a bad reputation from the rigid, waxy materials of old, but fabric technology has come a long way since then. Some are so soft you can't tell that they aren't traditional indoor textiles. Better still, most are resistant to stains and fading. If you're leery about investing in large furniture pieces, start off with some indoor-outdoor rugs, pillows and cushions for the kids to lounge around on while watching TV or working on craft projects. The family dog and cat might like them, too.
Faux Suede
An alternative to indoor-outdoor fabric is faux suede. Marketed under a variety of brand names, these synthetic fabrics are hard to distinguish from the real thing, but a moist towel and mild dish soap will clean most spills. Your furniture will be soft, supple and durable.
Vinyl
Vinyl is making a comeback, especially in fun animal-inspired textures. These pieces are a lower-cost way to add style and whimsy to a room and spills literally wipe right off. Vinyl furniture will take a beating from kids and pets and keep coming back for more. Pet hair won't stick to it, either, although sharp claws might cause small punctures.
Other Smart Furniture Choices
Beyond specific fabrics, there are other furniture choices homeowners can make to help with care and maintenance. Neutral colors actually hide stains better than busy patterns, so filling a room with browns, tans and grays will extend longevity. To bring color into the room, use plenty of pillows and accent pieces. Rough textures are also better than smooth, as the valleys and shadows help disguise stubborn stains. Slipcovers are another trick to keeping a room clean. When accidents happen, they can be removed and tossed in the washing machine. They're also available for both living room and dining room furniture.
Cleaning Stains on Furniture
Kids and pets create constant opportunities for messes and stains on your furniture. A little preparation and quick, attentive clean-up is all it takes to keep easy-care furnishings looking their best.
Pet Stains and Grass Stains
When your pet has an accident on the club chair or grass stains get rubbed into the sectional from your kids uniform, it is really handy to have cushions with zippered covers because you can remove them and toss them in the wash. The loose pillow back and seat cushion design also allows you to flip cushions over when they've started to show wear or are sporting stains that can't easily be removed. To keep your couch comfortable and soft yet durable and easy to clean, turn to fabrics like linen or Microfiber.
Mud and Dirt
When the backyard game of tag somehow ends up in your living room, you might find bits of nature all over your furniture. Couches with skirting covering the legs are especially susceptible to this, as these can get stepped on by dirty sneakers. Thankfully, you can leave dirt and mud alone to dry and then simply vacuum the debris off most fabrics. This should work on furniture with even the coarsest textures like burlap and wool.
The Best Furniture for Food Stains
If your kids love to have lunch or snacks away from the dining room table, you know you're going to have to contend with crumbs, juice spills, and other sticky messes. To make the constant battle with food stains a little easier on yourself, turn to some of the easy-to-clean fabrics like leather and Microfiber. Most spills wipe right off leather furniture and you can get pieces with light distressing to hide the blemishes that a sofa is sure to pick up from rambunctious children. If you prefer a softer feel to your living room furniture, Microfiber is your number one ally in the fight against stains.
Maintenance is Key
Ultimately, the best way to keep your furniture looking fresh and stylish in the face of messy kids and pets is to maintain it. Vacuum cushions often to avoid the infamous buildup of pet hair or crumbs. Keep lint rollers on hand to perform spot cleans after your dog takes a long nap on your favorite chair. You can even turn to DIY protective sprays to lengthen the life expectancy of your furniture. As long as you're willing to put in a little work, you can keep any fabric clean and guest-ready.
For more detailed tips on caring for your furnishings, check out our articles: Cleaning Furniture 101: Maintaining your Furniture's Beauty, Rug Maintenance: The Correct Way to Care for Your Rug, and Caring For Wood Furniture.