Using Recycled Plastic Patio Furniture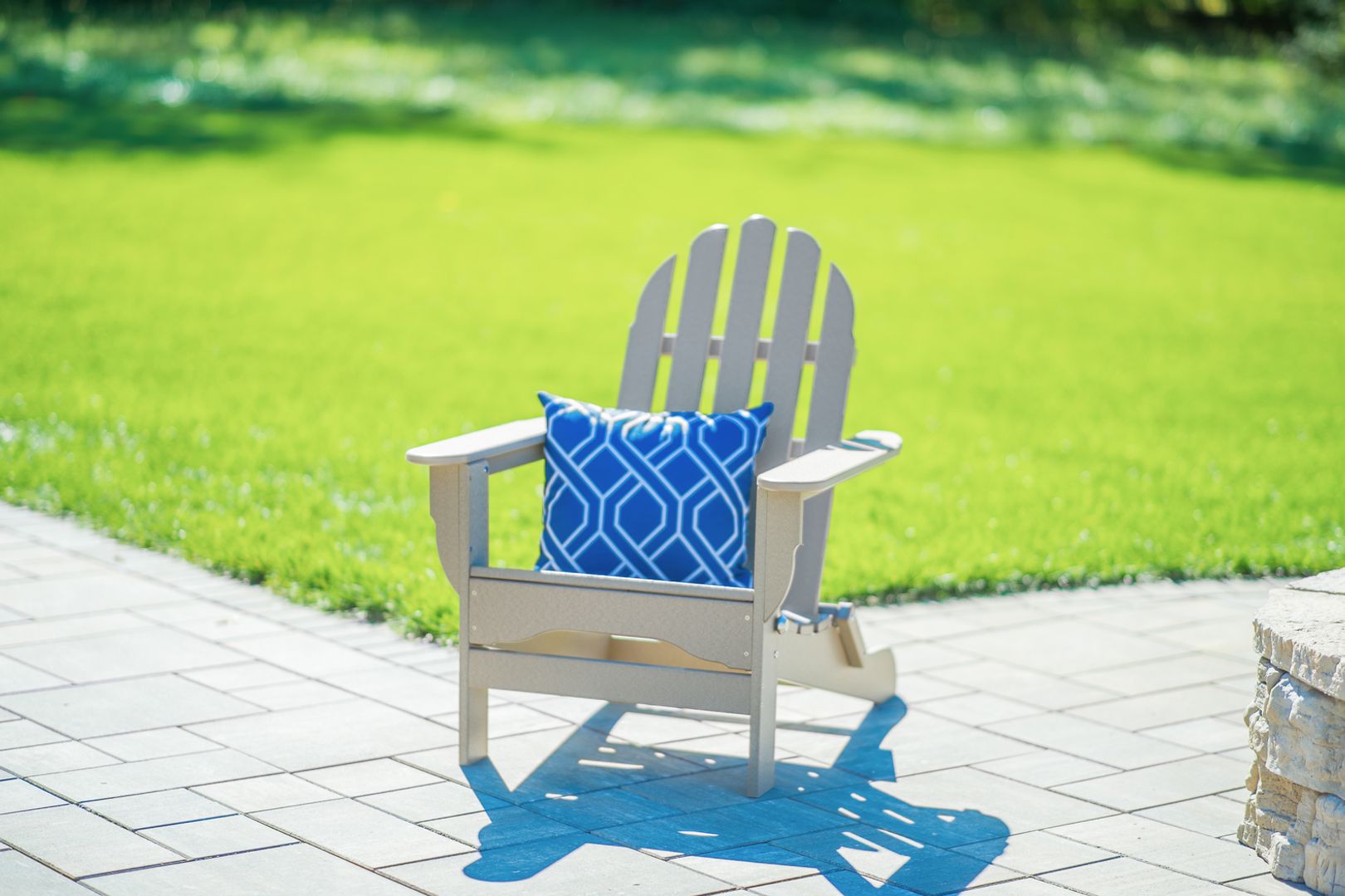 An eco-friendly alternative to many manufactured materials, POLYWOOD is a brand of outdoor furniture material made with recycled plastic. If you want highly versatile, sustainable furnishings for your backyard, this lumber-like material offers several benefits and comes in various colors and designs to suit your decorating tastes.
On a hunt to find the best patio furniture materials for your deck or porch? This POLYWOOD outdoor furniture guide covers the following topics by:
What is POLYWOOD?
Manufactured in Syracuse, IN, and Roxboro, NC, POLYWOOD is an American-made brand of composite plastic lumber repurposed for use in patio furniture. While there are plenty of high-quality plastic patio furnishings on the market, POLYWOOD offers a lumber-like finish that coordinates well with other outdoor wood furniture.
Poly lumber is an innovative solution intended to limit the overuse of endangered forests around the globe. Instead of relying on natural resources, the manufacturers use post-consumer and post-industrial plastic goods bound for oceans and landfills to create beautiful outdoor furniture.
Poly Lumber Furniture Materials
The composite materials that make up POLYWOOD furniture include high-density polyethylene (HDPE) products such as plastic bottles and food containers. After going through a decontamination process, these purified plastics are combined with UV-inhibited pigments, foaming compounds and select additives.
In the end, each piece of POLYWOOD furniture is more than 90% recycled plastic by weight. To support their recycled plastic lumber, the POLYWOOD brand uses marine-grade stainless-steel hardware for their patio furniture. And for those wanting a zero-waste lifestyle, POLYWOOD outdoor furniture uses sustainable manufacturing processes and materials.
Elements like realistic woodgrain texture and stainless-steel hardware elevate the look of POLYWOOD furniture.
Benefits of POLYWOOD Outdoor Furniture
There are various benefits to using POLYWOOD patio furniture and other sustainable wood alternatives as part of your outdoor space, such as:
Versatility: POLYWOOD furniture is highly adaptable, and there are plenty of poly lumber seating and dining furniture options on the market. POLYWOOD Adirondack chairs and armchairs are perfect by the pool, around the fire pit or as part of your front porch seating.
Comfy Feel: Available in both smooth and wire brushed textures, this material offers plenty of support, and you can easily pair a POLYWOOD chair with Sunbrella cushions for maximum comfort.
Stylish Designs: POLYWOOD products include lumber alternatives, fabric and wicker. Furniture designs include everything from traditional POLYWOOD rocking chairs to sleek, modern bar stools.
Similar to Wood: POLYWOOD furnishings weigh roughly the same as most wood chairs and offer an authentic look and feel.
Easy to Use: Most POLYWOOD furnishings require little to no assembly, and you'll only need basic tools and a few minutes to put them together if necessary. Also, many designs are foldable so you can easily rearrange furniture within your layout or store it for later use.
Decorating Ideas Using POLYWOOD
Whether you're buying patio furniture to start fresh with all new decor or to incorporate something different into your current look, POLYWOOD furniture is a smart option in either case. Plus, the designs and colors work well with patio accessories and existing sectionals or dining sets.
Need design ideas for different types of POLYWOOD patio furniture in your outdoor space? The styling tips below can help you capture the perfect look for your deck or patio:
Rocking Chairs & Gliders: A set of POLYWOOD gliders or rocking chairs in a warm, brown finish is the perfect addition to your rustic patio decor. Or, use a couple of white rocking chairs for a farmhouse aesthetic and pair them with checkerboard cushions and a fresh potted plant.
Adirondack Seating: Great for both traditional and nautical decor, Adirondack chairs made of poly lumber work well as comfortable lakeside or poolside seating. Use a bright blue Adirondack chair with a coastal or tropical print rug to complement a beach-themed patio.
Benches: Whether you want to boost your home's curb appeal or need a place to rest in the garden, POLYWOOD benches are a stylish pick. A bright red bench adds eye-catching flair to your flowerbed, while a brown or gray bench with a slat back and curved armrests blends naturally with transitional patio seating.
Tables: There are plenty of POLYWOOD tables available for all your decorating needs. Add a gray end table on either side of a metal sectional for a mixed material look. Or choose a brown coffee table with a paneled top to complement a wood loveseat and accent chairs.
Bar & Dining Sets: Having POLYWOOD furniture as a full set is an easy way to unify your look. Consider a modern bar set with clean lines and a dramatic dark finish for your urban balcony. Or, make room for the family with a warm brown, contemporary dining table with seating for six or more.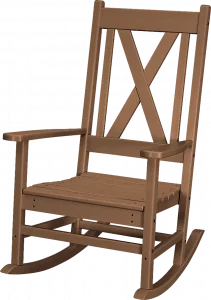 Incorporate POLYWOOD furniture into your layout with a single piece or an entire set.
POLYWOOD furniture is also useful if you just want to refresh your color palette or make better use of a small corner on your deck. Poly lumber's rich hues and neutral tones make it easy to find pieces that blend in or stand out. Individual seating and accent tables made from poly lumber give you a range of options when personalizing your decor and adding furniture to a small patio, balcony or garden.
Both brilliantly bold colors and hushed, neutral tones are available with POLYWOOD patio furniture.
Why Is POLYWOOD Good for Outdoor Furniture?
Poly lumber furniture is a smart, effective way to decorate your deck, porch or poolside patio. The material is eco-friendly, making it ideal for those interested in living sustainable lifestyles. POLYWOOD outdoor furniture also offers an array of styles and hues to coordinate with your patio ensemble.