What is a Sling Patio Chair?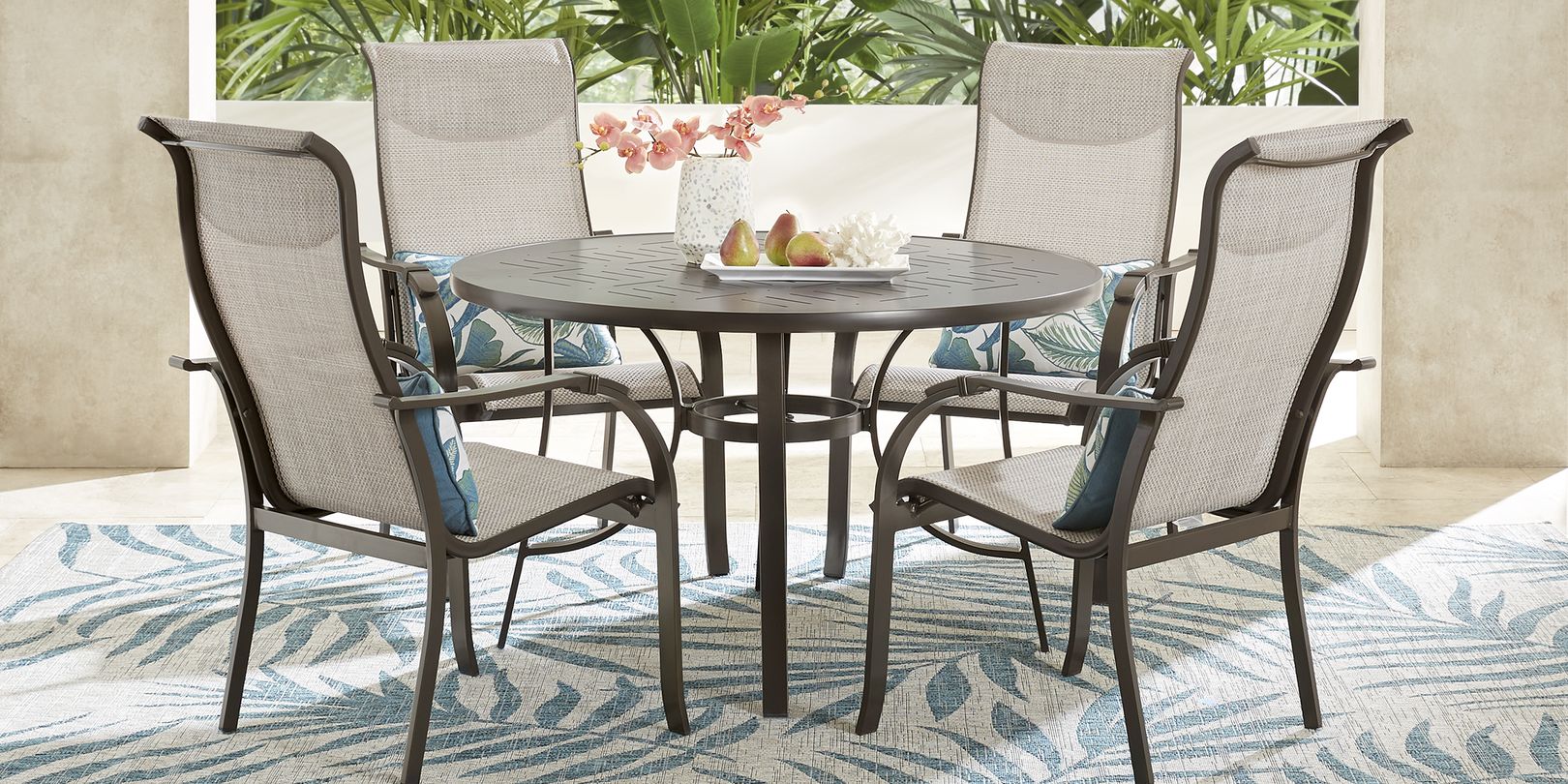 Sling chairs provide comfortable casual seating for decks and poolside patios. If you're a fan of sleek, streamlined design, these low-maintenance outdoor seats strike the perfect balance between simplicity and style. Sling chairs also coordinate with an array of decor, with lounging and dining options to suit your porch or balcony.
Want to add outdoor patio sling chairs to your deck or porch? This article provides detailed information about sling chairs so you can choose the best materials for your patio, including:
What Does a Sling Back Chair Mean?
A slingback or sling patio chair features flexible mesh fabric attached to a hard frame, which forms a simple seat. In some designs, a single piece of material supports the body, while others stretch fabric separately across the back and seat. Some sling chairs also include built-in padding for additional comfort.
Sling chairs are flexible outdoor seating options.
Features of Sling Outdoor Chairs
Well-tensioned sling fabric has a cushioning effect, and the material stretches with enough give to offer plenty of support without losing its shape. Some designs feature loose material, while others are stretched firm, giving you a range of comfort options based on personal preference.
Also, sling fabrics are water permeable, allowing rain and pool water to pass easily through the mesh material. As such, sling chairs or slingback chaise lounges are perfect beside the pool, allowing you to dry off in the sun or with a towel on a seat that dries just as quickly.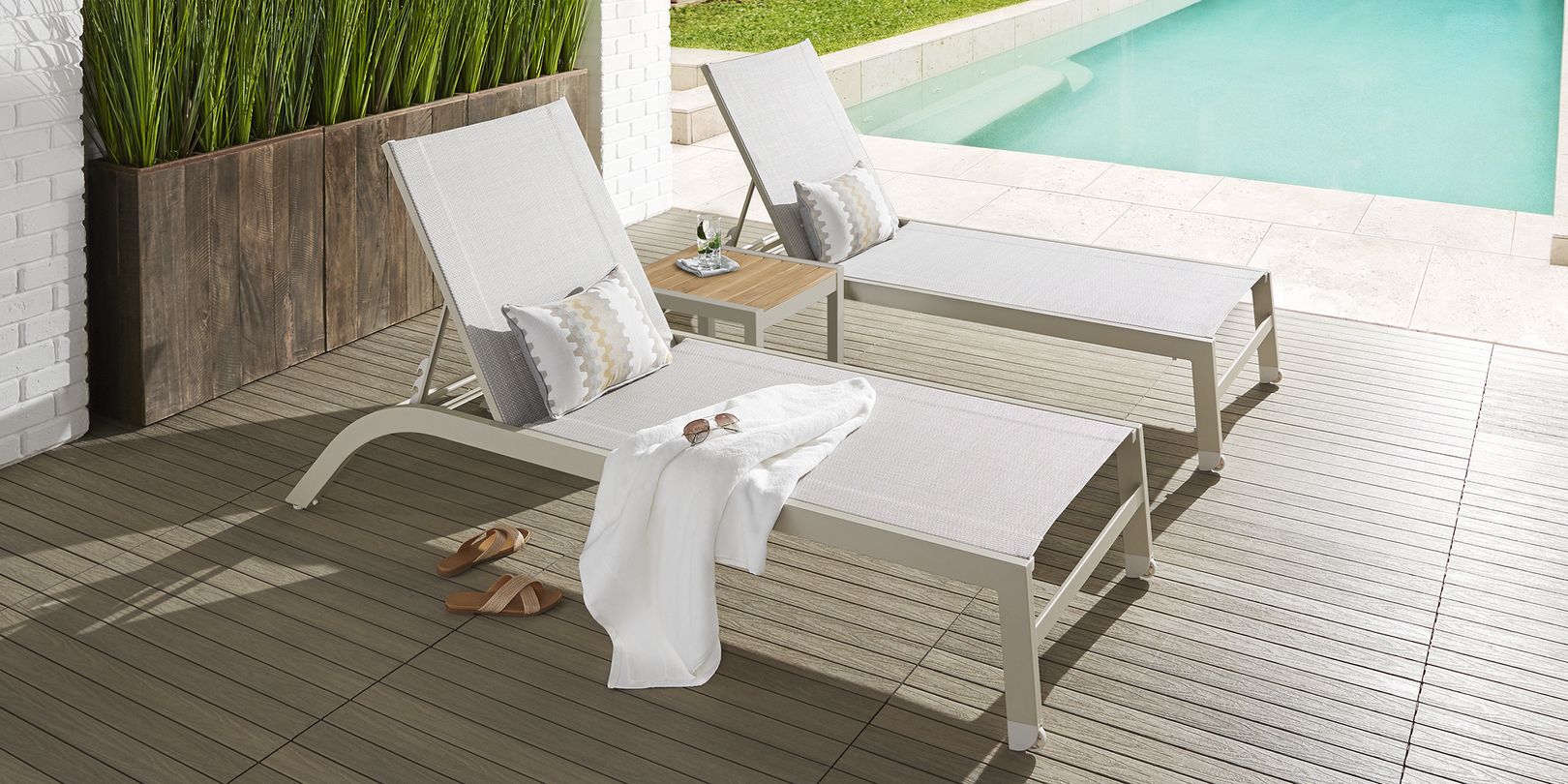 Breathable sling material and strong metal frames make sling chairs a smart outdoor seating option.
What Are Sling Chairs Made Of?
Typically, sling chairs have lightweight aluminum or wood frames available in various colors and finishes. Meanwhile, most mesh sling seats feature synthetic textile blends that incorporate nylon, polyester or acrylic materials. For example, patio chairs with Sunbrella sling fabric feature solution-dyed acrylic spun into yarn, resulting in a breathable material that remains colorfast over time.
Decorating with Sling Patio Chairs
Because they come in so many fabric and color variations, it's easy to find a sling chair in the right hue or tone to complement your color palette. Plus, their sleek appearance and metal or wood finishes complement a variety of aesthetics, from a modern balcony to a tropical patio paradise. Consider some of the ideas below when incorporating sling chairs into your layout:
Lounge Seating: Sling lounge chairs are the perfect poolside seats because they dry quickly and offer support from head to toe. Pair a couple of chaise lounges with a convenient glass-top side table for drinks, or create a cohesive look with aluminum end tables in a similar finish.
Dining Sets: Refine your outdoor dining area with a four or seven-piece dining set featuring sleek, sling seating and either a glass-top dining table or an elegant round metal table with an ornate top. Look for sling dining chairs with or without arms to suit your space and style.
Bistro & Bar Sets: Furnish a corner of your patio or upgrade your small balcony with a bistro set featuring a pair of sling chairs. Use a bar height table with coordinating slingback seats for sophisticated poolside dining. Or, opt for swivel sling chairs to keep the conversation flowing.
Benches & Swings: Colorful sling benches add instant curb appeal to your home, while gliders add soothing motion to help you unwind. Garden swings with sling seats and canopies also allow you to enjoy your flowerbeds, rain or shine.
Sling Rockers: For more comfortable front porch decor ideas, consider adding a sling rocking chair beside your front door. Because they're so lightweight, you can move them to the yard during cookouts or place them on the deck when keeping an eye on the kids by the pool.
Additional Seating: Sling chairs are extremely versatile, so any seating you choose fits just about anywhere on your deck, porch or patio. Use a single sling armchair as a practical accent in your private fenced-in garden or tote a couple of dining chairs fireside so you can enjoy roasting marshmallows over the fire pit.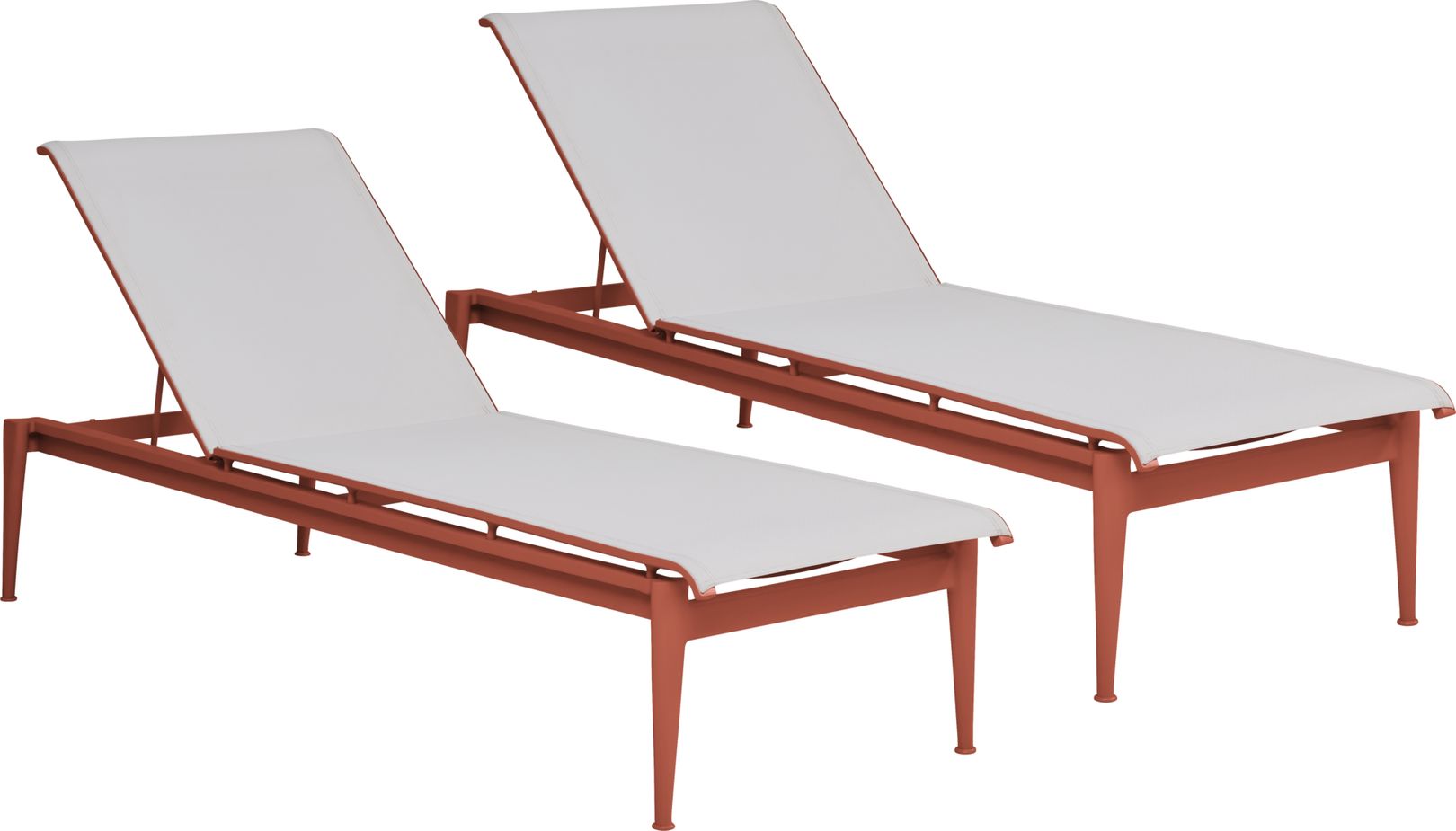 Soak up the sun and stay dry by the pool with a slingback chaise lounge.
Style & Color Ideas
Available in an array of styles and color combinations, it's easy to find a sling chair in a design that suits your tastes. Browse eclectic patterns to build on your bohemian patio layout or select striped lounges as classic seating for a beach-themed deck or resort-style pool house.
For something more tropical, consider a warm bronze finished sling chair to evoke images of sun-kissed skin and sandy beaches. Aluminum is versatile as well, so black metal frames with soft beige or gray fabric appear sleek and modern, while detailed metal frames with curved armrests are great for traditional dining spaces.
Select either wood or metal frames for a sling chair that perfectly captures your style.
Decorating a rustic front porch? Look for sling chairs with light wood frames and neutral-colored fabric for an earthy, natural approach. Contemporary options typically sit lower to the ground for a laid-back, casual look and these models sometimes offer more sway in the sling design. Whether you want to go bold or neutral, outdoor sling chairs offer every color option under the sun.
Extra Touches
While the sling material on the chair already acts as a cushion, you can always play up your palette and add extra support with a pillow. These accents soften the texture of a sling chair while enhancing your space with more comfort and color. For a similar effect, look for sling ottomans in a like color or eye-catching pattern.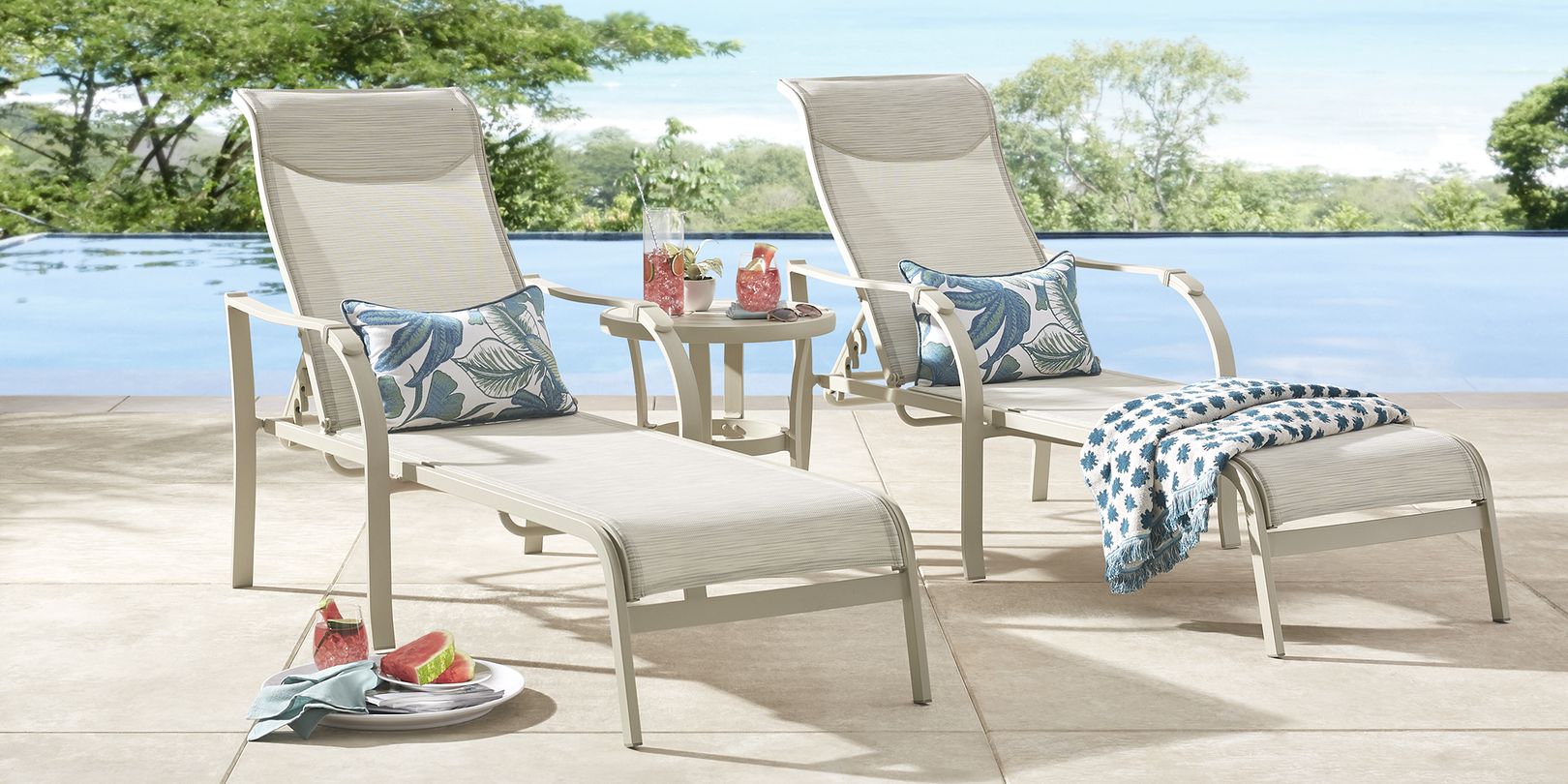 Enhance your seating with a couple of patterned pillows and a coordinating side table.
Why Choose a Sling Chair?
From wicker seating to plastic dining sets, all patio furnishings have their advantages and special features. However, sling chairs may fit your purposes better than other types of patio seating for the following reasons:
Support: Sling chairs are well-tensioned and flexible at the same time, providing a high level of support. The seat material conforms to different body types with a little give so everyone can feel comfy and relaxed.
Breathability: The mesh fabrics used on sling chairs are light and breathable, so you stay cool and dry in the shade of a cantilever umbrella or canopy. Outdoor covers shield your chairs from dust and debris and also keep them dry when not in use.
Portability: Sling chairs come in all different designs, including foldable and stackable models when you need to save space. Lightweight frames also allow you to rearrange your patio layout when the mood strikes or store your furniture in the fall or winter.
Outdoor Quality: Like any furniture, proper care and regular maintenance help preserve the quality of your outdoor furnishings. Sling chairs are fairly low maintenance, and these seats dry quickly with little to no effort.
Cost-Effectiveness: When buying patio furniture, you'll see sling furniture sets and chairs in price ranges to suit any budget. The all-in-one design of these seats also means that add-ons like pillows or cushions are entirely optional.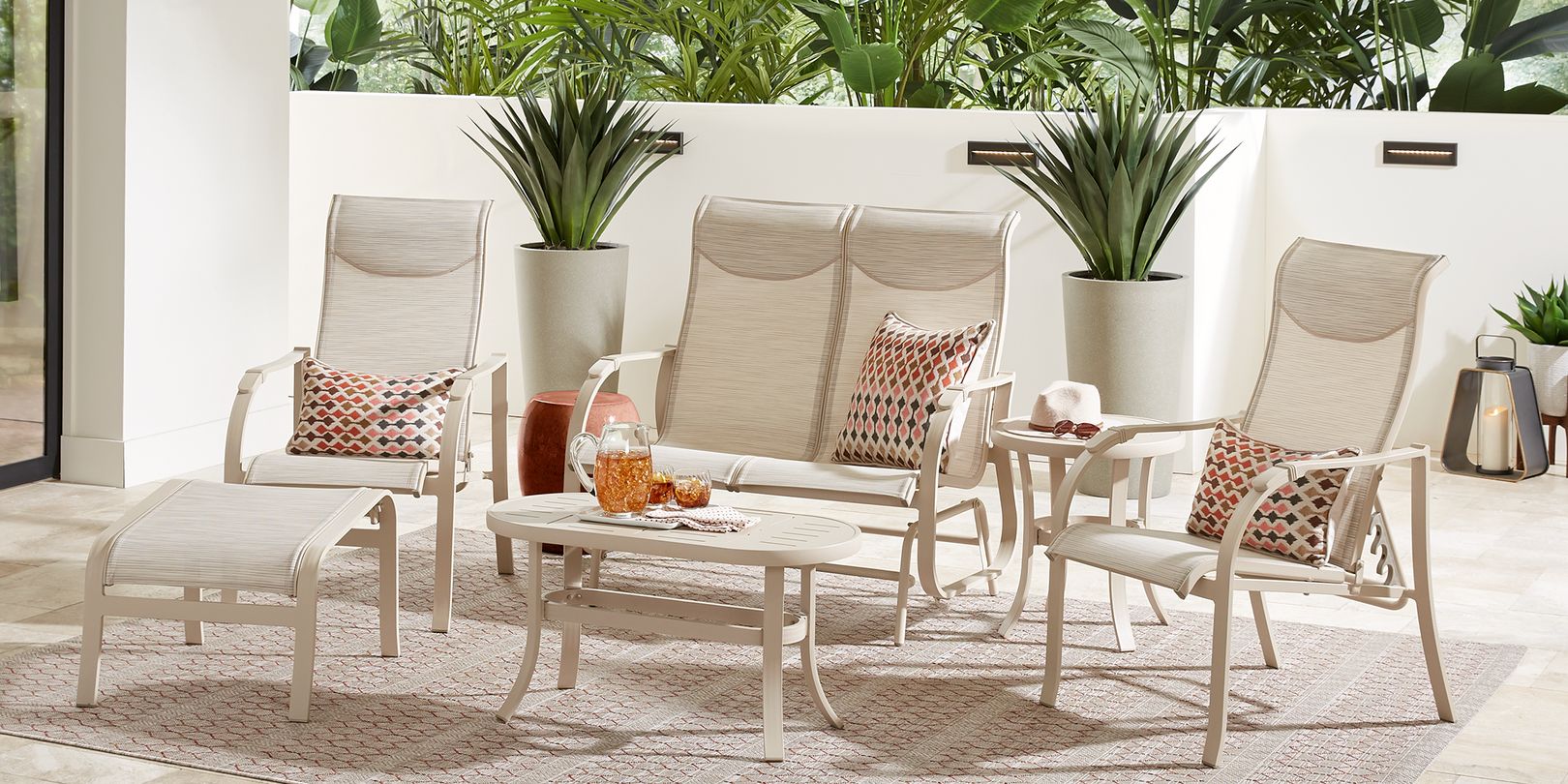 You can find sets featuring sling chairs, ottomans and gliders, as well as individual seating.
Using Sling Patio Chairs Outdoors
For smart, stylish outdoor decorating, sling chairs are an excellent choice. High-quality materials and various color and style options make it easy to furnish your deck or backyard. When looking for new patio seating, consider all your options with sling chairs, lounges and rockers.