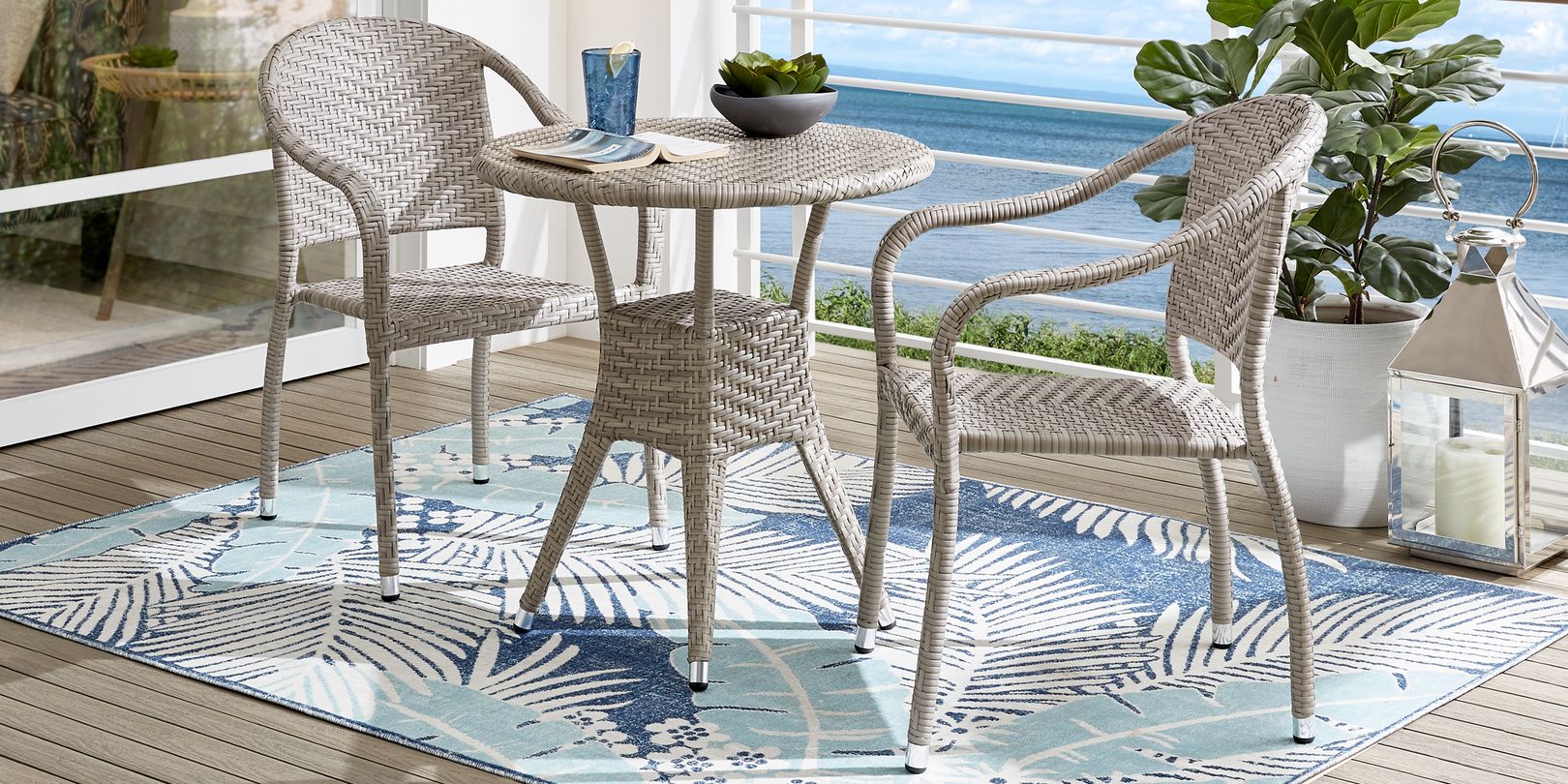 Decorating your outdoor relaxation spot can be a fun project. However, it's easy to get carried away and overcrowd the area, especially when you're working with a limited layout. Luckily this handy guide offers tips to help you choose the perfect patio furniture for small spaces so you can make the most of the room you have.
Overview
Use the suggestions in this post as a guide for:
When patio space is at a premium, you need to get creative with your furniture and decor choices.
Measuring Your Limited Patio Layout
With the right design plan, even a small layout like a balcony or apartment patio can have big potential. Before you start buying outdoor furniture and decor, figure out how much room you have available. Measure the length and width of your patio layout to find its exact dimensions. If your patio has a unique round shape, you'll need to measure the diameter of the space as well.
Once you know how big your deck or patio is, think about how you plan to use the area. Do you intend to host get-togethers for family and friends? Or would you prefer to establish a cozy spot for quiet alone time? Whatever your intentions, create a quick sketch of the layout and carve out spaces for the activities you plan to enjoy within the small setup.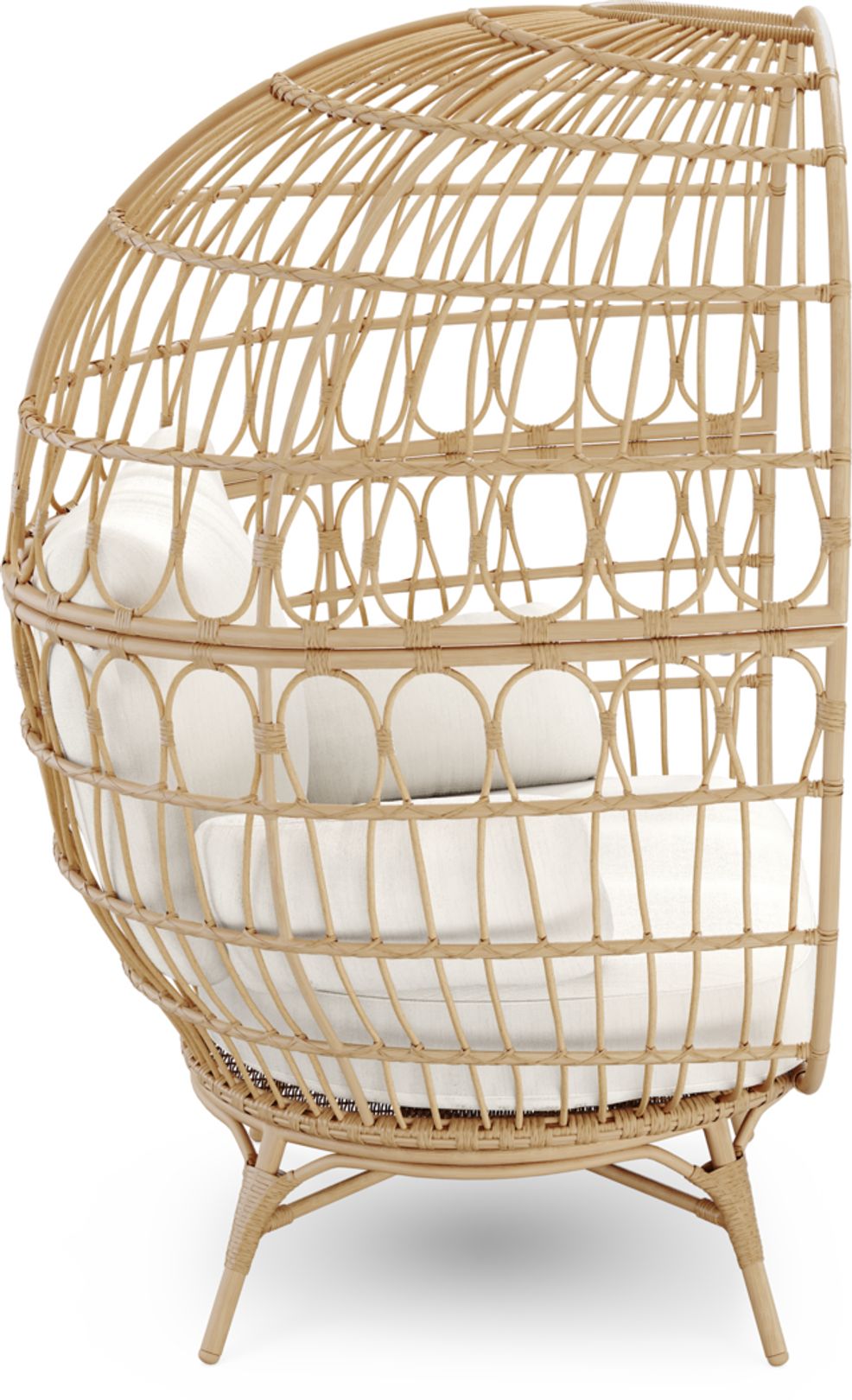 Decide how you want to use your small patio, then choose well-fitting furniture that suits your needs.
Picking Outdoor Furniture for Small Spaces
Wondering, "What size patio furniture do I need for my small space?" The answer depends on how much room you have and how you want to use it. For example, a spacious daybed may be all you need if your goal is to transform your balcony into a solo relaxation spot. On the other hand, your small patio decorating ideas might include a space-saving patio set if you plan on entertaining outdoors.
As you browse patio furniture for small spaces, be sure to prioritize pieces that maximize your layout. Modular furnishings that separate into individual sections are perfect for accommodating multiple people while taking up less room. If you want to create a more traditional design, consider the following suggestions for space-saving outdoor furniture.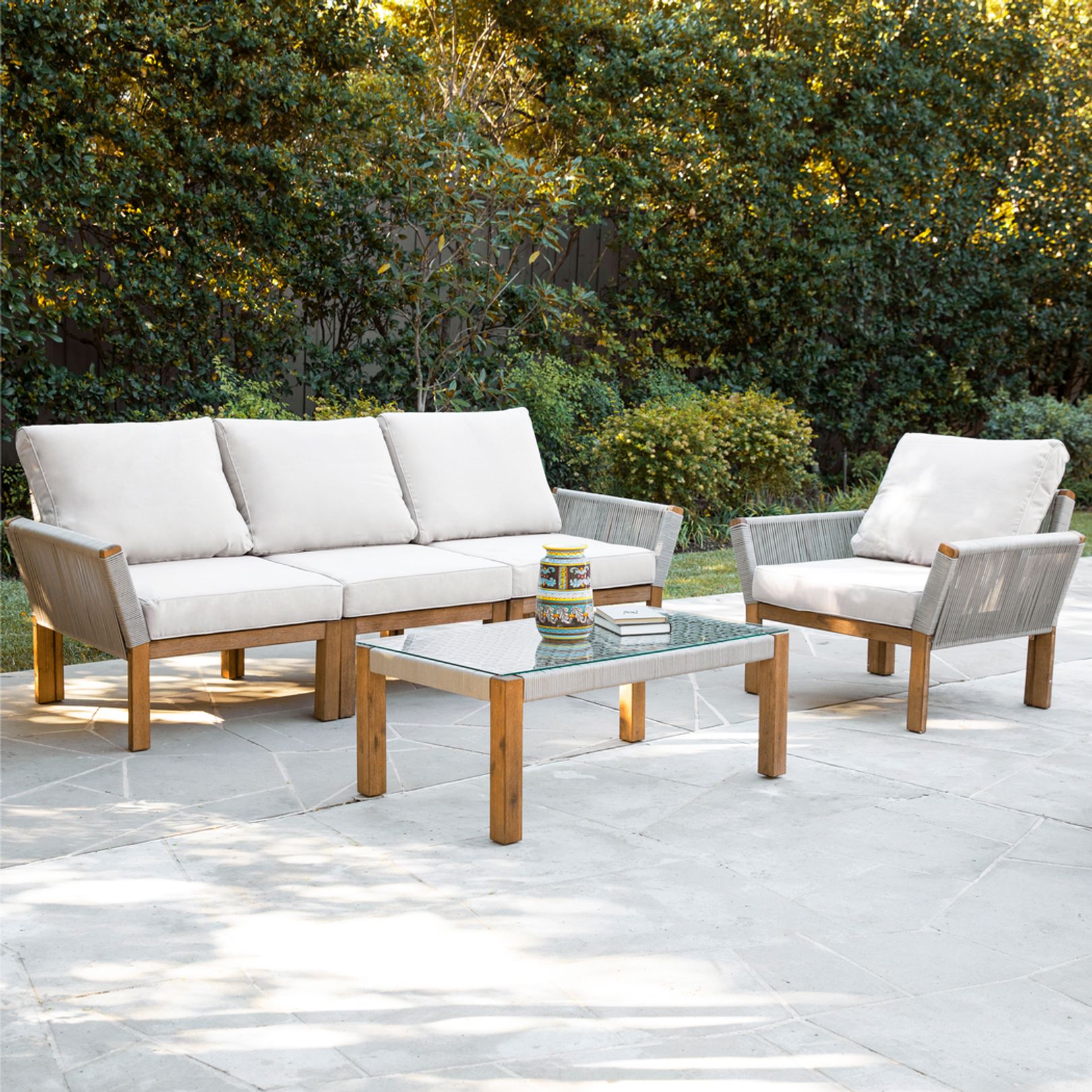 Creating comfy relaxation areas in a small space is easy with the right furniture.
Seating
Rather than cram a large 7 pc sectional into your tiny backyard layout, stick to seating with a smaller footprint. Choose a compact, L-shaped sofa for a space-saving alternative to a wide sectional. Or, use a set of individual lounge chairs to give each guest their own comfy place to sit. To save even more room, consider folding or stackable patio seats that you can stow away when the party is over.
Planning to host larger gatherings? A 3 pc or 4 pc seating set is an excellent small-scale option for accommodating multiple visitors. Furniture with modern and minimalist designs usually has streamlined silhouettes that help you save even more space, so be on the lookout for lightweight metal and aluminum pieces in these styles.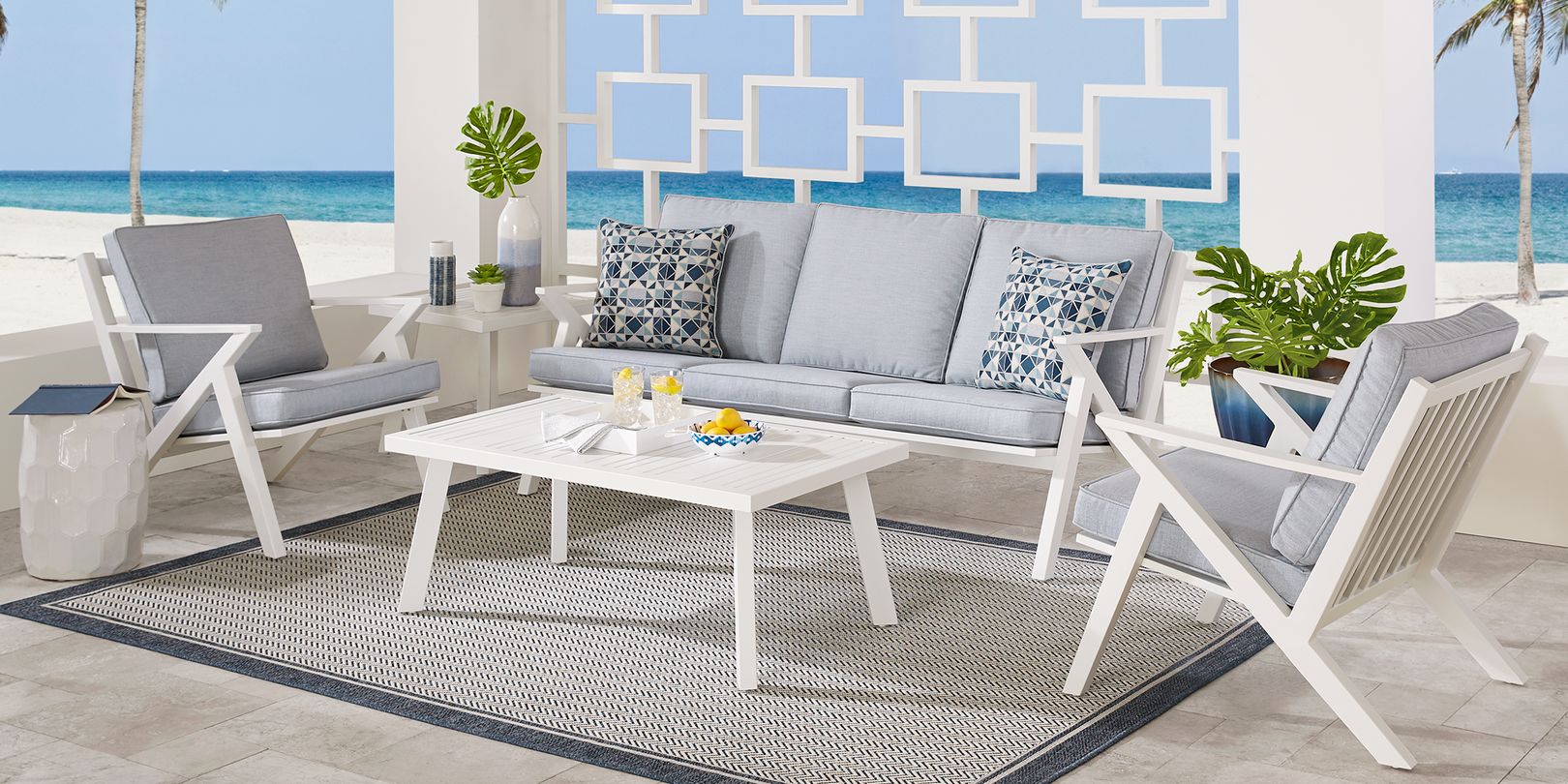 Outdoor seating with slim profiles can help save space where you need it most.
Dining
A chic patio dining set is a vital part of any outdoor entertaining space. While a 3 pc, 4 pc or 5 pc dining arrangement might be a good fit for your layout, a sleek, bar-height option can save you even more floor space. Set one of these tall tables into the corner of your balcony and surround it with armless or backless bar stools that you can tuck beneath the tabletop between uses.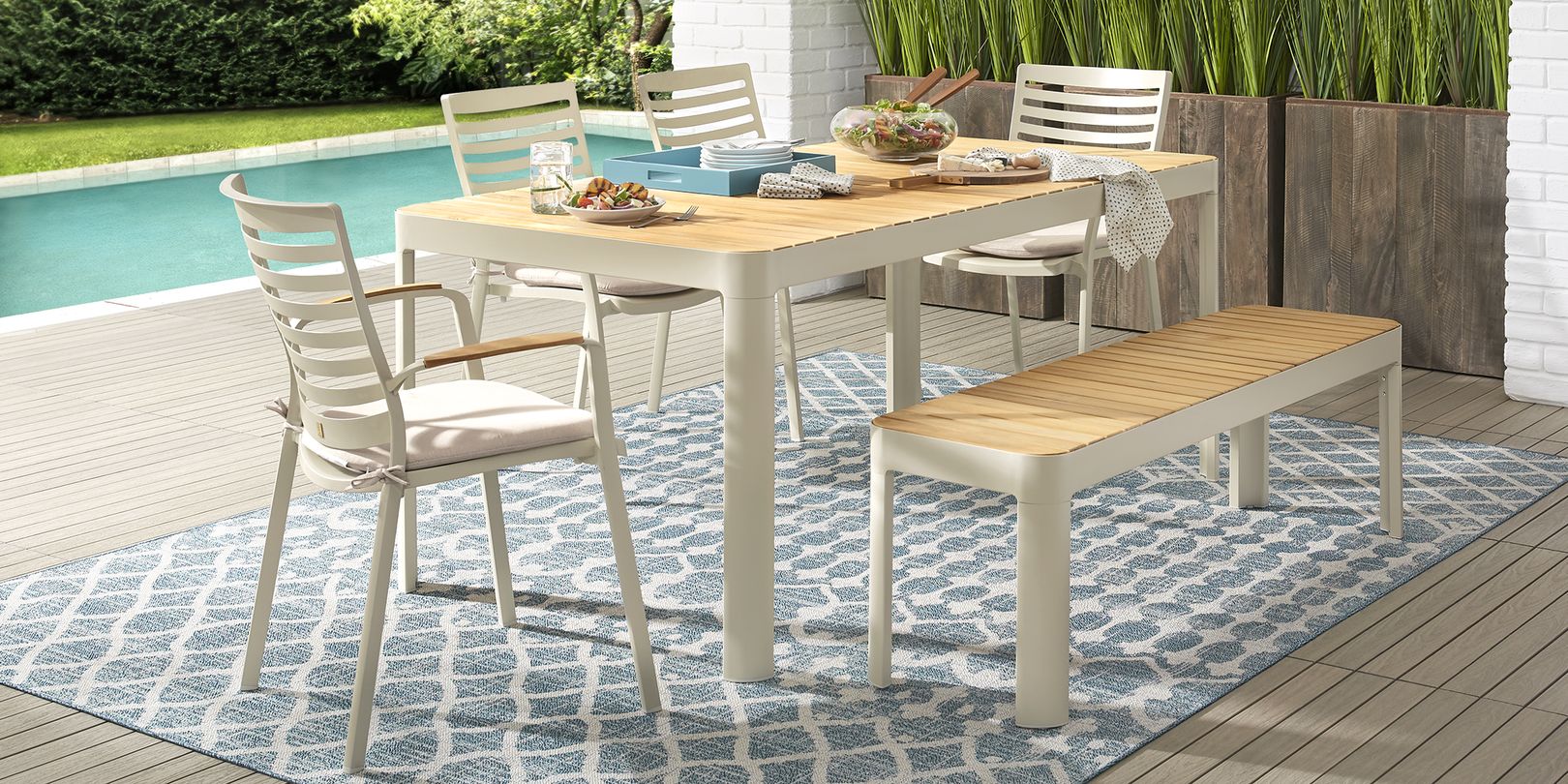 Outdoor dining benches can provide extra seating for your space-saving patio set.
Space-Saving Decor
Make the most of your limited outdoor layout by incorporating a few practical storage pieces into the space. If you have a little room to spare, place an outdoor chest against a far wall to hold pool toys and gardening equipment. Otherwise, blend these items in with the rest of your space-saving patio furniture by using storage benches and ottomans to keep extra throw blankets and pillows close by.
Arranging Your Space-Saving Outdoor Furniture
After you've gathered all the furnishings you need for your tiny patio, it's time to set up the space. Place round dining tables and conversation sets in the center of the area. Depending on the size of your deck or terrace, it might make more sense to put your rectangular table or U-shaped sectional against a wall.
It's important to leave plenty of room between your space-saving patio sets. Guests should be able to avoid bumping into furniture when they scoot their chairs out or walk around the area. A good rule of thumb is to place seats, tables and other accents at least three feet apart when outfitting your deck or patio.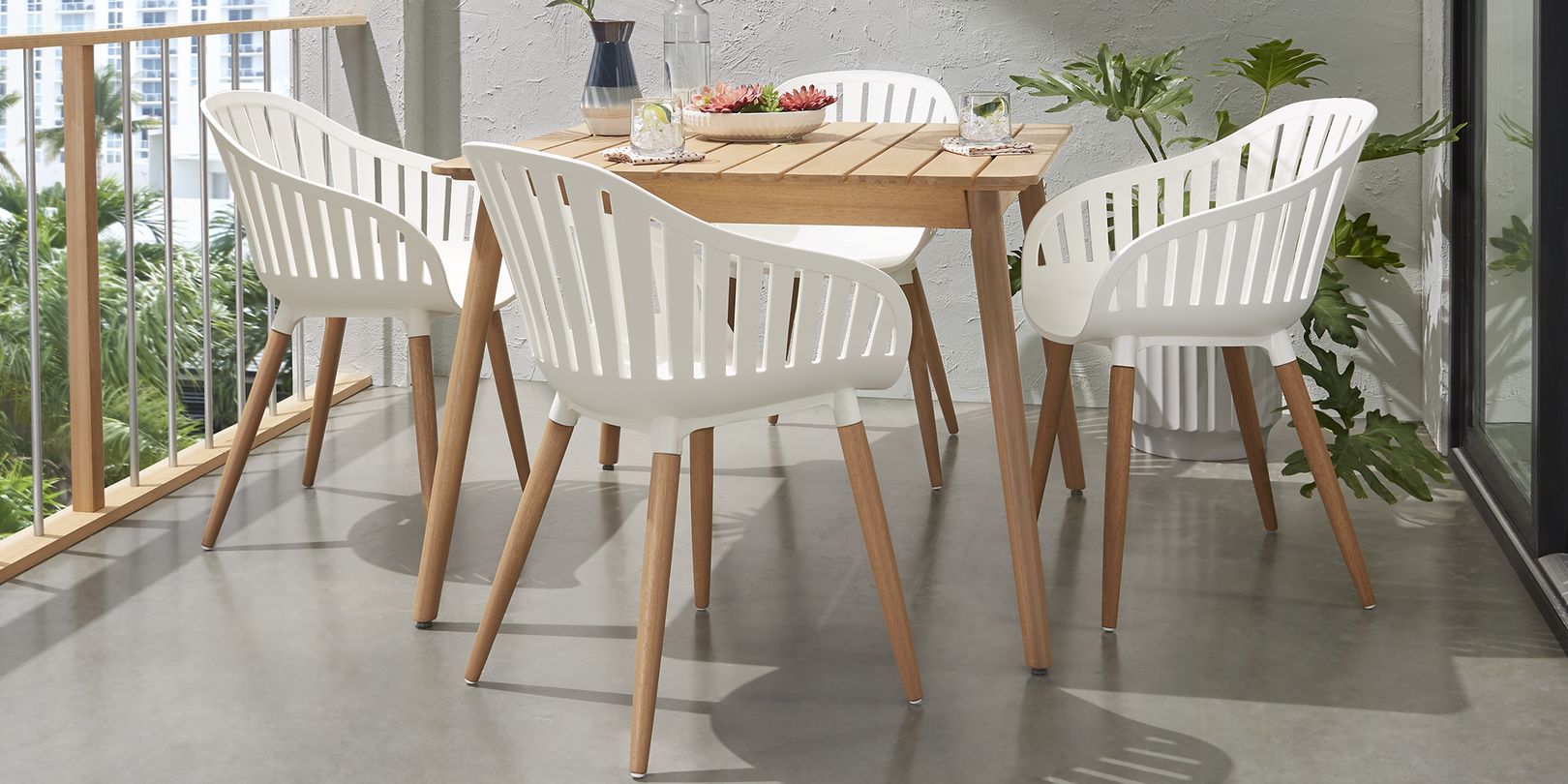 Consider the shape of your furniture to determine the best placement for it.
Furnishing a small outdoor space requires a lot of planning and a bit of ingenuity. However, the handy tips in this guide can help you choose the right space-saving patio furniture for your layout. Try out a few of these suggestions and you're sure to discover that your tiny setup has massive potential.