How to Choose the Best Fabric for Outdoor Furniture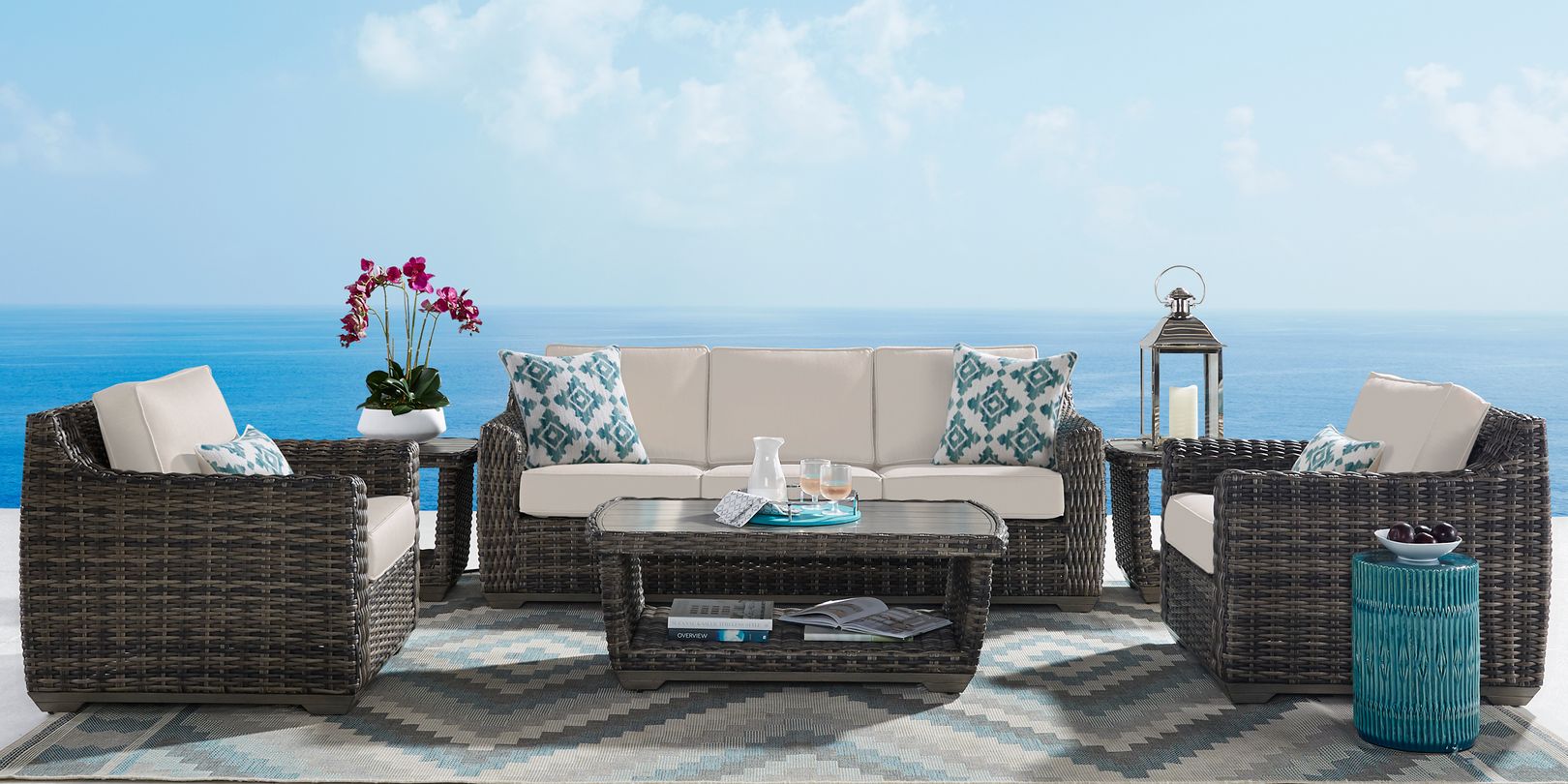 With so many different materials, styles and colors available, finding the right outdoor fabric for your patio can be challenging. Thankfully, with a little knowledge and a clear vision of your ideal look, it's easy to narrow your options down to the perfect fit. Check out our helpful guide for ideas on selecting outdoor fabric for your home.
Overview
This blog offers tips and tricks regarding outdoor fabric, including:
Outdoor fabrics provide the versatility, style and comfort you need to bring your patio design ideas to life.
Outdoor Fabric Materials
When it comes to choosing the best outdoor fabric for your
deck
or patio, your first step is selecting a material that suits your decor needs. While each fabric type is right at home in an exterior layout, there are a few considerations to keep in mind. Common materials for outdoor fabrics include:
Solution-Dyed Acrylic: Woven outdoor textiles, like Sunbrella fabric, are soft and breathable. The solution dyeing process involves a mix of pigment and liquid acrylic that's then spun into yarn. Dyed acrylic fabric is a great option for outdoor furniture like sofas with cushions in solid hues.
Polyester: Polyester is a popular outdoor pillow fabric for printed toss cushions and patterned seating. The dyes used for printing often have a water-repellent component for additional protection. Polyester is typically one of the most affordable outdoor fabrics, making it easy to introduce into your layout.
PVC Mesh: Fabrics made of olefin, PVC and vinyl-coated polyester or acrylic are a wonderful choice for sling chairs and other outdoor furniture. Sling chair fabric typically has a woven texture that lends a light, airy look to your space. Consider sling chaise lounges and sling ottomans to complete your ensemble.
Canvas Material: Manufacturers use different types of polyester, acrylic and textile blends to create canvas. Some outdoor canvas fabrics also include soft cotton and linen-based options for an extra dose of comfort.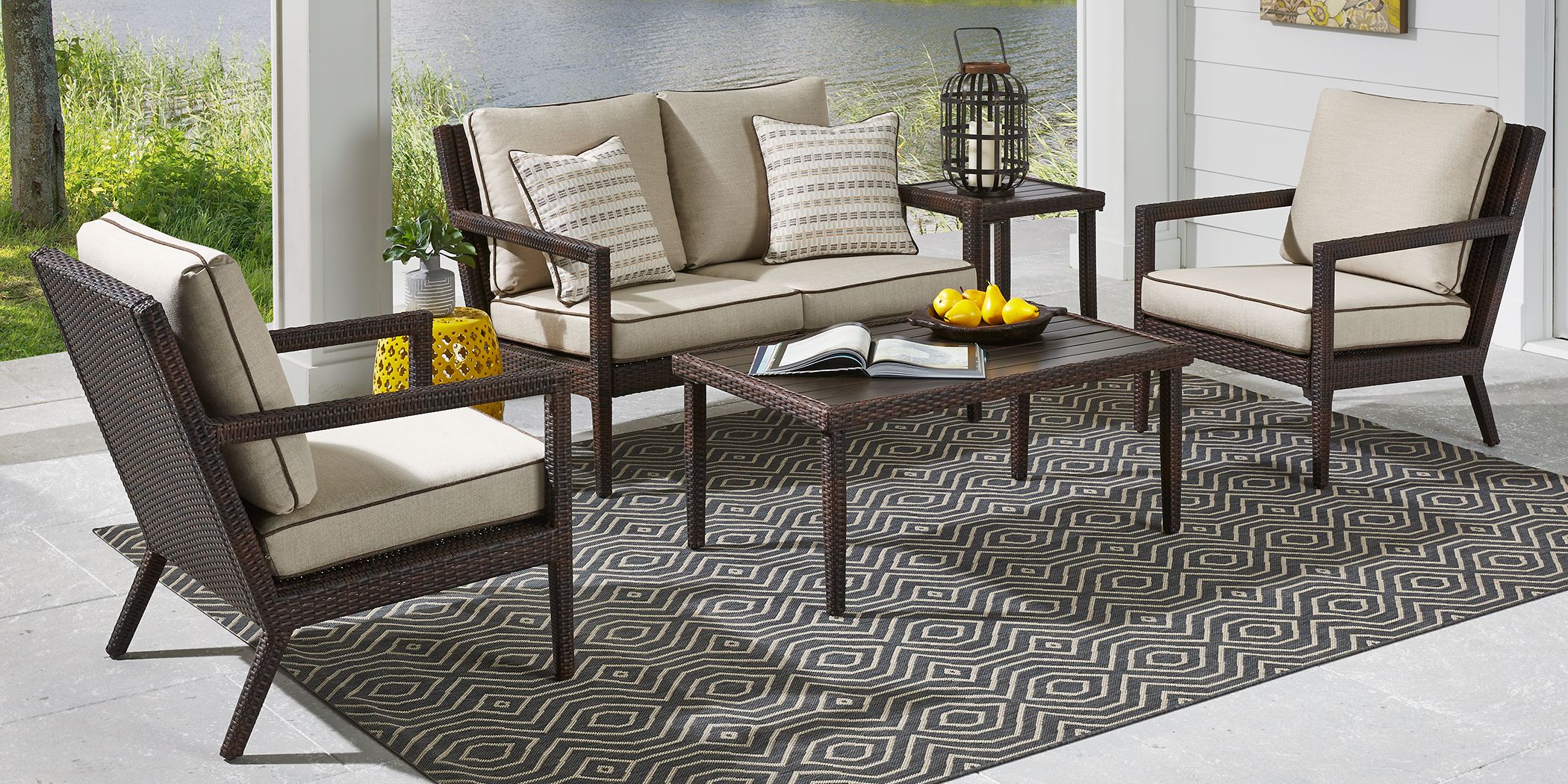 Outdoor fabrics like solution-dyed acrylic are a cozy, breathable choice for patio furniture in solid hues.
Outdoor Fabric Colors
Selecting your color palette may be the best part of adding outdoor fabrics to your patio. Spend some time thinking about how to use different colors in your theme and how those shades and tones might interact. A few outdoor fabric color options to consider are:
Beige
A neutral hue that fits nearly any decorative theme, beige provides an excellent foundation for your style. Available in a range of tones and variations like linen, sand and oat, beige outdoor fabric coordinates with existing layouts and new designs alike. Try adding a
beige sectional
or a few
beige chairs
to your deck for a look that's equal parts stylish and adaptable.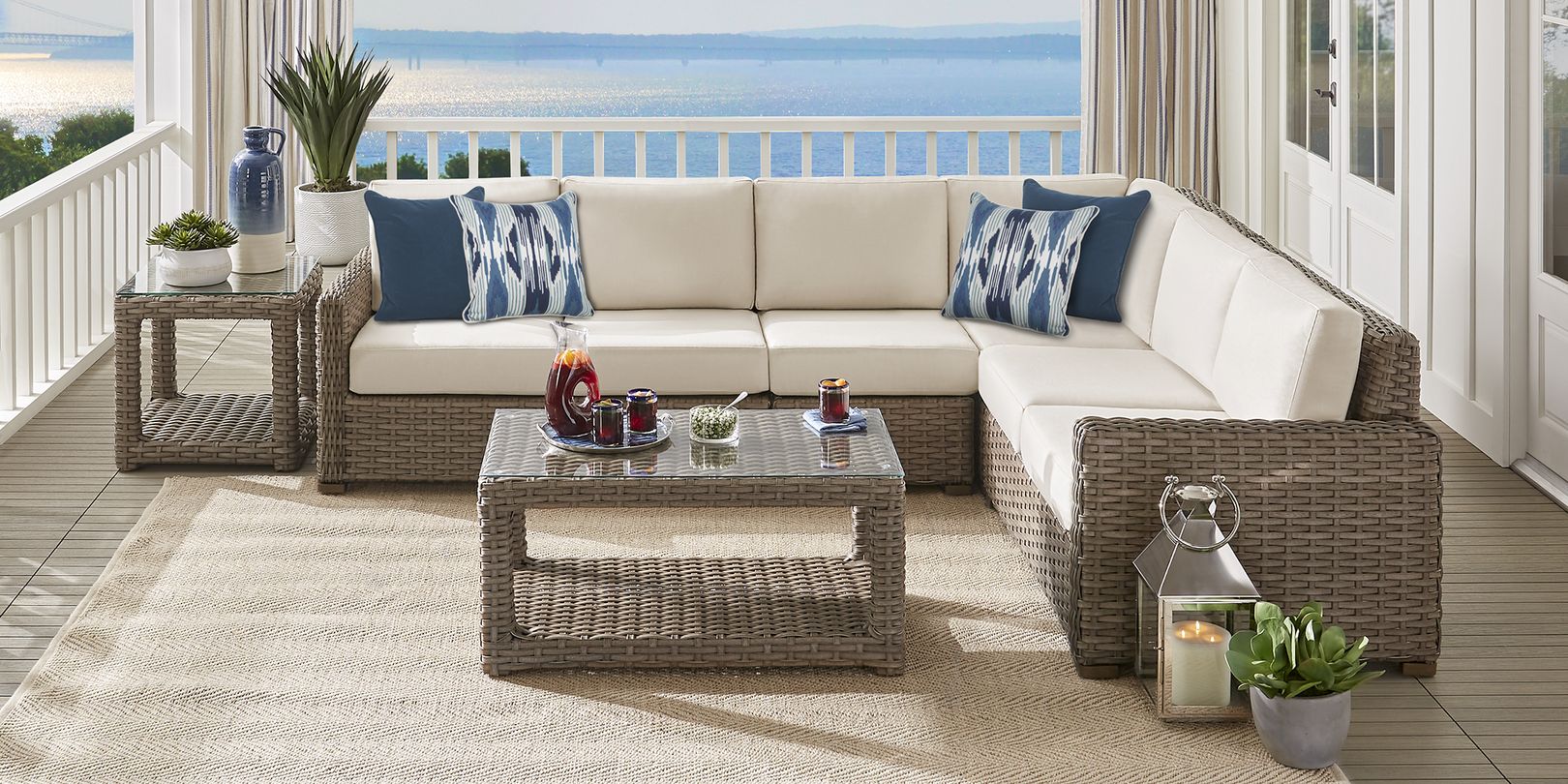 Versatile light beige outdoor fabrics instantly brighten your layout.
Green
Whether you prefer light or dark shades, green is a natural complement to deck and patio layouts. Evoking crisp ocean waves and warm summer days, outdoor fabric in seafoam green, sage or mint offers a laid-back, casual vibe. When arranged against a backdrop of trees and landscaped foliage, a
green outdoor sectional
creates a gorgeous backyard getaway.
A sectional with seafoam green cushions and accent pillows captures that one-of-a-kind beachy look.
Blue
Balance a warm color palette or perk up your poolside patio with blue outdoor fabric. A popular choice for everything from traditional to contemporary themes,
blue seating sets
and individual pieces like
sofas
and
loveseats
come in various shades. Deep navy hues add a dose of drama while vibrant aqua fabrics soothe the senses when it's time to kick back and relax.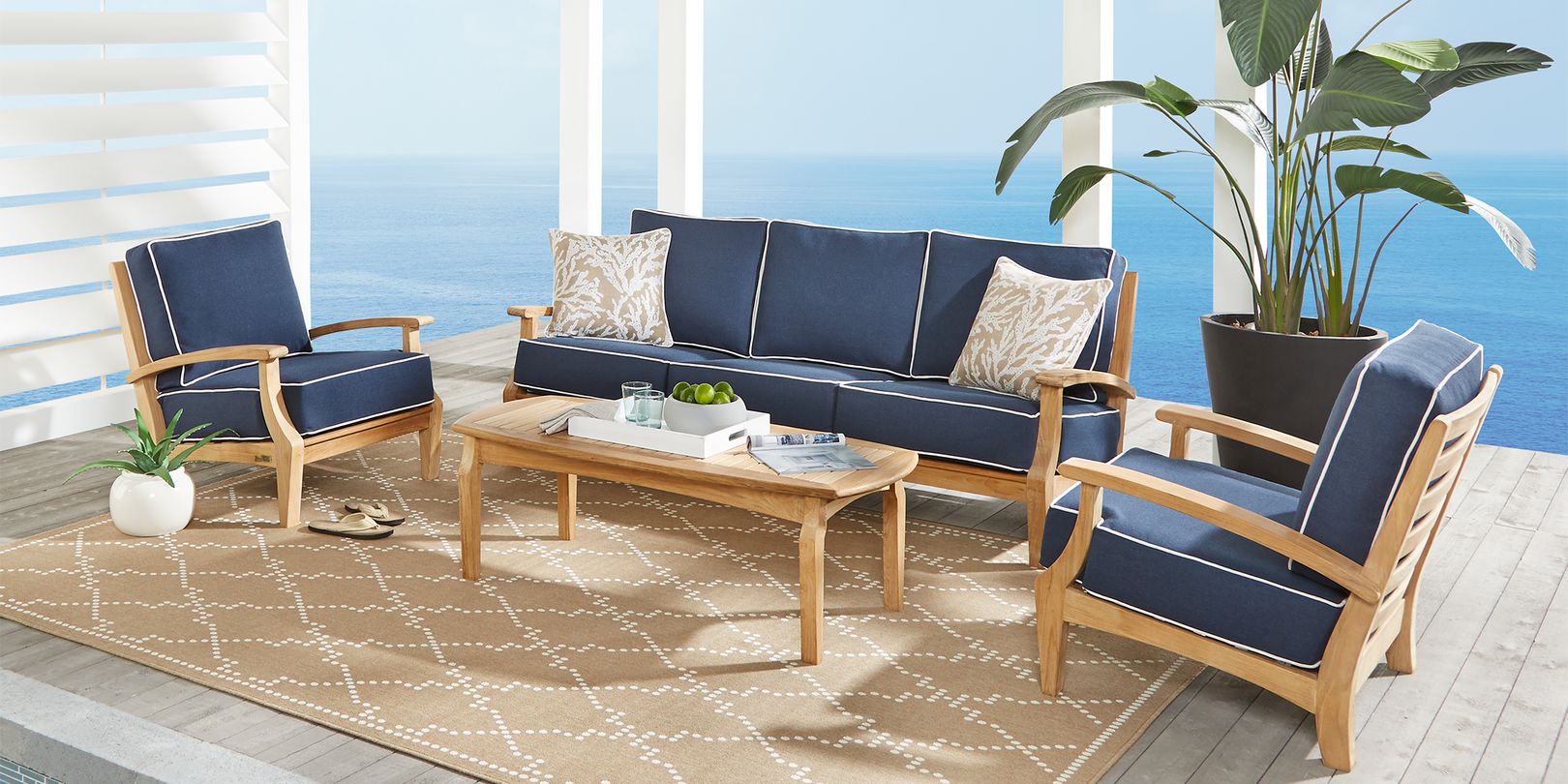 Outdoor furniture with navy and denim cushions transforms any backyard into an island getaway.
Choosing Patio Furniture and Decor
Outdoor fabrics allow you to decorate an entire patio with comfy seating as well as stylish, eye-catching decor. Try experimenting with the following patio furnishings and outdoor fabrics for a blend of fashion and function:
A patio umbrella is a practical addition that enhances your decor theme and color palette.
Maintaining Outdoor Fabrics
Weather & Climate
Depending on your climate, you may find certain seasons more troublesome than others. To limit its exposure to the elements, be sure to store your patio furniture as needed. Properly storing and maintaining pieces during chilly autumns, hot summers and snowy winters is one of the best ways to care for outdoor fabrics. If bad weather is on the horizon, move your outdoor furniture to a safe place, like a garage or shed, to avoid damage from heavy winds and rain. Outdoor
storage chests and boxes
can also help keep lightweight pieces from blowing off your porch or patio. If windy weather is common in your hometown, opt for heavyweight fabrics. The extra heft may help your umbrella or
canopy
stay anchored during a storm or breezy days. Solution-dyed acrylics are a popular fabric for awnings,
umbrellas
and furniture coverings as they are usually thicker and denser than other outdoor fabrics.
Toss pillows are a lovely accent for sling seats, and a patio storage box helps keep them secure on windy days.
Several factors come into play when selecting materials for outdoor furniture. To make the right choice, consider the textiles themselves, your color scheme, and your climate. You may also need outdoor storage solutions to secure lightweight items and shield your upholstery from the elements.